CBD Clinicals is reader-supported. When you buy through links on our site, we may earn an affiliate commission.
Learn more
Can CBD oil help with cancer, and how? What are the best CBD oil products for cancer?
Cancer is the unrestrained proliferation of abnormal cells in the body. Typical side effects of cancer treatments, such as nausea, vomiting, pain, sleep problems, and loss of appetite, can be debilitating.
There are promising studies about CBD's use in cancer treatment, although, to date, there have been no CBD-oil derived products approved by the U.S. Food and Drug Administration (FDA) to treat cancer, its symptoms, or side effects caused by its treatment.
The National Cancer Institute (NCI) examined several studies regarding the correlation between cannabis and cancer, and the research showed mixed results.
Cannabinoids and cannabis itself may be used either as a health care tool or as a complementary treatment for people who may need help managing the symptoms of cancer and the side effects of cancer therapy.
However, if one is planning on adding it to his or her existing treatment plan, it is highly recommended to consult a health professional first.
For people looking to include CBD in their cancer treatment, several product recommendations would also be listed in this article.
Best CBD Products for Cancer
As more and more people turn towards safe and alternative therapies, the interest in plant-derived medicines grows exponentially. This trend is excellent news for everyone, but particularly for people who live with cancer.
In 2018, cancer was responsible for nearly 10 million deaths around the world. This number is appalling considering the technological advances in modern medicine in the past years.
While the survival rates after a cancer diagnosis are on the upsurge, this figure still emphasizes the necessity for more research and treatment options.
The following list is a consolidation of the best CBD oils for cancer. The following brands are recommended for their high quality, based on potency, extraction methods, and the soil in which the hemp has been cultivated. 
Top Choice
Nuleaf Naturals 240mg Full Spectrum CBD Oil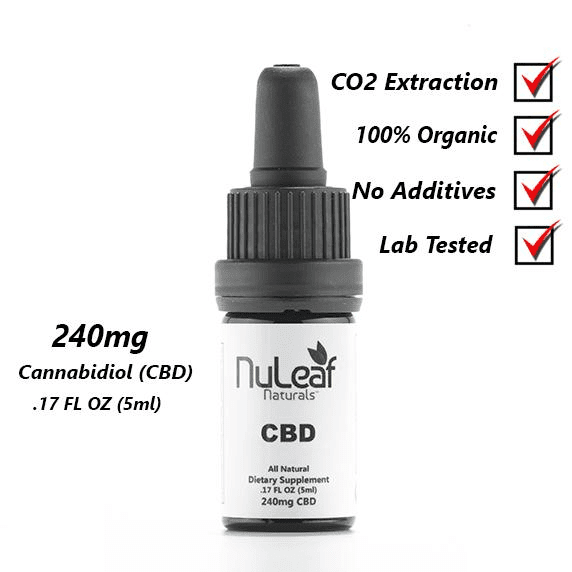 NuLeaf Naturals 240-milligram Cannabidiol .17 fluid ounces: This is one of several concentrations from NuLeaf Naturals. As the lowest concentration, it is the company's best option for those new to CBD oil. The product is lab-tested and fully organic. It is full-spectrum, so it contains THC in small quantities.

Check Latest Price Read our review





Perfect Natural Alternative
cbdMD CBD Oil Tinctures

cbdMD's CBD oil tinctures are made using only CBD sourced from medical hemp and MCT oil as a carrier oil. Tinctures are offered in orange, mint, natural, and berry flavors. Safe for daily use, the oil tinctures are packaged with a built-in rubber dropper to adjust CBD dosage easily. The packaging is made to be easy to transport and discreet to use.

Check Latest Price Read our review
What is Cannabidiol (CBD)?
Marijuana and hemp are varieties of the Cannabis sativa plant, and both plants contain varying quantities of cannabidiol (CBD) and delta-9-tetrahydrocannabinol (THC), their active ingredients.
Both THC and CBD are extracted from hemp and marijuana using similar processes. However, hemp contains less THC than a typical marijuana plant.  
Marijuana plants typically contain 5-10% THC, although certain strains may contain more. Also, trace amounts of THC may still be found in CBD oil.
CBD is not psychoactive, meaning there is less possibility that CBD could cause drowsiness, mental confusion, or hallucinations that are often associated with THC.
The 2018 Farm Bill stipulates that, legally, hemp oil cannot contain more than 0.3 percent THC.
Hemp oil or marijuana oil?
Marijuana oil is a liquid created by extracting THC and CBD from marijuana buds using a solvent.
This type of cannabis oil usually contains high amounts of THC, low quantities of CBD, and other beneficial cannabinoids found in marijuana.
Meanwhile, hemp oil is cannabis oil extracted from hemp strains that are rich in CBD with only trace amounts of THC.
Aside from being rich in CBD, hemp oil also contains essential fats that our bodies need to function correctly, such as omega 6 and omega 3 fatty acids and linoleic acid. 
What makes high-quality cannabis oil?
Several factors are essential when extracting cannabis oil.
Quality of the starting material
The quality of strain genetics, the freshness of the starting material, and the part of the plant extracted are all critical considerations.
Effective extraction method
An excellent extraction method prevents product defects, such as lackluster flavor or contamination.
Refinement processes involve drying and storing practices, purging excess solvents, and isolating specific cannabinoids.
Benefits of CBD Oil
There have been reports that certain cannabinoids like THC and CBD may be beneficial for specific ailments and disorders.
Researchers conducted a systematic review to carefully examine the effectiveness of medical cannabis for psychiatric, movement, and neurodegenerative disorders. 
Results of the trials suggest potential benefits of cannabinoids for anxiety, anorexia nervosa, dementia, PTSD, Alzheimer's disease, Huntington's disease, Tourette syndrome, and Parkinson's disease. 
However, insufficient and low-quality evidence make the results inconclusive. Improved knowledge of the precise action of cannabinoids at the cellular level could facilitate the development of cannabinoid formulations, as well as conduct further clinical trials on the symptoms of the disease.
Meanwhile, data from studies show that a single dose of CBD reduces resting blood pressure and blood pressure response to stress, indicating that CBD may be beneficial in the treatment of cardiovascular disorders, such as hypertension.
Side Effects of CBD Oil
CBD is considered safe. However, some people, particularly those who are taking other prescription medications, could still experience side effects from using CBD oil. It can interact with other pharmaceuticals like blood thinners.
CBD can cause side effects, such as dry mouth, diarrhea, fatigue, drowsiness, and changes in appetite, although they are often well-tolerated. 
The unreliability of the dosage and purity of CBD in products may also be an issue. 
A Penn Medicine study of 84 CBD products purchased online shows that almost 70 percent of them are either over or under labeled, causing potential serious harm to its consumers.
Thus, experts encourage people to talk to their doctor first before adding CBD oil to their existing treatment plan. A discussion on how one should take the oil and what concentration is best for an individual would benefit the patient's health condition.
CBD Oil as a Treatment for Cancer: What the Research Says 
Whether one is struggling with this disease or know someone diagnosed with it, the question of whether CBD may help has probably crossed someone's mind. 
According to a study in animal models of cancer, there is evidence supporting the idea that cannabinoids can impede the growth of tumor cells.
CBD may also enhance the uptake or increase the potency of certain drugs used for cancer treatment, as another review suggests.
There are several promising studies about CBD's use in cancer treatment.
A

study

demonstrated that CBD could initiate cell death and make glioblastoma cells more sensitive to radiation, without affecting healthy cells.
Glioblastoma is cancer that can occur in the brain or spinal cord.
A

research

that involved experimental models of colon cancer in vivo (within a living organism) suggests that CBD may prevent the proliferation of colorectal cancer cells.

A

review

of several in vitro (outside a living organism),

as well as in vivo studies showed that cannabinoids are promising compounds in the treatment of gliomas.
Glioma is a tumor type that starts in the glial cells that surround nerve cells and help them function.
After adjusting for age, race or ethnicity, and body mass index, researchers found that using tobacco only was linked to an increased risk of bladder cancer.
Cannabis use only was connected to a 45% reduction in bladder cancer incidence.
While research has demonstrated that cannabis smoke still generates carcinogens, the correlation between inhaled marijuana and cancer remains inconclusive.
Still, further work is necessary, both in vitro and in vivo, to better assess the impact of CBD on malignant cells and its potential application in the treatment of cancer.
CBD for Symptoms of Cancer
According to the Centers for Disease Control and Prevention (CDC), "In 2016, 1,658,716 new cases of cancer were reported, and 598,031 people died of cancer in the United States. For every 100,000 people, 436 new cancer cases were reported, and 156 died of cancer. One of every four deaths in the United States is due to cancer."
To date, Epidiolex is the only CBD product that has received FDA approval, and it is only used in the treatment of seizures associated with Lennox-Gastaut syndrome (LGS) or Dravet syndrome (DS) in patients 2 years of age and older.
No CBD products have been FDA-approved to cure cancer or its symptoms or to alleviate the side effects of cancer treatment.
However, two marijuana-based drugs, dronabinol and nabilone, have been approved to help with nausea and vomiting caused by chemotherapy.
Dronabinol (Marinol) is available in capsule form and contains THC.
Nabilone (Cesamet) is a synthetic cannabinoid that acts similarly to THC.
If one is considering using medical marijuana or medical cannabis as a supplement to his or her cancer therapy, a consultation with a doctor about how best to administer it is the best course of action.
CBD for Nausea and Vomiting
The National Cancer Institute, under the National Institutes of Health, describes chemotherapy as a cancer treatment that uses drugs to kill cancer cells.
Doctors use chemotherapy to cure cancer, reduce the prospect of its return, or slow or stop its growth. Chemotherapy can also be used to shrink tumors.
While this treatment is valuable, it also brings about side effects, such as hair loss, fatigue, nausea, and vomiting, that patients may feel the need to delay or quit the treatment altogether. In these situations, CBD can help.
Studies show that as an antiemetic (preventing nausea), CBD may reduce nausea and vomiting induced by chemotherapy.
However, the antiemetic effect appears to come from THC in cannabis, rather than from CBD. Patients trying cannabis to counter nausea also find themselves experiencing the potential psychoactive effects of THC. 
Still, many people find relief from consuming low doses of THC. Prescription synthetic THC that have fewer side effects are available.
CBD for Chronic Pain Relief
Cancer and its treatment can both lead to pain, and most people with cancer go through severe pain chronically. Cancer often causes pain due to pressure on internal organs, inflammation, or nerve injury.
While there are medications prescribed to ease their discomfort, they come with severe side effects, such as vomiting, extreme sleepiness, constipation, and addiction. 
When the pain is severe, it can become resistant to opioids, which are great pain relievers. 
A study shows that THC:CBD extract is efficacious for pain relief in patients with advanced cancer pain not fully relieved by potent opioids. Some patients may not respond well to opioids. 
CBD indirectly impacts the CB2 receptors, which may help with pain relief by reducing inflammation, while THC triggers the CB1 receptors, which may be helpful for pain resulting from nerve damage.
However, the results of a review published by Cochrane indicate that there was no high-quality evidence that any cannabis-derived product works for any chronic neuropathic pain.
Given that more people reported dizziness, sleepiness, dizziness, and confusion with all cannabis-based medicines pooled together than with placebo, researchers say their potential harms might outweigh the potential benefits of cannabis in chronic neuropathic pain.   
CBD for Appetite
People who go through cancer treatment may experience nausea and loss of appetite, which can make it challenging to maintain a healthy weight.
When cannabis is ingested, it delivers THC and other cannabinoids to the bloodstream, helping stimulate the appetite. However, there is no high-quality evidence that CBD alone can have this effect.
Meanwhile, a study on the relationship between cannabinoids and food intake suggests that endocannabinoids can impact energy balance and food intake within the brain.
CBD for Anxiety and Sleep Problems
Sleep problems are quite typical among cancer patients. Some of the sleep issues take the form of insomnia, while in some cases, they manifest as chemotherapy-related fatigue.
Not getting enough sleep is disadvantageous for patients dealing with cancer as it worsens mood, weakens one's immune system, adversely impacts mood, and impairs cognitive performance.
Studies suggest that medium or high-dose CBD is associated with an increase in the percentage of total sleep.
Research indicates that taking CBD oil may help address anxiety and sleep disorders, as it helps the patients fall asleep and reduces the frequency of waking up at night.
The data also support the use of cannabis for treating chemotherapy-induced nausea and vomiting, loss of appetite, pain, and chemotherapy-induced peripheral neuropathy. 
CBD for Tumor Growth
Several studies showed that CBD-induced cell death of breast cancer cells, suggesting that the use of CBD oil may also suppress tumor growth.
In a study, the results show that the use of CBD in conjunction with anti-leukemia drugs made the drugs more effective.
Researchers found that when certain cannabinoids are paired together, the resulting product can be combined with conventional anti-leukemia drugs, allowing the dose of the toxic agents to be substantially reduced yet remain effective.
Research demonstrates that cannabinoids can also prove beneficial in certain types of cancers that are activated by chronic inflammation. In such instances, cannabinoids, as anti-inflammatory agents, can either directly prevent tumor growth or suppress inflammation.
How CBD Oil Helps in Apoptosis
A review was conducted to examine apoptosis, the process of programmed cell death.
The results of the study indicate that apoptosis has to be carefully regulated because too little or too much cell deaths may lead to diseases, including developmental abnormalities, autoimmune diseases, neurodegeneration, or cancer.
Apoptosis, also referred to as cellular suicide, is a normal process of cellular self-destruction that serves a healthy and defensive role in the body.
Cancer cells no longer acknowledge the body's signals that encourage or destroy cell growth. Thus, as these cells grow and divide, they proliferate uncontrollably.
The endocannabinoid system is essential in the body because it also helps in regulating cell growth and death.
As cancer cells reproduce more rapidly than the endocannabinoid system can manage, metastasis occurs. Metastasis is the process where cancer cells invade through the healthy tissues from the place where they first formed and spread to another part of the body.
The endocannabinoid system has two primary receptors: CB1 receptors are mostly found in the brain, while CB2 receptors are situated in the immune system.
THC is the cannabinoid that latches onto the CB1 receptors and is responsible for mood, behavior, and other brain functions.
On the other hand, CBD binds to CB2 receptors, signaling for 'invaders' that are damaging to the body.
Apoptosis helps support the immune system through the critical role it plays during viral infections, killing off invaded cells before they spill over with virus particles. This act of self-sacrifice hampers the spread of viruses and can save the whole organism.
The receptor activation helps the endocannabinoid system signal a warning to counteract the formation of tumors, impeding cancer development through inhibiting reproduction, metastasis, and tumor development.
Mixed Results
The National Cancer Institute (NCI) reviewed numerous studies on the correlation between cannabis and cancer and found that the research has varied results.
A study of 64,855 patients in a health checkup in Kaiser Permanente in the United States was conducted to examine the relationship of marijuana use to cancer incidence.
Researchers found that cannabis use did not increase the risk of tobacco-related cancers. Neither was cannabis associated with colorectal, lung, melanoma, prostate, breast, or cervix cancer.
However, this same study also found that among nonsmokers of tobacco cigarettes, having used marijuana was linked to a higher risk of cervical cancer and prostate cancer.
The authors of the study concluded that marijuana use and cancer were not associated with overall analyses, but marijuana use might affect certain site-specific cancer risks.
Other studies on the role of cannabinoids in the development of cancer also generated mixed results.
Cannabinoids show antitumor activity in animal models of cancer, but experts still do not have data from longitudinal clinical trials concerning their efficacy and safety on humans.
In a study, researchers recognized the antitumor effects of cannabinoids in various cancer types.
However, these antitumor effects of cannabinoids have to prevail over their known immunosuppressive effects, which can potentially promote the production or formation of tumors.
In a study published in 2010 in the European Journal of Immunology, researchers using a mouse model found that cannabinoids can initiate the suppression of the immune system.
Although this particular research involved cannabis containing THC, the results indicate that cannabinoids could make users more susceptible to some types of cancer.
CBD research is still limited when it comes to cancer prevention. Scientists would have to conduct longitudinal studies of humans using specific CBD products, controlling for frequency of use and dosing.
Cancer in Pregnancy
Cancer during pregnancy is not a typical occurrence. Pregnancy-associated cancer constitutes a clinical situation that is difficult to manage.
According to statistics, 1 in every 1000 pregnant women is diagnosed with cancer. Studies indicate that breast cancer, melanoma, cervical cancer, lymphoma, and acute leukemia are commonly diagnosed malignancies during pregnancy.
Among these types of malignancies, breast cancer is the most common. A review revealed that breast cancer affects approximately 1 in 3000 pregnant women.
Experts at the Canadian Cancer Society expects that the number of pregnant women with cancer could increase as more women are waiting until they are older to have children. Risks of developing most cancers increases as women age.
Cancer Treatment while Pregnant
Years ago, many doctors recommended terminating the fetus when treating cancer during pregnancy.  Today, however, more women are choosing to treat their disease while they are pregnant.
Every situation is different. Although treatment choices for pregnant women with cancer are the same as those for non-pregnant women with cancer, when and how treatments are given might be different for pregnant women.
Thus, a discussion with a health professional of all the advantages and disadvantages of receiving cancer treatment during pregnancy is an excellent course of action.
A pregnant woman's treatment options would depend on many factors, including the type of cancer she has, where her cancer is located, her cancer stage, how far along she is in her pregnancy, and her personal choices.
Say No to CBD When Pregnant
The U.S. Food and Drug Administration (FDA) has informed the public of the severe risks related to the use of cannabis products, including those containing CBD, for women who are pregnant or breastfeeding.
There are numerous potential adverse health effects from using marijuana and other products containing THC during pregnancy and while breastfeeding.
The U.S. Surgeon General advised consumers against marijuana use during pregnancy, as it may affect fetal brain development. THC could enter the fetal brain from the mother's bloodstream.
The Surgeon General VADM Jerome said, "I am emphasizing the importance of protecting our nation from the health risks of marijuana use in adolescence and during pregnancy. Recent increases in access to marijuana and its potency, along with misperceptions of the safety of marijuana, endanger our most precious resource, our nation's youth."
The Surgeon General also advised that marijuana may intensify the risk of a newborn with lower than average birth weight. Research also suggests an increased risk of preterm birth and stillbirth.
Conclusion
There is still a lot to know about the mechanisms of CBD and its impact on the body of a cancer patient to make sure that it does not interact adversely with existing cancer treatments or other medications.
CBD oil may complement other treatments for cancer. However, if one is planning on adding it to his or her existing treatment plan, it is an excellent idea to discuss it with a doctor first.
For more information on cancer and the different types of cancer, cancer.gov may be an excellent resource. Cancer.gov is the website for the National Cancer Institute (NCI), the U.S. government's principal agency for cancer research.
Cancer is the second leading cause of death in women during the reproductive years.
The Consortium of Cancer in Pregnancy Evidence (CCoPE) was established to develop up-to-date, evidence-based information on the diagnosis, management, prognosis and fetal outcome of cancer in pregnancy.
Much of the data produced by the Consortium of Cancer in Pregnancy Evidence (CCoPE) have been published in peer reviewed journals in North America and Europe over the last five years. 
Cancer in Pregnancy
The occurrence of cancer during pregnancy is a rare and challenging event. But as more and more women delay child-bearing until later in life, the rate of cancer in pregnancy is expected to rise. New clinical practice guidelines have been prepared by the Chemotherapy During Pregnancy Working Group and approved by the Executive and Council of the Society of Obstetricians and Gynecologists of Canada.
Cancer in Pregnancy: Management of complications associated with cancer or antineoplastic treatment during pregnancy
Professional Summary
The treatment of choice for a large spectrum of hypercoagulable states during pregnancy is heparin. As an alternative, and probably a therapy that will become the future's 1st line choice are the low molecular weight heparins.
Coumarin is not an option during pregnancy for the majority of the cases.
Erythropoietin does not cross the placenta and is associated with minimal side effects to the mother that are generally well tolerated. No fetal complications were reported.
The data regarding the safety of bisphosphonates and hematopoietic growth factors during pregnancy is scarce, and no firm recommendation can be made at this time.
Most antibiotics are not contraindicated during pregnancy, with the exception of the use of tetracycline during the 2nd and 3rd trimester.
Most of the analgesics are quite safe during pregnancy, as no malformations were noticed with first trimester use of most of them. Their main effect of narcotics analgesics is on fetal respiratory system, and these newborns should be watched carefully during delivery for signs of withdrawal or respiratory depression.
Introduction
Cancer is the second leading cause of death in women during the reproductive years. Its incidence is between 0.07% to 0.1% of pregnancies. The diagnosis of cancer during pregnancy imposes major therapeutic decisions — optimal maternal treatment must be balanced against the risks to the fetus. The malignant disease and its treatment have specific complications that may have special importance during pregnancy. These include, among others, bone marrow depression with neutropenia and infections, anemia and thrombocytopenic bleeding. Both pregnancy and cancer are associated with hypercoagulability and thromboembolism. Also, skeletal manifestations of cancer like osteoporosis, bone pain, pathological fractures and hypercalcemia may require specific treatment during pregnancy. Thus, these complications of cancer or its treatment may expose the pregnant woman to additional medications including anticoagulants, antibiotics, analgesics and new treatment modalities such as hematopoietic growth factors and bisphosphonates. This is a general overview of the use of these therapeutic measures during pregnancy.
Anticoagulants Heparin
Heparin is a natural, water soluble, mucopolysaccharide which is being used for almost 80 years. Heparin exerts most of its anticoagulant activity by binding to antithrombin III, a naturally occurring anticoagulant. This complex inhibits a number of coagulation factors, mainly IIa and Xa. Other coagulation factors – IX, XI, XII are also inhibited. Heparin does not cross the placenta in appreciable amounts. No reports linking the use of heparin during gestation with congenital defects have been located.
Oral anticoagulants — Coumarin
Oral anticoagulants cross the placenta and can enter the fetal circulation. Since 1966 when the first case of "coumarin embryopathy" was described, the literature regarding the adverse outcome of the fetus following maternal exposure to coumarin has expanded. Most of the reports addressed the following problems associated with the use of coumarin during pregnancy: embryopathy, central nervous system defects, stillbirth, spontaneous abortions, prematurity and hemorrhage.