Overall CBDC Brand Rating: 8/10
Overview of CBD Products from Bluebird Botanicals
The CBD products from Bluebird Botanicals span hemp extract oils, concentrated CBD oils, CBD creams, CBD capsules, concentrated CBD capsules, CBD vape oils, CBD isolates, and CBD pet products. There is also a THC-Free CBD Oil.
CBD Extracts
The CBD extracts from Bluebird Botanicals are hemp extract oils, available as Classic, Complete, or Signature, or as a sample pack with all three.
Full-Spectrum Products with Dozens of Cannabinoids
It is important to note that the company's CBD products are full-spectrum oils, including more than 80 phytocannabinoids. You will also find terpenes, vitamins, omega fatty acids, beta-carotene, flavonoids, and amino acids.
CBD Concentrated Extracts
The concentrated CBD extracts from Bluebird Botanicals are very similar to the regular hemp extracts, including the division into Classic, Complete, and Signature products. The difference is that the concentrated extracts have six times the concentration, over 1,500 mg of cannabinoids per ounce.
The Concentrated Full-Spectrum Extract 
The concentrated full-spectrum extract that serves as the base for these products includes more than 100 phytocannabinoids along with terpenes, trace minerals, vitamins, omega fatty acids, amino acids, and flavonoids.
CBD Creams
The CBD creams from Bluebird Botanicals include three lotions, each with their list of ingredients and purposes. All of these products are vegan and free from glyphosate, sweeteners, gluten, and GMOs. The creams use the same full-spectrum hemp extract as the CBD extracts, including its over 100 cannabinoids.
All three products offer the same sizes, concentrations, and pricing:
4 fluid ounces with over 700 mg of cannabinoids for $39.96
6 fluid ounces with over 1,250 mg of cannabinoids for $59.96
Bluebird Botanicals Hemp Classic 6X Concentrated CBD Oil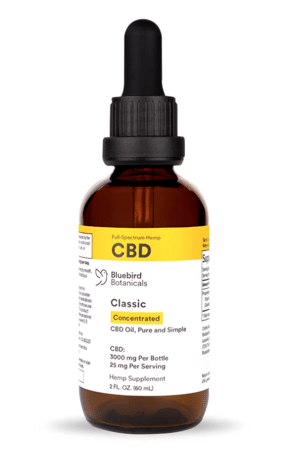 Hemp Classic 6X is similar to the Hemp Classic formula, but with six times the concentration, over 1,500 mg of cannabinoids per ounce. It is available as:
1/3 ounce for $49.95
1 ounce for $119.95
2 ounces for $219.95
4 ounces for $349.95
8 ounces for $599.95
Check Latest Price



Bluebird Botanicals Hemp Oil Concentrate Complete 6X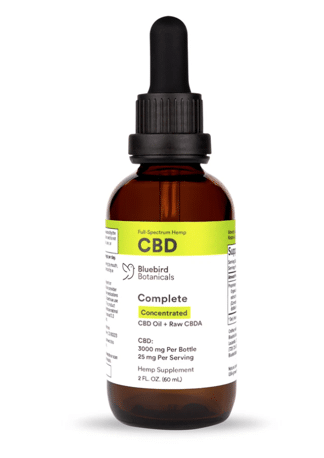 Hemp Complete 6X has the same ingredients as the regular product but with a higher concentration. As such, it features over 1,500 mg of heated and raw cannabinoids in every ounce as well as hemp terpenes. It is available as:
1/3 ounce for $54.95
1 ounce for $129.95
2 ounces for $239.95
4 ounces for $379.95
8 ounces for $649.95
Check Latest Price



Bluebird Botanicals Hemp CBD Sport Lotion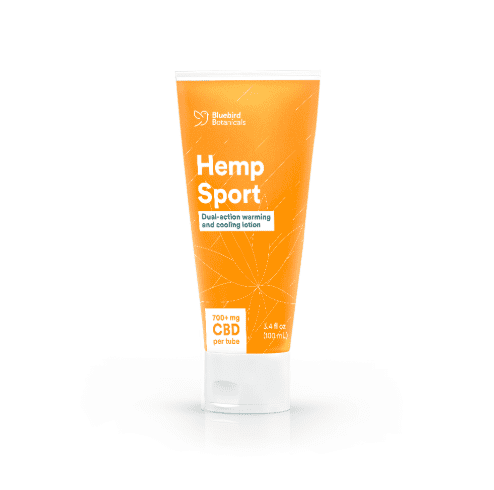 Hemp CBD Sport Lotion features the full-spectrum hemp extract plus coconut oil, mint, jojoba, ginger, and arnica. It is ideal for those who lead an active lifestyle.

Check Latest Price



CBD Isolate Products
There are two isolate products provided by Bluebird Botanicals. Here is specific information on each one:
Bluebird Botanicals CBD Isolate Powder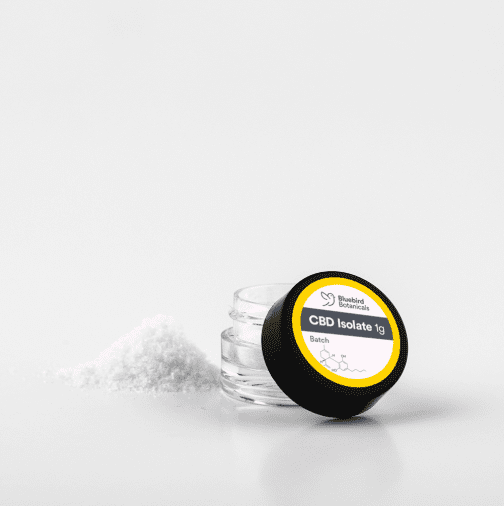 The CBD Isolate from Bluebird Botanicals is 96 percent to 99.9 percent pure isolated CBD (cannabidiol). It is natural and made using hemp compliant with the Federal Farm Bill and without chemical pesticides or fertilizers. It is flavorless, odorless, and white/clear crystals. Options include:
1 gram for $24.95
2 grams for $44.95
5 grams for $99.95
25 grams for $399.95
Check Latest Price



Bluebird Botanicals Bulk CBD Isolate Powder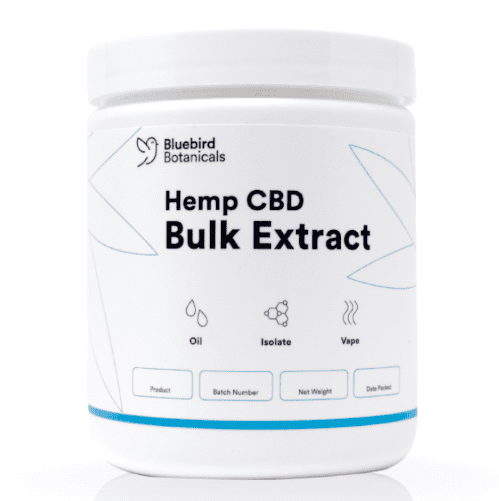 Those who need larger quantities can negotiate a Bulk CBD Isolate price or add one of the following orders to their cart:
100 grams for $1,000
250 grams for $2,250
500 grams for $4,000
1,000 grams for $7,500
Check Latest Price
CBD Capsules
There are two CBD products in capsule form. Here is more information on both:
Bluebird Botanicals Hemp CBD Capsules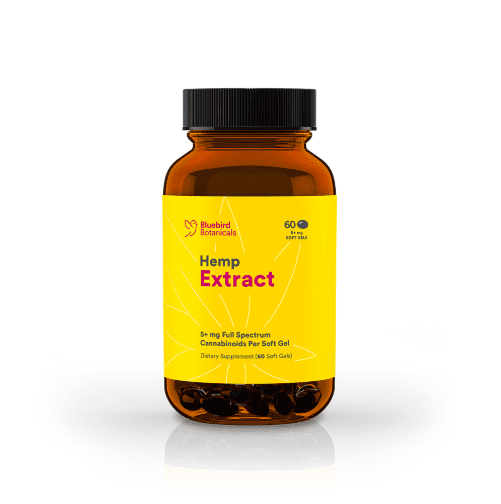 The Hemp CBD Capsules from Bluebird Botanicals features full-spectrum hemp extract along with organic virgin hemp seed. Each soft gel capsule has over 5 mg of cannabinoids. These capsules are free from sweeteners, gluten, GMOs, and glyphosate. They are ideal for those who do not like the taste associated with hemp.

Choose from:
A 60 count for over 300 mg of cannabinoids total
A 120 count for over 600 mg of cannabinoids total
Check Latest Price



Bluebird Botanicals Concentrated CBD Capsules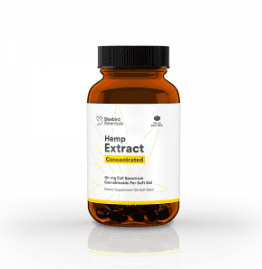 Those who like the idea of CBD capsules but need a stronger dose of CBD can use the Concentrated CBD Capsules from Bluebird Botanicals. Each capsule has over 15 mg of CBD oil in the form of full-spectrum hemp extract combined with hemp seed oil. As with the regular strength CBD capsules, they are free from glyphosate, GMOs, gluten, and sweeteners.

You can choose from:
A 30 count for over 450 mg of cannabinoids total
A 60 count for over 900 mg of cannabinoids total
Check Latest Price



Hemp Blends for Animals
Bluebird Botanicals offers separate products for pets, called the Companion series. The products are made with the company's full-spectrum hemp extract. The products are nearly identical to the human versions but safe for pets. Even sizing, concentration, and pricing are the same. Choose from:
Bluebird Botanicals Companion CBD Hemp Oil For Dogs & Cats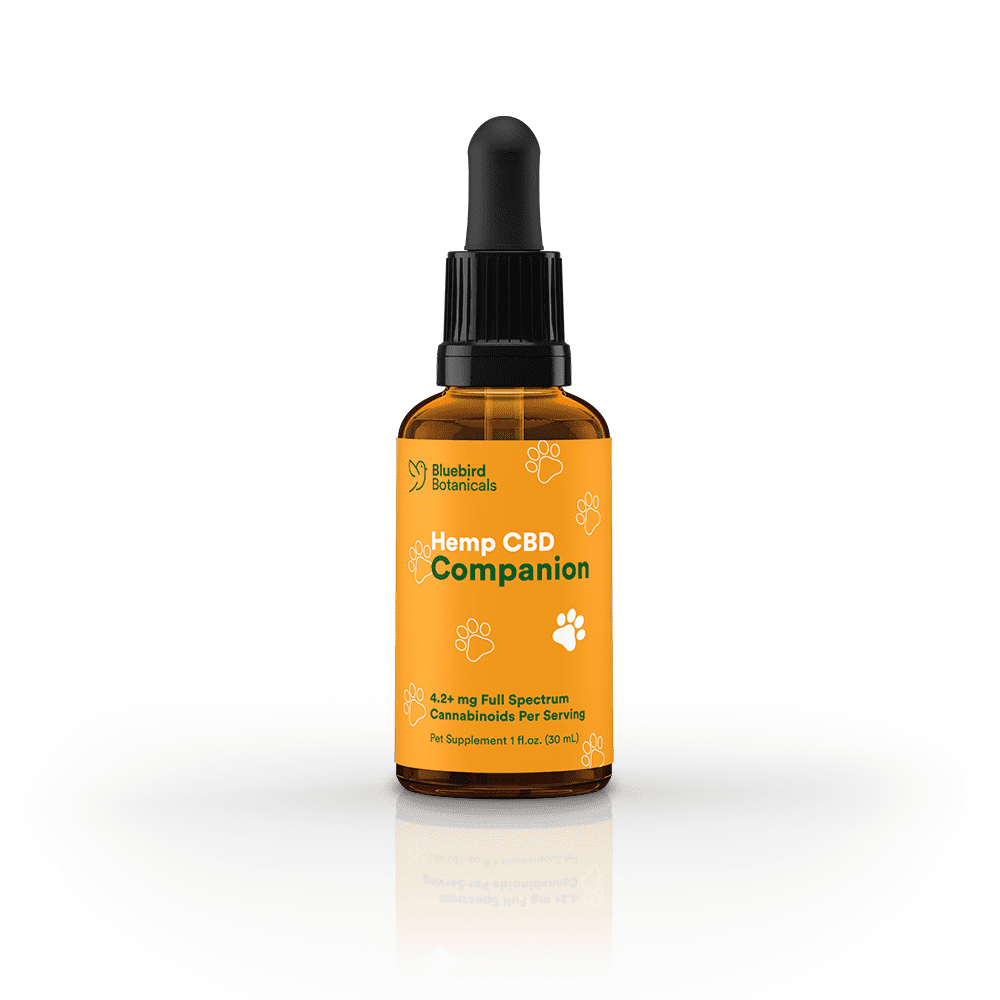 The Companion CBD Hemp Oil contains 250 mg of cannabinoids in every ounce. This full-spectrum extract contains over 100+ cannabinoids.

Check Latest Price



Bluebird Botanicals Companion CBD Capsules For Pets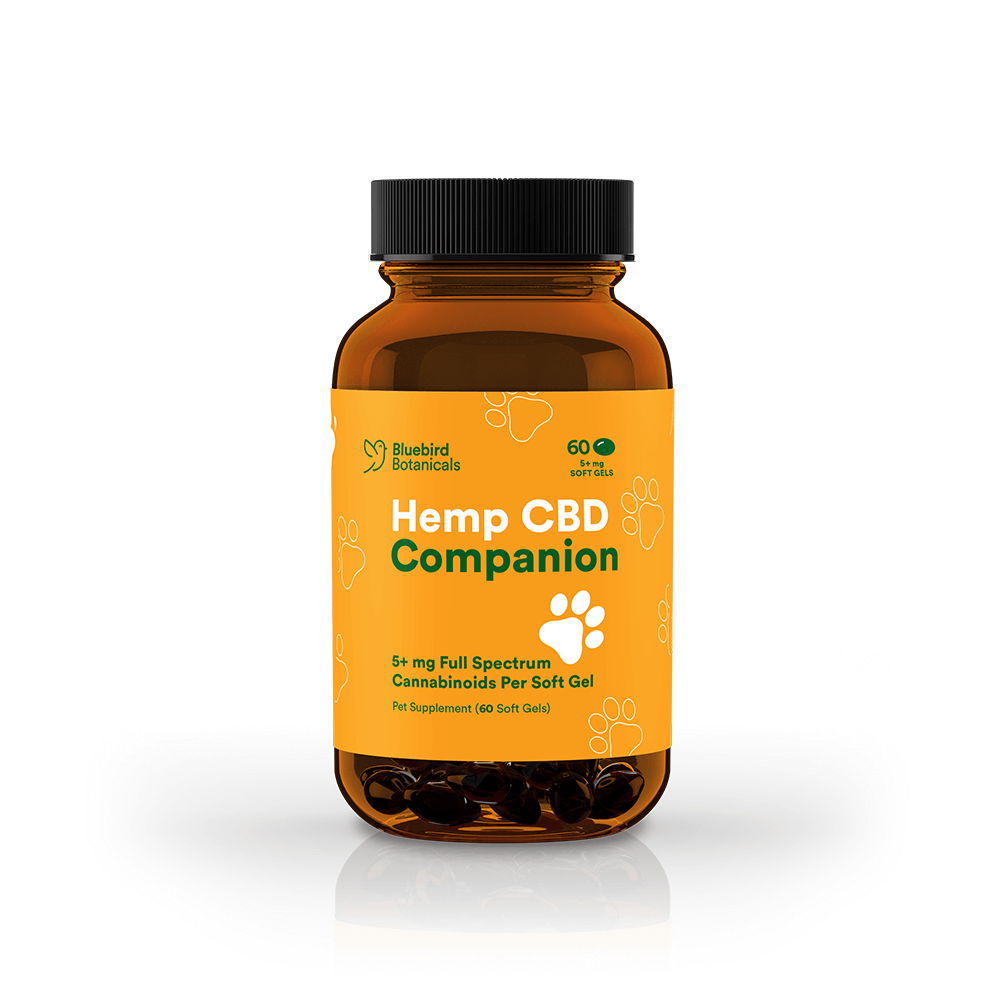 The Companion CBD Capsules contains 5mg of cannabinoids per soft gel capsule.  The capsules are sweetener free and glyphosate free.

Check Latest Price



Bluebird Botanicals Concentrated Companion CBD Capsules For Pets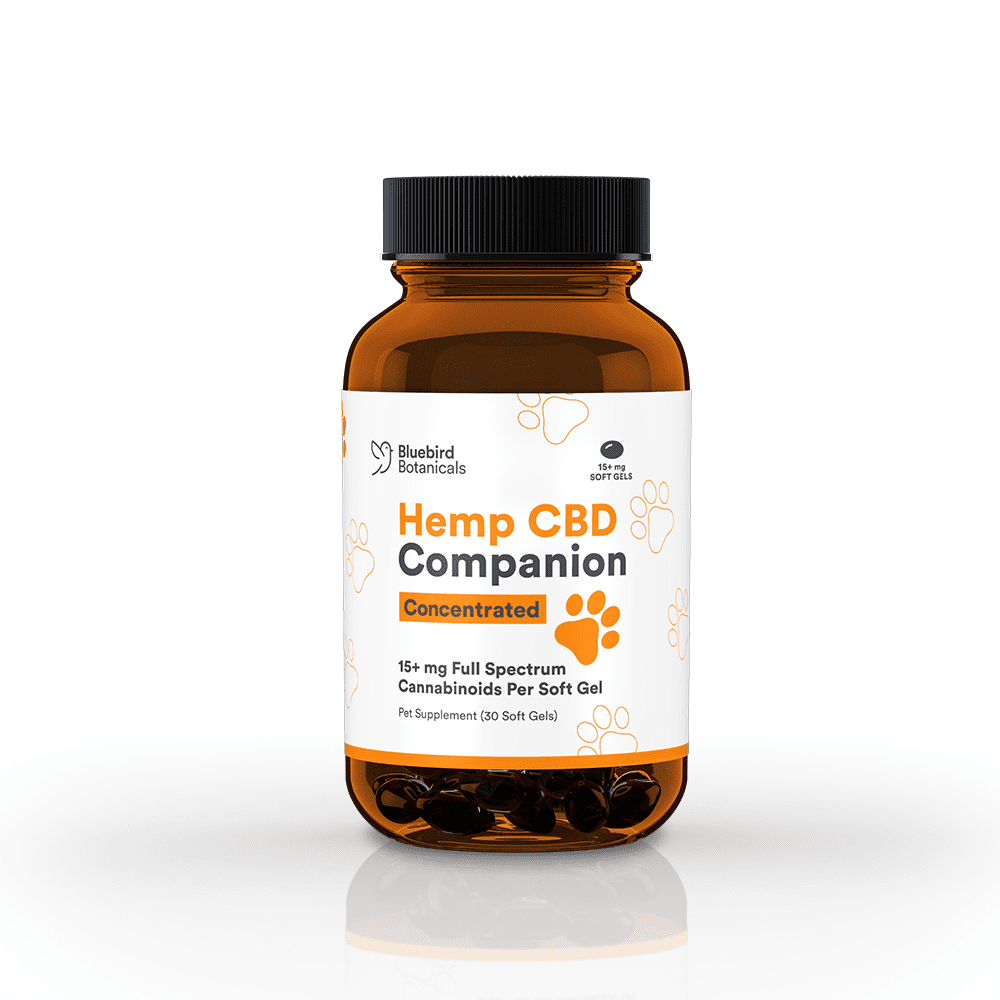 For a stronger dose of CBD for your dog or cat, you can use the Concentrated CBD Capsules for Pets. Each capsule has over 15 mg of cannabinoids per serving in the form of full-spectrum hemp extract combined with hemp seed oil. They come in two different sizes – either 30 capsules in a bottle or 60.

Check Latest Price



THC-Free Products
Most Bluebird products are full-spectrum, so they contain THC, the psychoactive component in cannabis. The company also offers a THC-Free CBD Oil for those who want non-detectable THC levels:
Bluebird Botanicals THC Free CBD Oil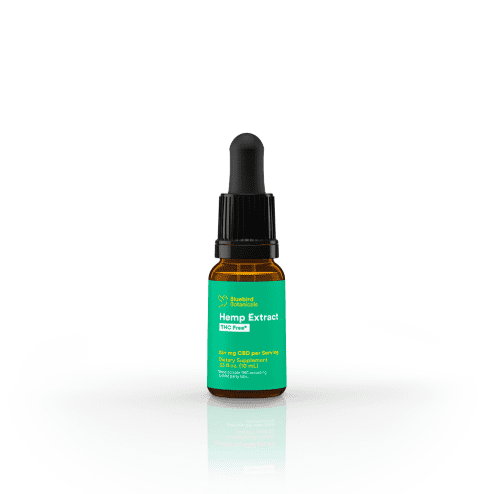 This product includes the hemp CBD isolate and organic fractionated coconut oil. There is over 1,500 mg of CBD per ounce, and it is tested for sports, vegan, and free from sweeteners, GMOs, gluten, and glyphosates.
It is available as:
1/3 ounce for $29.95
1 ounce for $74.95
2 ounces for $134.95
4 ounces for $234.95
8 ounces for $399.95
Check Latest Price
Conclusion
Between its various product offerings and commitment to quality, we can safely recommend Bluebird Botanicals. The company uses full-spectrum CBD oil in most of its products, with THC-free products available as well as those that are safe for pets. The company stands out with its commitment to quality, including the extensive batch database on its website for transparency and peace of mind.
Bluebird Botanicals is one of the many companies offering a full range of CBD products one can choose from. The company has a truly extensive lineup, spanning a range of product types from tinctures to CBD creams to CBD capsules. It also prides itself with its high level of quality control.
Take a closer look at what Bluebird Botanicals has to offer and why the company has so many loyal customers.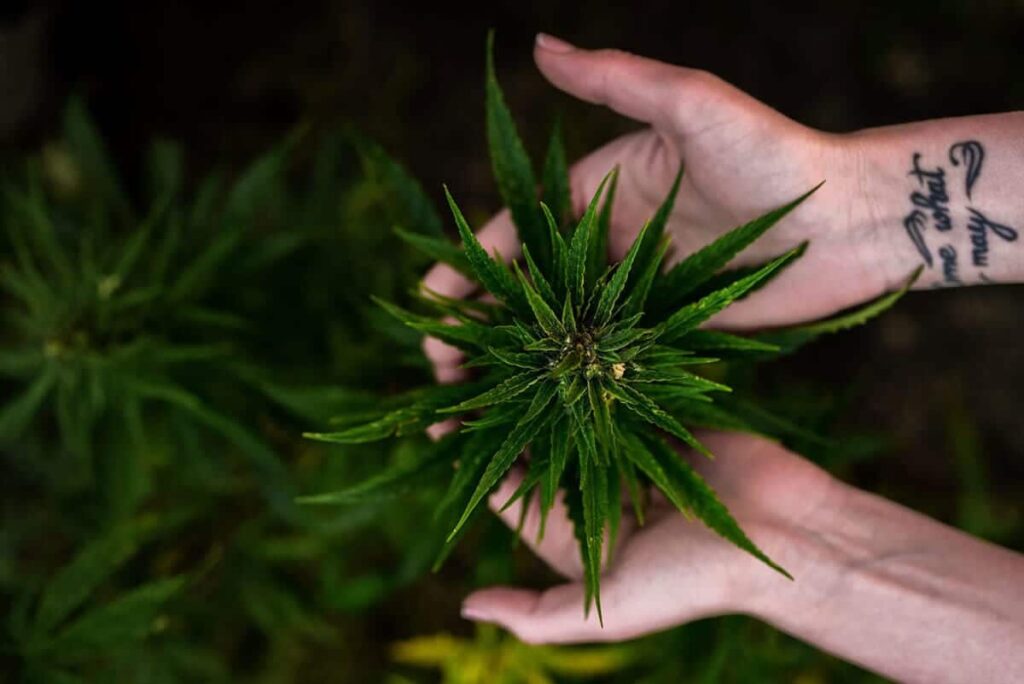 Get to Know the Company
Bluebird Botanicals is based in Colorado and offers a range of high-quality hemp extracts with a strong reputation. Brandon J. Beatty, an herbalist, began the company in 2012. The first product line was launched the following year, quickly growing. Since then, the company's CBD oil has gained a solid reputation to be among the best-established hemp products. In 2016, this reputation was solidified when the Denver Post awarded it the No. 1  Hemp-CBD Company at the Cannabist Awards.
Today, the company offers dozens of products with varying concentrations and ships across the country. Bluebird Botanicals continues to work towards its core mission of positively impacting the world and humanity.
Bluebird Botanicals is family-owned and treats its employees like family. The company always treats employees with respect, going beyond the international and federal standards for paid time off, benefits, HR policies, and more.
Ensuring Quality Control
Bluebird Botanicals ensures the delivery of high-quality products by having among the strictest quality control systems you will find, with recognition for its robustness. All products follow the cGMP (Current Good Manufacturing Practice) guidelines from the FDA. To give an idea of the extent to which Bluebird Botanicals prioritizes these guidelines, consider that a passing score for a third-party cGMP audit is 70 percent. In April 2018, the company earned a truly amazing 99 percent rating on its audit by Eurofins Scientific.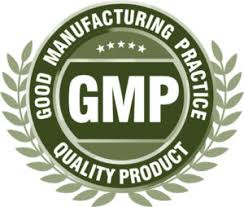 Registered With FDA and Other Certifications
 The company has two manufacturing facilities. Both of these have FDA hemp registration and Colorado Department of Public Health and Environment licensing.
On March 1, 2019, the company earned a U.S. Hemp Authority Certificate. The U.S. Hemp Authority (USHA) acts as a self-regulatory organization that provides reassurance to regulators and consumers that certified companies have safe, high-quality CBD and hemp products. The USHA started the certification in January 2019, so Bluebird Botanicals was among the first companies to receive a certificate.
Starting in December 2018, all Bluebird Botanicals products are certified Glyphosate Residue Free by The Detox Project. This is an important step as it is the very first hemp company to receive the certification.
Certificates of Analysis
Although there is no law requiring third-party testing or certificates of analysis, Bluebird Botanicals ensures that all of its products receive those certificates. Before any CBD product leaves the company's facility, it undergoes testing to receive these certificates. Anyone who wants to check can easily view those certificates of analysis online.
Third-Party Lab Results
Perhaps the most important part of the certificates of analysis for Bluebird Botanicals CBD products is that these come from third-party labs. As such, they are unbiased and show the true quality of the products.
Batch Database
To keep a record of third-party certificates of analysis on every product, Bluebird Botanicals maintains a batch database. For every single vape and ingestible products, you will see analyses for the cannabinoid profile, and potential mold, residual solvents, microbial life, heavy metals, pesticides, insecticides, and herbicides. The certificates of analysis for CBD isolates include details on cannabinoid potency and the lack of solvents, pesticides, herbicides, insecticides, and heavy metals.
There are two methods of using the batch database to look up information about your purchased products. You can start by looking at the batch number on your product. Then go to the page for your product on Bluebird Botanicals, select the test results tab, and choose your batch number. The other option is to visit the batch database to view information on all of the batches, including for your products. Either method will let you download the certificates of analysis for your given products.
Transparent Results for All to See
Most CBD companies will provide customers with basic certificates of analysis, such as those indicating they passed. Bluebird Botanicals aims for full transparency and a quality guarantee, which is why the company offers all the above details in the batch database.
It is also common for some CBD oil suppliers to require customers to contact them for lab results and certificates of analysis. Bluebird Botanicals does not want customers to waste time, which is why they provide all the information via their website.
Farming and the Environment
Bluebird Botanicals prides itself on forming and maintaining good and strong relationships with its farming partners. It is important to keep in mind that while some CBD product providers grow their hemp, Bluebird Botanicals does not. While this gives them less control during the growing process, the company's rigorous quality control makes up for it.
The company does make sure to use hemp extracts that are all grown in the United States. The only exception is the hemp seed oil used as the base oil in the Hemp Extract Classic. This oil is Canadian and certified organic.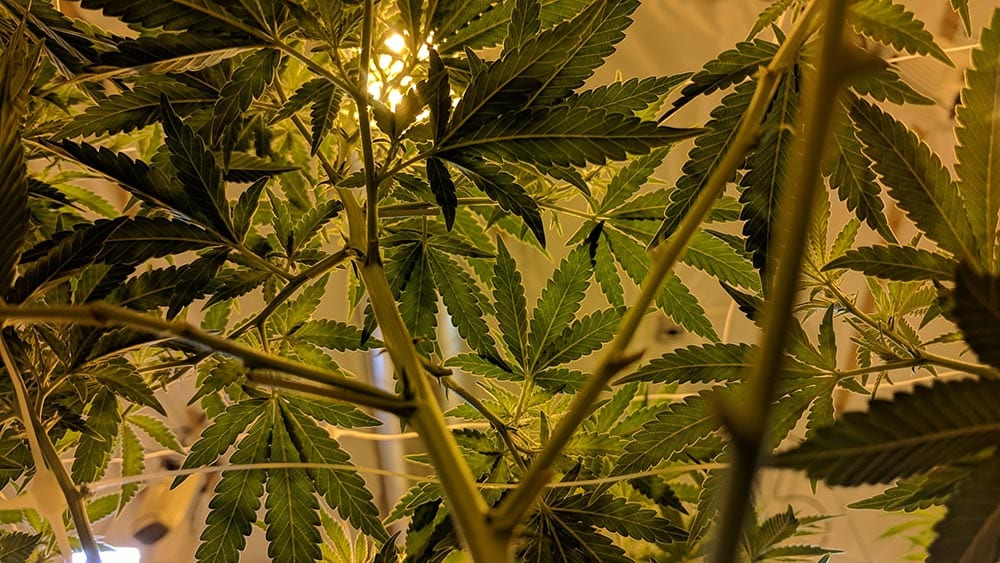 The company also makes it a point to follow environmentally friendly practices. The company has a low-carbon footprint and has certification for bioplastic recyclability.
Extraction Method
Bluebird Botanicals relies on ethanol/alcohol extraction for its hemp products. The company explains that this cold, clean extraction method helps with maximum terpene retention.
For some products, Bluebird Botanicals uses CO2 extraction, which requires a relatively low pressure along with a low temperature. For example, the CBD vape products and CBD isolates need additional processing to get the desired purity levels.
Pricing of Products
Bluebird Botanicals wants to make CBD products accessible, so the company strives to offer competitive pricing whenever possible. The company prides itself on its fair pricing structure and makes it a point to pass on savings to customers. There are also regular promotions, such as free shipping on orders of a certain size.
Refund Policy 
CBD oil has a 30-day return policy, provided the order is under $110. Bluebird Botanicals makes it clear that returns cannot be made because of taste. You can begin the return process by contacting the company via phone or email.
Financial Assistance Program
In addition to the already competitive prices, Bluebird Botanicals stands out with its financial assistance program.
Low-Income Program
The company's low-income program offers a discount for qualified customers who are at or below the federal poverty level. Applications need to provide a digital copy of current documentation that indicates they receive low-income benefits, with their SSN blacked out.
Veteran Program
All veterans of the U.S. military can receive discounts. To apply, send a digital copy of a military ID, a driver's license with the VA endorsement, DD214, or VA card, with sensitive information (like the SSN) blacked out.
Long-Term Disability Program
Those with long-term medical disabilities can also receive discounts. Applicants should supply a document from the government showing that they receive disability benefits.
Considerations
The discounts under the financial assistance program only apply to full-priced items. Bluebird Botanicals reminds customers to blackout or otherwise obscure their sensitive information when submitting documents.
Processing the request takes between seven to 10 business days. When Bluebird Botanicals finishes processing it, they email you the coupon code. You should only use the code for your purchases and those for immediate family members.
Customer Service
Customers of Bluebird Botanicals have indicated that the company has excellent customer service. The support team always receives high ratings for the quality of advice and responsiveness.
There are multiple methods of contacting Bluebird Botanicals, including via email, the published address, or the phone. There are addresses and phone numbers for both the main location in Louisville, Colorado and an office in London, United Kingdom.
Educational Information
Bluebird Botanicals offers a range of educational information for customers and website visitors. There is a FAQ section dedicated to hemp and CBD oil. This section includes information on understanding CBD oil, including how it works, as well as explanations of cannabinoids, differences between marijuana and hemp, serving sizes, side effects, and safety. There is also specific information about Bluebird Botanicals, including delivery zones, testing, and product selection.
The company also has a blog and a podcast, both of which provide additional information. The blog includes announcements about new products as well as educational posts, such as comparing CBD from hemp with that from marijuana. The company even has a podcast with 60 episodes, each focusing on a discussion with different experts in the field.
Community Involvement
The team at Bluebird Botanicals participates in various organizations and supports multiple non-profits.
Non-profits that the company supports and donates to include:
CURE
The American Cancer Society
The Diabetes Research Institute Foundation
The Autism Research Institute
The National Multiple Sclerosis Society
The National Veterans Foundation
National Relief Charities
The Global Fund for Women
The Colorado Coalition for the Homeless
The American Civil Liberties Union Foundation
The Multidisciplinary Association for Psychedelic Studies
The Mesothelioma Resource
The company also supports individuals who seek support.
Partnerships and alliances include:
Bluebird Founder and CEO, Brandon J. Beatty, serves as the U.S. Hemp Roundtable's Executive Vice President and the Chairman of its Policy & Messaging Committee.
The company is part of the Colorado Hemp Roundtable.
The company is part of the D37 Committee on Cannabis from ASTM International and subcommittees. That organization began during the late 1800s.
Bluebird is on the Advisory Board of the Hemp Program and Realm of Caring at Aims Community College.
The company is a Hemp Industries Association member, with Beatty serving on the Board of Directors.
Since 2018, Bluebird has been part of the American Herbal Products Association. Beatty is on the Cannabis and Government Relations committees. Dave Sommer, the Senior Lab Manager, is on the Lab & Analytics and Standards committees.
Buying From Bluebird Botanicals
You can choose to purchase products from Bluebird Botanicals online and have them shipped right to your preferred address. The company can ship its products to most states in the United States as well as several other nations.
Alternatively, Bluebird Botanicals products are available in numerous stores across the country. You can find a map on the company's website with locations spread throughout the country. There are hundreds of locations carrying the company's products, with options in most states. Many major cities even have dozens of Bluebird Botanicals suppliers.
CBD Clinicals is reader-supported. When you buy through links on our site, we may earn an affiliate commission.
Learn more