Can pet owners use CBD oil to treat cats with cancer? Is it safe?
Cancer affects cats in many ways and can drastically lower their quality of life. Symptoms such as persistent sores, changing lumps, lameness, unexplained bleeding, and loss of appetite are common among cats with cancer. (1)
Many medications are available to help alleviate the clinical signs of cancer, but can also cause adverse reactions to felines. Cannabidiol, also known as CBD, is a promising solution that could be a natural and safer remedy in treating cancer in cats. (2-3)
Several preliminary studies on CBD have shown that the phytocannabinoid might eliminate cancerous cells in the body (4)

.

Results also showed that CBD inhibited the growth of harmful tumors in a lab setting.

(5-6)
Despite the purported benefits of CBD oil, there is a lack of in-depth research regarding its use in animals. Cats that are given CBD formulations may experience side effects such as drowsiness (7), anxiety, nausea, and disorientation.
Best Organic CBD Pet Oil: Pet CBD by Nuleaf Naturals
Fur Favorite: Paw CBD by cbdMD
Most Liked: Pet CBD by 4 Corners Cannabis
Best Organic
Perfectly formulated CBD for Dogs, Cats, and other four-legged animals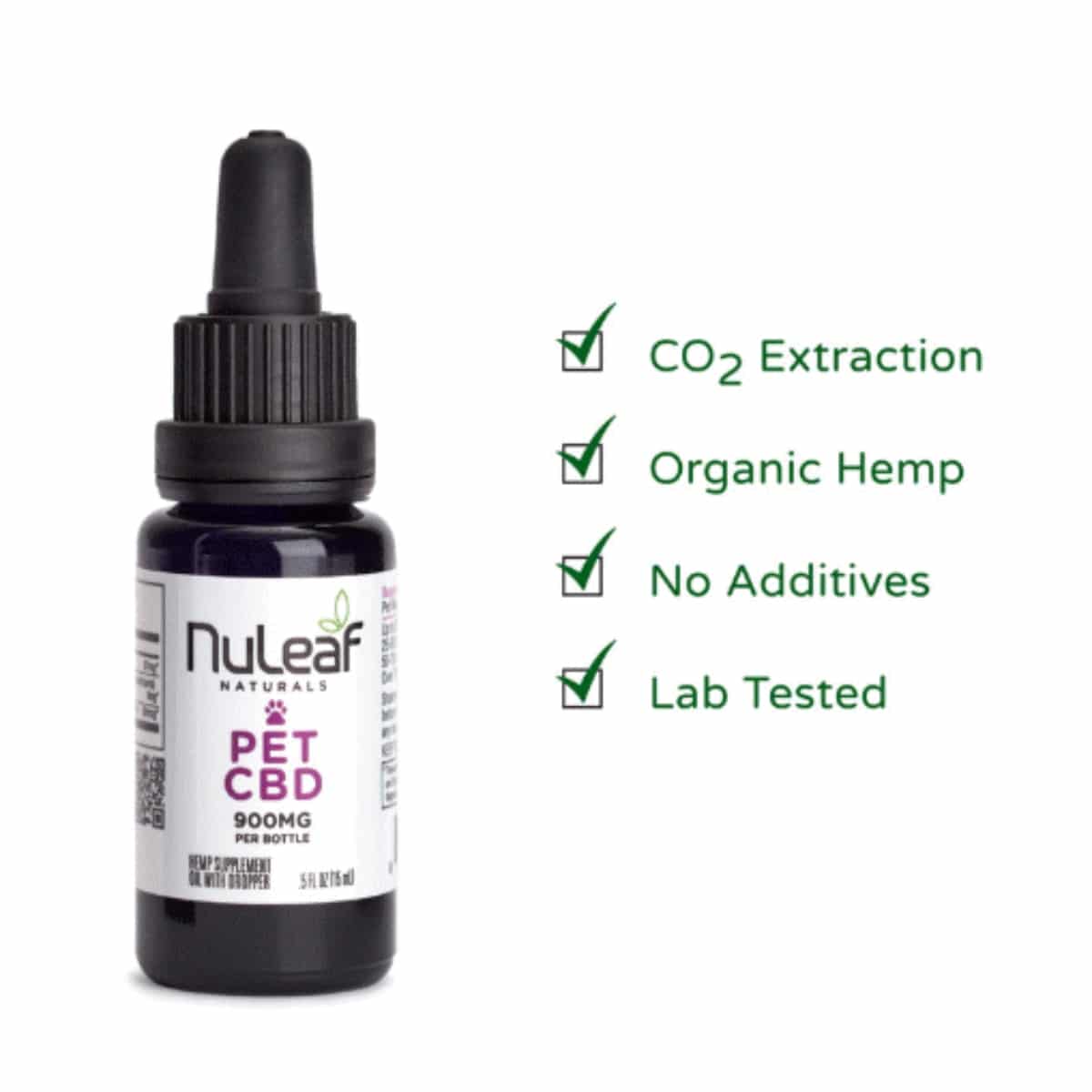 Overall Clinical Score

99%

Summary

CBD for dogs, cats and other four-legged friends! Our product is concentrated to approximately 60mg cannabinoids per milliliter of oil. While this product is designed for pets, it's great for humans, too.

Pros

Cons

Pure CBD hemp

All natural

Features

Discount pricing available?
CBDCLINICALS20
Source
Colorado, USA
Form
Oil Tincture
Ingredients
USDA Certified Organic Hemp Oil, Full Spectrum Hemp Extract
Type
Full Spectrum CBD
Extraction
CO2 Method
How to take it
2-3 drops per 20lbs
Potency
300mg - 900mg
Carrier Oil
Organic Hemp Oil
Concentration

CBD Concentration Per Serving

60ml per dropper full (1ml)
Drug Test
Not applicable
Flavours
Natural
Price Range
$38.50 - $179.50
$/mg CBD
$0.12 - $0.19
Shipping

Shipping/Time to delivery

2-3 Days via USPS
Lab Tests
Third Party Lab Tested post formulation for safety and potency, available on website
Contaminants
No additives or preservatives, Non-GMO, NO herbicides, pesticides, or chemical fertilizers
Allergens
Not specified
Refund policy
Within 30 days
Recommended for
All four-legged animals of any size and breed
Countries served
USA (all 50 states) and over 40 countries including Australia, Azerbaijan, Beliza, Bosnia & Herzegovina, Brazil, Chile, China, Croatia, Czech Republic, Estonia, France, Hong Kong, Hungary, Ireland, Israel, Japan, Latvia, Lebanon, Lithuania, Macao, Malaysia, Malta, Netherlands, New Zealand, Oman, Paraguay, Poland, Portugal, Saudi Arabia, Serbia, Singapore, South Korea, Sweden, Switzerland, United Arab Emirates, United Kingdom, Uruguay, and many more.
Check Latest Prices
Fur Favorite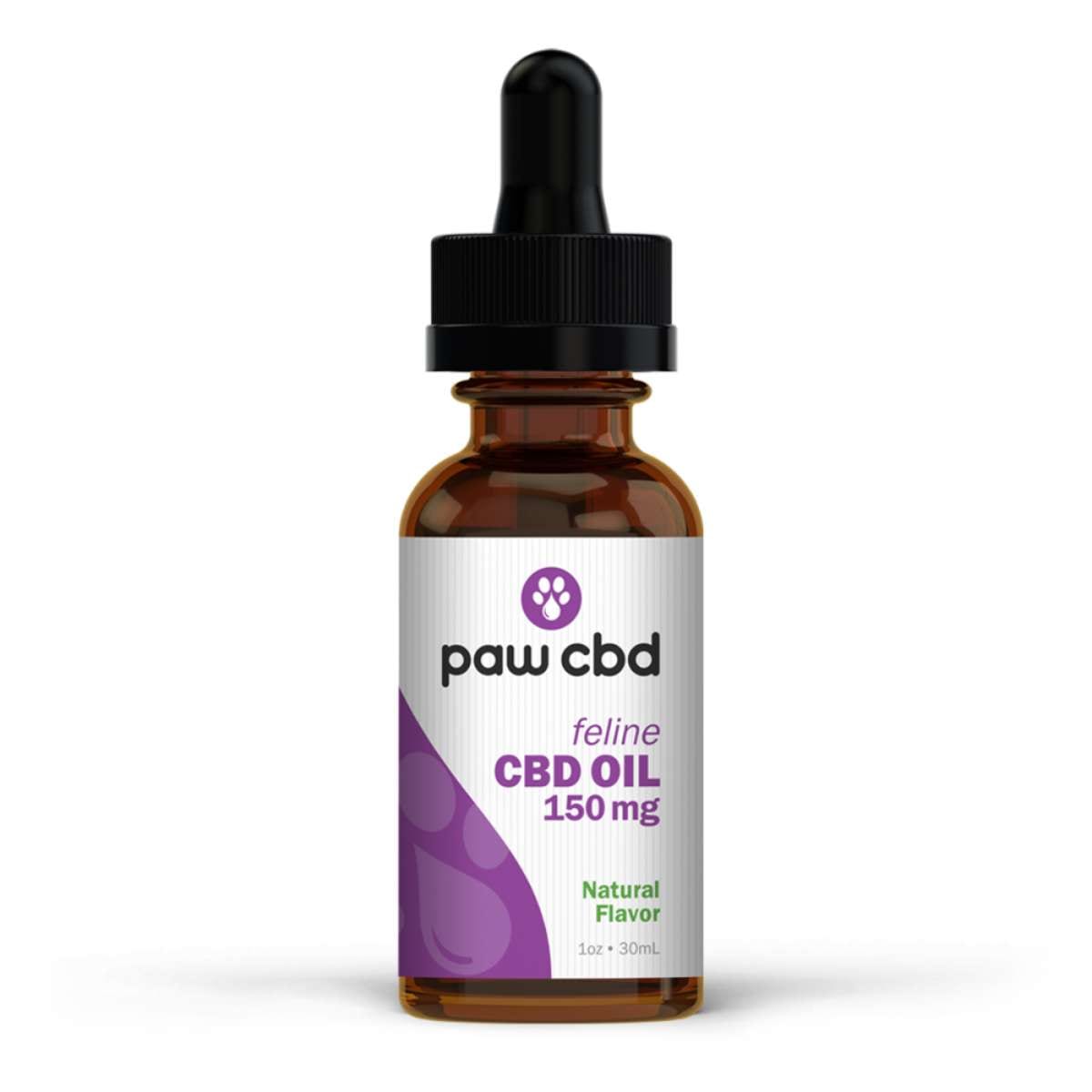 Overall Clinical Score

99%

Summary

CBD Oil Tinctures for Cats is 100% organic, non-GMO, vegan, and gluten-free. It comes in natural and catnip flavor.

Pros

Cons

Same CBD Oil benefits as for humans

No THC Animal-specific products (dogs, cats, horses)

Made from premium CBD from non-GMO USA hemp

Low terpene and cannabinoid profile

Features

Discount pricing available?
15% Off Coupon Code: cbdMD15
Source
Kentucky, USA
Form
Oil Tincture
Ingredients
Cannabidiol (CBD) and MCT Oil (from palm kernel oil)
Type
Broad Spectrum
Extraction
CO2 extraction method
How to take it
Every cat is a little bit different, so measurements will depend on weight, age, and a variety of other factors. A good way to start is to give your cat the lowest measurement indicated on the bottle every day, and see what happens. If your cat doesn't show as much improvement as you'd like, gradually increase the amount.
Potency
150 mg - 300 mg / 30 ml bottle
Carrier Oil
MCT Oil (from palm kernel oil)
Concentration

CBD Concentration Per Serving

150 mg - 5 mg per dropper (1ml), 300 mg - 10 mg per dropper (1ml)
Drug Test
Not applicable
Flavours
Natural and Catnip
Price Range
$19.99 for 150 mg, $29.99 for 300 mg
$/mg CBD
$0.10 - $0.13
Shipping

Shipping/Time to delivery

2-5 Business days (via Fedex)
Lab Tests
Third Party Lab Tested post formulation for safety and potency, available on website
Contaminants
100% organic, non-GMO, and vegan-certified
Allergens
Vegan, Gluten free
Refund policy
Within 30 days
Recommended for
All cat breeds and sizes
Countries served
USA only (all 50 states)
Check Latest Prices
Best High Potency
4 Corners Cannabis Pet Tincture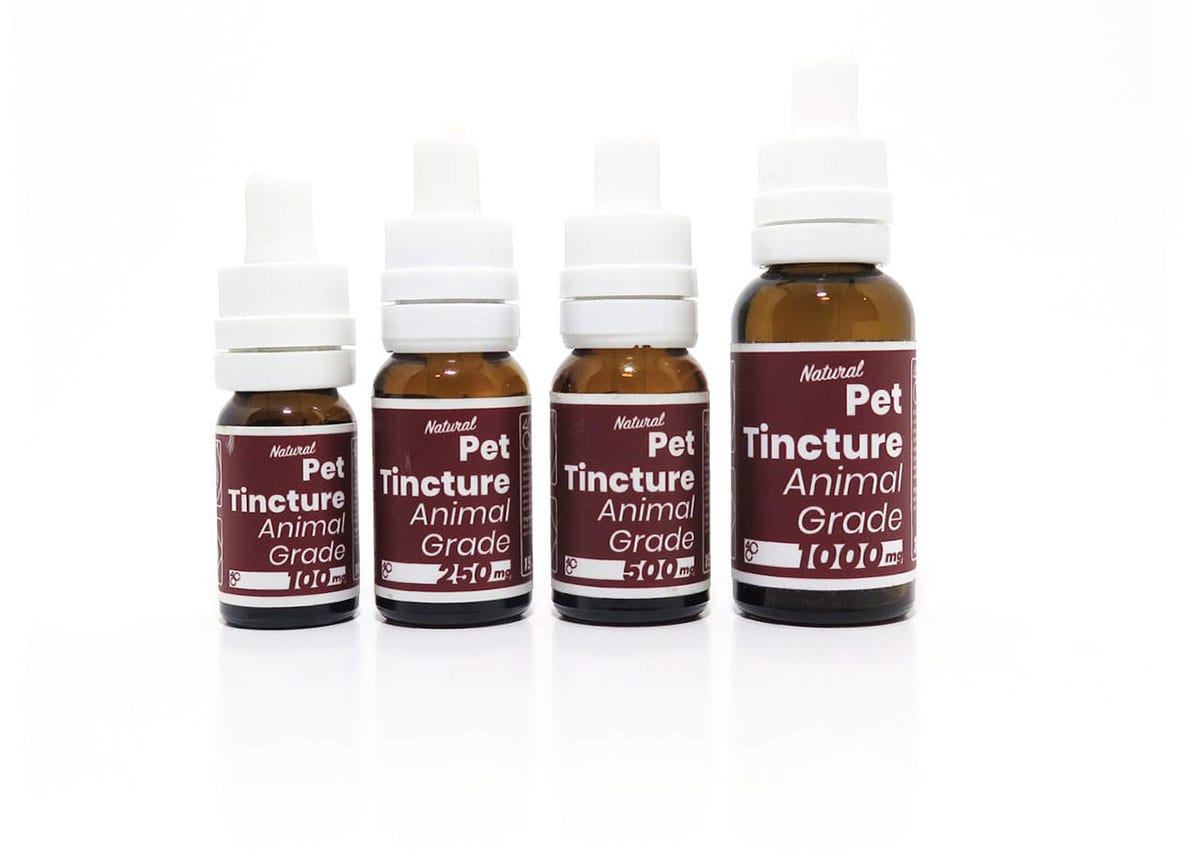 4 Corners Cannabis Pet Tinctures are generous on their options since there are different sizes and strengths available for you exact needs. The flavor peanut butter is available perfect for pets who are picky when it comes to eating.
Check Latest Price
Read our review
Can Cats with Cancer Use CBD Oil?
Cancer is one of the most feared health conditions today, and although it is not as common in cats as it is with dogs, it still affects many felines. Some of the symptoms of cancer in cats include persistent sores, lumps that change in size or shape, lameness, unexplained bleeding, and loss of appetite. (8)
Despite having no cure, there are many medications available that can alleviate the clinical signs of cancer. However, these pharmaceutical drugs also bring with them adverse reactions and harmful side effects that can only worsen the condition of a pet.
One particularly promising solution comes in the form of cannabidiol (CBD), which is the non-psychoactive component of cannabis and the main compound in the hemp plant.
There is a growing number of owners that are beginning to look towards CBD-based cannabis products to ease pain and other conditions in their pets. (9) Although there is no precise data suggesting that CBD can cure cancer, there are studies that point towards its therapeutic potential and compatibility in small animals. (10)
One study in 2018, for instance, shows encouraging results on the effects of hemp-based cannabidiol and terpenes on dogs suffering from osteoarthritis. The majority of the dogs that consumed CBD oil during the trial experienced significantly less pain and better mobility overall. (11)
The same study also shows that there were no side effects reported and that the dogs can tolerate a dosage of 2 mg per kilogram bodyweight of CBD oil twice each day. These findings may be an indication that the hemp-based nutraceutical is not dangerous for animals. (12)
A study on the endocannabinoid system (ECS) reveals that humans and animals, with the exception of some insects and protozoans, share this same system in their bodies (13). The ECS is responsible for regulating the functions of the brain, endocrine, and immune tissues, while it also contains cannabinoid receptors. (14)
Since animals and human beings also possess the same receptors, this means that cats can be naturally receptive to the cannabinoids present in CBD. This research on the ECS may be proof as to why the dogs in the study mentioned earlier did not experience any adverse effects upon consuming CBD oil.
CBD for Cats with Cancer
Three forms of CBD products for cats are available at this time. These include:
CBD Oils (Tinctures)
Oils are the most popular method in administering full-spectrum cannabidiol in cats. When people mention CBD oil for cats, this typically means using tinctures to help ease symptoms.
Cat CBD oil is given by way of a dropper, which is easily applied in the mouth. There are various flavors available for CBD tinctures that pet owners can choose from today.
CBD Capsules
CBD in the form of capsules is an ideal alternative for use in cats as they are provided in pre-measured portions. Each pill can be administered once or twice a day, depending on the recommendation of a veterinarian.
A capsule may contain 5 to 20 mg of CBD, so it is essential to consult a doctor before application. The pills can also be masked in pet food to make administration easier.
CBD Cat Treats
CBD pet treats for cats are also another way to administer CBD to a feline friend conveniently. Cats enjoy consuming treats that are made for them, and this product makes the application process straightforward.
Keep in mind, however, that the dosage in CBD treats may not be as accurate as with oils and capsules. Again, cat owners should talk to a veterinarian to know the proper dosage they should give to their pets.
Can CBD Oil Treat Cancer in Cats?
There are several clinical studies that were carried out, suggesting that CBD can fight the spread and growth of cancerous tumors in cats.
CBD Might Help Eliminate Cancer Cells
In 2011, researchers carried out an examination of how CBD would interact with breast cancer cells. Although the study was done in vitro, which means that it involved using either a sample dish or test tube instead of a live organism, the results were quite impressive.
In the study, the scientists learned that CBD could help induce programmed death on the cancer cells without causing much damage to the healthy cells. (15) How CBD was able to do this is relatively unclear, but the compound was able to help destroy damaged tissues, and cause apoptosis or programmed cell death.
Since cancer is primarily characterized by the abnormal growth of cells, the results of this study may be a hint that CBD can contribute in regulating cell growth.
CBD Can Help Stop Tumor Growth
The Breast Cancer Research and Treatment journal published a similar study in the same year regarding CBD and how it affects cancerous cells in the breast.
The study, although carried out on mice, found that CBD can help slow down the growth of breast cancer cells in these rodents. Additionally, researchers also discovered that it could reduce metastasis or the development of secondary malignant growths. (16)
Another study in 2003 revealed how there are cannabinoid receptors present in healthy and cancerous skin cells of mice. The researchers targeted these receptors and found that by activating the ECS with cannabinoids, the compounds contributed to cell death while helping slow down skin cancer growth. (17)
There are also several studies regarding CBD and its ability to inhibit angiogenesis. Angiogenesis is the process that allows cancerous tumors to continue growing by way of developing new blood vessels. (18)
Side Effects That CBD May Help Alleviate
CBD oil is not an approved treatment for cancer in cats. However, it is capable of providing relief to many of the side effects that come with cancer treatment.
Three prevalent options for treating cancer in cats are done via surgery, chemotherapy, or radiation therapy. Although it is impressive to have these choices to manage cancer cells in felines, these treatments have a lot of undesirable effects, especially long-term.
Below are the side effects that CBD may help alleviate in cat cancer treatment:
Nausea and Vomiting
Nausea is a common outcome for cats that undergo chemotherapy and radiotherapy to control the growth of cancer in their bodies. During such treatment, cells that line the intestines and stomach of a cat can be affected, leading to nausea and vomiting. (19)
There is encouraging evidence that demonstrates how the manipulation of the ECS in animals can regulate this digestive problem.
A study in 2011 shows that a wide variety of animals have the capacity to use the anti-emetic effect of cannabinoids in their bodies. Additional evidence also reveals that cannabinoids may be useful in treating nausea caused by chemotherapy. (20)
Since CBD is a phytocannabinoid, it is theoretically possible to use it to engage the ECS of cats after they receive chemotherapy to ease their gastrointestinal issues.
Chronic Pain
Tumors that are present in any part of a cat's body can cause mild to severe pain. Therapies such as radiotherapy, chemotherapy, and surgery can also lead to pain management issues.
Tramadol is a common analgesic given to cats that are suffering from cancer pain. However, its effectiveness is questionable in treating acute or traumatic pain, and its non-opioid mechanism may not work on felines. (21) The latest data suggests doses of 2 mg/kg are effective for tramadol.
In 2018, a study on dogs that had osteoarthritis were given CBD oil products to see the safety and analgesic effect it had on canines. The final assessment showed that the dogs had significantly less pain after the CBD treatment and became more active. (22)
This clinical trial also reported that there were no ill side effects observed despite being given 2 mg per kilo of body weight every twelve hours for four weeks. (23)
Inflammation
Squamous cell carcinoma in felines can start as a small patch of sore skin and oral tumors, which, if not healed, could be a sign of cancerous cells present in the body. Inflammation of the skin is one of the most common symptoms of squamous cell carcinoma in cats.
Research in 2000 reveals that cannabinoids, particularly with CBD from the cannabis plant, have strong anti-inflammatory properties. This same study investigates cannabinoid efficacy on mice that had collagen-induced arthritis and showed that it was able to improve the conditions on these rodents. (24)
A follow-up experiment in 2004 using a novel synthetic cannabinoid acid on mice with arthritis generated the same results. The cannabinoid was found to have suppressive effects on cell immune responses while also producing pro-inflammatory mediators, a hint to its usefulness as a novel, anti-inflammatory product. (25)
Causes of Cancer in Cats
There are several reasons why cancer can show up in the mammalian body of a cat.
Aging
The process of getting older is one of the primary causes of cancer in many cats. There are several reasons as to why aging can cause a higher rate of cancer growth in the body.
One theory is that the mutations on these cells accumulate over the years, which raises the likelihood of cancerous cell division to happen. (26) Degeneration of the mammalian body is also another suspect.
For instance, chronic inflammation experienced by cats over the years can damage DNA and weaken the immune system, leading to slow identification and elimination of harmful cells.
Fibrosarcoma
Fibrosarcoma is a common soft tissue cancer in cats that is caused by a combination of genetic and environmental factors. Although no specific cause can be identified, most cats that have fibrosarcoma developed tumors at a prior injection site on their bodies. (27)
Intact Reproductive Organs
Cats that are not spayed or neutered are at risk of developing cancer in their bodies. The spaying of female cats eliminates the possibility of breast and ovarian cancer, while neutering male ones reduce the incidence of prostate cancer. (28)
Apart from reducing the risk of cancer development, cats can also live longer and healthier lives when they are spayed and neutered. (29)
Carcinogens
These chemicals are believed to cause mutations in the genes that eventually become cancerous cells in the body. Cats can be exposed to the same carcinogens as that of humans, which include those coming from tobacco smoke, asbestos, x-ray radiation, and benzene. (30)
Possible Side Effects of CBD in Cats
Prior to administering CBD to a cat, pet owners should understand its potential side effects so that they are fully aware and prepared for what could happen. Although studies did show that CBD did not cause any adverse reactions during the trials, every cat can have a different response, and there is always the risk of harm.
The probability of these side effects can be higher with the improper use of CBD. Cat owners that notice a negative change in their pet's attitude may consult a veterinarian to reduce their CBD dosage.
A potential side effect of CBD hemp oil consumption is drowsiness. (31) In many cases, cats tend to portray sleepy behavior, which makes this reaction relatively difficult to notice at first.
Nausea, anxiety, changes in appetite, vomiting, weight loss, and disorientation are also other possible side effects of CBD use in cats. Although these reactions are rare, owners should cease applying CBD and contact a veterinarian immediately when they notice these signs.
Conclusion
Cancer in cats may not be as common as they are with dogs, but the symptoms felines experience can lower their quality of life significantly. Some of these signs include persistent sores, lumps that change in shape or size, unexplained bleeding, loss of appetite, and lameness.
There are many medications that pet owners can buy to help alleviate these symptoms. However, pharmaceutical drugs are known to cause adverse reactions that can only worsen the condition of a cat suffering from cancer.
Cannabidiol (CBD) is a promising solution that offers many potential health benefits in easing the symptoms of cancer in felines. Many pet owners are beginning to look towards high-quality CBD-based products with less tetrahydrocannabinol (THC) to help reduce the pain, inflammation, and other conditions their pets are experiencing.
Preliminary research studies on pet CBD show impressive results with the phytocannabinoid being able to help inhibit and even eliminate cancerous cell growth in the body. CBD may also provide relief to several clinical signs related to feline cancer.
However, the lack of in-depth studies on CBD use in animals leaves many questions unanswered, including the possible side effects of its use. Pet owners that notice any adverse reaction in using CBD should cease its application immediately and consult a veterinarian as soon as possible.
---
Rau Animal Hospital. 4 Types of Cat Cancer and Their Common Symptoms. Retrieved from: https://www.rauanimalhospital.com/resources/blog/cats/4-types-cat-cancer-and-their-common-symptoms.

Deabold KA, Schwark WS, Wolf L, Wakshlag JJ. Single-Dose Pharmacokinetics and Preliminary Safety Assessment with Use of CBD-Rich Hemp Nutraceutical in Healthy Dogs and Cats. Animals (Basel). 2019;9(10):832. Published 2019 Oct 19. doi:10.3390/ani9100832

Gamble LJ, Boesch J., Frye C., Schwark W., Mann S., Wolfe L., Brown H., Berthelsen E., Wakshlag J. (2018, July 23). Pharmacokinetics, Safety, and Clinical Efficacy of Cannabidiol Treatment in Osteoarthritic Dogs. Frontiers in Veterinary Science. DOI=10.3389/fvets.2018.00165

Shrivastava A, Kuzontkoski PM, Groopman JE, Prasad A. Cannabidiol induces programmed cell death in breast cancer cells by coordinating the cross-talk between apoptosis and autophagy. Mol Cancer Ther. 2011 Jul;10(7):1161-72. doi: 10.1158/1535-7163.MCT-10-1100. Epub 2011 May 12.

McAllister SD, Murase R, Christian RT, Lau D, Zielinski AJ, Allison J, Almanza C, Pakdel A, Lee J, Limbad C, Liu Y, Debs RJ, Moore DH, Desprez PY. Pathways mediating the effects of cannabidiol on the reduction of breast cancer cell proliferation, invasion, and metastasis. Breast Cancer Res Treat. 2011 Aug;129(1):37-47. doi: 10.1007/s10549-010-1177-4. Epub 2010 Sep 22.

Casanova ML, Blázquez C, Martínez-Palacio J, Villanueva C, Fernández-Aceñero MJ, Huffman JW, Jorcano JL, Guzmán M. Inhibition of skin tumor growth and angiogenesis in vivo by activation of cannabinoid receptors. J Clin Invest. 2003 Jan;111(1):43-50.

Iffland K, Grotenhermen F. An Update on Safety and Side Effects of Cannabidiol: A Review of Clinical Data and Relevant Animal Studies. Cannabis Cannabinoid Res. 2017;2(1):139‐154. Published 2017 Jun 1. doi:10.1089/can.2016.0034

Rau Animal Hospital. op. cit.

Journal of the American Holistic Veterinary Medical Assocation (2016). Consumer's Perceptions of Hemp Products for Animals. Retrieved from: https://www.ahvma.org/wp-content/uploads/AHVMA-2016-V42-Hemp-Article.pdf.

Deabold KA. et al. op. cit.

Gamble LJ. et al. op. cit.

Ibid.

Silver RJ. The Endocannabinoid System of Animals. Animals (Basel). 2019;9(9):686. Published 2019 Sep 16. doi:10.3390/ani9090686

Komorowski J, Stepień H. The role of the endocannabinoid system in the regulation of endocrine function and in the control of energy balance in humans. Postepy Hig Med Dosw (Online). 2007;61:99-105.

Shrivastava A. et al. op. cit.

McAllister SD. et al. op. cit.

Casanova ML. et al. op. cit.

Solinas M, Massi P, Cantelmo AR, Cattaneo MG, Cammarota R, Bartolini D, Cinquina V, Valenti M, Vicentini LM, Noonan DM, Albini A, Parolaro D. Cannabidiol inhibits angiogenesis by multiple mechanisms. Br J Pharmacol. 2012 Nov;167(6):1218-31. doi: 10.1111/j.1476-5381.2012.02050.x.

Llera, R. Feeding Your Cat During Cancer Treatment. Retrieved from: https://vcahospitals.com/know-your-pet/feeding-the-feline-cancer-patient.

Parker LA, Rock EM, Limebeer CL. Regulation of nausea and vomiting by cannabinoids. Br J Pharmacol. 2011;163(7):1411‐1422. doi:10.1111/j.1476-5381.2010.01176.x

Today's Veterinary Practice. Strategies for Managing Cancer Pain in Dogs and Cats, Part 2: Definitive and Palliative Management of Cancer Pain. Retrieved from: https://todaysveterinarypractice.com/elements-oncologystrategies-managing-cancer-pain-dogs-catspart-2-definitive-palliative-management-cancer-pain/.

Gamble LJ. et al. op. cit.

Ibid.

Malfait AM, Gallily R, Sumariwalla PF, Malik AS, Andreakos E, Mechoulam R, Feldmann M. The nonpsychoactive cannabis constituent cannabidiol is an oral anti-arthritic therapeutic in murine collagen-induced arthritis. Proc Natl Acad Sci U S A. 2000 Aug 15;97(17):9561-6.

Sumariwalla PF, Gallily R, Tchilibon S, Fride E, Mechoulam R, Feldmann M. A novel synthetic, nonpsychoactive cannabinoid acid (HU-320) with antiinflammatory properties in murine collagen-induced arthritis. Arthritis Rheum. 2004 Mar;50(3):985-98.

Aunan JR, Cho WC, Søreide K. The Biology of Aging and Cancer: A Brief Overview of Shared and Divergent Molecular Hallmarks. Aging Dis. 2017;8(5):628‐642. Published 2017 Oct 1. doi:10.14336/AD.2017.0103

South Carolina Veterinary Specialists & Emergency Care. Feline Fibrosarcoma. Retrieved from: https://www.scvsec.com/wp-content/uploads/2014/02/Feline-Fibrosarcoma.pdf.

Brown University. Spay and Neuter Your Pets. Retrieved from: https://www.brown.edu/Research/Colwill_Lab/CBP/spaynueter.htm.

Ibid.

Huff J. Chemicals and cancer in humans: first evidence in experimental animals. Environ Health Perspect. 1993;100:201‐210. doi:10.1289/ehp.93100201

Iffland K. et al. op. cit.
CBD Clinicals is reader-supported. When you buy through links on our site, we may earn an affiliate commission.
Learn more