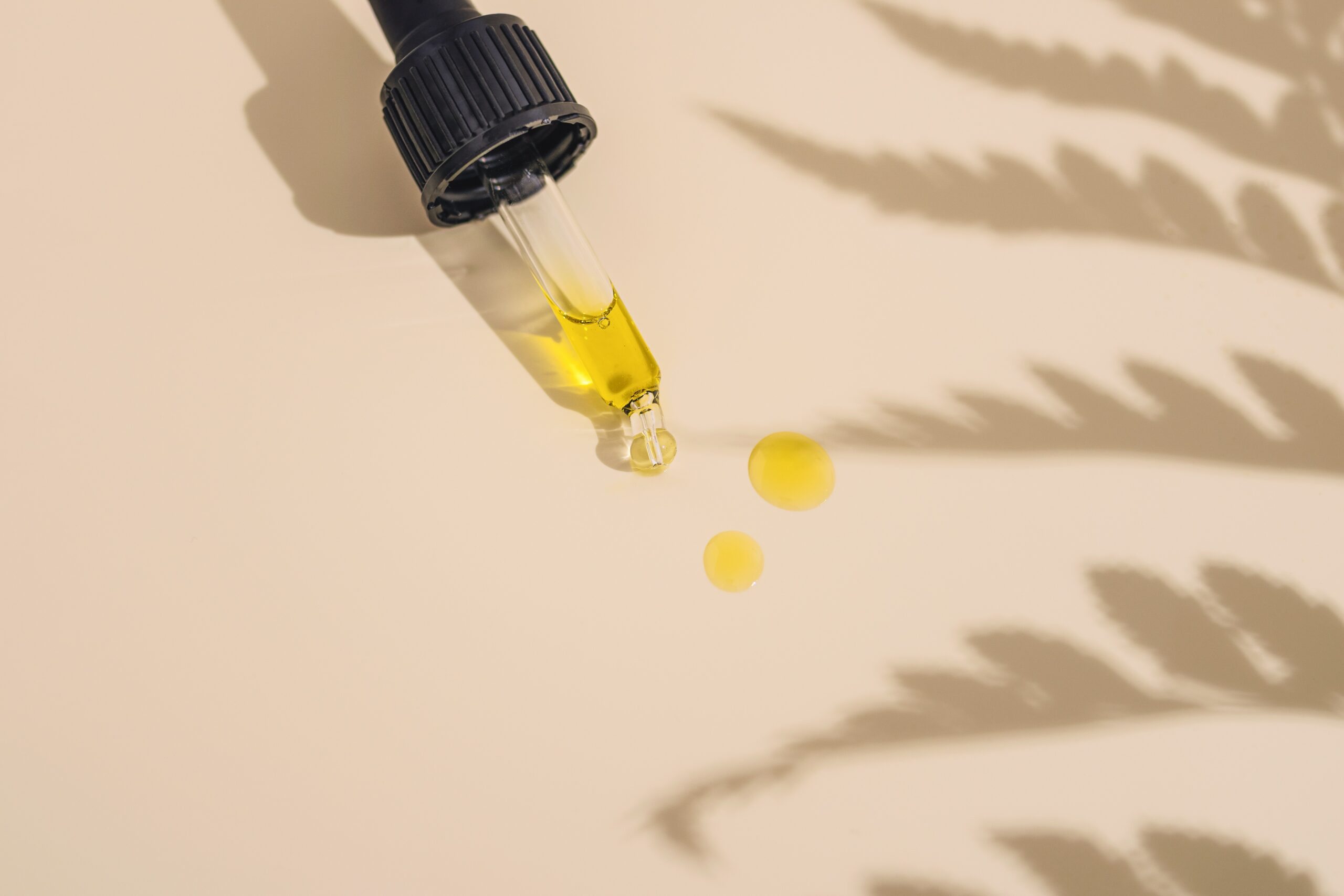 As more people experiment with various

forms of CBD

, the terminology around

CBD products

becomes more confusing. To distinguish themselves from the competition, several manufacturers provide a wide range of

CBD products

,

including

hempseed oil

,

full-spectrum CBD

,

broad-spectrum CBD

,

CBD isolate

, and nano CBD.

Hempseed oil

contains an abundant supply of polyunsaturated omega-3 and omega-6

fatty acids

, which are essential to human well

–

being

(1)

.

Likewise,

full-spectrum CBD products

may include less than 0.3

%

tetrahydrocannabinol

(THC)

, the psychoactive

cannabinoid

in the

cannabis plant

.

Broad-spectrum CBD products

contain all of the natural compounds of the cannabis plant

except for

THC. On the other hand, "isolate" refers to the separation of CBD from other

cannabinoids

in the extract. Typically, the final product contains

pure CBD

.

 
What Are the
Different Types of CBD
?
CBD product terminology is getting increasingly complex as more individuals experiment with different kinds of CBD. To differentiate themselves from the competition, some manufacturers develop various CBD products. 
There are three different types of CBD products: 
Full-spectrum CBD

Broad-spectrum CBD

CBD isolate
However, other types may include hempseed oil and nano CBD. 
No clinical studies show the most effective type of CBD. Thus, users may experiment with which type of CBD best works for their needs and conditions. 
Hempseed Oil
Hempseed oil contains an abundant supply of polyunsaturated omega-3 and omega-6 fatty acids essential to human well–being(2). 
Omega-3 and omega-6 polyunsaturated fatty acids (PUFAs) are desired components of oils with dietary and functional properties(3). Their therapeutic and health-promoting effects have previously been proven in various chronic inflammatory and autoimmune illnesses through several pathways.
Besides polyunsaturated fatty acids, hempseed oil has a naturally abundant supply of vital nutrients, including proteins and chemical compounds like terpenes and cannabinoids, which add to the oil's overall positive benefits(4).
Cannabinoids are a class of chemical compounds present in the cannabis plant(5). Tetrahydrocannabinol (THC) and cannabidiol (CBD) are the primary cannabinoids. 
Meanwhile, terpenes are natural oils that give cannabis its distinct flavor, color, and aroma. 
THC is the chemical responsible for the majority of the psychoactive effects of marijuana(6). According to the National Institute on Drug Abuse, its effects resemble naturally occurring cannabinoid compounds.
Specific brain regions related to cognition, memory, pleasure, coordination, and time perception are rich in cannabinoid receptors(7).
On the other hand, the benefits of CBD come in a naturally occurring, nonpsychoactive cannabinoid found in the hemp plant and are known to trigger various physiological and pharmacological effects(8).
Full-Spectrum CBD
Full-spectrum CBD refers to the components of each CBD variety. A full-spectrum CBD product contains many cannabis plant extracts, such as essential oils, terpenes, and other cannabinoids.
Full-spectrum CBD products may also include less than 0.3% of tetrahydrocannabinol, the psychoactive cannabinoid found in the cannabis plant.
Clinical trials demonstrate that full-spectrum cannabis extracts, such as Sativex, may help with neuropathic pain associated with multiple sclerosis(9).
While small-scale clinical trials indicate that full-spectrum cannabis extracts like Sativex are safe and beneficial for treating MS-related symptoms such as neuropathic pain, more study is warranted(10).
Broad-Spectrum CBD
Broad-spectrum CBD products include cannabichromene, cannabinol, and terpenes. Typically, broad-spectrum CBD does not contain THC.
Cannabichromene, or CBC, is one of the most prevalent nonpsychotropic cannabinoids identified in cannabis strains and variations(11). CBC may induce potent anti-inflammatory effects in animal edema models through pathways unrelated to CB receptors.
Cannabinol (CBN) is the nonenzymatic oxidation byproduct of tetrahydrocannabinol and is an artifact often found after prolonged storage, particularly at higher temperatures. The first cannabinoid discovered and isolated from cannabis was CBN(12).
CBN has shown promise as a component in topical treatments, suppressing keratinocyte growth (at low micromolar concentrations) through CBR-independent processes, indicating its relevance in treating psoriasis(13).
Terpenes, commonly known as terpenoids, are the most extensive and most diversified class of organic chemicals(14). Certain terpenes were widely used in traditional natural medicine. 
Cannabidiol and terpene species in hemp have attracted increased study attention in recent years owing to their human health benefits and pharmaceutical value, including(15): 
Antianxiety

Pain alleviation

Relaxation promotion

Anti-inflammatory

Antibacterial
CBD Isolate
The word "isolate" refers to the separation of CBD from other cannabinoids in the extract. Typically, the final product contains pure CBD. There are no additional terpenes or cannabinoids in these hemp plant components.
A single CBD molecule is processed and purified from the extractions of hemp flowers and leaves, resulting in a crystalline CBD product or CBD crystals.
Since isolate CBDs are THC-free, meaning they contain no trace amounts of THC, they do not produce psychoactive effects.
Although there is no specific CBD isolation extraction process, the two most frequent CBD extraction methods are CO2 extraction(16) and ethanol extraction(17). Note that these processes are identical to those used for medicinal cannabis extraction.
The initial product of CBD extraction from hemp plants is the distillate, followed by the isolate.
Chromatography is a process used in chemistry to separate mixtures. This method may also be used to isolate and purify cannabinoids.
The whole process of separating and isolating removes odor, color, and all plant-based substances. CBD isolates are colorless and odorless.
Nano CBD
Nanotechnology reduces the dimensions of anything to "nanoscopic" levels. It may seem simple. However, the process takes a molecular-level scientific technique.
CBD nanotechnology employs a method that splits the cannabis into nanoparticles and encases them in a material that passes easily into the bloodstream.
The Entourage Effect
The Lambert Initiative for Cannabinoid Therapeutics (LICT) research demonstrates that hemp extracts produce high concentrations of cannabinoid acids in mice. The high concentration is because of the 'pharmacokinetic entourage' mechanism of cannabinoids(18).
"Pharmacokinetic entourage effect" is the term used to describe the influence that various cannabinoids have on each other's plasma concentrations.
Thus, the "entourage effect" refers to the hypothesized favorable contribution of terpenes to the impact of cannabinoids(19).
Low-dose CBD products seem to have an anticonvulsant effect on seizures as well as relieve anxiety(20).
What Kind of
CBD Product
Is Right for Consumers?
The first step in locating the ideal CBD product for consumers is determining how they take it. There are various forms of CBD products, including:
Oils that consumers can smoke,

vape

, or use sublingually

Hemp flower and CBD joints pre-rolled

Edibles

like

gummies

and liquid

Topical

ointments,

creams

, and

balms
How users consume CBD may affect the compound's onset time and duration(21):
S

moking or

vaping

CBD

may take

effect for 2

to

15 minutes,

and its effects may last for

up to 4 hours. 

CBD oil

,

edibles

, and capsules have an onset time of 30

to

90 minutes.

CBD oil

used sublingually has a delayed onset but long-lasting effects, which last 6

to

8 hours. 

CBD sublingual products such as

tinctures

,

sprays

, strips, tablets, and high-potency oils have a 15

to

30

–

minute onset period. 

CBD

topicals

such as

cream

lotions

,

salves

,

balms

, and

sprays

have an onset time of 15

to

30 minutes and a lasting effect of up to 4 hours. 

CBD transdermal such as patches and gels have an onset period of 15

to

30 minutes and may last for 4 hours for gel

s

and 8 hours or more for patches.
CBD Carriers: Oils vs. Tinctures
Several CBD companies claim that they have the best CBD oils.  
CBD oils are commonly characterized as CBD isolate extracted from the whole plant (Cannabis sativa) using CO2 extraction and diluted in a carrier oil. 
On the other hand, a tincture is defined as an alcohol-based or alcohol-and-water solution. CBD tincture is produced by soaking hemp material in high-proof alcohol and gently heating it for some time.
The CBD oil tincture process permits CBD molecules to infuse with the alcohol, which is subsequently evaporated, leaving a liquid capable of delivering CBD chemicals throughout the body. 
Similar to CBD oils, commercial CBD tinctures include CBD isolate and carrier oil. Many CBD manufacturers replace the alcohol with a carrier oil and add substances, including natural flavorings, to improve the taste. 
These carrier oils are all-natural, including MCT oil, coconut oil, and hempseed oil.
Tinctures include a few other substances. These compounds are flavorings, terpenes, other cannabinoids, and essential nutrients combined to produce a brand-new proprietary blend.
How to Use
CBD Oil
Users can place a few drops or a full CBD oil dropper under the tongue and hold the oil for around 30 seconds before ingesting.
Oil molecules are taken directly into the bloodstream without needing to be digested or broken down by the body. 
As a topical, pure CBD oil is safe for consumers to use, but the CBD molecules will not be able to go into the bloodstream if applied topically.
One–size–fits–all does not apply to CBD dosage. The health and wellness of the users and the reason they are considering utilizing CBD will factor into how much they can take.
As with any new CBD supplement, it is always a good idea to get medical advice from a healthcare specialist before introducing CBD products into a regular regimen.
Ways to Consume CBD Products
There are different ways to consume CBD products.
There is an easy-to-use capsule version. CBD capsules are ingestible, which means CBD must pass through the digestive system and be digested before entering the bloodstream.
CBD-infused gummies are easy to consume and contain high concentrations of CBD per gummy.
Another way of using CBD products is to apply the content directly to the skin. Topicals include CBD topical cream, ointments, and CBD lotion.
 Meanwhile, CBD patches are applied transdermally to the desired part of the body. 
Additionally, CBD isolate may be combined with terpenes to make one's own CBD concentrates for vaping or dabbing. CBD isolate can be made into crystal slabs for dabbing with a standard oil rig.
If a third-party laboratory has tested CBD oil, consumers must look for a certificate of analysis (COA) to confirm the strength and purity of the high-quality CBD products.
CBD Safety and
Side Effects
Over the last years, there has been a dramatic rise in the popularity of cannabidiol products and other cannabis-derived goods in modern culture(22).
The FDA has authorized Epidiolex, a pharmaceutical formulation of CBD, to treat three forms of uncommon seizure disorders (Dravet syndrome, Lennox-Gastaut syndrome, and tuberous sclerosis complex)(23).
However, Epidolex is not for other types of epilepsy. Consequently, individuals with various kinds of epilepsy often seek alternative CBD formulations, such as those tested in current research(24).
The USFDA, or U.S. Food and Drug Administration, is still developing research to better understand the use and safety profile of CBD products on humans and animals(25).
Based on existing data, the agency expressed concerns and questions about the CBD products' quality(26).
Thus, the FDA does not know the full extent of the hazards connected with the long-term use of CBD products, such as their potential adverse effects. For the FDA and other public health agencies to make science-based decisions that affect public health, longitudinal clinical research is required(27).
Meanwhile, CBD may cause dry mouth, diarrhea, decreased appetite, drowsiness, and fatigue(28). Even though the compound is generally well tolerated, several drugs, including blood thinners, may interact with CBD.
---
Hemp Seed Oil Properties
https://extension.okstate.edu/fact-sheets/hemp-seed-oil-properties.html

Ibid.

 

Omega-3 Versus Omega-6 Polyunsaturated Fatty Acids in the Prevention and Treatment of Inflammatory Skin Diseases
https://www.ncbi.nlm.nih.gov/pmc/articles/PMC7037798/
Analysis of cannabinoids in commercial hemp seed oil and decarboxylation kinetics studies of cannabidiolic acid (CBDA)
https://pubmed.ncbi.nlm.nih.gov/29182999/
Cannabis (Marijuana) and Cannabinoids: What You Need To Know
https://www.nccih.nih.gov/health/cannabis-marijuana-and-cannabinoids-what-you-need-to-know
What is THC?
https://www.livescience.com/24553-what-is-thc.html

Ibid.

Conversion of Cannabidiol (CBD) into Psychotropic Cannabinoids Including Tetrahydrocannabinol (THC): A Controversy in the Scientific Literature
https://pubmed.ncbi.nlm.nih.gov/32503116/#:~:text=Abstract,several%20physiological%20and%20pharmacological%20effects.
The molecular mechanisms that underpin the biological benefits of full-spectrum cannabis extract in the treatment of neuropathic pain and inflammation
https://www.sciencedirect.com/science/article/pii/S0925443920301162

Ibid.

Cannabichromene
https://www.sciencedirect.com/topics/pharmacology-toxicology-and-pharmaceutical-science/cannabichromene

Ibid.

Therapeutic and Medicinal Uses of Terpenes
https://www.ncbi.nlm.nih.gov/pmc/articles/PMC7120914/
Cannabidiol and terpenes from hemp – ingredients for future foods and processing technologies
https://www.sciencedirect.com/science/article/pii/S2772566922000015#
Utilisation of Design of Experiments Approach to Optimise Supercritical Fluid Extraction of Medicinal Cannabis
https://www.ncbi.nlm.nih.gov/pmc/articles/PMC7272408/
Processing and extraction methods of medicinal cannabis: a narrative review
https://www.ncbi.nlm.nih.gov/pmc/articles/PMC8290527/
'An entourage effect': new clues on how low-dose CBD products work
https://www.sydney.edu.au/news-opinion/news/2021/07/22/entourage-effect-clues-how-low-dose-cannabinoid-cbd-products-work.html
The "Entourage Effect": Terpenes Coupled with Cannabinoids for the Treatment of Mood Disorders and Anxiety Disorders
https://www.ncbi.nlm.nih.gov/pmc/articles/PMC7324885/
'An entourage effect': new clues on how low-dose CBD products work
https://www.sydney.edu.au/news-opinion/news/2021/07/22/entourage-effect-clues-how-low-dose-cannabinoid-cbd-products-work.html
Healing with CBD page 190-194
https://drive.google.com/file/d/1AGlxnhS2SoFeOXEuysv75bd_C9pEnwsU/view
Better Data for a Better Understanding of the Use and Safety Profile of Cannabidiol (CBD) Products
https://www.fda.gov/news-events/fda-voices/better-data-better-understanding-use-and-safety-profile-cannabidiol-cbd-products
CBD Products May Help People with Epilepsy Better Tolerate Anti-Seizure Medications
https://www.hopkinsmedicine.org/news/newsroom/news-releases/cbd-products-may-help-people-with-epilepsy-better-tolerate-anti-seizure-medications

Ibid.

Better Data for a Better Understanding of the Use and Safety Profile of Cannabidiol (CBD) Products
https://www.fda.gov/news-events/fda-voices/better-data-better-understanding-use-and-safety-profile-cannabidiol-cbd-products

Ibid.

Ibid.
CBD Clinicals is reader-supported. When you buy through links on our site, we may earn an affiliate commission.
Learn more