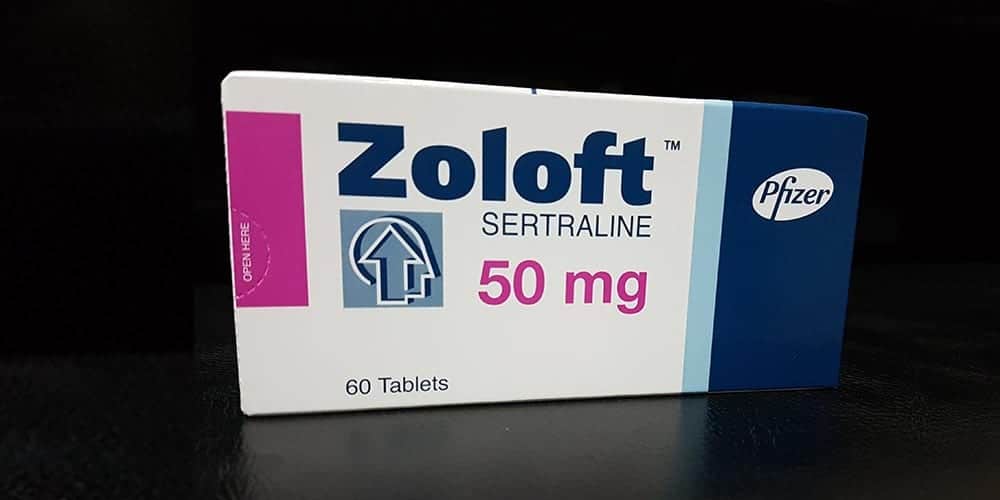 Does CBD interact with Zoloft and other antidepressants?
A 2018 study published in the Frontiers in Immunology Journal demonstrates CBD's anti-anxiety, antiepileptic, and antipsychotic properties(1). The authors suggest that these properties may help reduce depression linked to stress.
However, the results of a study conducted by researchers from Hokuriku University and Kyushu University of Health and Welfare in Japan indicated that CBD most potently inhibits the activity of liver enzymes(2).
Liver enzymes help metabolize drugs, including antidepressants, such as Zoloft. Taking CBD oil with SSRIs may reduce the efficacy of the antidepressants, or inversely, the efficacy of CBD oil may be reduced by the antidepressants(3).
Given that the studies on CBD use and depression are limited, the best course of action is still to consult with a doctor before starting a CBD regimen.

Can CBD be taken with Zoloft?
According to Mayo Clinic, antidepressants are a popular treatment choice for depression. Although antidepressants may not cure depression, they can reduce the symptoms(4).
Many types of antidepressant medications are available to treat depression, including selective serotonin reuptake inhibitors (SSRIs), serotonin and norepinephrine reuptake inhibitors (SNRIs), atypical antidepressants, tricyclic antidepressants (TCAs), and monoamine oxidase inhibitors (MAOIs). Zoloft (sertraline) is an antidepressant that belongs to a group of SSRIs.
Enzymes are the proteins that speed up chemical reactions in the body and help with vital body functions like digestion and respiration.
CYP34A enzymes belong to the class of CYP450 or Cytochrome P450 enzymes, which is essential for the metabolism of many medications(5).
An article by CBD Oil Review explains that CBD blocks the cytochrome P450 enzyme system's ability to metabolize certain drugs, including SSRIs, resulting in an overall increase in processing times(6). Thus, taking CBD supplements while on these medications could interfere with how the body absorbs these medications.
This mechanism mirrors that of the grapefruit as it inhibits the same set of liver enzymes, the CYP34A, that CBD blocks, according to an article published by Harvard Health Publishing(7).
In an article on grapefruit juice and medications, also published by Harvard Health Publishing, grapefruit was shown to be dangerous when combined with some drugs used for high blood pressure, high cholesterol, and depression, as the fruit can impair how the body absorbs the drugs(8).
When the CYP450 system's ability to metabolize certain drugs is affected, a high concentration of drugs remains in the body at one time. This increased level can cause unwanted side effects and, sometimes, an overdose(9).
Taking CBD oil with SSRIs may reduce the efficacy of the antidepressants, or inversely, the efficacy of CBD oil may be reduced by antidepressants(10).
Still, there is no substantial evidence to suggest any definite adverse reaction that may occur when taking CBD oil together with SSRIs.
Stipulations are not definite because of limited research published on CBD and drug interactions.
Another reason for the lack of conclusive evidence is because CBD possesses anti-depressive characteristics of its own.
In a 2014 study published in the CNS & Neurological Disorders – Drug Targets Journal, CBD was shown to possess antidepressant-like and anxiolytic-like effects(11) .
Adverse interactions between CBD oil and antidepressants are rare(12). However, seeking the advice of a physician or psychiatrist is recommended before combining the two substances.
Also, when taking medications that interact with CBD, consulting with a doctor is advised to ensure that supplementing a personal therapy with CBD oil is without risk. The doctor may have to adjust the dosage of the medications so that they can be safely used with CBD oil(13).
Can Another Antidepressant Be a Substitute for Zoloft So CBD Oil Can Be Taken
?
Zoloft (sertraline) is an antidepressant that works by increasing levels of serotonin in the brain.
As a neurotransmitter, serotonin modulates the activity of the nervous system and a wide range of processes linked to brain function and behavior, as indicated in a review published in the Annual Review of Medicine in 2018(14).
SSRIs are called selective because they primarily impact serotonin, not other neurotransmitters. SSRIs inhibit the reuptake or reabsorption of serotonin into the neurons, making serotonin accessible to improve the transmission of messages between neurons.
Mayo Clinic lists the SSRIs approved by the FDA to treat depression(15):
Citalopram (Celexa)

Escitalopram (Lexapro)

Fluoxetine (Prozac)

Paroxetine (Paxil, Pexeva)

Sertraline (Zoloft)
There are fewer side effects and drug interactions with SSRIs than with other types of antidepressants, according to Mayo Clinic.
However, for the same reason that CBD could interfere with how the human body metabolizes SSRIs, replacing Zoloft with any of the drugs listed above is likely to cause the same metabolic impact.
Can CBD replace Zoloft?
A 2018 study published in the Frontiers in Immunology Journal demonstrated CBD as a potential remedy to depression(16). In the study, researchers examined the experimental and clinical use of CBD and found that it showed anxiolytic (anti-anxiety), antiepileptic, and antipsychotic properties that may help reduce depression linked to stress.
CBD's potential benefits for depression may be linked to its positive impact on serotonin receptors in the brain.
A 2018 study published in Progress in Neuro-Psychopharmacology & Biological Psychiatry Journal shows how antidepressant-like effects induced by CBD are dependent on brain serotonin levels(17).
Researchers of a study, which was published in World Psychiatry Journal in 2015, found that impairing serotonin function can cause clinical depression in some circumstances(18).
In another study, which was published in Frontiers in Neuroscience in 2018, it was shown that CBD might help treat a variety of psychological conditions, including mental health and post-traumatic stress disorder (PTSD)(19).
Research published in Trends in Pharmacological Sciences in 2009 examined the therapeutic potential of the endocannabinoid system (ECS)(20).
The ECS works to maintain balance among the essential functions of the body, including sleep, mood, appetite, and bowel movements.
The authors of that study concluded that the endocannabinoid system could be the target of "the development of a novel class of antidepressants."
Researchers of another study, which was published in Neuropharmacology Journal in 2016, arrived at the same conclusion(21).
CBD also appears to have some benefits over most antidepressant medications that take weeks to start working.
Researchers in a study published in the British Journal of Pharmacology found that CBD induced fast and sustained antidepressant-like effects in animal models comparable to those of imipramine, a tricyclic antidepressant (TCA) used mainly in the treatment of depression(22).
However, there has been no study that would provide evidence that CBD can be used specifically to replace Zoloft.
Meanwhile, it is not advisable to stop taking prescribed medications, especially antidepressants, without talking to a healthcare provider first.
Medical experts caution against stopping taking sertraline, even when the person feels better. Missing doses of sertraline may increase the risk of relapse in symptoms, according to the National Alliance On Mental Illness (NAMI)(23).
Abruptly stopping sertraline use may result in one or more of the following withdrawal symptoms:
Before discontinuing sertraline intake or adjusting to low doses, work with a doctor or healthcare provider to devise a plan for gradually decreasing its dosage.
Even though CBD is becoming an increasingly popular alternative for a range of health issues, studies on how CBD may help with depression are limited. Thus, the best course of action is still to consult with a doctor before starting a CBD regimen.
What to Look for in a CBD Product
Zoloft interacts with CBD. Thus, consulting with a doctor is advised before supplementing a personal therapy with CBD oil. The doctor may consider adjusting the dosage of the medications so that they can be safely used with CBD oil(24).
Full-spectrum CBD oil contains all phytonutrients from hemp, including trace amounts of THC, terpenes, flavonoids, and essential oils. Meanwhile, CBD isolates carry only pure, isolated cannabidiol.
Regardless of the form of CBD products that one chooses, careful consideration must be employed in selecting the best CBD oil to use, especially when trying to manage depression.
The following factors are essential to ensure the safety and reliability of the CBD products purchased:
Research on the exact legal stipulations applicable to CBD in the area where it would be purchased and used.

Purchase only high-quality CBD products from legitimate and reliable brands. The majority of companies that manufacture the best CBD oil products grow their own hemp from their own farm, or they purchase from licensed hemp producers.

When buying from an online store, research product reviews. When buying from a physical store or dispensary, check whether the store is authorized by the government to sell CBD.

One important thing to look for in CBD products is certification codes. Several certification authorities approve certain products only after some thorough screening tests.

Compare company claims about their products' potency with that of the third-party lab reports.

Consulting with a trusted medical professional who is experienced in CBD use is ideal before one purchases his or her first bottle of CBD.

Depression vs. Anxiety Disorder
According to the Anxiety and Depression Association of America (ADAA), depression and anxiety disorder are not the same. However, people with depression often experience symptoms comparable to those of an anxiety disorder, such as irritability, nervousness, and problems concentrating and sleeping(25).
ADAA explains that each disorder has its own behavioral and emotional symptoms, as well as causes. Still, many people who have depression have a history of an anxiety disorder earlier in life.
Symptoms of both conditions usually improve with psychological counseling, medications, like antidepressants, or both.
In a 2914 study published in BMC Psychiatry Journal, researchers suggest that lifestyle changes like increasing social support, improving sleep habits, getting regular exercise, and using stress-reduction techniques may also help manage depression(26).
However, alcohol, smoking, and recreational drugs can make depression and anxiety disorder worse and interfere with treatment, according to the authors of the study.
Having high blood pressure may also contribute to poor management of depression. Results of a 2013 study published in Experimental & Clinical Cardiology Journal suggest that depression is a typical feature in people experiencing uncontrolled high blood pressure(27).
Screening for depression in people with high blood pressure is an easy and cost-effective tool that may improve results.
Zoloft (Sertraline) for Depression
A 1994 study published in Clinical Therapeutics Journal examined the role of sertraline in the management of depression(28). Researchers concluded that this SSRI showed promise as a therapeutic alternative in the management of depression.
However, a study published in Lancet Psychiatry Journal recently has found that, despite being marketed as an antidepressant, sertraline may be unlikely to alleviate depressive symptoms within six weeks. Meanwhile, their data showed improvements in anxiety(29).
The unexpected results prompted Professor Glyn Lewis, lead researcher and head of division at the University College London (UCL) Psychiatry, to say, "We definitely need better treatments for depression – we need more research in this area."
Understanding CBD
Cannabidiol, more recognized as CBD, is becoming increasingly popular as a remedy for common ailments. It is one of the many chemical compounds known as cannabinoids found in the cannabis plant, which is also occasionally called hemp or marijuana, depending on the degree of tetrahydrocannabinol (THC) it contains.
THC is another cannabinoid that is linked to a "high," being the psychoactive constituent of marijuana. Unlike THC, however, CBD keeps one alert and energetic. CBD counters the effects of THC by decreasing the level of stress or anxiety. Because of this action, CBD is frequently extracted to use distinctly for medical use that is non-psychoactive.
CBD oil is the undiluted liquid decoction of Cannabis sativa, a plant commonly known as marijuana. Consumers can purchase CBD oil separately and use it orally. CBD oil or tincture is a popular CBD product that one may purchase online like an over-the-counter supplement.
Conclusion
CBD continues to gain popularity as scientists discover more of its potential health benefits.
However, a Harvard Health article by Peter Grinspoon, M.D., author of the memoir Free Refills: A Doctor Confronts His Addiction warns that CBD use may potentially cause side effects, including irritability, nausea, and fatigue(30). Also, CBD may increase the level in the blood of the blood thinners like coumadin, and it can raise levels of other prescription medications in the blood as well.
In its Consumer Update, the U.S. Food and Drug Administration (FDA) also warned against some CBD products that are being marketed with unsubstantiated medical claims and are of inferior or unknown quality(31). Thus, choosing products carefully is essential as getting a safe and potent CBD product from a reliable supplier may prove challenging.
Given that the studies on CBD interactions with antidepressants are limited, it is not easy to conclude what can potentially happen when a dose of CBD is taken with antidepressants like Zoloft.
Discontinuing Zoloft use without the advice of a doctor is not recommended. The best course of action is still to consult with a medical professional before considering CBD as one of the treatment options for depression and starting a CBD regimen.
---
Crippa JA, Guimarães FS, Campos AC, Zuardi AW. Translational Investigation of the Therapeutic Potential of Cannabidiol (CBD): Toward a New Age. Front Immunol. 2018;9:2009. Published 2018 Sep 21. doi:10.3389/fimmu.2018.02009.

Yamaori S, Ebisawa J, Okushima Y, Yamamoto I, Watanabe K. Potent inhibition of human cytochrome P450 3A isoforms by cannabidiol: role of phenolic hydroxyl groups in the resorcinol moiety. Life Sci. 2011 Apr 11;88(15-16):730-6. doi: 10.1016/j.lfs.2011.02.017. Epub 2011 Feb 26.

Lynch T, Price A. The Effect of Cytochrome P450 Metabolism on Drug Response, Interactions, and Adverse Effects. Am Fam Physician. 2007 Aug 1;76(3):391-396. Retrieved from

https://www.aafp.org/afp/2007/0801/p391.html

.

CBD Oil Review. Drugs that May Interact with CBD Oil. op. cit.

CBD Oil Review. Antidepressants and CBD Oil Interaction. op. cit.

de Mello Schier AR, de Oliveira Ribeiro NP, Coutinho DS, Machado S, Arias-Carrión O, Crippa JA, Zuardi AW, Nardi AE, Silva AC. Antidepressant-like and anxiolytic-like effects of cannabidiol: a chemical compound of Cannabis sativa. CNS Neurol Disord Drug Targets. 2014;13(6):953-60. DOI: 10.2174/1871527313666140612114838.

CBD Oil Review. Antidepressants and CBD Oil Interaction. op. cit.

CBD Oil Review. Drugs that May Interact with CBD Oil. op. cit.

Berger M, Gray JA, Roth BL. The expanded biology of serotonin. Annu Rev Med. 2009;60:355–366. doi:10.1146/annurev.med.60.042307.110802.

Crippa JA. op. cit.

Sales AJ, Crestani CC, Guimarães FS, Joca SRL. Antidepressant-like effect induced by Cannabidiol is dependent on brain serotonin levels. Prog Neuropsychopharmacol Biol Psychiatry. 2018 Aug 30;86:255-261. doi: 10.1016/j.pnpbp.2018.06.002. Epub 2018 Jun 6.

Cowen PJ, Browning M. What has serotonin to do with depression?. World Psychiatry. 2015;14(2):158–160. doi:10.1002/wps.20229.

Bitencourt RM, Takahashi RN. Cannabidiol as a Therapeutic Alternative for Post-traumatic Stress Disorder: From Bench Research to Confirmation in Human Trials. Front Neurosci. 2018;12:502. Published 2018 Jul 24. doi:10.3389/fnins.2018.00502.

Hill MN, Hillard CJ, Bambico FR, Patel S, Gorzalka BB, Gobbi G. The therapeutic potential of the endocannabinoid system for the development of a novel class of antidepressants. Trends Pharmacol Sci. 2009 Sep;30(9):484-93. doi: 10.1016/j.tips.2009.06.006. Epub 2009 Sep 3.

Linge R, Jiménez-Sánchez L, Campa L, Pilar-Cuéllar F, Vidal R, Pazos A, Adell A, Díaz Á. Cannabidiol induces rapid-acting antidepressant-like effects and enhances cortical 5-HT/glutamate neurotransmission: role of 5-HT1A receptors.Neuropharmacology. 2016 Apr;103:16-26. doi: 10.1016/j.neuropharm.2015.12.017. Epub 2015 Dec 19.

Zanelati TV, Biojone C, Moreira FA, Guimarães FS, Joca SR. Antidepressant-like effects of cannabidiol in mice: possible involvement of 5-HT1A receptors. Br J Pharmacol. 2010;159(1):122–128. doi:10.1111/j.1476-5381.2009.00521.x.

CBD Oil Review. Drugs that May Interact with CBD Oil. op. cit.

Sarris J, O'Neil A, Coulson CE, Schweitzer I, Berk M. Lifestyle medicine for depression. BMC Psychiatry. 2014;14:107. Published 2014 Apr 10. doi:10.1186/1471-244X-14-107.

Rubio-Guerra AF, Rodriguez-Lopez L, Vargas-Ayala G, Huerta-Ramirez S, Serna DC, Lozano-Nuevo JJ. Depression increases the risk for uncontrolled hypertension. Exp Clin Cardiol. 2013;18(1):10–12.

Shelton, RC. The role of sertraline in the management of depression. Clin Ther. 1994 Sep-Oct;16(5):768-82; discussion 767.

https://www.ncbi.nlm.nih.gov/pubmed/7859236

.

Lewis G, Duffy L, […], and Woodhouse R. The clinical effectiveness of sertraline in primary care and the role of depression severity and duration (PANDA): a pragmatic, double-blind, placebo-controlled randomised trial. Lancet Psychiatry. 2019 Nov;6(11):903-914. doi: 10.1016/S2215-0366(19)30366-9. Epub 2019 Sep 19.

Grinspoon, P. op. Cit.
CBD Clinicals is reader-supported. When you buy through links on our site, we may earn an affiliate commission.
Learn more