CBD Products From Elixinol
Elixinol has one of the best selections of CBD products in terms of versatility. In addition to capsules and tinctures, you can find skincare products, topical balms, and dog treats.
All of the items from Elixinol are 100 percent organic hemp products of the highest quality. The company uses CO2 extraction to create the products, ensuring pure products from the whole-plant hemp-oil extract. Extraction is done with a supercritical fluid method that does not include any harmful chemicals, just CO2. This results in wholesome, non-synthetic hemp oil from industrial hemp.
CBD Capsules
The CBD capsules from Elixinol offer convenience for full-spectrum cannabinoids. Each capsule has 30 mg of hemp oil and 15 mg of CBD. The capsules also include natural molecules such as pigments, water, glycosides, vitamins, flavonoids, ketones, alcohols, sugars, amino acids, nitrogenous compounds, alkanes, and aldehydes. They are available as:
450 mg of CBD (30 capsules) for $44.99
900 mg of CBD (60 capsules) for $79.99
Hemp CBD Oil Tinctures
The Hemp CBD Oil Tinctures from Elixinol do not contain any PEG or PGs, which are harmful compounds that many CBD oils contain. The CBD oils are always based on VG (vegetable glycerin) and are full-spectrum oils.
Respira Tinctures
The Respira CBD Oils feature the most advanced and newest CBD supplement formula from Elixinol. These products are multi-use with versatility and convenience in mind. It is a full-spectrum CBD tincture that you can use orally or with food.
You can choose from Respira Hemp Oil – CBD Oil with Grape Mint or Natural Flavor. Both flavors are available as:
300 mg in 15 ml for $39.99
600 mg in 30 ml for $74.99
Other Tinctures
 There are also CBD Tinctures – Hemp Oils with either cinnamint or natural flavors. These are also full-spectrum hemp oil products made from supercritical CO2 extraction. There are no toxic chemicals or harsh solvents involved as the products are distilled with organic cane ethanol.  The wholly-natural pure CBD hemp oil is suspended within coconut oil.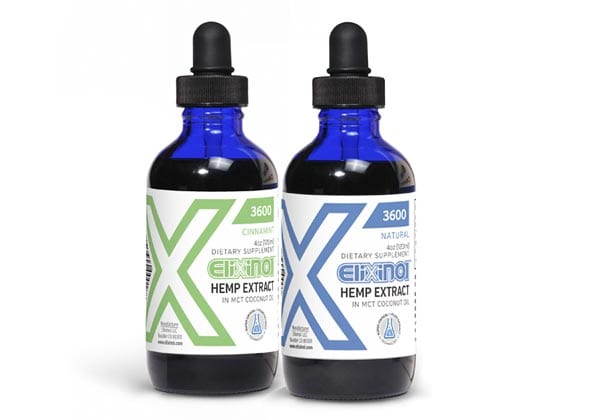 The tinctures contain other natural molecules like alkanes, alcohols, nitrogenous compounds, amino acids, aldehydes, sugars, flavonoids, glycosides, pigments, ketones, alcohols, vitamins, and water.
These are available as:
300 mg in 1 ounce for $29.99
3,600 mg in 120 ml/4 ounces for $249.99
Extra-concentrated Tinctures (Brazil Only)
Those who live in Brazil can also choose a tincture with an even higher concentration, the Extrato Rico Em CBD Cannabidiol – 5,000 mg. This product is only available in Brazil and requires a prescription. Elixinol can guide you through the process of getting this product. It is similar to the other tinctures but more concentrated. It has the same distillation process, the same extraction process, and the same natural molecules. Choose from natural or cinnamint flavors. You get:
5,000 mg of CBD in 120 ml/4 ounces for $599
Hemp CBD Oil Liposomes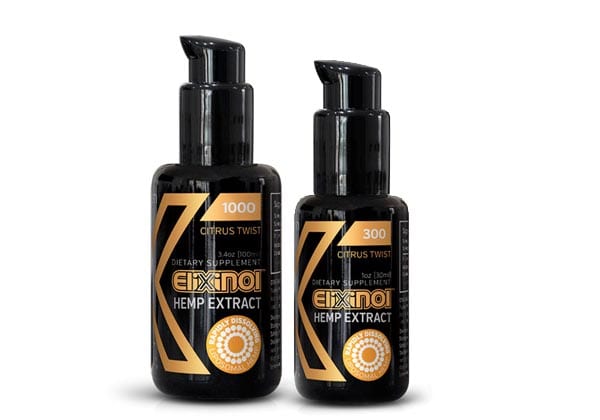 The Hemp CBD Oil Liposomes from Elixinol are a somewhat unique product. Liposomes are hemp oil carriers that make it easier for the oil to pass through your body's membranes. These let you enjoy the benefits of the oil more quickly. You can take these products directly underneath your tongue or mix them with water. The key difference of the liposomes with the other Elixinol products is the rapid absorption and quick metabolism.
Each serving of the liposomes has 5 mg of bioavailable CBD. The product is sweetened via Stevia extract and has natural flavors. The use of Miron violet glass lets the violet wavelengths in, energizing and enhancing the product while keeping out other wavelengths.
Like other Elixinol products, the liposomes are made with full-spectrum hemp extract from a supercritical CO2 extraction process. The flavor of this product is Citrus Twist. Choose from:
300 mg CBD total (60 5-mg servings) for $59.99
1,000 mg CBD total (200 5-mg servings) for $129.99
Water Soluble CBD Powder
The water-soluble CBD powder from Elixinol is a full-spectrum powdered hemp CBD formula that uses the microencapsulated technology Powered by OLEO. The flavors have high bioaccessibility and unique terpene profiles. The flavors are conveniently packaged in single-serving sachets. The products are gluten-free, vegan, dairy-free, and non-GMO. You can easily mix the powder into any beverage.
The microencapsulated technology allows for quick absorption and high bioaccessibility. The products dissolve in water quickly, have undetectable THC levels, and are non-addictive, non-intoxicating, and caffeine-free.
Choose from Berry, Citrus, or Cocoa Flavor, depending on your preference:
Berry or Citrus with a 30 pack of 10 mg packets for $59.99
Cocoa with a 30 pack of 10 mg packets for $59.99
A 21-pack with seven of each packet for $44.99
SATIVA Hemp Skincare
The SATIVA Hemp Skincare line from Elixinol offers sustainable boutique skincare products made using 100 percent organic hemp. They feature pure hemp seed oil and ingredients that are sustainably sourced from around the world. The ingredients include certified organic Australian Finger Lime and Kakadu Plum extracts, Amazonian Copaiba, and Sapindus Berry.
They are non-irritating, non-toxic, 100 percent vegan, and free from sulfates, parabens, and aluminum. The only non-vegan product is the lip balm. The products are dermatologically tested in cruelty-free facilities. They are made in an Australian carbon-neutral manufacturing facility.
Products include:
Hemp Lip Balm (25 ml/0.8 fl. oz.) for $12.99
Hemp Moisturizer (50 ml/1.7 fl. oz.) for $44.99
Hemp Cleanser (125 ml/4.2 fl. oz.) for $24.99
Hemp Serum (30 ml/1 fl. oz.) for $44.99
Hemp Deodorant (60 ml/2.0 fl. oz.) for $14.99
Hemp Hand Cream (40 ml/1.4 fl. oz.) for $14.99
Hemp Body Wash (250 ml/8.5 fl. oz.) for $19.99
Hemp Hair Shampoo (200 ml/6.8 fl. oz.) for $19.99
Hemp Hair Conditioner (200 ml/6.8 fl. oz.) for $19.99
CBD Topical Balms
The Elixinol CBD Hemp Balms are topical skin balms to rejuvenate the skin. They have a custom-formulated blend with hemp oil rich in phytocannabinoids, virgin andiroba oil, blue mallee eucalyptus, and pure uccuuba butter. The products help fight aging, irritation, and dryness for youthful, healthy, and vibrant skin. There are no synthetic chemicals, and the formulas are plant-based and suitable for all skin types.
Products include:
CBD Hemp Balm (120 ml/4 fl. oz.) for $29.99
Extra Strength CBD Hemp Balm with 250 mg of full-spectrum CBD for $59.99
CBD Lip Balm (4.3 grams/0.15 oz.) for $7.99
X-Pen 1000 mg CBD Oil Oral Applicators
The oral applicators from Elixinol help ensure that you get the perfect serving of the CBD oil. They have vacuum-sealed dispensers with 1,000 mg of CBD in total. Every click is 15 mg of the hemp extract. The storage is secure with a twist-lock mechanism, and the product remains in a vacuum for protection from bacteria and air. You can remove and wash the tip, making this product good for sharing. The proprietary housing features a violet polymer to ensure product freshness. It is available as:
1,000 mg of CBD Hemp Extract for $129.99
CBD Dog Treats
For those whose pets need to take advantage of CBD's benefits, Elixinol offers pet treats. The treats are made specifically for dogs, with every treat containing 1-1.5 milligrams of CBD. The Pet Releaf CBD hemp oil comes from organic hemp plants grown in Europe along with whole-food, human-grade ingredients. They are designed by vets and the company's master chef and have the same third-party testing as other Elixinol products.
Products include:
CBD Dog Treats – Hemp Oil Edibles with Peanut Butter & Banana or Blueberry & Cranberry for $23.99
Large Breed CBD Dog Treats – Peanut Butter Banana or Blueberry Cranberry Edibles for $29.99
Soft Chew CBD Treats for Dogs – Peanut Butter & Carob or Sweet Potato Pie for $27.99
Soft Chew CBD Treats for Large Dogs – Peanut Butter & Carob or Sweet Potato Pie for $33.99
Hemp Seeds and Protein Powder
Finally, Elixinol offers hemp seeds and protein powder as whole-food hemp products. The protein powder has protein, omegas, fiber, and essential amino acids and can be used like any other protein powder. The shells of the hemp seeds are removed via a mechanical process without heat to avoid loss of nutritional benefits. Options include:
Conclusion
Elixinol has a long history of working with the hemp industry and CBD, offering confidence to customers. The company also has a very nice product range with multiple types of products. Perhaps the only thing missing would be a range of doses in Elixinol CBD products, although other than this, the product range is all-inclusive and of high quality.
Elixinol is one of the biggest names in the cannabidiol industry, offering a wide range of CBD products. The CEO and one of the company's founders, Paul Benhaim, first discovered hemp seeds' nutritional benefits in 1991and he and his team have worked hard to create CBD products of the highest quality since then.
The company ships its products around the world but is based in Australia. The company has over 20 years of experience in the hemp industry, inspiring confidence and giving it time to build up a strong reputation.
Hemp Sources
Elixinol has strong relationships with hemp farmers from around the world. As such, the company uses industrial hemp from multiple areas, including Australia, Europe, and the United States. The company always chooses farmers with similar values and high-quality standards. The fact that the hemp comes from multiple sources is less than ideal as it allows for reduced consistency. At the same time, it ensures that Elixinol is unlikely to experience a problem with all of its hemp suppliers at the same time.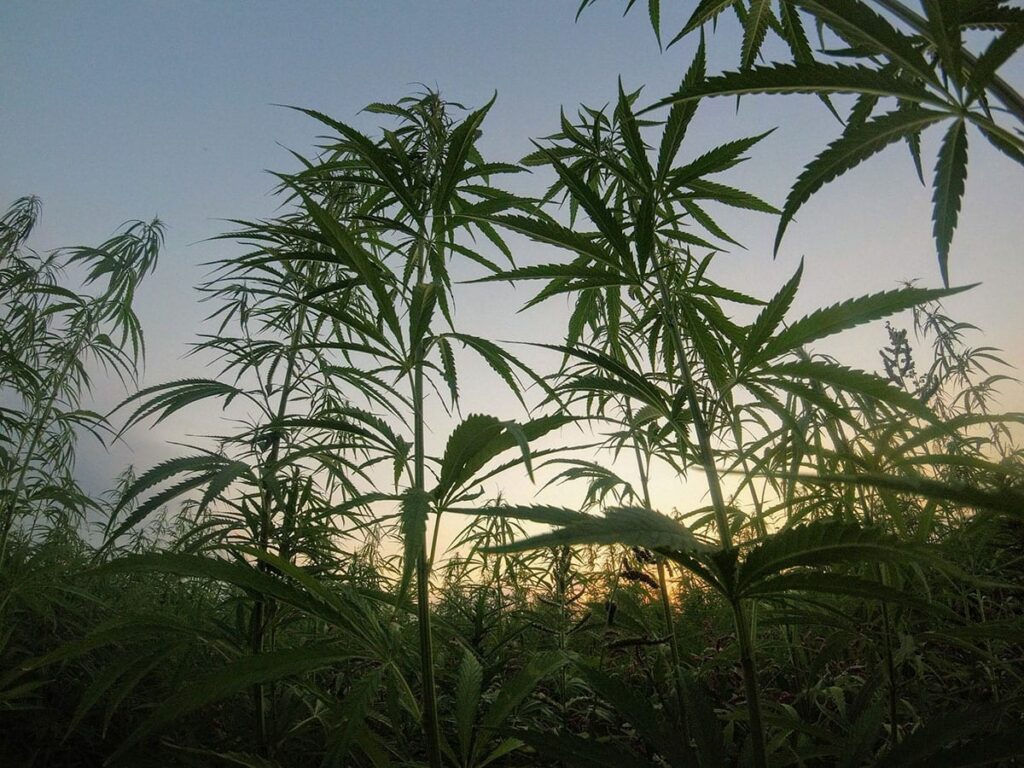 Ensuring the Highest Quality Products
Every single product from Elixinol has a Certificate of Analysis that you can easily access. You can also get batch-specific results from a third-party lab testing. This is an excellent way of providing customers confidence that the products are high-quality and without heavy metals or pesticides.
Other Information of Note
Most orders from Elixinol will come with free shipping, something that not all competitors offer and is great for saving money. Elixinol also donates a portion of its profits from each order to a non-profit organization, which customers can choose.
Clarence is a medical marijuana patient, writer, and hiking enthusiast who spends most of his time outdoors. He loves nature and is continuously trying to discover and write about its benefits for general health.
Latest posts by Clarence Swader (see all)