If you're looking for CBD edibles, CBD gummies can offer a great taste at an excellent price. If you don't take other CBD products, such as tinctures, or vape, CBD gummies might be the right choice for you because they come in tropical and sweet flavors that mask the CBD flavor. Some CBD gummies even have added benefits, like vitamins or sleep-inducing melatonin.
CBD gummies can offer many benefits at a reasonable cost, but there are so many out there, it can be hard to compare all of them.
Best CBD Gummies
While most gummies only contain CBD oil, a few may also include small amounts of THC and other cannabinoids that cause feelings of being high. While CBD gummies are legal in all 50 states, THC may not be legal in all states, so the following list contains only THC-free gummies. You should always check your local laws first.
Sunday Scaries CBD Gummies
The Sunday Scaries brand has an interesting backstory to its name. The Sunday Scaries refers to the anxiety many people face at the end of the weekend at the thought of another stressful work or school week. The company's co-founders, Mike and Beau, were quite familiar with the feeling themselves, and they found that CBD helped with this anxiety, thus the name of their company.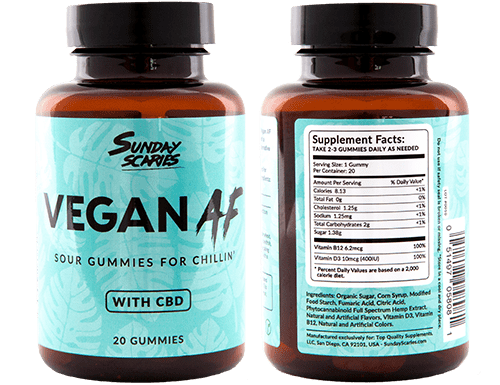 Among other CBD products, Sunday Scaries offers two types of CBD gummies: regular and vegan. Every ingredient in these gummies is sourced from American farms, and each product's lab reports are available on the website. Each gummy has 10 mg of CBD. They have other natural oils to help create a flavor that does not overwhelmingly taste like CBD.
The regular gummies offer other benefits, like vitamins B12 and D3. The vegan gummies are made with no animal products, and they offer a sour flavor for a different taste experience. In both the regular and the vegan, each gummy offers 10 mg of CBD.
This brand offers discounts if you choose to buy the gummies as a subscription instead of a one-time purchase. The regular price is $0.20 per mg for the regular gummies and $0.22 per mg for the vegan ones. But if you choose a subscription, you can expect to pay $0.16 per mg for the regular gummies and $0.18 per mg for the vegan gummies.
Green Roads Gummies
One of the first CBD companies out there, Green Roads was established in 2012 by a pharmacist with over 20 years in the business. Now, you can find Green Roads' products in nearly 10,000 locations, making it one of the most popular CBD brands out there.
All of its CBD gummies are broad-spectrum, retaining all the plant's natural cannabinoids and terpenes, except for THC. The company has sent all its products to a third-party lab for testing, guaranteeing you are receiving the highest-quality products.
Green Roads' sweet and/or sour CBD gummies come in a variety of shapes and sizes to suit every taste. From frogs and toads to fruit bites and gummy bears, Green Roads has one of the widest selections of CBD gummies. You can get single-serving Froggie gummies with either 25 or 50 mg of CBD all the way to a four-pack.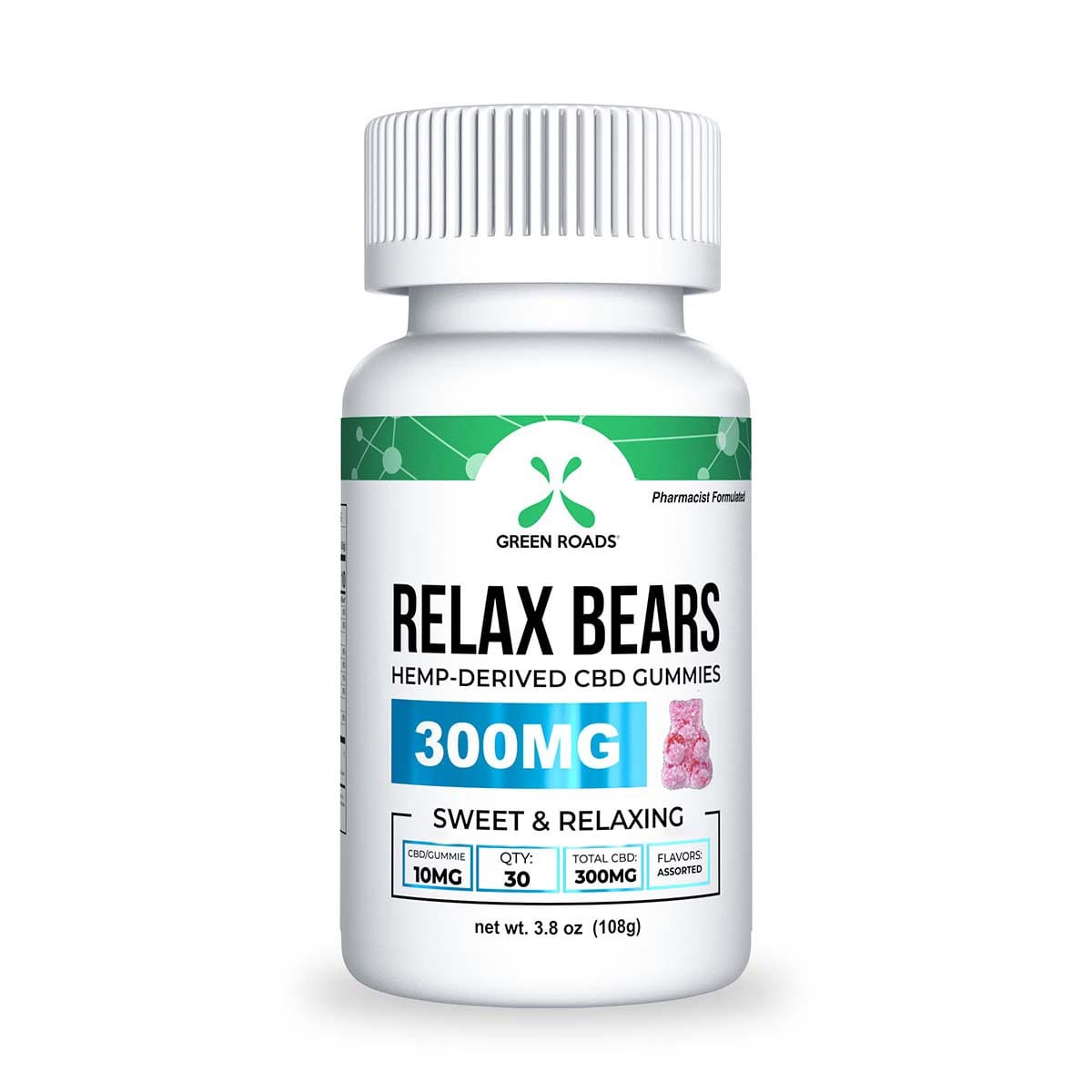 You can also get a bottle of fruit bites or gummy bears for $54.99 or about $0.18 per mg. Green Roads also offers gummies specifically for bedtime, which contain melatonin to help you get to sleep faster. If you can't decide which of the products you want, you can try the bundle, which has items like the Fruit Bites and Froggies.
Hemp Bombs
Hemp Bombs sources all its raw hemp material from European farms, which ends up being a good thing for you because some parts of Europe are known for having strict laws and regulations on hemp production. This makes Hemp Bombs' material clean and pure for you to use. They are also tested by a third-party lab.
Hemp Bombs makes its gummies from 99 percent CBD isolate, meaning there is no possibility of them having THC. However, the products are still very effective.
You can choose from three varieties: original, high-potency, or sleep-promoting. The original gummies are available in 60-count, 45-count, and 15-count packs and have 15 mg of CBD per gummy. They can help you feel great by promoting better sleep, helping you feel less stressed and anxious, and improving your mood. They can also provide pain relief.
If you are looking for something a little stronger, the high-potency CBD gummies have 25 mg of CBD per gummy. They can help you if you have anxiety, insomnia, chronic pain, or much stress.
If you are really struggling to get to sleep, you can try the sleep gummies, which are similar to the original ones but enhanced with melatonin. Unlike with traditional sleeping pills, there are no side effects, like drowsiness, after use.
The prices of these gummies range from $14.99 for a five-count bag to $139.99 for 60 high-potency gummies. While that may seem high, the gummies themselves range from $0.09 per mg of CBD to $0.11 per mg of CBD. Generally, the gummies that have more CBD per gummy, like the high-potency ones, are less expensive per mg of CBD.
cbdMD Gummies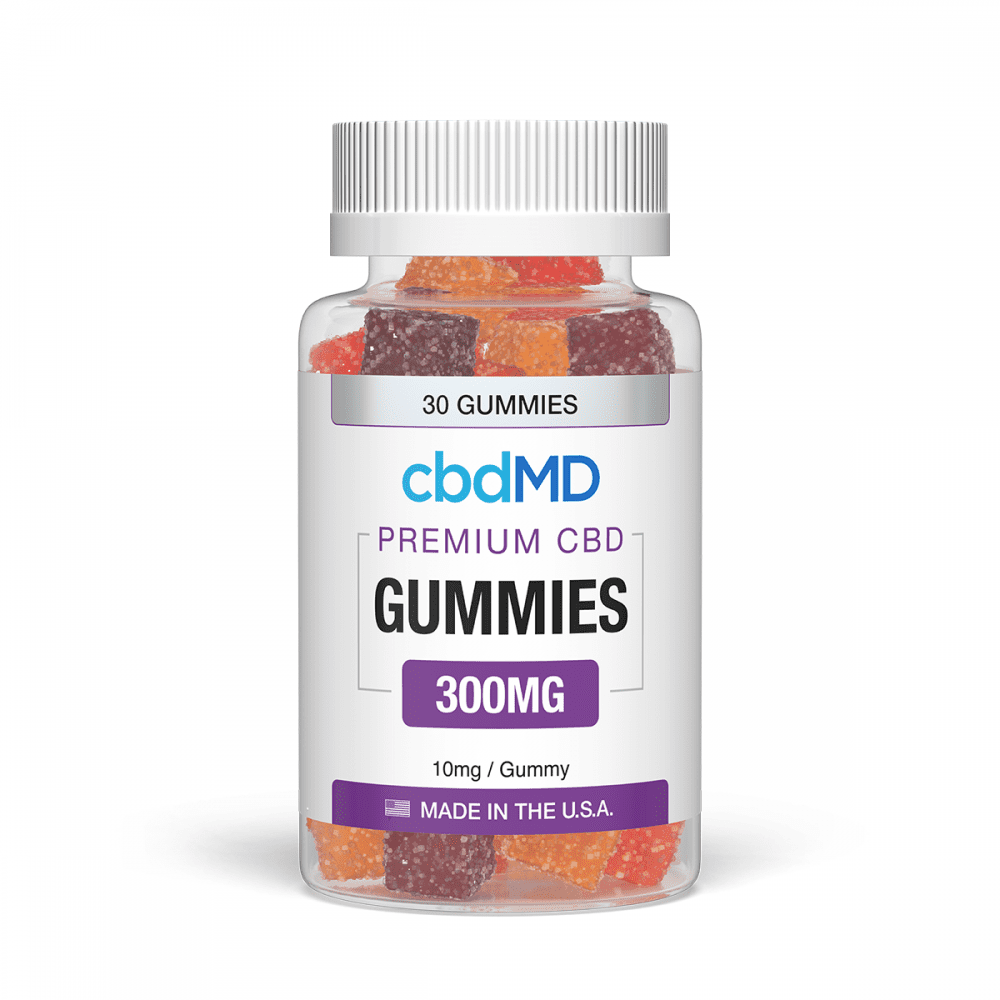 The CBD oil in cbdMD's gummies comes from organically grown hemp from the United States. It has also been tested by a third-party lab to ensure it is safe and effective. These gummies are also gluten-free and vegan.
They come in several flavors, including tropical, orange, strawberry, and mixed berry. These gummies are also flavored with cane sugar and natural sunflower oil.
You can get cbdMD's gummies in either 300 mg or 750 mg concentrations, so each gummy is either 10 mg or 25 mg, respectively. cbdMD advises you to start out with no more than 15 mg at a time.
CBDistillery Gummies
CBDistillery gummies are a health-conscious choice because all of them are made with natural, non-GMO ingredients. They are also vegan. CBDistillery has two kinds of CBD gummy bears – standard and night time. The flavoring is cane juice and white grape concentrate, so you can't taste the CBD.
At $0.07 per mg, both the standard and night-time gummies are very affordable compared to similar brands. CBDistillery's standard and night-time gummies both contain 30 mg of CBD, and the night-time gummies have an added 2 mg of melatonin to help you sleep.
PlusCBD Oil Gummies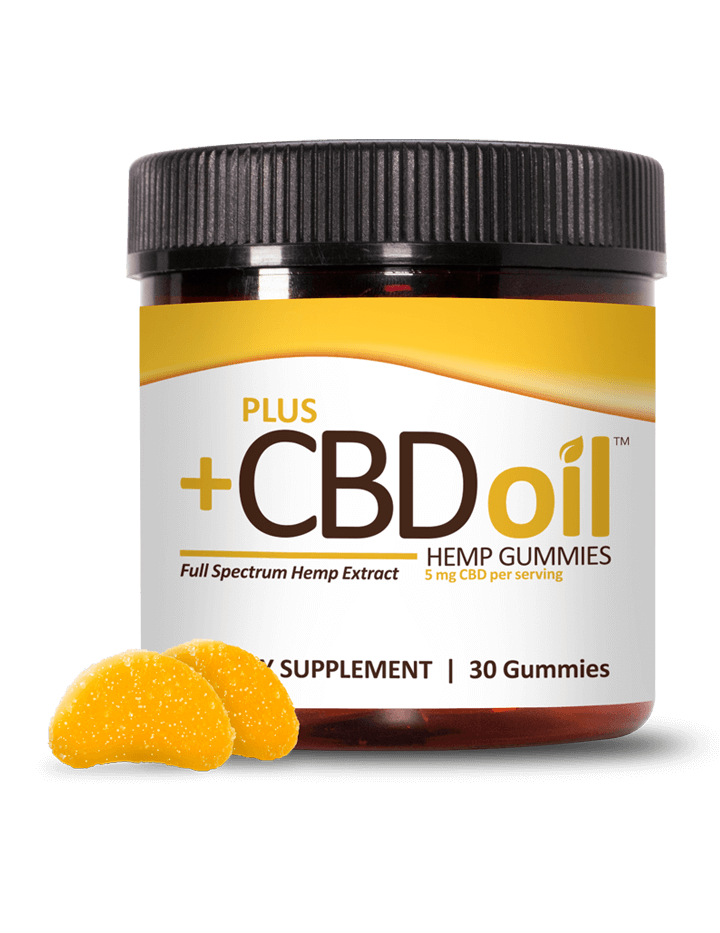 If you are just starting out, or if you prefer a lower CBD concentration, you can try full-spectrum CBD gummies from PlusCBD. Unlike the other gummies, each of PlusCBD's gummies contain only 5 mg of CBD. They're made using natural sweeteners, as well as phytocannabinoids, terpenes, and vitamin E. You can choose from either cherry mango or citrus punch flavors.
You can expect to pay between $0.14 to $0.17 per mg, depending on whether you get the 30-count or 60-count, respectively. While the cost for each gummy is comparable with other brands, the price for each mg itself is high, so these might be best for starting out.
Charlotte's Web Gummies
If you are using CBD oil to help your body heal from arthritis, joint problems, or inflammation, Charlotte's Web has a line of gummies that may be helpful for you. At 5 mg of CBD per gummy, Charlotte's Web's gummies have a lower amount of CBD than many others, but the suggested serving size is two gummies, giving you 10 mg per serving.
Charlotte's Web's recovery gummies have 25-50 mg of ginger per serving and 50 mg of turmeric per serving to help support your joint health and combat inflammation . Both ginger and turmeric can reduce inflammation and support the health of your joints. These gummies are ginger-flavor.
If you are looking for gummies to help you relax, the calming gummies also have 10 mg of CBD per serving. Each serving also has 50 mg of L-theanine and 75 mg of lemon balm, both of which can help you destress and relieve anxiety. The lemon-lime flavor comes from natural fruit and vegetable juices, and these gummies can help you relax without feeling drowsy.
Charlotte's Web's CBD sleep gummies have 3 mg of melatonin and 10 mg of CBD per serving, which can help you sleep better and regulate your sleep cycles. They come in raspberry flavor.
What Is CBD?
Cannabidiol, or CBD, is a cannabinoid found in the cannabis plant. Although CBD and hemp oil are both derived from hemp plants, they are not the same thing. CBD, also known as hemp extract, comes from the stalks, stems, and flowers of the Cannabis Sativa plant. CBD is usually used to promote relaxation or ease symptoms of common health problems, such as pain.
Hemp oil, on the other hand, comes from the seeds of the same plant but does not contain CBD. It's usually used in beauty products because it shares the same anti-inflammatory properties as CBD. It can also be used in your cooking, similarly to the way you would use other healthy oils, such as olive oil.
CBD reacts with your endocannabinoid system, which controls many functions of your body. Many people use it as a holistic approach to their health. Because of this, CBD can be very beneficial, whether you're suffering from health problems or an illness or want to develop a healthier lifestyle.
Benefits of CBD
So, why use CBD? Unlike other cannabis compounds, like tetrahydrocannabinol (THC), CBD is non-intoxicating so that you won't get high, and it doesn't give you the same feelings of intense happiness or excitement. If you take drug tests for your job, you can safely take CBD. It can be used to treat a wide variety of health problems.
Working with the Endocannabinoid (ECS) System
The human body's ECS system is believed to be responsible for a variety of functions, such as your nervous system, appetite, sleep, and pain. The ECS system has two cannabinoid receptors: CB1 and CB2.
Many of the CB1 receptors are in the brain and are related to your mood, thinking, and memory. THC attaches to these receptors, and this is why marijuana can get you high.
The CB2 receptors, on the other hand, are located in the immune system and are related to your body's response to pain or inflammation. CBD works with the CB2 receptors by encouraging your body to create more cannabinoids. This causes a positive effect, which is why many people use it to manage pain and inflammation-related problems.
When the ECS system is functioning properly, it can help your body maintain homeostasis or balance. Because CBD oil works so closely with your ECS system, taking CBD may help improve these functions. CBD can also help treat or improve some of the following health problems.
Acne
There are several causes of acne, including genetics and bacteria, but two of the most common are inflammation and overproduction of sebum, which is an oil created by the sebaceous glands in your skin. CBD may help reduce or eliminate the causes of acne because it is anti-inflammatory and can help reduce the production of sebum. One study showed that CBD  reduces inflammation by reducing cytokines, which contribute to inflammation.
Anxiety
CBD can have a calming effect on you. In one Brazilian study, 57 men received either CBD or a placebo right before public speaking, and the researchers found that the men who had received CBD were significantly less anxious. Many people use CBD during the day to calm themselves and at night to help relax before going to bed.
Arthritis Pain
CBD may reduce arthritis pain by impacting activity in the endocannabinoid receptors. It helps reduce the inflammation in the joints that causes arthritis and helps protect the nerves, thus lessening the pain.
According to the Arthritis Foundation, the rates of depression among people diagnosed with arthritis can be between 2 and 10 times greater than most people. Studies have shown that CBD can help manage depression in people with arthritis.
Cancer-Related Symptoms
Sometimes drugs that treat symptoms related to cancer are not effective, so people look for alternative treatments. One study examined the effects of using an extract that consisted of a combination of CBD and THC in 177 cancer patients. The study showed that those who received the extract had quite a bit less pain than those who did not use the extract.
It can also help with nausea and vomiting related to chemotherapy, which many chemotherapy patients experience.
Chronic Pain
Studies have shown that CBD is effective in reducing other chronic pain – 15 out of 18 trials in one study showed that CBD significantly reduced chronic pain. The study concluded that CBD is not only effective but also very safe.
Depression
CBD can work with your brain's receptors for serotonin, which is a neurotransmitter that regulates your mood and behavior. In a study on mice, researchers found that giving them CBD had effects similar to those of the antidepressant imipramine. CBD can be better than antidepressants because it doesn't have as many side effects, such as headaches, nausea, dizziness, or vomiting. It also isn't as addictive as antidepressants.
Epilepsy
Because of how CBD works with the endocannabinoid system, CBD can help with neurological disorders, like epilepsy. One study of 214 people with severe epilepsy showed that CBD oil helped reduce seizures by an average of about 36.5 percent. However, more studies are needed because some of these epilepsy patients experienced side effects from the CBD, such as fatigue and fever.
Insomnia
CBD oil has successfully treated insomnia in children with post-traumatic stress disorder (PTSD). It can also help you get to sleep at night because of its calming and relaxing effect. If you're suffering from a pain-related condition, CBD can help you sleep by reducing pain. Also, many companies that offer CBD gummies offer night-time versions that contain melatonin to help you get to sleep faster.
Multiple Sclerosis Pain
One study of 47 people examined how taking a combination of CBD and THC impacted pain levels. It showed that most experienced improvement in their walking, movement, and pain levels after taking this combination.
Other CBD Benefits
Even if you don't suffer from any of the problems or diseases above, CBD oil can still be beneficial to you. For example, it can be healthy for your heart, whether or not you have heart problems, because it can reduce stress and anxiety and it helps lower your blood pressure, which, in turn, can reduce your likelihood of a heart attack.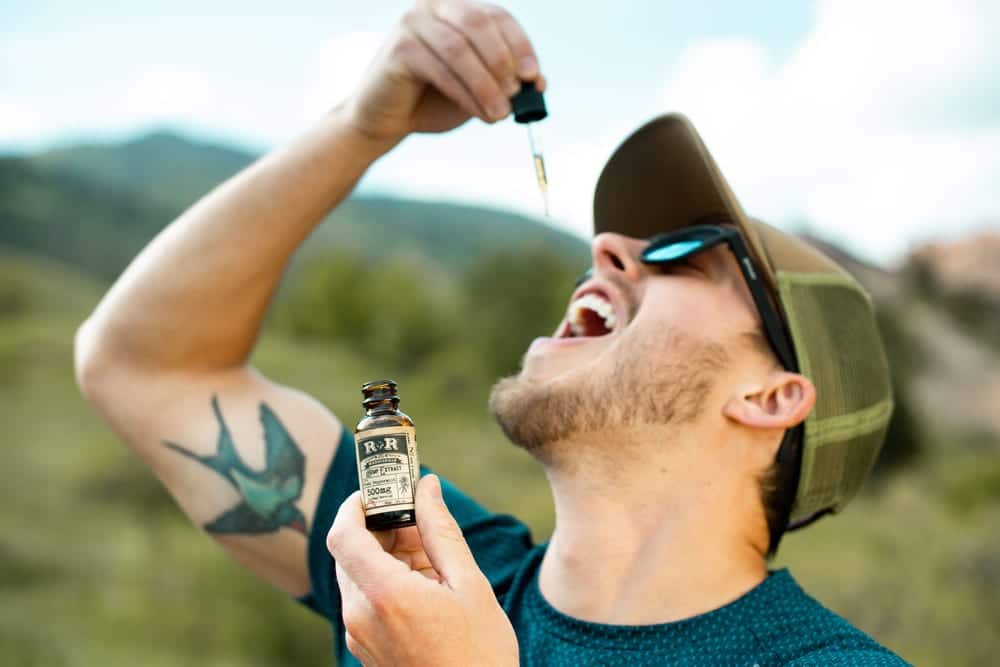 Side Effects
Of course, CBD is not without its drawbacks. Like with anything, some people experience side effects. However, these side effects are usually minor and do not affect most users.
Lower Blood Pressure: This may not be an issue if you have normal blood pressure, but if you have low blood pressure, you should check with your doctor before using CBD.
Drowsiness: Since CBD products make you feel relaxed, they can also make you feel drowsy. You may want to consider not taking CBD gummies if you operate a motor vehicle or machinery.
Increased Appetite: A common side effect of CBD gummies and other cannabinoid products is feeling hungrier than usual.
Diarrhea: You may especially experience this side effect if you take a large dose all at once, so it is always a good idea to start small and slowly work your way up.
Dry Mouth: Cannabinoids sometimes interact with the receptors that control your saliva, resulting in a drier mouth than usual. Most CBD products have this effect. Drinking a glass of water with your CBD gummies can help reduce or eliminate this side effect.
If you're pregnant or breastfeeding, you should check with your doctor before using CBD. There is not enough research yet to determine whether CBD passes through breast milk to the baby.
Legality
On the federal level, hemp, which does not have as much THC, is legal. CBD products derived from hemp plants are legal in the United States. Marijuana plants often contain high levels of THC – as much as 30 percent in some cases. CBD products derived from marijuana plants are not legal on the federal level.
Producing, selling, and consuming products from hemp plants also used to be limited legally, but after the 2018 Farm Bill, products without THC are now legal across the 50 states. While state laws vary across the country, CBD oil products with THC are also legal in states that allow recreational cannabis. However, they are still illegal on the federal level.

Isolate Versus Full-Spectrum
Isolate CBD oils only contain CBD – no terpenes or other cannabinoids. Isolate CBD is much harder to make because when the hemp plant goes through the cannabinoid-removing process, all the other components come out with the CBD. This means that after the cannabinoids are removed, the producers have to take extra steps to isolate the CBD. The result is a nearly flavorless powder that producers can use in making gummies. You can also easily use isolate CBD powder in cooking, although you have to measure it out yourself.
Full-spectrum CBD, on the other hand, contains other cannabinoids in addition to the CBD. The concern with full-spectrum CBD is that it may contain trace substances of THC, which may have legal restrictions in some states. If you have to undergo routine drug tests for work, you may also want to be careful with products containing THC. The good news is that some brands of CBD gummies tell you specifically that they do not contain any traces of THC.
Another disadvantage of full-spectrum CBD is that it can have an unpleasantly strong scent and flavor. However, gummies are usually effective at masking this taste.
While many people used to believe that isolate CBD was the most effective, one 2005 study showed that full-spectrum CBD oil is more effective at reducing pain than isolated CBD. Because the additional components of full-spectrum CBD provide better feelings of relaxation and pain relief, most CBD gummies are now full-spectrum.
Best Dose of CBD
If you're just starting out with CBD, you might want to try a smaller amount of CBD at first so the CBD can build up in your body. Generally, you'll want to start out with one or two gummies a day at first and wait two or three weeks before increasing your dosage.
Taking one gummy during the day and another, before you go to bed at night, could be a good starting point. Several brands offer both regular and night-time gummies. Often, night-time gummies contain melatonin, which can help you sleep at night.
As your body gets used to CBD gummies, you can try increasing your dose. Many people prefer to take two or more gummies at a time, especially if they are using them to manage a condition like chronic pain.
How Long Before You'll See Effects from CBD
Each person's body is different, and the amount of CBD that works for one person may not be enough for another. Especially if you have a condition like chronic pain, it may take some time before you see noticeable effects. It is important to get your expectations right when taking CBD.
You likely will not notice any effects right away, especially if you are starting out with a lower dose. CBD gummies take longer to be absorbed by your liver than if you were vaping. This is because the CBD has to be processed in your liver before it can enter your bloodstream.
However, since the CBD oil in your gummies takes longer to take effect, it lasts longer because the CBD builds up in your fat cells. In the first couple of weeks of regularly taking CBD, you may notice the CBD has little to no effect. This is because it is still building up in your body. It is important to not take too much CBD at once during this time.
After you have been taking CBD for a while, you should still expect to wait one or two hours after taking your gummy before you start to feel any effects. Remember that each person's body is unique, and your lifestyle, diet, and amount of physical activity can all play a factor in how long it takes your body to adjust to CBD oil.
Finally, if you can't decide which ones to get, or you want to try several different kinds, Charlotte's Web also offers a bundle of all three types of gummies for $131.98, which is 20 percent off buying each one individually.
Conclusion
Whether you are looking to help your body recover from a health problem, like arthritis, chronic pain, or insomnia, or you just want to be the healthiest you can be, CBD can help you reach your goals. Adding CBD gummies to your lifestyle can be a delicious and healthy way to take CBD while also adding other benefits, like vitamins and herbal supplements. No matter what you want CBD to do for you, there is a CBD gummy out there for you.
Clarence is a medical marijuana patient, writer, and hiking enthusiast who spends most of his time outdoors. He loves nature and is continuously trying to discover and write about its benefits for general health.
Latest posts by Clarence Swader (see all)