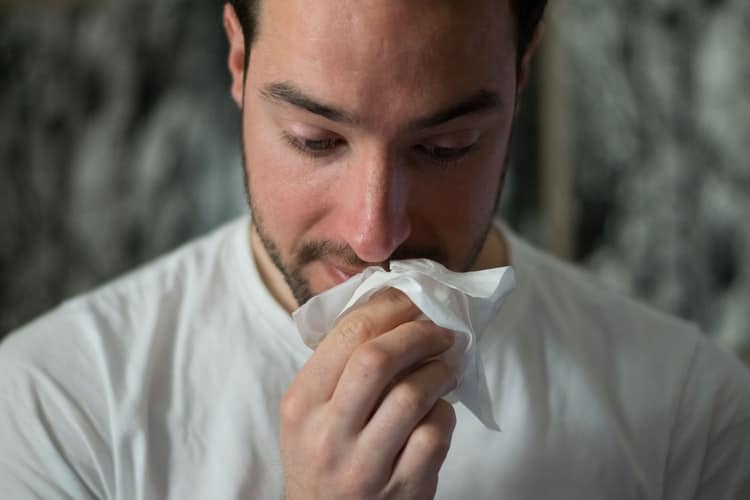 Can
CBD
Help With Colds?
CBD

may help ease

common cold

symptoms due to its reported therapeutic properties. Researchers learned that

CBD

has

anti-inflammatory effects(1)

, which could benefit patients with colds.

CBD also has anti-viral effects in some conditions like herpes simplex and hepatitis B.

Cannabidiol was also found to improve sleep quality in patients with anxiety problems(2)

. A study has shown that poor sleep habits can make a person more susceptible to the

common cold(3)

.

However, no direct clinical evidence exists to prove that

CBD

can effectively treat cold symptoms.

Users are advised to talk to a doctor before purchasing a

CBD product

for their condition.

Why People Are Turning to
CBD
for Colds
The common cold is caused by an inflammation that affects an individual's nose and upper respiratory tract. Although many viruses can lead to a cold, its most common cause is rhinoviruses(4).
Experiencing a runny nose, sore throat, cough, congestion, headaches, sneezing, mild fever, and body aches are some of the symptoms of colds.
The common cold has no cure. Most individuals recover within two weeks, using over-the-counter products and natural remedies to control symptoms.
Cannabidiol (CBD) is believed to help ease the symptoms of the common cold due to its supposed therapeutic effects.
Researchers learned that CBD has analgesic and anti-inflammatory properties. The compound, together with THC (tetrahydrocannabinol), can be found in Sativex, a mouth spray used to treat pain(5).
In one study, researchers learned that cannabidiol was able to improve the quality of sleep in patients with anxiety problems(6).
Susceptibility to the common cold has been associated with poor sleep habits. A study revealed that people with low-quality sleep are more vulnerable to illness when exposed to a rhinovirus(7).
Despite the positive outlook, no direct scientific evidence exists to prove that CBD can alleviate the symptoms of colds.
How CBD Oil Works to Help with Colds
Cannabidiol has been found to interact with receptors of the endocannabinoid system (ECS), a part of the body that modulates several essential functions.
CBD's ability to bind with CB1 and CB2 cannabinoid receptors is believed to contribute to its suppression of inflammatory response(8).
Authors of a 2008 study believe that the ECS is involved in sleep modulation. Activating the CB1 receptor is thought to induce sleep(9).
Meanwhile, a study on respiratory viral infections mentioned that the activation of CB2 receptors led to anti-inflammatory effects in the body(10).
The Pros and Cons of CBD Oil for Colds
The Pros
Studies mentioned above revealed that cannabidiol might benefit individuals with colds due to its perceived ability to reduce symptoms of the illness.

CBD

was found to improve sleep quality in anxiety patients. Poor quality sleep is believed to make a person more vulnerable to the

common cold

.

Compared to

THC

, a psychoactive

medical cannabis

compound,

CBD

does not cause mind-altering effects when consumed.

CBD

is legal in most areas in the United States. In states where it is allowed, people can purchase and use

CBD products

even without a prescription.

The U.S. Food and

Drug Administration

(

FDA

) supports research on the potential medicinal uses of

cannabis strains

and their constituents(11)

.
The Cons
There is no scientific proof that cannabidiol can help alleviate

cold symptoms

.

CBD

has been reported to have adverse effects following intake. In humans, the commonly observed

side effects

of

CBD

include diarrhea and vomiting.

CBD products

, especially those sold online, lack standardization and have a high rate of mislabeling(12)

.

Epidiolex, a medication for seizures, is the only cannabidiol product approved by the

FDA

. There are no other marketing applications for

CBD

in treating

medical conditions(13)

.
How
CBD Oil
Compares to Alternative Treatments for Colds
Zinc, probiotics, and vitamin C have been mentioned as potential interventions in preventing the common cold(14).
Zinc intake within twenty-four hours of symptom onset was found to reduce the duration and severity of colds in healthy subjects(15).
Researchers learned that probiotics are beneficial in preventing upper respiratory tract infection(16), which may be due to its antiviral properties.
Data on vitamin C intake has also shown that the organic compound decreased the severity and duration of colds in subjects(17).
Similarly, cannabidiol was found to have properties that may help alleviate the symptoms of the common cold.
There are CBD products today that are infused with zinc, probiotics, or vitamin C.
Using CBD in conjunction with these preventive therapies could benefit people with colds.
How to Choose the Right
CBD
for Colds
When deciding to purchase CBD for colds, users should know the types of cannabidiol available today. There are full-spectrum, broad-spectrum, and CBD isolates.
The most prevalent type is the full-spectrum variety. This CBD variant has all of the naturally-occurring compounds present in cannabis plants.
Full-spectrum CBD has high levels of cannabidiol and trace amounts of terpenes, flavonoids, THC, and other minerals.
Broad-spectrum is the second type of CBD. It has similar contents to full-spectrum, except it does not contain THC.
Since tetrahydrocannabinol is psychoactive, some individuals choose not to purchase CBD that has THC present.
The third form of CBD is known as isolates. CBD isolate is the type that is made with pure cannabidiol only.
Pure CBD is generally sold as crystals or powder for easier consumption.
When selecting CBD, it is vital to choose only the best quality product to maximize the compound's health benefits.
The following are tips that can help users purchase high-quality CBD:
Look for the laboratory report of the desired

CBD product

. This certificate of analysis indicates that the item has undergone proper testing and contains the right amount of

CBD

.

CBD

derived from hemp plants is ideal since industrial hemp is rich in cannabidiol and has very little

THC

content.

Read and learn about the legalities concerning

CBD

use in the state where one wants to purchase the compound. Although it is legal in most areas, laws concerning cannabidiol use may change at any time.

Talk to a doctor, particularly someone with

medical marijuana

experience, before purchasing

CBD

.

CBD
Dosage for Colds
The FDA has not approved an official guide for CBD dosage.
However, there are human clinical trials on cannabidiol that may provide insight for a safe and reliable CBD dose range.
In one study concerning CBD for anxiety, 25 mg to 175 mg per day of CBD was used, which elicited sufficient clinical response(18). The study's researchers also found that CBD was well-tolerated, with only a few reported side effects.
In another study, high doses of CBD reaching as much as 1,500 mg per day were also reported to be well-tolerated in human subjects(19).
How to Take
CBD Oil
for Colds
Applying CBD hemp oil by way of tinctures allows users to measure the amount of cannabidiol they take. CBD tinctures are usually administered under the tongue and held there for several seconds.
A direct way of taking cannabidiol is by consuming CBD gummies, capsules, and tablets. These products are also ideal for beginners because of how straightforward they are to use.
Although a quick way to get CBD into the system, vaping is not a recommended form of CBD administration for colds. 
Smoking and vaping may cause more discomfort to those with cold symptoms like runny nose, cough, sore throat, and sneezing.
Also, vaping is not recommended as it is often associated with lung disorders(20).
What is Influenza?
Influenza, or simply called the flu, is a respiratory illness that usually affects the nose and throat. It is caused by influenza viruses, which can be prevented by receiving a yearly vaccine to boost the immune system.
Flu vaccines work by helping a person to develop antibodies two weeks after being vaccinated. The antibodies act as protection against the viral infection.
Antiviral medications may also be used to treat influenza.
Typical flu symptoms include cough, sore throat, headaches, body aches, stuffy nose, chills, and fatigue. These symptoms happen because of the body's immune response.
The flu season in America generally begins in the fall and winter. Flu activity often peaks between December and February but can last until May.
Although the impact of flu varies, it has become a huge burden on the health of individuals in the United States each year. 
It is estimated that 12,000 to 61,000 influenza deaths have occurred annually since 2010(21).
Conclusion
CBD is believed to have anti-inflammatory and anti-viral properties that may benefit individuals with colds.
The compound engages with various receptors of the endocannabinoid system, which may explain its ability to reduce inflammation and chronic pain.
CBD was also found to help improve sleep in people with anxiety. Poor sleep is said to make a person more susceptible to the common cold.
Zinc, probiotics, and vitamin C are considered as preventive measures against colds and may improve immune function.
Despite the positive outlook, there are no direct studies made on CBD and colds. This lack of scientific data makes it difficult to determine if the compound can effectively alleviate symptoms of the illness.
To avoid complications, people interested in purchasing CBD products should consult a doctor for medical advice.
---
Russo EB. Cannabinoids in the management of difficult to treat pain. Ther Clin Risk Manag. 2008;4(1):245-259. doi:10.2147/tcrm.s1928

Shannon S, Lewis N, Lee H, Hughes S. Cannabidiol in Anxiety and Sleep: A Large Case Series. Perm J. 2019;23:18-041. doi:10.7812/TPP/18-041

Cohen S, Doyle WJ, Alper CM, Janicki-Deverts D, Turner RB. Sleep habits and susceptibility to the common cold. Arch Intern Med. 2009;169(1):62-67. doi:10.1001/archinternmed.2008.505

John Hopkins Medicine. Common Cold. Retrieved from: https://www.hopkinsmedicine.org/health/conditions-and-diseases/common-cold

Russo EB. op. cit.

Shannon S, Lewis N, Lee H, Hughes S. op. cit.

Cohen S, Doyle WJ, Alper CM, Janicki-Deverts D, Turner RB. op. cit.

Nichols JM, Kaplan BLF. Immune Responses Regulated by Cannabidiol. Cannabis Cannabinoid Res. 2020;5(1):12-31. Published 2020 Feb 27. doi:10.1089/can.2018.0073

Murillo-Rodríguez E. The role of the CB1 receptor in the regulation of sleep. Prog Neuropsychopharmacol Biol Psychiatry. 2008;32(6):1420-1427. doi:10.1016/j.pnpbp.2008.04.008

Tahamtan A, Samieipoor Y, Nayeri FS, et al. Effects of cannabinoid receptor type 2 in respiratory syncytial virus infection in human subjects and mice. Virulence. 2018;9(1):217-230. doi:10.1080/21505594.2017.1389369

U.S. Food & Drug Administration (2020, August 3). FDA Regulation of Cannabis and Cannabis-Derived Products, Including Cannabidiol (CBD). Retrieved from: https://www.fda.gov/news-events/public-health-focus/fda-regulation-cannabis-and-cannabis-derived-products-including-cannabidiol-cbd

Freedman DA, Patel AD. Inadequate Regulation Contributes to Mislabeled Online Cannabidiol Products. Pediatr Neurol Briefs. 2018;32:3. Published 2018 Jun 18. doi:10.15844/pedneurbriefs-32-3

U.S. Food & Drug Administration (2020, August 3). op. cit.

Allan GM, Arroll B. Prevention and treatment of the common cold: making sense of the evidence. CMAJ. 2014;186(3):190-199. doi:10.1503/cmaj.121442

Singh M, Das RR. Zinc for the common cold. Cochrane Database Syst Rev. 2011;(2):CD001364. Published 2011 Feb 16. doi:10.1002/14651858.CD001364.pub3

Hao Q, Lu Z, Dong BR, Huang CQ, Wu T. Probiotics for preventing acute upper respiratory tract infections. Cochrane Database Syst Rev. 2011;(9):CD006895. Published 2011 Sep 7. doi:10.1002/14651858.CD006895.pub2

Bucher A, White N. Vitamin C in the Prevention and Treatment of the Common Cold. Am J Lifestyle Med. 2016;10(3):181-183. Published 2016 Feb 9. doi:10.1177/1559827616629092

Shannon S, Lewis N, Lee H, Hughes S. op. cit.

Bergamaschi MM, Queiroz RH, Zuardi AW, Crippa JA. Safety and side effects of cannabidiol, a Cannabis sativa constituent. Curr Drug Saf. 2011;6(4):237-249. doi:10.2174/157488611798280924

Chand HS, Muthumalage T, Maziak W, Rahman I. Pulmonary Toxicity and the Pathophysiology of Electronic Cigarette, or Vaping Product, Use Associated Lung Injury. Front Pharmacol. 2020;10:1619. Published 2020 Jan 14. doi:10.3389/fphar.2019.01619

Centers for Disease Control and Prevention. Disease Burden of Influenza. Retrieved from: https://www.cdc.gov/flu/about/burden/index.html
CBD Clinicals is reader-supported. When you buy through links on our site, we may earn an affiliate commission.
Learn more