Overall CBDC Brand Rating for Vet CBD: 5.5/10
Vet CBD founder says their products have been designed to enhance an animal's life and overall well-being. However, aside from the limited product offerings, there is not much information about the company and its products.
The product prices are not listed on the company's website. While having a dosage calculator is a plus, there is an apparent lack of other pertinent information that should have been provided for buyers to make informed decisions.
For example, the source of hemp and the extraction method for their full-spectrum tinctures are not specified. The certificate of analysis (COA) and lab results for contaminants are also not available online.
The brand promotes doctor-formulated CBD tinctures for pets. However, a disclaimer from the brand states that the Food and Drug Administration (FDA) has yet to verify the claims on the benefits of any hemp products on animals and humans' various medical conditions.
Vet CBD's products are available in some cannabis dispensaries in California. However, the brand does not accept orders directly on its website. 
Vet CBD Company Summary
Dr. Tim Shu, a doctor of veterinary medicine, founded the company in 2015. He envisioned the brand to help improve the lives of pets and pet owners.

The company believes in the possible therapeutic benefits of CBD oil products for pets. 

When it comes to CBD dosing, Vet CBD recommends

starting slow and going slow. The company suggests that pets begin with a low dosage, gradually adding 0.25ml increments until the desired effect is achieved.
Vet CBD Pros and Cons
| | |
| --- | --- |
| Pros | Cons |
| Dosage calculator | Source of hemp and extraction method not specified |
| Comes with a measuring syringe | COA not available on the website |
| | No lab results for contaminants |
| | Products cannot be ordered online |
| | Product's prices are not indicated |
Pros of Vet CBD
The brand's website has a dosage calculator that may help identify the optimal amount of product appropriate for your pets' size and weight.

The Vet CBD 20:1 and 10:1 CBD tinctures come with a measuring syringe that may be helpful for accurate dosing.
Cons of Vet CBD
Vet CBD asserts that its CBD is extracted from American-grown hemp. However, the specific source and the extraction method used

are

not identified. 

The brand claims that its products are third-party lab tested. However, certificates of analysis (COAs) are not accessible on the website.

No COAs means no lab results for the contaminants. Without the lab test results, verifying the products' safety becomes challenging.

Vet CBD products are available in cannabis dispensaries in California. However, orders cannot be placed on the brand's website. 

Important information about the products, like price range and ingredients, is not available on the website.
Review of
Vet CBD Products
Vet CBD Full-Spectrum CBD Tinctures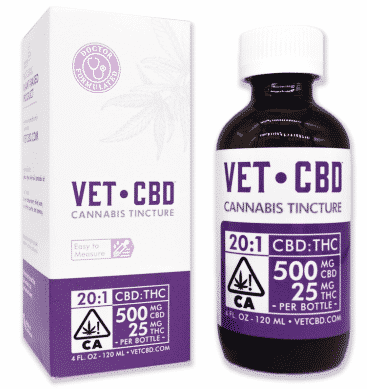 Vet CBD only offers full-spectrum CBD tinctures for pets. It comes in 20:1 and 10:1 CBD (cannabidiol) and THC (tetrahydrocannabinol) formulations. 
These CBD pet tinctures are designed to take advantage of CBD's purported potential to support normal brain function, manage joint pains, induce calmness, and promote normal GI health. 
A study noted the cannabinoids' potential to reduce gastrointestinal mucosal lesions, hemorrhage, and inflammation development(1). 
Research also noted the promising therapeutic effects of CBD in improving regular cannabis users' psychological symptoms and cognition(2).
The brand recommends the 20:1 CBD:THC formulation with 125mg CBD concentration to pet parents who want their pets to get increased health support.
The 20:1 CBD:THC formulation of Vet CBD full-spectrum CBD pet tinctures comes in 1oz, 2 oz, and 4oz. The 10:1 CBD:THC formulation of Vet CBD full-spectrum CBD pet tinctures comes in 1oz and 2oz.
Vet CBD claims that its CBD pet products are designed to have fast-acting calming effects and pain relief. However, the brand did not specify the specific amount of dosage, frequency of use, and estimated time for the product to take effect.
Product Summary
Recommended for

Optimizing Wellness

Source of Hemp

Not specified

Popular Products

Vet CBD 20:1 formulation and Vet CBD 10:1 formulation

Types Sold

Full-spectrum CBD

Range of Products/Forms

CBD tincture for pets

Price Range

No information available

Extraction Method

Not specified

Lab Testing Transparency & Availability

Not available on the brand's website

CBD Concentration per Serving Range

According to the product label, the Vet CBD 20:1 and 10:1 formulations have 125mg CBD per 30ml bottle.

Potency

Not explicitly stated

THC Range of Products %

According to the product label, the Vet CBD 20:1 has 6.25mg THC, and the Vet CBD 10:1 has 12.5mg THC per 30 ml bottle.

Flavors

No flavors

Tincture Carrier Oil

Extra virgin coconut oil

Lab Results

Not available

Shipping/Delivery

Ships within California

Guarantee

No money-back guarantee

Refund Policy

No information available

Contaminants

No information available

Vegan and Gluten-free

No information available

Customer Service

Email:

[email protected]

Phone: 562-754-3713

Country Served

California, USA
Optimizing Wellness
Vet CBD is committed to exploring the possible health benefits of full-spectrum hemp oil on humans and animals.
Source of Hemp
Although Vet CBD asserts the high-quality CBD oil it uses, the brand does not give specific information about its hemp source.  
Popular Products
The brand's flagship pet product since 2015 is the 20:1 CBD THC formulation. 
Types Sold
Vet CBD claims to use full-spectrum CBD oil for its pet products. However, the COA is not available to verify this.
Full-spectrum CBD contains cannabinoids, flavonoids, and terpenes that may result in an entourage effect(3). This effect is the synergy of the cannabinoids that may boost its health benefits and potency(4).
Range of Products/ Forms
The brand's limited product line focuses on Vet CBD oil pet tinctures. The brand does not offer CBD dog treats or CBD topicals.
CBD oil tincture is one of the most commonly used forms of cannabidiol.
Price Range
There is no price information available on the website. However, other CBD reviews state that prices for Vet CBD 20:1 Full-Spectrum CBD Tincture are from $42 for a 30ml bottle to $74 for a 60ml bottle.
Extraction Method
The brand did not specify the extraction method used in obtaining its CBD products. 
Meanwhile, some of the extraction processes used in obtaining non-psychoactive cannabinoids from hemp are the supercritical CO2 extraction method or the use of solvents, like ethanol(5). 
Lab Testing Transparency and Availability
The brand did not provide any information about the COA for each product. Vet CBD did not mention how to access the COA to confirm the CBD and THC content of its CBD pet product formulations.
CBD Concentration per Serving Range
According to the product label, the brand only offers 125mg of CBD concentration for its products. 
Potency
Vet CBD's products' potency is not explicitly stated, and no COA is available to verify concentration and strength.
THC Range of Products %
According to the product label, the Vet CBD 20:1 has 6.25mg THC, and the Vet CBD 10:1 has 12.5mg THC per 30 ml bottle.
According to the 2018 Farm Bill, cannabis products containing an amount of THC less than 0.3% in dry weight is considered industrial hemp and federally legal in the United States(6).
Flavors
Full-Spectrum CBD Tinctures for pets do not have flavor additives. The pet tinctures have the natural flavor of hemp extract.
Tincture Carrier Oil
According to the brand's website, the carrier oil for Vet CBD products is extra virgin coconut oil.
A suitable carrier oil may increase the bioavailability or result in faster absorption of the CBD product into the body(7). Other common carrier oils include hempseed oil and olive oil.
Lab Results
The brand claims that a third-party laboratory tested its CBD pet products. However, there is no COA available to prove this. 
Besides reading customer reviews and product pages and checking product labels, third-party lab results are essential in verifying CBD products' ingredients. 
The lab results show the unbiased outcomes of the analysis of the product.
Shipping/Delivery
Vet CBD only caters to orders within California. It does not ship out in other states in America.
Guarantee
The company does not offer any money-back guarantee on its CBD products.
Refund Policy
The return and refund policy of Vet CBD is not stated on the website. These policies may vary, depending on the guidelines set by the cannabis product dispensaries that offer the Vet CBD pet tinctures.
Contaminants
Vet CBD claims no pesticides, harmful chemicals, and preservatives are present in its CBD pet products. However, the COA is needed to validate this information.
Vegan and Gluten-free
The brand did not state if its products are vegan or gluten-free. Limited data is available to provide information on the ingredients of Vet CBD tincture for pets.
Customer Service
Vet CBD's email and phone number are on the brand's Contact US page. Interested dispensaries may also use this information to apply for membership.
Country Served
The brand only caters to California, United States. 
More About Vet CBD  
Vet CBD strives to formulate the best CBD suitable for pets. The company is taking advantage of the purported possible benefits of CBD in chronic pains and the potential use of CBD as an anti-inflammatory treatment(8). 
Cannabidiol (CBD) is one of the cannabinoids found in hemp that may affect the body's endocannabinoid system (ECS). The ECS receptors may influence the endocrine, gastrointestinal, and nervous systems(9). 
Dog owners are constantly looking for the best CBD oil for dogs. However, note that CBD research is still in its infancy as studies on CBD's effects on animals are inconclusive.
Still, a study on veterinary professionals' knowledge, experience, and perception of the use of CBD on dogs noted that vets practicing in states with legalized recreational marijuana use are likely to recommend CBD(10). 
Compared to recent veterinary graduates, the vets in states where recreational marijuana use is legal are more likely to recommend or prescribe CBD for canine medical conditions. 
Conclusion
There is so much information lacking on Vet CBD's website. Pet owners must consult with a veterinarian before giving their pets CBD, besides doing research to check a brand's legitimacy.
Check what other review sites are saying about the brand, and find out if it has accreditations and certifications from legitimate hemp associations.
Also, some CBD side effects and risks need to be considered. CBD side effects may include dry mouth, diarrhea, fatigue, drowsiness, and reduced appetite(11). 
Colorado State University (CSU) is one of the institutions that conduct clinical trials and research on cannabis and cannabis products. 
A CSU clinical trial noted a correlation between CBD oil level and reduced seizures in dogs(12). 
Still, results from studies are inconclusive. There is a lack of scientific evidence on the benefits and side effects of CBD on animals.
---
Gyires, K., & Zádori, Z. S. (2016). Role of Cannabinoids in Gastrointestinal Mucosal Defense and Inflammation. Current neuropharmacology, 14(8), 935–951. https://doi.org/10.2174/1570159×14666160303110150

Solowij, N., Broyd, S. J., Beale, C., Prick, J. A., Greenwood, L. M., van Hell, H., Suo, C., Galettis, P., Pai, N., Fu, S., Croft, R. J., Martin, J. H., & Yücel, M. (2018). Therapeutic Effects of Prolonged Cannabidiol Treatment on Psychological Symptoms and Cognitive Function in Regular Cannabis Users: A Pragmatic Open-Label Clinical Trial. Cannabis and cannabinoid research, 3(1), 21–34. https://doi.org/10.1089/can.2017.0043

Wedman-St. Louis, B., (January 2019), Full-Spectrum Cannabis – Benefits Beyond THC& CBD, Age Management Medicine Group, retrieved from

https://agemed.org/e-journal/feature-article-january-2019-full-spectrum-cannabis-benefits-beyond-thc-and-cbd/

 

Indiana University School of Public Health, (n.d.), What is the Entourage Effect? How CBD Works with Other Cannabis Compounds, retrieved from

https://blogs.iu.edu/healthmed/what-is-the-entourage-effect-how-cbd-works-with-other-cannabis-compounds/

 

Brighenti, V., Pellati, F., Steinbcah, M., Maran, D., Benvenuti, S., (September 2017), Development of a New Extraction Technique and HPLC Method for the Analysis of Non-psychoactive Cannabinoids in Fibre-type Cannabis sativa L. (Hemp), Journal of Pharmaceutical and Biomedical Analysis, vol. 143, pp.228-236,

doi.org/10.1016/j.jpba.2017.05.049

Osvaldo Marinotti & Miles Sarill (2020) Differentiating Full-Spectrum Hemp Extracts from CBD Isolates: Implications for Policy, Safety and Science, Journal of Dietary Supplements, 17:5, 517-526, DOI:

10.1080/19390211.2020.1776806

Echo Connection, (October 2019), Carrier Oils in CBD–What's the Difference?, retrieved from

https://echoconnection.org/carrier-oils-in-cbd-whats-the-difference/

Russo E. B. (2008). Cannabinoids in the management of difficult to treat pain. Therapeutics and clinical risk management, 4(1), 245–259.

https://doi.org/10.2147/tcrm.s1928

Aizpurua-Olaizola, O., Elezgarai, I., et al., (January 2017), Targeting the endocannabinoid system: future therapeutic strategies, retrieved from

https://www.sciencedirect.com/science/article/pii/S1359644616302926?casa_token=0S2-M-b7wLYAAAAA:Lvxjo_7cUnxm4L7WGFdSTAk9wLseFZXYA-GPqqsy_R0ux7NL28IlXMH0mAXFn7pUejzF8vrOyIBo

 

Kogan, L., Schoenfeld-Tacher, R., Hellyer, P., Rishniw, M., (January 2019), Us Veterinarians' Knowledge, Experience, and Perception Regarding the Use of Cannabidiol for Canine Medical Conditions, retrieved from

https://www.frontiersin.org/articles/10.3389/fvets.2018.00338/full

 

Bauer, B. A., (n.d.), What are the benefits of CBD –and is it safe to use?, retrieved from

https://www.mayoclinic.org/healthy-lifestyle/consumer-health/expert-answers/is-cbd-safe-and-effective/faq-20446700

 

Guiden, M., (May 2019), Results from CBD Clinical Trial to Assess Efficacy on Seizure Frequency In Dogs 'Encouraging', Colorado State University News from the College of Veterinary Medicine and Biomedical Sciences, retrieved from

https://cvmbs.source.colostate.edu/results-from-cbd-clinical-trial-to-assess-efficacy-on-seizure-frequency-in-dogs-encouraging/

 
CBD Clinicals is reader-supported. When you buy through links on our site, we may earn an affiliate commission.
Learn more