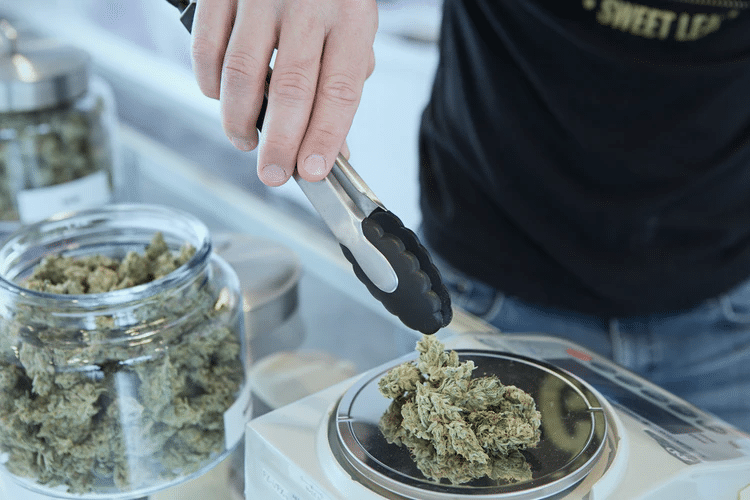 The 2018 United States Farm Bill legalized the production and sale of hemp-derivatives with less than 0.3% tetrahydrocannabinol (THC)(1)

.

Idaho laws are currently in conflict with federal law due to the prohibition of hemp-products containing trace amounts of THC (even when it is less than 0.3%) in the state(2)

.

However, children diagnosed with intractable epilepsy may be treated with a CBD-comprised pharmaceutical drug approved by the US Food and Drug Administration(3)

. 

In Idaho,

individuals in possession of cannabis-derived products with THC sans prescription may be charged with a misdemeanor by the state government(4)

.

Is
CBD Oil Legal
in
Idaho
?
The 2018 United States Farm Bill allows for hemp to be cultivated and extracted to create CBD products. The bill mandates that the hemp plants used in developing such products must contain 0.3% or less tetrahydrocannabinol (THC)(5), a compound known to cause psychoactive effects or euphoria.
Despite the legalization of hemp derivatives, the legal status of CBD products remains in question. The US Food and Drug Administration (FDA) prohibits CBD products from being sold as a dietary supplement or a pharmaceutical drug(6). 
CBD brands must not make any health claims, as CBD is not an approved food or beverage ingredient. Thus, CBD may not be added to food products(7). 
Even if hemp derivatives may be legally produced and transported according to federal law, each state has its regulations on how these products may be marketed, sold, and consumed.
Idaho CBD Laws
In the state of Idaho, the selling and use of CBD have been legal since 2018. However, CBD products are under stricter regulations than Oregon, California, and Colorado, where hemp-derived CBD oil with less than 0.3% THC is allowed. 
According to Idaho state laws, CBD oil may only be legal in the state if the hemp product contains zero THC(8). The label must indicate that the CBD product is THC-free.
The Idaho Office of Drug Policy has shared the local laws for CBD in detail. The Idaho Code §37-2701 mandates that only THC-free CBD products may be excluded from the marijuana category. 
According to Idaho law, any CBD that contains THC, even if less than 0.3%, is considered a controlled substance(9).
As stated in the Idaho Attorney General's Annual Report, an individual in possession of marijuana or cannabis extracts containing THC greater than 3oz net weight may be apprehended by law enforcement and receive a misdemeanor charge(10). 
Apprehended individuals may be imprisoned for not more than five years or be fined not more than $10,000(11).
The state also imposed conditions on THC-free CBD products. In order not to be classified as marijuana, the CBD product must meet the following requirements(12):
Derived from industrial hemp

Derived from

mature stalks of the plant

Cake or oil from achene or seeds of industrial hemp plants

The sterilized seed must be incapable of g

ermination.

Derivatives must come from

the preparation of the mature stalks.
However, CBD with THC is not completely outlawed in the state. Governor Butch Otter, Idaho state governor from 2007 to 2019, issued an Executive Order in 2015 to provide Idaho residents with an Expanded Access Program (EAP). 
The EAP allows children with intractable epilepsy to access FDA-approved pharmaceutical drugs with CBD(13).
Epidiolex is the only FDA-approved drug that contains CBD as its primary active ingredient. The drug is used to treat rare forms of childhood epilepsy, such as Lennox-Gastaut syndrome and Dravet syndrome.
For more information on the Idaho legislature, individuals may contact the Office of Drug Policy through the phone number (208) 334-2100 or send any concerns to PO Box 83720, Boise ID 83720.
CBD Licensing Requirements
Residents may purchase THC-free CBD in the state. However, there is no clear indication if selling THC-free CBD requires a license.
Idaho does not allow hemp farming in the state. Idaho state police may apprehend any individual who attempts to grow industrial hemp(14).
Testing Requirements
CBD products that are transported into Idaho may be subject to testing. Upon the arrival of the transporter, he or she must consent to randomly-selected inspections. During this process, the authorities may retrieve a sample for further testing(15). 
Buying CBD Legally
Commercial cannabidiol (CBD) oil derived from industrial hemp is currently legal in the United States. 
Manufacturers use hemp-derived cannabinoids to create CBD oil products, such as tinctures, gummies, capsules, and vape pens. 
Before buying CBD oil in Idaho, consumers must consider the product's quality and source. Consumers must consider the CBD company and its lab testing practices. 
Companies that provide updated third-party lab results and hemp farming practices provide the most transparency. 
Transparency is a valuable trait of a CBD brand, especially when there is a lack of regulations. Consumers' knowledge of the product's consistency and ingredients earns their confidence and trust.
How to Choose Which CBD Products to Buy
Individuals may consider buying from companies accredited by third-party organizations, such as the Better Business Bureau (BBB) and US Hemp Authority. 
These organizations ensure that products are high-quality, safe, and tested by third-party laboratories. 
Companies with US Hemp Authority(16) accreditation and high-BBB ratings(17) have been evaluated according to ethical business practices and customer service.
Where to Buy CBD Products Legally
There are many online retailers that sell CBD in the US. However, there are strict regulations of CBD products transportation into the state. 
The shipment of privately-purchased products into the state may be subject to inspection.
As of this writing, the only CBD company accredited by the Better Business Bureau is Snake River Solace LLC, with CBD stores located at Pocatello and Idaho Falls(18).
Reading CBD Labels and Packaging
Before buying CBD, consumers must determine what type of concentration they need.
Full-spectrum CBD oil means that the concentration contains all the cannabinoids found in hemp plants, including trace amounts of THC. Consuming the combination of  cannabinoids provides the "entourage effect." 
The entourage effect insinuates that the benefits are greater when cannabinoids are consumed together, rather than individually.
Broad-spectrum CBD oil contains all the cannabinoids, except for THC. Under Idaho laws, broad-spectrum CBD oil may be legal. 
Consumers must make sure that the product has a third-party lab (certificate of analysis) report indicating it is free from THC.
CBD isolate consists of pure CBD. This product may come in an oil or powder form. When buying a CBD isolate product, consumers must still refer to the third-party lab report to ensure it is THC-free.
CBD dosings are calculated in milligrams per serving. When buying CBD, individuals must first determine how much CBD they want to consume per serving. Individuals may purchase a CBD product with a concentration that fits their desired dosage.


Understanding CBD
Cannabidiol (CBD) is a phytocannabinoid found in marijuana and industrial hemp  (cannabis plants). These plants are known for having high cannabinoid content. 
Difference Between CBD and THC
Cannabis plants contain compounds known as cannabinoids. These cannabinoids include CBD, THC, cannabichromene (CBC), cannabigerol (CBG), and cannabinol (CBN).
Industrial hemp contains high CBD and low THC, while marijuana contains high THC. 
The use and benefits of marijuana remain a controversial topic in the United States. In the state of Idaho, marijuana laws prohibit the use of medical marijuana or medical cannabis(19).
Meanwhile, CBD has been studied for its potential anti-anxiety(20), analgesic, and anti-inflammatory properties(21). More research is needed to confirm any benefits or long-term effects.
Benefits of CBD Oil
Research has suggested that CBD may be an effective anticonvulsant. After several controlled trials, the FDA approved the use of Epidiolex (CBD-containing drug) as a treatment for epilepsy(22). 
Meanwhile, the Permanente Journal published a study demonstrating CBD's potential anti-anxiety and sleep-promoting effects(23). 
Researchers also discussed cannabinoids' therapeutic properties in relieving pain and inflammation. According to a review from Therapeutics and Clinical Risk Management, cannabinoids, such as CBD, may inhibit proinflammatory proteins in rats with induced rheumatoid arthritis(24).  
A separate study has shown how CBD's transdermal application may reduce inflammation and improve limb postures of arthritis rat models(25).
Despite CBD's therapeutic potential in improving several medical conditions, more studies are needed to verify its clinical value. Individuals must consult with a licensed physician before taking CBD. 
CBD Side Effects
CBD has been reported to cause tiredness, diarrhea, and changes in appetite and weight(26).
A study posted by Molecules has shown that consuming CBD in high doses may cause elevated liver enzymes. The study demonstrated how CBD caused hepatotoxicity (liver toxicity) in rat models(27). 
Although the researchers mentioned that the doses used in the study could not be applied to real-life scenarios, it is a reminder that CBD users must practice caution.
Despite the reported side effects, CBD has been acknowledged as safe and well-tolerated by the World Health Organization(28). 
A review posted by Cannabis and Cannabinoid Research expounded that CBD may have a better safety profile compared to some pharmaceutical drugs(29).
Conclusion
Individuals residing in the State of Idaho must practice caution when purchasing CBD oil. 
Since possessing cannabis-derived products that contain even low traces of THC may have serious legal repercussions, individuals must be vigilant when buying CBD products. 
Checking the third-party lab reports is not just a precautionary measure but a necessary step in being compliant with state laws. 
For more information on CBD's legality in all 50 US states, click here.
*The information shared in this article was based on findings retrieved on October 30, 2020. The legal status and regulations for CBD may change without notice.  This article is for informational purposes only and does not constitute medical or legal advice.
---
The US Food and Drug Administration. Hemp Production and the 2018 Farm Bill. Retrieved from

https://www.fda.gov/news-events/congressional-testimony/hemp-production-and-2018-farm-bill-07252019

Idaho Attorney General's Annual Report. Retrieved from

https://www.ag.idaho.gov/content/uploads/2017/12/2015.pdf

Idaho Office of Drug Policy. Retrieved from

https://odp.idaho.gov/cannibidiol/

Idaho Legislature. Idaho Statutes. Food, drugs, and Oil. Retrieved from

https://legislature.idaho.gov/statutesrules/idstat/Title37/T37CH27/SECT37-2732/

The US Food and Drug Administration. Hemp Production and the 2018 Farm Bill. Op cit.

The US Food and Drug Administration. FDA Regulations on Cannabis and Cannabis-dervied products. Retrieved from

https://www.fda.gov/news-events/public-health-focus/fda-regulation-cannabis-and-cannabis-derived-products-including-cannabidiol-cbd#food

Ibid

Idaho Office of Drug Policy. Op cit.

Ibid

Idaho Attorney General's Annual Report. Op cit.

Idaho Legislature. Idaho Statutes. Food, drugs, and Oil. Op cit.

Idaho Office of Drug Policy. Op cit.

Ibid

Idaho Attorney General's Annual Report. Op cit.

Ibid

US Hemp Authority. Retrieved from

https://ushempauthority.org/

The Better Business Bureau. Retrieved from

https://www.bbb.org/

BBB Accredited CBD Oil Company in Idaho. Retrieved from

https://www.bbb.org/us/id/idaho-falls/category/cbd-oil

Idaho Legislature. Idaho Statutes. Op cit.

Shannon, S., Lewis, N., Lee, H., & Hughes, S. (2019). Cannabidiol in Anxiety and Sleep: A Large Case Series. The Permanente journal, 23, 18–041.

https://doi.org/10.7812/TPP/18-041

Russo E. B. (2008). Cannabinoids in the management of difficult to treat pain. Therapeutics and clinical risk management, 4(1), 245–259.

https://doi.org/10.2147/tcrm.s1928

The US Food and Drug Administration. FDA Approves First Drug Comprised of Active Ingredient from Cannabis. Retrieved from

https://www.fda.gov/news-events/press-announcements/fda-approves-first-drug-comprised-active-ingredient-derived-marijuana-treat-rare-severe-forms

Shannon, S., Lewis, N., Lee, H., & Hughes, S. (2019). Op cit.

Russo E. B. (2008). Cannabinoids in the management of difficult to treat pain. Therapeutics and clinical risk management, 4(1), 245–259.

https://doi.org/10.2147/tcrm.s1928

Hammell, D. C., Zhang, L. P., Ma, F., Abshire, S. M., McIlwrath, S. L., Stinchcomb, A. L., & Westlund, K. N. (2016). Transdermal cannabidiol reduces inflammation and pain-related behaviours in a rat model of arthritis. European journal of pain (London, England), 20(6), 936–948.

https://doi.org/10.1002/ejp.818

Iffland, K., & Grotenhermen, F. (2017). An Update on Safety and Side Effects of Cannabidiol: A Review of Clinical Data and Relevant Animal Studies. Cannabis and cannabinoid research, 2(1), 139–154.

https://doi.org/10.1089/can.2016.0034

Ewing, L. E., Skinner, C. M., Quick, C. M., Kennon-McGill, S., McGill, M. R., Walker, L. A., ElSohly, M. A., Gurley, B. J., & Koturbash, I. (2019). Hepatotoxicity of a Cannabidiol-Rich Cannabis Extract in the Mouse Model. Molecules (Basel, Switzerland), 24(9), 1694.

https://doi.org/10.3390/molecules24091694

The World Health Organization. Cannabidiol.Retrieved from

https://www.who.int/medicines/access/controlled-substances/CannabidiolCriticalReview.pdf

Iffland, K., & Grotenhermen, F. (2017). Op cit.
CBD Clinicals is reader-supported. When you buy through links on our site, we may earn an affiliate commission.
Learn more