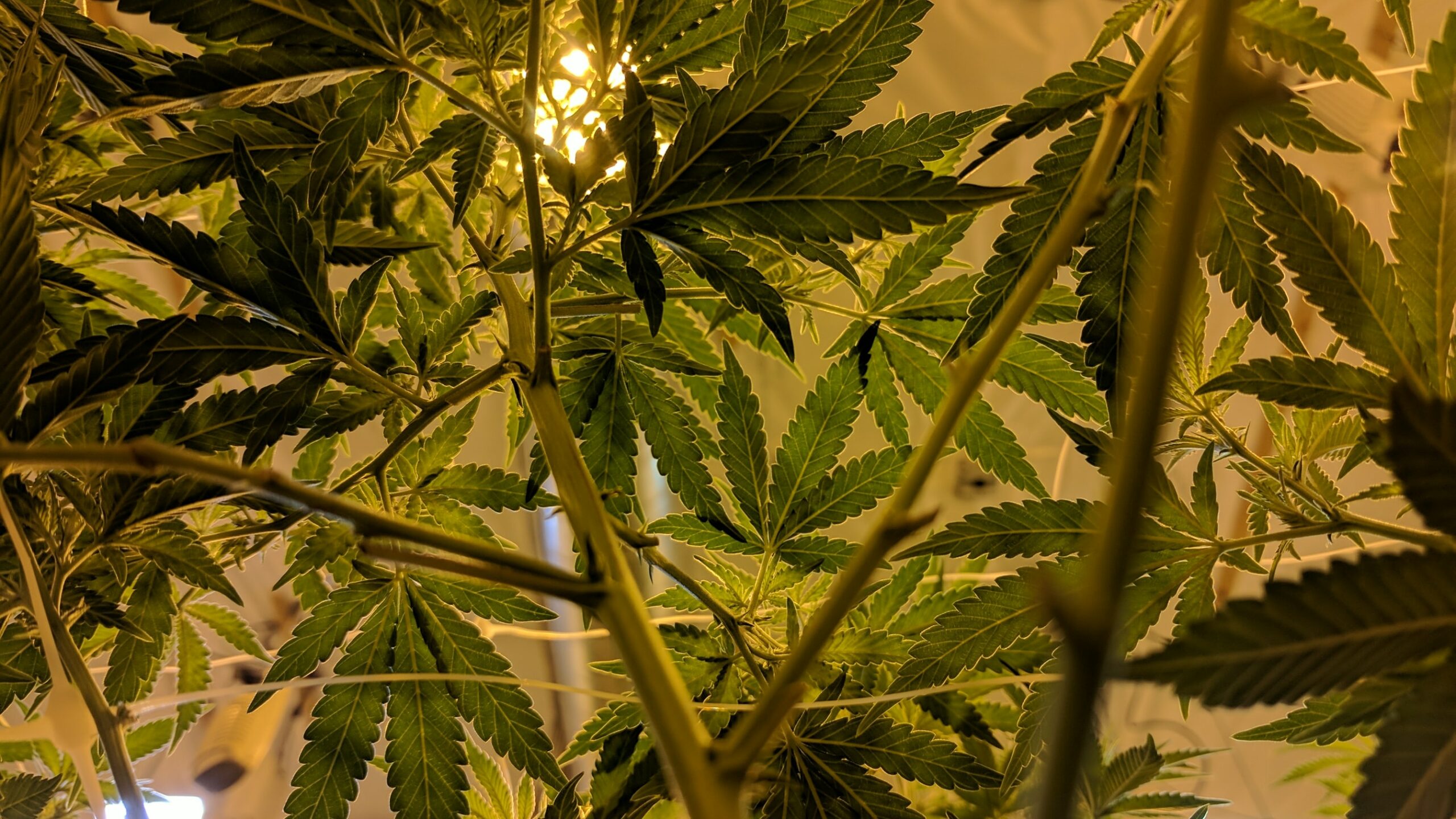 According to the California Department of Public Health (CDPH),

cannabidiol- (CBD) infused food products are prohibited in California

(1)

. The CDPH official website mentioned that CBD is not an approved ingredient or additive for food products.

According to the 2018 United States Farm Bill, industrial hemp cultivation with less than 0.3

0

% tetrahydrocannabinol (THC) in dry weight is lega

l

(2)

.

However,

THC

, the other primary cannabinoid from the cannabis plant,

may

have

psychoactive effects.

The State of California implemented Senate Bill no. 158, indicating that licensed farmers may legally grow industrial hemp using approved hemp cultivars (

cultivated

plant variet

ies

)

(3)

.

Is
CBD Oil Legal
in
California
?
Industrial hemp plants, which come from Cannabis sativa, consist of several major cannabinoids, including CBD. Cannabinoids and compounds are extracted to develop various CBD products.
Hemp-derived CBD oil is legal in California with some restrictions. The state of California enacted laws to comply with the 2018 United States Farm Bill(4).
In the United States (US), products made from hemp-derivatives may be legally produced and sold. 
The Agriculture Improvement Act of 2018 or the 2018 United States Farm Bill mandates that industrial hemp may be cultivated and processed in the United States(5). 
However, the act also stated that hemp extracts must not contain more than 0.30% tetrahydrocannabinol (THC) in dry weight. Individuals who consume THC may experience psychoactive effects. 
THC is the same compound that is commonly found in hemp and marijuana plants. Both plants are considered varieties of Cannabis sativa. 
A 2018 study from Missouri Medicine mentioned that marijuana plants have been reported to contain 17% to 28% THC(6). To comply with federal regulations, licensed industrial hemp farms in the US use hemp strains with significantly low THC. 
Although the Farm Bill legalized the production of hemp products, there are many questions regarding the legality of CBD oil in California. 
California CBD Laws
When it comes to hemp-derived products, such as CBD oil, California law complies with the federal law. The state government enacted Senate Bill 153, allowing the cultivation of industrial hemp with THC levels not exceeding 0.3%(7). 
Thus, hemp-derived products within the 0.30% THC limit are legal with some restrictions.
The use of CBD or cannabinoids as food additives or ingredients is prohibited in California. The California Department of Food and Agriculture is currently the regulating body for CBD products in California.
As of October 2020, proposed state regulatory plans for industrial hemp have not yet been submitted to the US Department of Agriculture (USDA)(8).
Despite the presence of edible CBD products in the market, the California Department of Public Health mentioned that CBD-infused food products for humans and animals are not legal in the state(9).
The state government mandated a separate set of regulations for marijuana-derived CBD products. Marijuana or cannabis products are not covered by Senate Bill 153.
There is no regulatory organization that controls retailers and the selling of CBD products in California(10). Thus, consumers 21 years of age or older can freely buy CBD oil products in the state without a prescription or a state-issued identification card. Meanwhile, the medical use of marijuana requires a state-issued marijuana card(11). Adult recreational use is also legal without a state-issued marijauna card.
Licensing Requirements
There are no existing regulations that require a license to sell CBD oil products in California. However, hemp growers and processors are required to obtain licenses.  
According to Senate Bill no. 153, hemp growers may obtain necessary licenses to legally farm and harvest industrial hemp if the state requirements are met(12).
The state law indicates that only approved hemp cultivars may be used to grow industrial hemp. Cultivars are a plant variety specifically bred or selected to meet the requirements set by the regulating body.
According to the bill, the cultivars must be certified by the Organization of Economic Cooperation and Development.
The legalization of industrial hemp has increased the viability of the hemp farming industry. According to the United States Department of Agriculture (USDA), industrial hemp acreage has grown from zero in 2013 to 90,000 acres in 2018(13).
In California, Senate Bill no. 153 requires industrial hemp growers to register with their county commissioner. During the application process, the aspiring hemp-growers must specify all necessary details, such as name, address, and contact information(14). 
The farms and storage facilities' location must also be provided. Farmers must also share the Global Positioning System coordinates with the county.
The registrants must also submit information regarding the cultivars they plan to use and where the seeds are sourced. Upon license approval, the registrants' business operations are valid for one year. Hemp growers must renew their registration annually(15).  
Testing Requirements
Senate Bill no. 158 mandated that hemp growers are required by the California Department of Food and Agriculture to provide the lab reports from hemp samples tested for THC concentration(16).
The sample testing must be conducted 30 days before harvest. Moreover, farmers must use laboratories accredited by the department.
What Are the Marijuana Laws in California?
Compared to other US states, California is more advanced with regard to cannabis laws. It is the first state to legalize the medical use of cannabis(17).
Although hemp is classified as a variety of the cannabis plant, "cannabis" is a general term used for marijuana or marijuana-derived products(18). 
According to the Drug Enforcement Administration, CBD drugs approved by the FDA with less than 0.1% THC are not included in the Controlled Substances Act(19). 
CBD products with more than the 0.30% THC limit are considered Schedule I controlled substances(20). Thus, CBD users must be cautious when buying CBD products since some brands may not practice accurate labeling.
In California, including major cities like Los Angeles, San Diego, and San Francisco, the marijuana industry is strictly regulated(21). Recreational and medical marijuana can only be legally purchased in licensed dispensaries. 
Buying CBD
Legally
Individuals must consider several factors before buying CBD in California, including the manufacturer, product quality, laboratory testing practices, truthfulness in advertising, and customer service.
Buyers must practice caution when shopping for the right brand. Individuals must be responsible for doing their research before purchasing CBD products.
Third-party laboratory testing is a common practice among legitimate CBD brands. The certificate of analysis is a third-party lab report shared with consumers. 
This transparency helps CBD buyers determine if the products contain the same amounts of cannabinoid concentration, as indicated on the label. 
The COA also verifies if products are free from harmful substances, such as pesticides, herbicides, heavy metals, and other chemicals.
How to Choose Which CBD Products to Buy
Researching the company is crucial in determining if the product is legitimate. One can find the company's business practices status through the Better Business Bureau (BBB) website. 
Better Business Bureau ratings help indicate if the company upholds ethical business practices, provides high-quality products, and receives minimal customer complaints(22). 
When the company's BBB-rating has been reviewed, one must check if the CBD brand provides updated COAs for the latest batch of products produced. Customers should always check the COA to determine if the CBD concentration on the product label is accurate and ensure that the product is safe for human and animal consumption.
The US Hemp Authority is a third-party organization that checks a CBD product's safety and quality. The organization has a program that holds CBD brands to high standards, encouraging companies to promote ethical business practices and maintain product quality(23). 
In California, there are 25 companies accredited by the BBB. Consumer reports show that out of the 25 CBD firms, only three companies received customer complaints as of November 2020(24):
Topikal, Tarzana

Global Cannabinoids, Westlake Village

Honey Colony, Oxnard
Where to Buy CBD Products Legally
In California, buyers must be at least 21 years of age to purchase adult-use cannabis products. Cannabis retailers must also be licensed by the state before they can start operating(25).
Meanwhile, medical cannabis may be purchased by Californian citizens who are at least 18 years of age. However, they must have a valid physician's recommendation to buy medical cannabis goods(26).
CBD products may be bought from a brand's official website and other online retail stores. Individuals who prefer to check the label and physically buy CBD products may check licensed dispensaries and wellness stores. 
Consumers must opt for CBD brands that do not make any health claims. Making any unsubstantiated health claims when marketing CBD products is prohibited by the US Food and Drug Administration(27). 
Also, checking the COA before buying may help determine if the brand is consistent in its CBD and THC content. 
Understanding CBD
Researchers study CBD oil for its purported therapeutic potential in relieving symptoms of anxiety, insomnia, chronic pain, and arthritis(28-30). Hemp-derived CBD oil is commercially produced and sold in the United States.
What Are the Types of CBD Oil?
Full-spectrum CBD oil consists of all the cannabinoids found in hemp plants, including less than 0.30% THC content. 
Phytocannabinoids (cannabinoids from plants) are naturally occurring compounds found in hemp plants and marijuana plants. Aside from CBD and THC, other phytocannabinoids in hemp include cannabigerol (CBG), cannabichromene (CBC), and cannabinol (CBN).
The full-spectrum concentration provides consumers with the "entourage effect," characterized by cannabinoids coming together to provide a greater benefit compared to when these substances are consumed individually.
There is a lack of definitive studies indicating if prolonged full-spectrum CBD oil consumption may result in a positive drug test. THC may or may not be detected during these tests. 
In some cases, broad-spectrum CBD may also provide the entourage effect. However, the phenomenon is more associated with full-spectrum CBD. The broad-spectrum type, which does not have THC, is recommended to individuals who do not want to consume THC. 
CBD isolate contains pure CBD. This product may come in a powder form or suspended in carrier oils. 


How Is CBD Produced? 
Hemp plants are grown from cultivars approved by the state government. The seeds are sown directly into the soil or in pots for transplanting, depending on the farming practice. 
When extracting the cannabinoids from hemp flowers and stalks, manufacturers use different methods to separate the plant's compounds. Extraction methods include the use of solvents, decarboxylation (applying heat), pressurization, or cold-pressing. 
Solvent extraction may use ethanol and hydrocarbons, such as hexane, to separate the compounds. However, this extraction method may leave residual solvents in the products.
Individuals who are sensitive to residual solvents may opt for CBD products that underwent the CO2 extraction method. A recent study from Scientific Reports has shown that CO2 extraction is an effective method to separate compounds without using solvents(31).
Meanwhile, the decarboxylation extraction is conducted by exposing hemp flowers and stalks to light and heat. Decarboxylation extraction has been reported to expose plants to temperatures ranging from 120 to 170 degrees celsius(32).
What Are the Potential Health Benefits of CBD?
In humans, researchers recognized the ECS as a potential therapeutic target for cannabinoids, such as CBD and THC(33).
The endocannabinoid system (ECS) is a modulatory system that influences the internal processes of humans and animals. Scientists have found ECS receptors in the immune system, central nervous system, digestive system, and virtually all others(34).
Epilepsy
CBD oil is currently not an FDA-approved pharmaceutical product. The FDA has approved only one pharmaceutical drug consisting of CBD as the primary active ingredient(35). 
Epidiolex, which contains CBD, is approved for use to reduce convulsions in rare epileptic conditions, such as Dravet syndrome and Lennox-Gastaut syndrome.
A review shared by Molecules investigated the mechanisms behind CBD's efficacy in epileptic convulsions(36). The authors mentioned that CBD's affinity to the receptors in the ECS produced an anticonvulsant effect. 
Anxiety Disorders and Insomnia
The Permanente Journal posted a study demonstrating CBD's potential therapeutic benefits for anxiety and insomnia. The study has shown that CBD administration on 72 patients reduced anxiety scores in 79.2% of participants, while 66.7% showed improved sleep scores(37).
A report shared by Neurotherapeutics acknowledged that CBD may potentially relieve anxiety-related disorders, such as panic disorder, due to CBD's anti-anxiety effects. 
Chronic Pain and Inflammation
Another study discussed CBD's anti-inflammatory and analgesic properties. The European Journal of Pain shared a study evaluating how transdermal CBD application reduced inflammation and improved the limb posture of arthritis rat models(38). 
Studies have also shown that CBD may provide pain-relieving properties when ingested. Frontiers in Pharmacology published a review on CBD's potential to relieve chronic pain caused by several conditions, such as multiple sclerosis, fibromyalgia, and peripheral neuropathy(39). 
Is CBD Safe?
CBD has been recognized for being well-tolerated and safe for daily use by the World Health Organization(40). Moreover, Cannabis and Cannabinoid Research released a review that mentioned how CBD has a better side effect profile than pharmaceutical drugs aimed to treat epilepsy(41). 
However, CBD has been shown to occasionally cause several side effects, such as diarrhea, dry mouth, drowsiness, fatigue, and reduced appetite(42).
During Epidiolex's controlled trials, researchers observed that CBD treatment increased some subjects' liver enzymes. Some participants even dropped out of the study due to the risk of sudden liver injury(43). 
Increased liver enzymes are often a sign of liver inflammation. This may have been more attributable to their existing medication levels that were increased as a result of taking CBD.
Nevertheless, the FDA released a warning that CBD may cause liver injury(44). 
This announcement was preceded by a study from Molecules demonstrating how high CBD doses could cause hepatotoxicity (liver toxicity) on rat models(45). 
During the study, the researchers administered extremely high CBD doses to rats in ten days. This study's goal was to observe how CBD toxicity may affect liver functions in mammals. 
Based on their observations, the authors indicated that high CBD doses increased the bilirubin in the blood, which has the potential to cause liver injury(46). Bilirubin is a yellow compound that forms after the breakdown of red blood cells.
Although the researchers added that the doses used in the study may not apply to actual human scenarios, the outcome gives valuable information on high-dose CBD effects. Such high doses usually aren't necessary for wellness goals.
How Does One Take CBD Oil?
CBD oil products may be delivered in various ways, such as sublingually, orally, topically, and through inhalation.
Individuals who want to consume CBD oil quickly may opt for CBD tinctures. CBD oil tinctures are the most common delivery method. They may be consumed by using a dropper to apply the tincture under the tongue. 
CBD oil may also be taken orally using CBD capsules or softgels. One may take the capsule with a glass of water.
CBD gummies may also be consumed orally. However, in California, CBD is prohibited from being added to food products(47). 
Individuals who prefer to consume CBD through inhalation may opt for CBD vape pens or CBD vape oil. However, vaping has been reported to cause some side effects, such as chemical irritation, chest pain, and allergic reaction(48).
Lastly, topical CBD products are available for individuals who want to apply CBD to target skin areas. CBD may be infused in creams, gels, moisturizers, and balms.
Individuals planning to take CBD for the first time must start with a low dose. They may increase the dosage once the body gets used to CBD. 
For topical CBD, individuals may start with a pea-sized amount of cream or balm on the skin to test for allergic reactions. If there are no adverse effects, one may increase the amount and apply more, as needed.
Conclusion
Although researchers noted that consuming CBD may provide potential health benefits, they consistently mentioned that more data is needed to verify CBD's clinical value.
Still, CBD products are widely available in the US, including California. Individuals who want to purchase CBD legally must opt for CBD brands with ethical business practices and products made from hemp sourced from regulation-compliant farms. 
Customers must only buy CBD products from licensed dispensaries and official retailers. Individuals must also consult with a licensed physician before consuming CBD oil. 
For more information on CBD's legality in all 50 US states, click here.
*The information shared in this article was based on findings retrieved on October 28, 2020. The legal status and regulations for CBD may change without notice.  
---
The California Department of Public Health. Frequently As Questions. Retrieved from

https://www.cdph.ca.gov/Programs/CEH/DFDCS/CDPH%20Document%20Library/FDB/FoodSafetyProgram/HEMP/Web%20template%20for%20FSS%20Rounded%20-%20Final.pdf

The US Food and Drug Administration. Hemp Production and the 2018 Farm Bill. Retrieved from

https://www.fda.gov/news-events/congressional-testimony/hemp-production-and-2018-farm-bill-07252019

Bill Text. Senate Bill No. 153. Retrieved from

http://leginfo.legislature.ca.gov/faces/billTextClient.xhtml?bill_id=201920200SB153

Bill Text. Senate Bill No. 153. Op cit.

House of Representatives. Conference Report. Retrieved from

https://docs.house.gov/billsthisweek/20181210/CRPT-115hrpt1072.pdf

Stuyt E. (2018). The Problem with the Current High Potency THC Marijuana from the Perspective of an Addiction Psychiatrist. Missouri medicine, 115(6), 482–486.

Bill Text. Senate Bill No. 153. Op cit.

California Department of Food and Agriculture. Frequently Asked Questions. Retrieved from

https://www.cdfa.ca.gov/plant/industrialhemp/faq.html

The California Department of Public Health. Frequently As

ked

Questions. Op cit.

The California Department of Public Health. Frequently As

ked

Questions. Op cit.

California Bureau of Cannabis Control. Your Questions Answered. Retrieved from

https://bcc.ca.gov/about_us/your_questions_answered.html

Bill Text. Senate Bill No. 153. Op cit.

The United States Department of Agriculture. Economic Viability of  Industrial Hemp Retrieved from

https://www.ers.usda.gov/webdocs/publications/95930/eib-217.pdf

Bill Text. Senate Bill No. 153. Op cit.

Ibid

Ibid

Pacula, R. L., & Smart, R. (2017). Medical Marijuana and Marijuana Legalization. Annual review of clinical psychology, 13, 397–419.

https://doi.org/10.1146/annurev-clinpsy-032816-045128

Cannabis.ca.gov. Frequently Asked Questions. Retrieved from

https://cannabis.ca.gov/faqs/

Drug Enforcement Agency. Implementation of the Agriculture Act of 2018. Retrieved from https://www.deadiversion.usdoj.gov/fed_regs/rules/2020/fr0821.htm

Ibid

Cannabis.ca.gov. Law and Regulations. Retrieved from

https://cannabis.ca.gov/laws-regulations/

The Better Business Bureau. Retrieved from

https://www.bbb.org

/

The US Hemp Authority. History and Organization. Retrieved from

https://ushempauthority.org/about

BBB. Retrieved from

https://www.bbb.org/search?filter_state=CA&find_country=USA&find_entity=81000-800&find_id=81000-800&find_text=CBD%20Oil&find_type=Category&page=1&sort=Rating&touched=15

BCC. Op cit.

Ibid

FDA. FDA Regulation of Cannabis and Cannabis-Derived Products, Including Cannabidiol (CBD). Retrieved from

https://www.fda.gov/news-events/public-health-focus/fda-regulation-cannabis-and-cannabis-derived-products-including-cannabidiol-cbd

Shannon, S., Lewis, N., Lee, H., & Hughes, S. (2019). Cannabidiol in Anxiety and Sleep: A Large Case Series. The Permanente journal, 23, 18–041.

https://doi.org/10.7812/TPP/18-0

41

Argueta, D. A., Ventura, C. M., Kiven, S., Sagi, V., & Gupta, K. (2020). A Balanced Approach for Cannabidiol Use in Chronic Pain. Frontiers in pharmacology, 11, 561.

https://doi.org/10.3389/fphar.2020.00561

Hammell, D. C., Zhang, L. P., Ma, F., Abshire, S. M., McIlwrath, S. L., Stinchcomb, A. L., & Westlund, K. N. (2016). Transdermal cannabidiol reduces inflammation and pain-related behaviours in a rat model of arthritis. European journal of pain (London, England), 20(6), 936–948.

https://doi.org/10.1002/ejp.818

Rochfort, S., Isbel, A., Ezernieks, V., Elkins, A., Vincent, D., Deseo, M. A., & Spangenberg, G. C. (2020). Utilisation of Design of Experiments Approach to Optimise Supercritical Fluid Extraction of Medicinal Cannabis. Scientific reports, 10(1), 9124.

https://doi.org/10.1038/s41598-020-66119-1

Lewis-Bakker, M. M., Yang, Y., Vyawahare, R., & Kotra, L. P. (2019). Extractions of Medical Cannabis Cultivars and the Role of Decarboxylation in Optimal Receptor Responses. Cannabis and cannabinoid research, 4(3), 183–194.

https://doi.org/10.1089/can.2018.0067

Pacher, P., Bátkai, S., & Kunos, G. (2006). The endocannabinoid system as an emerging target of pharmacotherapy. Pharmacological reviews, 58(3), 389–462.

https://doi.org/10.1124/pr.58.3.2

Zou, S., & Kumar, U. (2018). Cannabinoid Receptors and the Endocannabinoid System: Signaling and Function in the Central Nervous System. International journal of molecular sciences, 19(3), 833.

https://doi.org/10.3390/ijms19030833

The US Food and Drug Administration. FDA Approves First Drug Comprised of Active Ingredient from Cannabis. Retrieved from

https://www.fda.gov/news-events/press-announcements/fda-approves-first-drug-comprised-active-ingredient-derived-marijuana-treat-rare-severe-forms

Silvestro, S., Mammana, S., Cavalli, E., Bramanti, P., & Mazzon, E. (2019). Use of Cannabidiol in the Treatment of Epilepsy: Efficacy and Security in Clinical Trials. Molecules (Basel, Switzerland), 24(8), 1459.

https://doi.org/10.3390/molecules24081459

Shannon, S., Lewis, N., Lee, H., & Hughes, S. (2019). Op cit.

Hammell, D. C., Zhang, L. P., Ma, F., Abshire, S. M., McIlwrath, S. L., Stinchcomb, A. L., & Westlund, K. N. (2016). Op cit.

Argueta, D. A., Ventura, C. M., Kiven, S., Sagi, V., & Gupta, K. (2020). A Balanced Approach for Cannabidiol Use in Chronic Pain. Frontiers in pharmacology, 11, 561.

https://doi.org/10.3389/fphar.2020.00561

The World Health Organization. Cannabidiol.Retrieved from

https://www.who.int/medicines/access/controlled-substances/CannabidiolCriticalReview.pdf

Iffland, K., & Grotenhermen, F. (2017). An Update on Safety and Side Effects of Cannabidiol: A Review of Clinical Data and Relevant Animal Studies. Cannabis and cannabinoid research, 2(1), 139–154.

https://doi.org/10.1089/can.2016.0034

The Mayo Clinic. Cannabidiol Side Effects. Retrieved from

https://www.mayoclinic.org/healthy-lifestyle/consumer-health/expert-answers/is-cbd-safe-and-effective/faq-20446700#:~:text=Though%20it's%20often%20well%2Dtolerated,dosage%20of%20CBD%20in%20products

.

Epidiolex. HIghlights of Prescription. Retrieved from

https://www.epidiolex.com/sites/default/files/pdfs/0820/EPX-03645-0820_EPIDIOLEX_(cannabidiol)_USPI.pdf

The US Food and Drug Administration. What to Know About Products Containing Cannabis and CBD. Retrieved from

https://www.fda.gov/consumers/consumer-updates/what-you-need-know-and-what-were-working-find-out-about-products-containing-cannabis-or-cannabis

Ewing, L. E., Skinner, C. M., Quick, C. M., Kennon-McGill, S., McGill, M. R., Walker, L. A., ElSohly, M. A., Gurley, B. J., & Koturbash, I. (2019). Hepatotoxicity of a Cannabidiol-Rich Cannabis Extract in the Mouse Model. Molecules (Basel, Switzerland), 24(9), 1694.

https://doi.org/10.3390/molecules24091694

Ibid

The California Department of Public Health. Frequently As Questions. Op cit.

Shmerling, R.H., Can Vaping Damage Your Lungs? (2019)., Retrieved from

https://www.health.harvard.edu/blog/can-vaping-damage-your-lungs-what-we-do-and-dont-know-2019090417734
CBD Clinicals is reader-supported. When you buy through links on our site, we may earn an affiliate commission.
Learn more