Can CBD help with eczema and other skin problems?
According to the American Academy of Dermatology (AAD), eczema (atopic dermatitis or AD) is a common skin condition that affects up to 25% of children. About 60% of people with eczema develop it during their first year of life. 
Studies about the benefits and side effects of CBD (cannabidiol) are still emerging. Results from case reports and clinical studies with cannabis or single cannabinoids in different diseases, such as eczema, are promising.
However, initial studies show that CBD can affect the concentration levels of some eczema medicines in one's system, even if one is taking the prescribed dosage. Interactions could lead to drug overdose.
More research would determine the severity of CBD interactions across different medications and enable experts to develop recommendations for taking eczema medications along with CBD.
Eczema symptoms can be different for everyone, and people may react to treatments differently. Thus, it is best for eczema patients to keep themselves familiar with all of the options and talk to a doctor to find a treatment regimen that works for them.
What is Eczema?
Eczema is an inflammation of the skin, which makes skin red and itchy. This condition is chronic and tends to flare periodically. In some instances, it is accompanied by asthma or hay fever.
Inflammation is a healthy and natural reaction of the body's immune system when it is exposed to injury or infection. It occurs when the body is working hard to expel a foreign substance or pathogen, offering protection throughout the healing process.
However, sometimes, the immune system overreacts and produces inflammation when it is not needed. Although this inflammation can manifest in any part of the body, when it affects the skin, it results in eczema.
Different types of eczema have slightly different symptoms and triggers. However, all types of eczema are linked to inflammation.
Inflammation causes the skin to become sore and red. Some people who have eczema also experience having dry, scaly, and itchy skin, which can cause the skin to crack, bleed, and become prone to infection.
People with eczema also tend to suffer from sleep problems, as intense itchiness may make it challenging for them to get uninterrupted sleep.
Some people with eczema may also have low self-esteem due to the cosmetic appearance of the condition, making them shy and uncomfortable when with a group of people.
It is still unclear what causes eczema, although experts think it may be caused by a combination of genetic and environmental factors.
Environmental factors include irritants, such as detergents, soaps, shampoos, disinfectants, vegetables, meats, and juices from fresh fruits. Allergens, such as pollen, dust mites, dandruff, pets, and mold, can also lead to eczema.
Many people find that their eczema gets worse when they eat certain kinds of foods, come into contact with specific chemicals, or are under much stress.
Treatments for Eczema
According to the National Eczema Association (NEA), there is no cure for eczema. However, there are treatments to alleviate the symptoms. 
Depending on the eczema type and its severity, treatments include the following:
Over-the-counter (OTC) medications. One can buy them without a prescription. OTC products may help with skin problems such as skin irritation, rash, redness, itch, and infection. Explore OTC products that earned the

NEA Seal of Acceptance

.
Bathing. Take a shower or soak in a warm bath and then moisturize immediately afterward, within three minutes. Adding salt, bleach, oatmeal, vinegar, or baking soda to bathwater may also help with skin health.
 Moisturizing. Wind, cold temperatures, and low humidity, harsh soaps, and too much washing without the use of a moisturizer immediately after, can lead to dry skin. When skin becomes too dry, it can become irritated and cause eczema flare-ups. Eczema can flare up when one is around things that cause an allergic reaction.
Prescription Topicals. Prescription topical creams and medications, such as topical steroid creams (corticosteroids) and skin barrier creams, are available through a doctor.
Phototherapy. A particular machine may be used to emit narrowband ultraviolet B (UVB) light onto the skin to increase bacteria-fighting systems in the skin, as well as promote Vitamin D production.
Systemic Medications (Immunosuppressants). An immunosuppressant drug helps regulate the immune system to reduce the symptoms of severe eczema.
Complementary and Alternative Therapies. These include plant-based topicals such as coconut oils, supplements, and meditation.
CBD and THC
Derived from the plant Cannabis sativa, marijuana is one of the oldest and most widely used drugs worldwide. Of the over 60 cannabinoids in marijuana, only THC has intoxicating effects.
CBD oil may be derived from either hemp or marijuana, although most products in the CBD oil market are hemp-derived. CBD is nonpsychoactive, making it favorable to those who want to experience its health benefits without the 'high' induced by THC.
Hemp, which is legally defined as a cannabis plant that has less than 0.3 percent THC, is often referred to as a low THC variety. 
Cannabinoids, which are naturally found in cannabis plants, are a diverse group of compounds that have great potential to treat many medical conditions. Together with terpenes, they interact with the human body through the endocannabinoid system, which is responsible for regulating healthy bodily functions.
How Can CBD Oil Help with Eczema?
Cannabinoids also have a high safety profile as well. Relatively low levels of cannabinoids are required to have an effect on the skin, which then results in low systemic absorption into the bloodstream, eliminating the risk of potential intoxication from THC.
Dr. Henry Granger Piffard, M.D., founding editor of the Journal of Cutaneous and Venereal Diseases, wrote the first textbook of dermatologic therapeutics, where he said:
"A pill of cannabis indica at bedtime has at my hands sometimes afforded relief to the intolerable itching of eczema."
Since then, there have been numerous studies published on the potential benefits of cannabinoids in skin conditions.
Antipruritic Characteristics of Cannabinoids
Cannabinoids have a powerful anti-itch effect that can combat the itchiness that comes with eczema.
In a study, results indicate that cutaneous cannabinoid signaling is deeply involved in the maintenance of skin homeostasis, and its impairment may worsen several diseases, such as atopic dermatitis, psoriasis, acne, pigmentation disorders, and itch.
There are receptors in the skin that, when they interact with cannabinoids, could reduce the symptoms and appearance of atopic dermatitis. These effects happen through an assemblage of interactions between phytocannabinoids and the body's cannabinoid system.
The researchers found that cannabinoids elicited antipruritic (anti-itch) effects by activating CB2 receptors on the peripheral sensory nerve fibers, inhibiting the transmission of itch signals.
Antimicrobial Characteristics of Cannabinoids
Cannabinoids may treat eczema through the management of Staphylococcus aureus colonization, which is both a complication and a contributing factor of atopic dermatitis.
Staphylococcus aureus is a primary bacterial human pathogen. The Association for Professionals in Infection Control and Epidemiology (APIC) describes S. aureus as "the leading cause of skin and soft tissue infections."
The antimicrobial properties of cannabinoids have been known since the 1980s. However, a more detailed investigation of individual cannabinoids revealed that all five significant cannabinoids manifested potent activity against various S aureus strains.
Anti-inflammatory Characteristics of Cannabinoids
Researchers in a clinical investigation demonstrated that the application of topical THC suppresses allergic contact dermatitis in mice by triggering CB1 receptors. Molecules that are similar to those present in cannabis have also manifested significant anti-pain characteristics in the animal models.
There are reviews of direct improvement of eczema with topical cannabinoids, such as the report which demonstrates that a molecule interacting with the endocannabinoid system prevented mast cell activation.
Mast cells are immune cells that generate histamine when activated, causing severe inflammation and intense itching. These cells mediate inflammatory responses such as hypersensitivity and reactions to allergens.
CBD and Eczema Medications Interactions
When a person takes a medication or other substance, the body has to break it down or metabolize it.
A family of enzymes, also referred to as cytochrome P450 (CYP450), is responsible for converting foreign substances so that they can easily be eliminated from the body.
However, some substances affect CYP450, either by delaying or accelerating drug metabolism, altering how the body processes the medications. Hence, drug interaction occurs.
If the body is metabolizing a medication too slowly, one may have more medication in the body at one time than intended. An amplified level of medication in one's system could intensify its outcomes, including undesirable or harmful side effects.
Some substances also speed up the activity of the CYP450 enzyme family. If the body is metabolizing a medication too quickly, the body may not have enough of the medication in its system at one time to remedy a health issue.
One rule of thumb is to avoid CBD if the medications that one is taking have a grapefruit warning on the label. This warning is an indication that people taking the medication should avoid consuming grapefruit or grapefruit juice.
Chemicals in grapefruit inhibit a type of enzymes, similarly as CBD, resulting in a slower metabolization of medications.
According to the U.S. Food and Drug Administration (FDA), consuming grapefruit or CBD while on one of these medications can result in higher concentrations of the drug in the bloodstream or drug overdose.
Types of medications used to treat eczema that commonly have a grapefruit warning:
antibiotics and antimicrobials

antihistamines

corticosteroids

immunosuppressants

medications for anxiety, depression, or mood disorders

pain medications
If one is taking CBD with medications, it is essential to watch out for potential changes in how the medicine or CBD affects him or her.
Side effects to note:
amplified or new medication side effects, such as sedation, nausea, and  drowsiness
a decrease in medication effectiveness, such as breakthrough seizures 
common CBD side effects or changes, such as diarrhea, fatigue, and changes in weight or appetite
CBD Products for Eczema
Pure & Essential Minerals Hemp Seed Healing Balm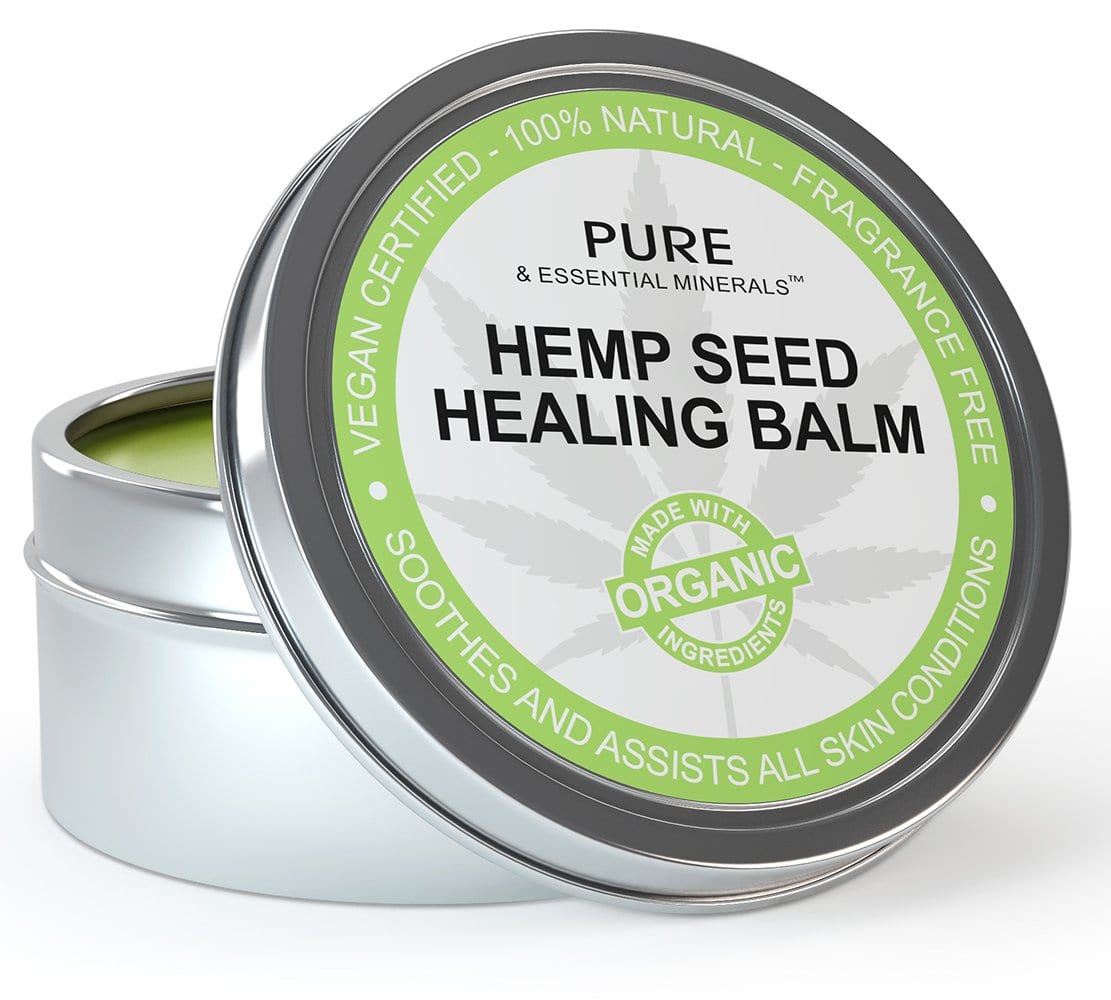 CBD Eczema Creams 4 oz by Pure & Essential Minerals is made from organic cold-pressed hemp seed oil. It is a new, improved formula with organic aloe vera, coconut, tamanu, lavender, and tea tree oils. Their products do not contain petroleum, parabens, phthalates, or harsh chemicals of any kind. Also, it is vegan-certified, gluten-free, GMO-free, and fragrance-free.

Check Latest Price



CBDMEDIC Eczema Therapy Medicated Ointment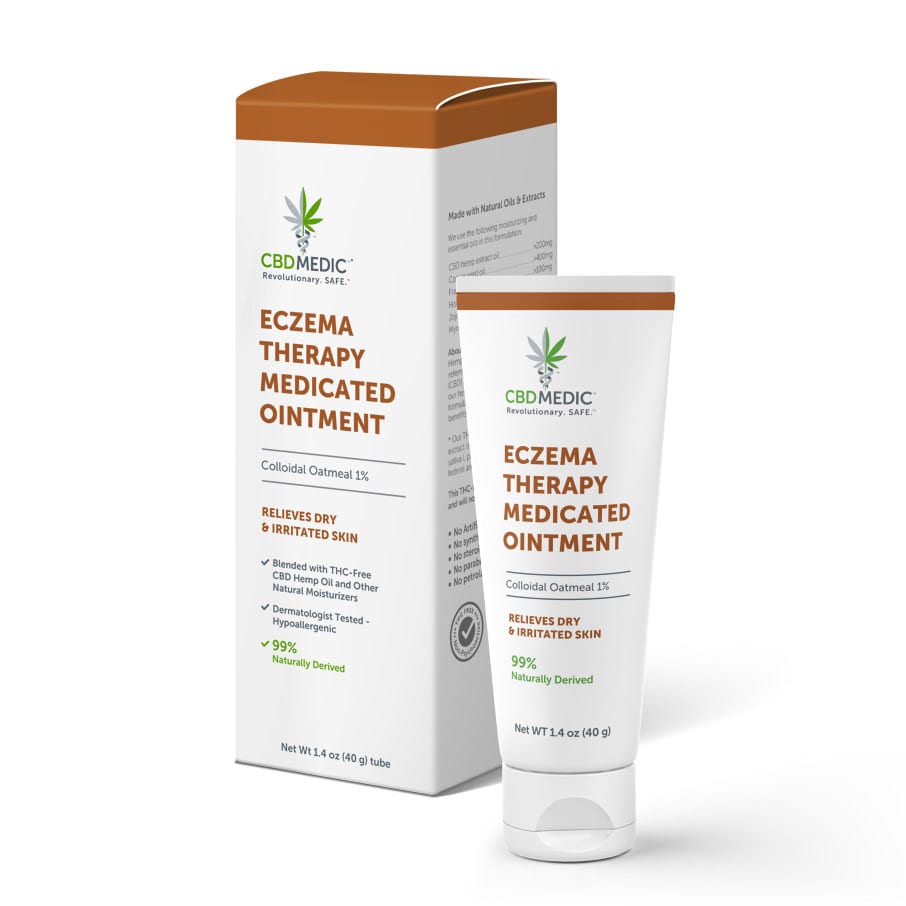 CBDMEDIC Eczema Therapy Medicated Ointment is recommended for eczema, psoriasis, pain, rash, and jock itch. CBDMEDIC products are blended with THC-Free CBD hemp oil and other natural moisturizers. When applied directly to the trouble area, the ointment gets absorbed by the skin quickly.

Check Latest Price



CBDistillery CBD Topicals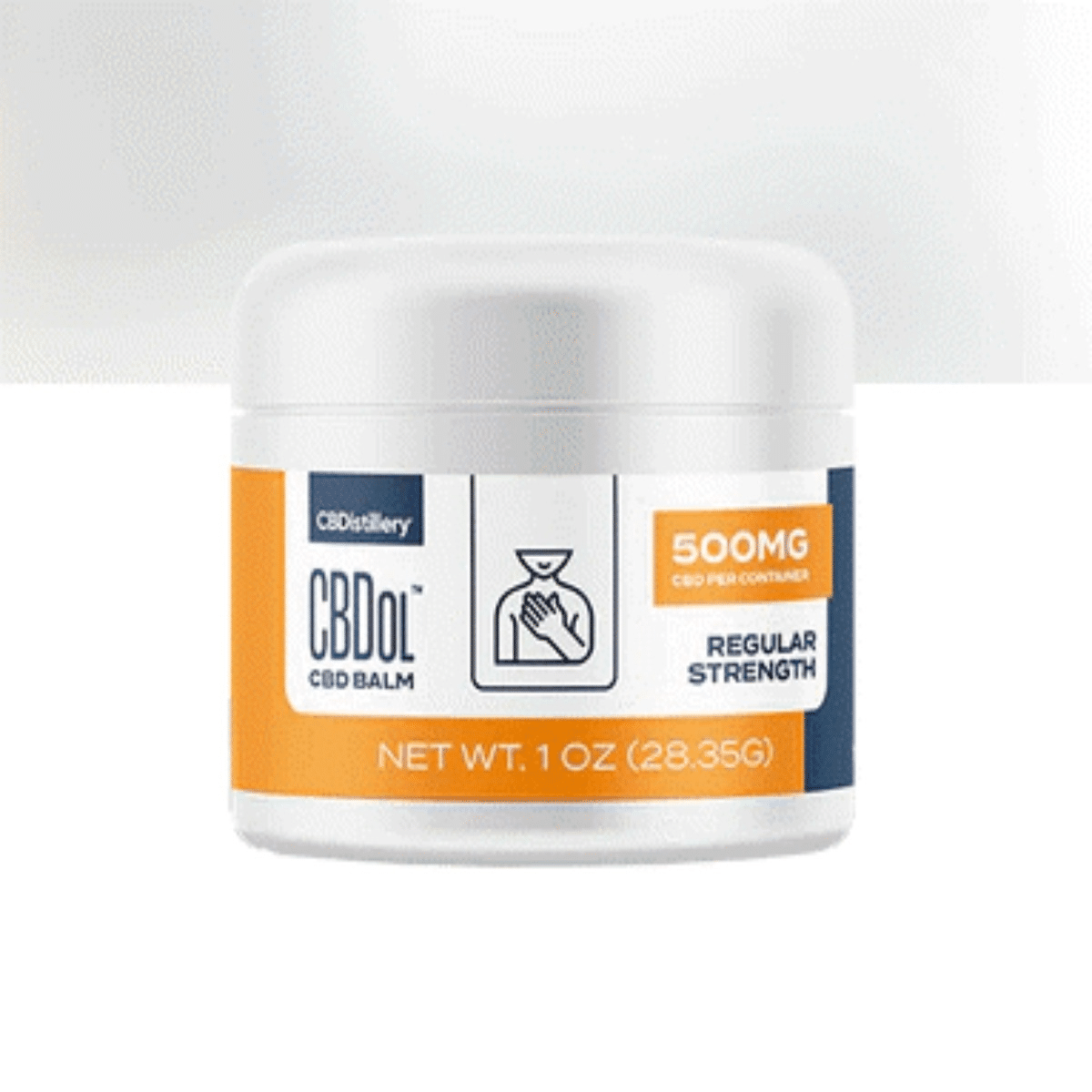 The topicals from CBDistillery provide benefits of your favorite types of skincare products, but with CBD. Options include:

The CBD Lip Balm moisturizes and restores your lips while also letting you benefit from CBD. The CBDol Topical is designed to bring the CBD benefits directly to your skin. CBDefine Skin Care Cream is a lotion that has CBD in it, so you get the benefits of lotion along with CBD.

Check Latest Price Read our review
For users looking to take CBD, there are plenty of CBD products to choose from, such as CBD lotion, CBD cream, CBD edibles, CBD capsules and pills, CBD vape oils, and CBD tinctures.
Before taking CBD oil for eczema, it is essential to consult with a medical professional.
Eczema in Pregnancy
Pregnancy-induced eczema is eczema that occurs during pregnancy in women who may or may not have had a history of the condition. This condition is also known as prurigo of pregnancy, pruritic folliculitis of pregnancy, atopic eruption of pregnancy (AEP), or papular dermatitis of pregnancy.
Pregnancy-induced eczema may account for up to half of all eczema cases. As eczema is linked to immune function and autoimmune disorders, if one already has eczema, the symptoms can worsen during pregnancy.
Using CBD to treat eczema when pregnant is discouraged.
The U.S. Food and Drug Administration ( FDA) strongly advises "against the use of cannabidiol (CBD), tetrahydrocannabinol (THC), and marijuana in any form during pregnancy or while breastfeeding."
Conclusion
Cannabinoids manifest an exciting prospect for the future of atopic dermatitis therapy. With quantifiable anti-pain, anti-itch, antimicrobial, and anti-inflammatory properties, the impact of cannabinoids in patients with eczema has already begun to be demonstrated.
Special attention given by eczema patients in choosing a CBD product would ensure that they are getting what was indicated in the labels. CBD topicals that are chosen based on the profile of ingredients known to reduce pain, inflammation and irritation for the skin are excellent in alleviating symptoms of eczema and other skin disorders.
However, until clinical data is available for specific products, consumers are advised to stay vigilant of unscrupulous manufacturers mislabeling their products as to its purity and potency.
Dispensaries in state markets typically regulate a third-party laboratory, which is an added consumer protection compared to purchasing a product on the internet.
If one is planning on using CBD oil for skin care or for treating skin conditions, the best course of action is to first consult with a medical professional.
CBD Clinicals is reader-supported. When you buy through links on our site, we may earn an affiliate commission.
Learn more