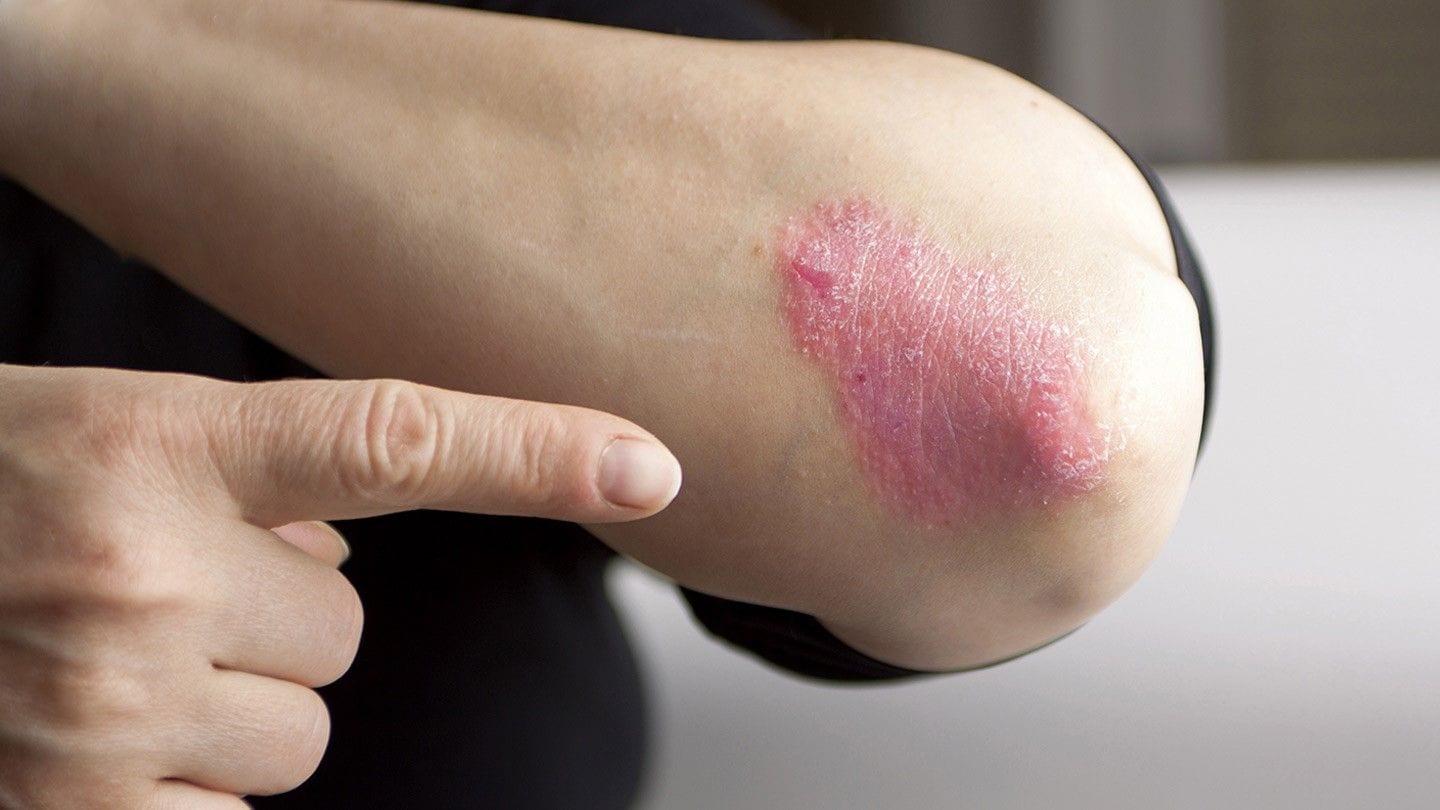 Does CBD Work for Psoriasis?
CBD has immunosuppressive properties that could potentially help treat psoriasis (1)

.

A study published in the journal

Biochemical Pharmacology

has found that CBD may help suppress the function of T cells that are responsible for psoriasis (2)

. 

Cannabinoids like CBD have anti-inflammatory effects. A study published in the

Future Medicinal Chemistry

outlined cannabinoids' ability to reduce inflammation (3)

. 

Researchers also support the use of cannabinoid products as treatment adjuncts for various skin conditions like psoriasis, eczema, acne, and even skin cancer (4)

. 

However, further research is needed on whether CBD alone can help treat psoriasis. Before patients with psoriasis use CBD, they should inform their dermatologist first.

Many companies offer products for the treatment of psoriasis. One product that stands out, however, is Cibdol's Soridol CBD cream. It is formulated especially for psoriasis patients.
The cream promises intense moisture and is formulated so that the CBD is delivered beyond intestinal membranes and to the areas that have psoriasis.
Soridol also promotes cell growth through its vitamin A-rich formulation that aids in balancing moisture content. It also aids in keratinocytes' healthy proliferation.
Accelerated growth of keratinocytes could lead to psoriasis lesions. 
Soridol should be applied twice or thrice daily to areas affected with psoriasis. Upon using the topical cream, avoid exposure to the sun. 
For maximum results, it is recommended that psoriasis patients should remove large flakes before product application. 
Avoid using Soridol on damaged skin or near the eyes. Those undergoing narrowband UVB or PUVA treatment should also avoid using the product.
Why People Are Using CBD for Psoriasis
Psoriasis is an autoimmune disorder that can be treated but cannot be cured completely (5). Hence, people with psoriasis have been trying several treatments, ranging from phototherapy to natural supplements.
Among these alternative remedies is the use of cannabidiol (CBD). Studies support the administration of CBD products to alleviate psoriasis symptoms.
According to research published in the journal La Clinica Terapeutica, a CBD-enriched ointment had significant therapeutic effects on psoriasis (6). The subjects also did not have any allergic reactions during the psoriasis treatment.
The study concluded that CBD has great potential in treating skin conditions, especially inflammatory ailments.
Another study found that CBD has immunosuppressive properties that could be beneficial to the treatment of the autoimmune disease psoriasis (7). The research outlined how CBD suppresses the function of T cells. 
According to the National Psoriasis Foundation, psoriasis is known as a 'T cell-mediated disease' (8). T cells are white blood cells that are essential to the adaptive immune system.
T cells would neutralize foreign substances called antigens in the body of a person who does not have psoriasis. However, those with psoriasis end up with activated T cells on the skin instead.
How CBD Oil Works to Alleviate Symptoms of Psoriasis
CBD helps in the treatment of psoriasis because of its interaction with the endocannabinoid system (ECS).
According to a study published in the journal Trends in Pharmacological Sciences, the ECS regulates the balance of the reproduction, survival, and immune competence of skin cells (9).
When this balance is disrupted, pathological diseases and skin conditions such as psoriasis, allergic dermatitis, and even cancer arise. 
The ECS has two primary receptors, namely CB1 and CB2. These are found all over the body.
CB2 receptors are mostly found in immune system cells. 
Three types of cannabinoids bind with the CB1 and CB2 receptors. These cannabinoid receptors are endocannabinoids, phytocannabinoids, and lab-derived cannabinoids. 
The body produces endocannabinoids, while phytocannabinoids come from Cannabis Sativa or the marijuana plant. 
The most notable phytocannabinoids are tetrahydrocannabinol (THC) and CBD. THC can get its users high because it is the psychoactive ingredient of the cannabis plant.
Cannabinoids are a potential treatment for various skin diseases because of their anti-inflammatory properties (10).
A study published in the journal Future Medicinal Chemistry reports the importance of cannabinoids in the immune system (11). In the study, researchers discovered that cannabinoids, THC in particular, are immunosuppressive.
The study also states that cannabinoids reduce cytokines, thereby suppressing inflammation.
Cytokines are inflammatory proteins that can contribute to inflammation and promote overly rapid skin cell development (12). 
Another study concluded that cannabinoids inhibit the rapid increase of keratinocytes, thereby making them a potential treatment option for psoriasis (13). 
Accelerated growth of keratinocytes results in the development of psoriasis lesions. 
A 2016 research supports this and adds that the immune system and its interaction with the nervous system through the ECS make cannabinoids a possible treatment for psoriasis (14).
A study published in the Dermatology Online Journal stated that cannabinoid products could be used for the therapy of various skin diseases like acne, psoriasis, skin cancer, eczema, among others (15). 
The Pros and Cons of CBD Oil for Psoriasis
Studies have found that CBD has health benefits for those with psoriasis.

Medications for psoriasis, mainly topical steroids, could result in thinning of the skin, changes in pigmentation, stretch marks, easy bruising, redness, and dilated blood vessels (16)

. Long-term use of oral steroids meanwhile could cause bone fractures, osteoporosis,

high blood pressure

, diabetes, obesity, heart disease, cataracts, increased risk of infections, acne, and poor wound healing (17). Steroid use could also affect internal organs, especially the liver. In contrast to these, CBD has minimal side effects, including diarrhea, tiredness, and changes in weight or appetite (18)

. 

CBD is non-addictive, as reported by the World Health Organization (19)

. Hence, it can be used without fear that the body develops a dependence on it. 

As long as state laws permit CBD use, there is no need for prescription when buying CBD products.
The Cons
Further studies need to be made on CBD and psoriasis, especially if CBD has therapeutic effects on all types of psoriasis. These include plaque psoriasis, guttate psoriasis, inverse psoriasis, pustular psoriasis, erythrodermic psoriasis, and scalp psoriasis (20)

.

There is no standard dosage for treating psoriasis with CBD. This lack of a dosage chart is because the United States (US) Food and Drug Administration has not approved its use for conditions other than epilepsy. 

Cytochrome P450 is responsible for metabolizing steroids. CBD may inhibit these enzymes, thereby reducing the efficacy of steroids (21)

when used together. 

CBD products are not regulated as their use has yet to be approved by the FDA. Some CBD products are not adequately labeled. There is a study that reports the discrepancies on what labels declared and the amount of CBD they contain (22)

. 

How CBD Oil Compares to Alternative Treatments for Psoriasis
Aside from the use of corticosteroids, psoriasis patients are also turning to natural remedies.
A study revealed that dead sea bath salts could be useful in treating psoriasis (23).
Turmeric also has therapeutic benefits because of its anti-inflammatory properties (24). 
CBD, when compared to steroids, has minimal side effects and no adverse reactions. Unlike the natural treatments mentioned above, CBD also relieves the other ailments that come with psoriasis, such as psoriatic arthritis.  
CBD for Psoriatic Arthritis
Psoriasis has detrimental effects on the quality of life of those who have it. Psoriasis patients can also develop psoriatic arthritis. It is an inflammation of the joints and areas where the tendon and ligaments are. Psoriatic arthritis usually impairs 35 to 45-year-olds (25).
A study shows that CBD's immunosuppressive and anti-inflammatory properties may help in the treatment of arthritis (26).
Another study published in the journal Arthritis and Rheumatism reported that non-psychoactive cannabinoids could act as anti-inflammatory agents (27). The researchers used rodents as a model of chronic joint inflammation. Cannabinoid proved that it was able to suppress the inflammation in the mice. 
CBD for Inflammation
Aside from its anti-arthritic benefits, CBD may also help treat inflammation and other pain-related behaviors. A study on this has proven that CBD offers potential relief for these conditions sans the side effects (28). 
CBD for Anxiety
Psoriasis can also take a toll on one's mental health. According to WHO, it could cause anxiety disorders and even depression (29).  
A study has shown that CBD may help in the anxiety of those who have psoriasis. The researchers highlight CBD's anxiolytic effects (30). 
How to Choose the Right CBD for Psoriasis
If a psoriasis patient opts to use CBD oil, they can choose from three types of CBD oils:
Full-spectrum CBD oil – this type of oil uses all the components of cannabis plants like terpenes, flavonoids, essential oils, and fatty acids. It also has trace amounts of tetrahydrocannabinol (THC). These active ingredients synergize for maximum therapeutic benefits known as the entourage effect.

Broad-spectrum CBD oil – this is a full-spectrum CBD oil without the THC. Though the THC in full-spectrum oils is non-psychoactive and minimal, it may still be detected in drug examinations.

Isolates – these are made from pure CBD as they only contain isolated cannabidiol. This type of oil is best for those who want pure CBD or are allergic to some ingredients of the hemp plant.  
Before purchasing CBD for one's psoriasis treatment plan, the following should be taken into account:
Before buying, patients should determine first if CBD can be legally used in their state. 

Make sure only to purchase high-quality products. These are usually non-GMO and organic hemp-derived.

Before making an online purchase, read up on the brand, and check reviews. 

CBD oil has different extraction methods. According to researchers, the US FDA in pharmaceutical manufacturing recommends CO2 extraction because it is a safe process

(31)

. 

Get access to batch testing reports and lab analyses. These are certifications from third-party laboratories on the quality of a CBD product. 

Before buying a CBD product, patients should consult with their dermatologist or rheumatologist for those with psoriatic arthritis. 
CBD Dosage For Psoriasis
There is no standard dosage for CBD because it is not FDA-approved. However, it is safe to use and generally has no adverse effects. It is advised to begin with a small dose. If no reactions are observed, the dosage may be gradually increased. 
Patients should consult with a dermatologist first before adding CBD to their medication regimen.
How to Take CBD for Psoriasis
CBD products come in many forms. Since psoriasis is a skin condition, CBD's topical formulations could have therapeutic effects on psoriasis skin care. CBD creams, lotions, and salves are available.
It is important to note that topical CBD has limited absorption. The recommended products are those that indicate the use of encapsulation, CBD micellization, or nanotechnology.
If a CBD product manufacturer employs these methods and technologies, it means the active ingredient does not stay on the skin and reaches the affected parts by transmission through dermal layers.
CBD can also be taken orally via CBD oil, sprays, tinctures (drops), gummies, or capsules. These products can also be combined with food and even beverages. 
Tinctures may be applied under the tongue (sublingually) for around 60 to 90 seconds before swallowing.
Patients with psoriatic arthritis can also use CBD during massages. CBD oil helps relieve patients of stress.
CBD can also be inhaled via CBD vapes or pens. The effects are instantaneous because the lungs deliver the CBD to the bloodstream. However, further studies on the effect of vaping on lung function are needed.
Conclusion
Studies have shown that CBD may hold great promise as a potential treatment for psoriasis. It also comes in different forms, presenting psoriasis patients with many options to treat their various psoriasis ailments topically and/or systemically.
Further research is needed on whether CBD alone can treat psoriasis flare-ups. However, its minimal side effects compared to traditional medication, such as steroids, prove that CBD use presents more advantages than risks.
Before administering CBD to psoriasis patients, they should consult with their dermatologist first.
---
Kaplan, Barbara L F et al. "The profile of immune modulation by cannabidiol (CBD) involves deregulation of nuclear factor of activated T cells (NFAT)."

Biochemical pharmacology

vol. 76,6 (2008): 726-37. doi:10.1016/j.bcp.2008.06.022

Ibid.

Nagarkatti, Prakash et al. "Cannabinoids as novel anti-inflammatory drugs."

Future medicinal chemistry

vol. 1,7 (2009): 1333-49. doi:10.4155/fmc.09.93

Eagleston, Lauren R M et al. "Cannabinoids in dermatology: a scoping review."

Dermatology online journal

vol. 24,6 13030/qt7pn8c0sb. 15 Jun. 2018

Rendon, Adriana, and Knut Schäkel. "Psoriasis Pathogenesis and Treatment."

International journal of molecular sciences

vol. 20,6 1475. 23 Mar. 2019, doi:10.3390/ijms20061475

Palmieri, B et al. "A therapeutic effect of CBD-enriched ointment in inflammatory skin diseases and cutaneous scars."

La Clinica terapeutica

vol. 170,2 (2019): e93-e99. doi:10.7417/CT.2019.2116

Kaplan, B. op. Cit.

"The Immune System and Psoriasis."

The Immune System and Psoriasis | National Psoriasis Foundation

, National Psoriasis Foundation, www.psoriasis.org/researchers/science-of-psoriasis/immune-system.

Bíró, Tamás et al. "The endocannabinoid system of the skin in health and disease: novel perspectives and therapeutic opportunities."

Trends in pharmacological sciences

vol. 30,8 (2009): 411-20. doi:10.1016/j.tips.2009.05.004

University of Colorado Anschutz Medical Campus. "Cannabinoids may soothe certain skin diseases, say researchers: Anti-inflammatory properties may be the key." ScienceDaily. ScienceDaily, 18 April 2017. <www.sciencedaily.com/releases/2017/04/170418094315.htm>.

Nagarkatti, P. op. cit. 

National Psoriasis Foundation. op. cit. 

Wilkinson, Jonathan D, and Elizabeth M Williamson. "Cannabinoids inhibit human keratinocyte proliferation through a non-CB1/CB2 mechanism and have a potential therapeutic value in the treatment of psoriasis."

Journal of dermatological science

vol. 45,2 (2007): 87-92. doi:10.1016/j.jdermsci.2006.10.009

Derakhshan, Nima, and Mahboubeh Kazemi. "Cannabis for Refractory Psoriasis-High Hopes for a Novel Treatment and a Literature Review."

Current clinical pharmacology

vol. 11,2 (2016): 146-7. doi:10.2174/1574884711666160511150126

Eagleston, Lauren R M et al. "Cannabinoids in dermatology: a scoping review."

Dermatology online journal

vol. 24,6 13030/qt7pn8c0sb. 15 Jun. 2018

"Topical Steroids."

Prescription Topical Steroid Treatments | National Psoriasis Foundation

, 26 June 2019, www.psoriasis.org/about-psoriasis/treatments/topicals/steroids.

Delzell, Emily. "What You Need to Know about Steroids."

What You Need to Know about Steroids | National Psoriasis Foundation

, 2 Sept. 2015, www.psoriasis.org/advance/what-you-need-to-know-about-steroids.

Iffland, Kerstin, and Franjo Grotenhermen. "An Update on Safety and Side Effects of Cannabidiol: A Review of Clinical Data and Relevant Animal Studies."

Cannabis and cannabinoid research

vol. 2,1 139-154. 1 Jun. 2017, doi:10.1089/can.2016.0034

"CANNABIDIOL (CBD) Critical Review Report." World Health Organization, 2018.

Cole, Gary W. "Psoriasis: Types, Pictures, Causes, Symptoms, Treatments & Diet." Edited by William C. Shiel Jr.,

MedicineNet

, MedicineNet, 14 Nov. 2019, www.medicinenet.com/psoriasis/article.htm.

Yamaori S, Ebisawa J, Okushima Y, Yamamoto I, Watanabe K. Potent inhibition of human cytochrome P450 3A isoforms by cannabidiol: role of phenolic hydroxyl groups in the resorcinol moiety. Life Sci. 2011 Apr 11;88(15-16):730-6. doi: 10.1016/j.lfs.2011.02.017. Epub 2011 Feb 26.

Freedman, Daniel A, and Anup D Patel. "Inadequate Regulation Contributes to Mislabeled Online Cannabidiol Products."

Pediatric neurology briefs

vol. 32 3. 18 Jun. 2018, doi:10.15844/pedneurbriefs-32-3

Halevy, Sima, et al. "Dead Sea Bath Salt for the Treatment of Psoriasis Vulgaris: a Double-Blind Controlled Study."

Journal of the European Academy of Dermatology and Venereology

, No Longer Published by Elsevier, 19 Feb. 1998, www.sciencedirect.com/science/article/pii/S0926995997001335.

Stewart, Sarah L. "Don't Fall for These Psoriatic Treatments."

Don't Fall for These Psoriatic Treatments | National Psoriasis Foundation

, 1 Jan. 2017, www.psoriasis.org/advance/treatment-mythbusters.

Busse, Kristine, and Wilson Liao. "Which Psoriasis Patients Develop Psoriatic Arthritis?."

Psoriasis forum

vol. 16,4 (2010): 17-25.

Malfait, A M et al. "The nonpsychoactive cannabis constituent cannabidiol is an oral anti-arthritic therapeutic in murine collagen-induced arthritis."

Proceedings of the National Academy of Sciences of the United States of America

vol. 97,17 (2000): 9561-6. doi:10.1073/pnas.160105897

Zurier, R B et al. "Dimethylheptyl-THC-11 oic acid: a nonpsychoactive antiinflammatory agent with a cannabinoid template structure."

Arthritis and rheumatism

vol. 41,1 (1998): 163-70. doi:10.1002/1529-0131(199801)41:1<163::AID-ART20>3.0.CO;2-9

Hammell, DC et al. "Transdermal cannabidiol reduces inflammation and pain-related behaviors in a rat model of arthritis."

European journal of pain (London, England)

vol. 20,6 (2016): 936-48. doi:10.1002/ejp.818

Michalek, Irmina Maria, and Belinda Loring. "Global Report on Psoriasis."

World Health Organization

, 2016, apps.who.int/iris/bitstream/handle/10665/204417/9789241565189_eng.pdf.psoriasis;jsessionid=54912784D28C9F36ECCD45471AC5775B?sequence=1.

Tambaro, Simone, and Marco Bortolato. "Cannabinoid-related agents in the treatment of anxiety disorders: current knowledge and future perspectives."

Recent patents on CNS drug discovery

vol. 7,1 (2012): 25-40. doi:10.2174/157488912798842269

Kankala, Ranjith Kumar et al. "Solution-enhanced dispersion by supercritical fluids: an eco-friendly nanonization approach for processing biomaterials and pharmaceutical compounds."

International journal of nanomedicine

vol. 13 4227-4245. 23 Jul. 2018, doi:10.2147/IJN.S166124
CBD Clinicals is reader-supported. When you buy through links on our site, we may earn an affiliate commission.
Learn more