Overall CBDC Brand Rating for
Pet Releaf
:
9.6/10
Pet Releaf claims to use 100% human-grade high-quality ingredients, sourcing only pesticide-free hemp from U.S.-based family farms. The company believes its products can help support animals in living a comfortable life.
However, their website does not specifically say all their products are vegan and gluten-free. This can be an issue for pets with certain allergies.
Still, Pet Releaf prides itself in its products, having been formulated by veterinarians for veterinarians. All products are certified by USHA (U.S. Hemp Authority) and NASC (National Animal Supplement Council).
Best Products From
Pet Releaf
Pet Releaf
Company
Analysis
Summary
Pet Releaf

's sole mission is to create effective and natural alternatives to pet health and wellness supplements

Pet Releaf CBD hemp oil

products are certified 100% organic by the U.S. Department of Agriculture.

Pet Releaf Professional, the brand's newest line of CBD pet products, has introduced Sentesa Tri-Active Formula. Sentesa is manufactured using proprietary Terpex technology, extracting from the entire hemp plant to ensure your pets get all the health benefits of terpenes and flavonoids.
Pet Releaf
Pros and Cons
Pros
Cons

Full-spectrum CBD

Stores located in the U.S. only

Sourced from U.S.

hemp farms

Products cannot be returned

No

pesticides

Ships internationally
Pros of Pet Releaf
Pet Releaf

uses

full-spectrum hemp extract

.

Pet Releaf hemp oil

is sourced from U.S. family farms.

Pet Releaf

claims the

cannabis

plants they use are grown without the use of herbicides or

pesticides

.

Pet Releaf CBD products

are shipped internationally.
Cons of Pet Releaf
Physical stores are located within the U.S .only.

Products can be refunded within 30 days but cannot be returned.
Review of
Pet Releaf Products
USDA Organic Hemp Oil 500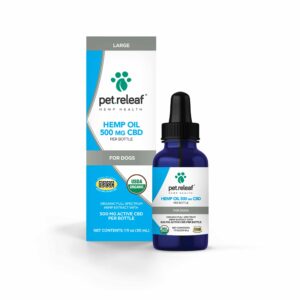 Pet Releaf's organic hemp oil comes in three strengths depending on dog weight. The USDA Organic Hemp Oil 500 is recommended for large breed dogs.
The brand claims this product may help dogs improve their immune system by supporting normal inflammatory responses, alleviating joint pain, and promoting calmness. 
Animal studies show that CBD can help with anxiety, pain, and inflammation in dogs with arthritis(1).
Usage and Dosage
Usage and dosage instructions based on dog weight are posted on the brand's product page and on every product label.
Each dropperful of USDA Organic Hemp Oil 500 contains 27.5mg of full-spectrum hemp extract without any perceived negative side effects.
CBD Liposome Hemp Oil 300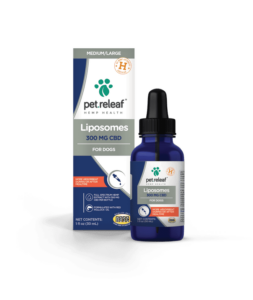 Pet Releaf Liposome Hemp Oil 300 is formulated for medium dogs and large dogs taking supplements after mealtimes.
The product contains sustainably sourced Wild Alaskan Pollock oil, with about 281mg of omega-3 fatty acids per 2.1oz. 
Research suggests omega-3 helps regulate blood clotting, alleviate inflammation, and aid in the contraction and relaxation of artery walls(2).
Usage and Dosage
A full dropper of CBD Liposome Hemp Oil 300 is said to contain 20mg of full-spectrum hemp extract containing terpenes and flavonoids.
Product Summary
Recommended for

Optimizing

wellness

Source of Hemp

Colorado

Popular Products

USDA

Organic Hemp Oil

500

Types Sold

Full-spectrum CBD

Range of Products

Edibles, tinctures, capsules, topicals

Price Range

From $8.99 for Immunity Chews for Dogs to $79.99 for CBD

Liposome Hemp Oil

300 for Dogs

Extraction Method

Supercritical CO

2

method

Lab Testing Transparency & Availability

Lab reports are available on

Pet Releaf's

website

CBD Concentration per Serving Range

Organic Hemp Oil

500 may contain 500mg CBD per bottle, according to the product page

Potency

Organic Hemp Oil

500 may contain 18.6mg/g of CBD according to the COA

THC Range of Products %

Less than 0.3%

Flavors

Hemp oil

Edibites

Chews come in

assorted flavors

Tincture Carrier Oil

Medium-chain triglyceride (

MCT

) oil

Shipping and Delivery

Free shipping on orders above $75

Guarantee

Guaranteed refund for unsatisfactory results

Refund Policy

Refund within 30 days

Contaminants

Organic Hemp Oil

100 is free from microbial contaminants, heavy metals,

pesticides

, and residual

solvents

Vegan and Gluten-Free

Capsules are vegan

Customer Service

Email

info@

petreleaf

.com

or call 1-844-646-1646 toll-free

Countries Served

U.S. and international
Recommended for Optimizing Wellness
Pet Releaf products are pesticide– and herbicide-free, so their CBD hemp oil products have no contaminants. Because their CBD oil is 100% natural, it does not require any prescription from a veterinarian.
Still, a consultation with a veterinarian is necessary for proper dosing before giving CBD to your pet.
Source of Hemp
Pet Releaf sources hemp from joint-venture hemp farms in Colorado that practice sustainable farming.
Popular Products
Pet Releaf's popular products include USDA-certified Organic Hemp Oil, CBD Liposome Hemp Oil, and Digestive Chews for dogs.
Pet Releaf also has Hip & Joint CBD Hemp Oil Edibites. The brand's peanut butter banana soft chew Edibites contain inactive ingredients like organic barley flour and organic extra virgin coconut oil.
Hip & Joint CBD Edibites contain active ingredients that positively affect dog joint flexibility and mobility(3). 
Types Sold
Pet Releaf products use full-spectrum hemp oil.
Range of Products
Pet Releaf products include soft chews, tinctures, hemp oil capsules, and Canna Care topical creams.
The brand has dog treats for large dogs and hemp oils for cats. A 2019 study showed that CBD-rich hemp products had no negative effect in both species(4).
Is hemp oil the same as CBD oil for dogs?
Hemp oil usually comes from hemp seeds, while organic CBD oil is pressed from other hemp plant parts, like flowers and leaves. 
CBD oil and hemp oil are safe for cats and dogs(5).
Extraction Method
Pet Releaf's CBD hemp oil uses the supercritical CO2 extraction method to pull CBD oil and other cannabinoids from the hemp plant.
Lab Testing Transparency and Availability
Laboratory test results for Organic Hemp Oil 100 and other products are available on the website.
CBD Concentration per Serving Range
According to the product page, organic Hemp Oil 500 may contain 500mg of active CBD per bottle.
Potency
Organic Hemp Oil 500 may contain 18.6mg/g of CBD, according to May 2021 COA results.
THC Range of Products %
At 0.1%, the level of THC in the hemp used is undetectable and below the legal limit of 0.3%.
Flavors
Pet Releaf Edibites Chews come in peanut butter and carob, pizza, sweet potato pie, peanut butter banana, blueberry and cranberry, and peppered bacon flavors.
Tincture Carrier Oil
Pet Releaf uses organic coconut oil containing medium-chain triglyceride (MCT) as a tincture carrier.
Shipping and Delivery
Pet Releaf ships internationally and offers free shipping on orders above $75.
Guarantee
A refund is guaranteed if the product does not meet the pet owner's expectations.
Refund Policy
Customers can receive a refund within 30 days from purchase.
Contaminants
Lab test results dated August 2021 show that Organic Hemp Oil 100 (previously Hemp Oil 330) for small dogs is free from microbial contaminants, heavy metals, pesticides, and residual solvents.
Vegan 
CBD oil for dogs contains only organic full-spectrum hemp extract and organic coconut oil.
Ingredients of capsule products are stored in vegan capsules. Pet Releaf uses wheat-free ingredients, but no data is available to determine if the products are gluten-free.
Pet Releaf's dog food products are free of fillers like dairy, soy, and other chemical preservatives.
Customer Service
For questions about new products, gift cards, and first orders, email them at info@petreleaf.com or call their toll-free number 1-844-646-1646.
Countries Served
Pet Releaf products are available in over 7,000 pet supply stores throughout the U.S. The brand accepts orders internationally.
About the Company
Pet Releaf aims to change what "healthy" means for pets and rescue animals. With every product purchase, you directly contribute to Rescue Releaf, an initiative that supports local rescue organizations in the United States.
Pet Releaf was founded by Steve and Alina Smith and Chelsea Gennings. The company's manufacturing address is 8100 Southpark Way Littleton, Colorado.
Conclusion
Pet Releaf believes aging pets and limited veterinarian prescriptions create an urgency for alternative health and wellness products for pet parents and their fur babies. 
Visit www.petreleaf.com and order now. Subscription to Pet Releaf allows a 10% discount.
---
Pharmacokinetics, safety, and clinical efficacy of cannabidiol treatment in osteoarthritic dogs
https://dx.doi.org/10.3389%2Ffvets.2018.00165
Omega-3 fatty acids: An essential contribution
https://www.hsph.harvard.edu/nutritionsource/what-should-you-eat/fats-and-cholesterol/types-of-fat/omega-3-fats/
Glucosamine and chondroitin use in canines for osteoarthritis: A review
https://www.ncbi.nlm.nih.gov/pmc/articles/PMC5356289/
Single-dose pharmacokinetics and preliminary safety assessment with use of CBD-rich hemp nutraceutical in healthy dogs and cats
https://doi.org/10.3390/ani9100832
Ibid.
CBD Clinicals is reader-supported. When you buy through links on our site, we may earn an affiliate commission.
Learn more