Overall CBDC Brand Rating for Inesscents CBD:
8.9/10
Inesscents CBD aims to promote healthy skin through handcrafted cannabidiol (CBD) formulations. According to the company's homepage, Inesscents CBD uses sustainably-sourced and certified-organic wild-harvested hemp. 
The brand also uses fair-trade raw materials and supports a strong local and global community by providing living wages and implementing environmentally-responsible practices. 
The company has a "Relief + Recovery" line that includes salves, roll-ons, and sprays. Inesscents CBD claims it formulated these products with "high potency" CBD sourced from organic hemp. 
Additionally, the brand states that its products contain certified-organic ingredients, including hemp and essential oils.
Inesscents CBD: About the Company 
Inesscents CBD aims to create skin-enhancing CBD products

using

locally-grown hemp

following

sustainable farming and United States Department of Agriculture (USDA)-certified organic farming. 

According to Inesscents CBD's official website, its

team handcrafts each product through processes like blending, pouring, bottling, and shipping. The goal is to maintain the purported benefits of hemp-derived products.    

Inesscents CBD's Assistance Program offers discounts to

U.S.

veterans and active-duty personnel

,

armed forces

,

and individuals with long-term disabilities.   
Where and How to Buy
Inesscents CBD products are available at online stores, including the company's website. Individuals can use the website's store locator tool to find suppliers of Inesscents CBD products. 
Inesscents CBD
:
Pros and Cons
| | |
| --- | --- |
| Pros | Cons |
| Sustainable and USDA-certified organically-sourced hemp | Only ships to the U.S. |
| Relief + Recovery and facial care products | The salve is available in one size. |
| Multiple industry certifications  | Limited CBD forms |
| A wholesale program is available  | |
Pros of Inesscents CBD
Inesscents CBD sources hemp from sustainable local farms and offers USDA-certified organic CBD products. 

The company

offers niche CBD products, including relief and recovery and facial care products

.

Inesscents CBD has a wholesale program allowing vendors to purchase bulk products.   

Inesscents CBD has secured several industry certifications, including Fair Trade U.S.A., USDA Organic, Oregon Tilth, and National Hemp Association. 
Cons of Inesscents CBD
Inesscents CBD only ships to locations in the United States.

CBD Salvation Skin Salve is only available in a 2oz. variant. 

Inesscents CBD's product selection primarily includes CBD topicals. 
Review of Inesscents CBD
Products
CBD Salvation Skin Salve (2oz)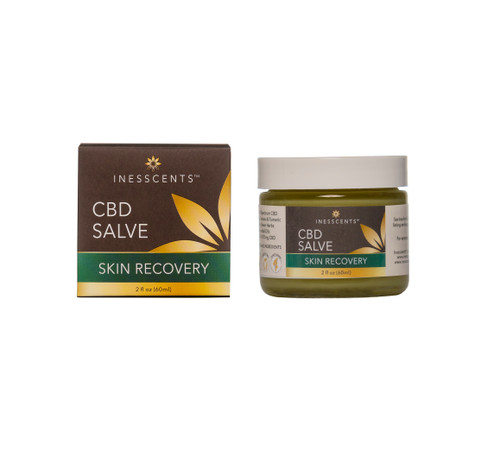 Inesscents CBD's CBD Salvation is a topical skin salve with "high potency" CBD, according to the product page. A CO2 extraction process removes natural extracts from organic hemp.    
The product's ingredients include hemp, olive oil, beeswax, chamomile flowers, and turmeric. 
Research suggests that the turmeric-derived substance called curcumin may possess anti-inflammatory properties(1).  
The brand claims that it blends the hemp extracts with organic herbal infusions and essential oils. It also states that its CBD Salvation Skin Salve contains over 95% certified organic ingredients.   
Usage and Dosage
CBD Salvation Skin Salve contains 280 to 350mg CBD per container, according to the product page. 
Individuals should apply a small amount to designated areas as needed.  
About the Products 
Recommended for

Optimizing wellness

Source of Hemp

Oregon

Popular Products

Recovery Spray, CBD Salvation

Skin Salve

  

Types Sold

Full-spectrum CBD

Range of Products

Topicals, facial care, bath

and

body

Price Range

From $7.99 for CBD Botanically Infused Bath Soak to $69.99 for Nourishing Extra Strength Skin Salve (2oz.)

Extraction Method

CO

2

extraction

Lab Testing Transparency & Availability

Available lab reports are only for Inesscents CBD Botanically Infused Soap – Pure & Unscented and CBD Botanically Infused Bath Salts

. 

CBD Concentration per Serving Range

CBD Hot Freeze Recovery Spray (2oz.) may contain 100 to 120mg CBD per bottle, according to the product page. 

Potency

This information is not available on Inesscents CBD's website. 

THC Range of Products %

Less than 0.3%

Flavors

CBD Botanically Infused Bath Soak is available in assorted scents.

Tincture Carrier Oil

Olive oil

Shipping and Delivery

Free shipping on orders above $75

Guarantee

Money-back guarantee

Refund Policy

Refund within 30 days

Contaminants

The company tests extracts for pesticides, contaminants, heavy metals, and solvents.

Vegan and Gluten-Free

This information is not available on Inesscent CBD's website. 

Customer Service

Email

[email protected]

or call 541-482-2799.

Countries Served

The

U.S.
Recommended for Optimizing Wellness
Inesscents CBD states its primary goal is to provide a means for individuals to have healthy skin and increase awareness of how the business world works, according to the company homepage.  
Inesscents CBD's handcrafted formulations rely on sustainable farming, certified-organic, and fair-trade raw materials. 
Notably, Inesscents CBD has been certified-organic since 2009.   
Contaminants
According to Inesscents CBD's website, every finished product is third-party tested by an International Organization for Standardization (ISO)-certified lab before distribution. However, available lab reports posted on their webpage are for limited products only. 
What Exactly Is CBD?  
Cannabidiol is a nonpsychoactive, cannabis-derived compound known as a cannabinoid. Researchers have discovered over 100 cannabinoids(2).   
Safeness
CBD may induce mild side effects, including dry mouth, reduced appetite, and fatigue(3). In addition, cannabidiol may interact with particular prescription drugs. 
Legalities
The 2018 Farm Bill authorized hemp's production and removed hemp plants and hemp seeds from the Drug Enforcement Administration's (DEA) schedule of controlled substances(4).  
Some states in the U.S. have legalized medical marijuana and even passed laws permitting the use of CBD extracts(5). 
Still, state laws may differ on CBD's usage regarding issues such as the maximum amount of tetrahydrocannabinol (THC) allowed or CBD usage for conditions like epilepsy. 
Disclaimer
Consulting doctors before using CBD products is advisable because they can guide individuals on the proper CBD usage and dosage.  
Conclusion
Inesscents CBD aims to enhance skin health through CBD topicals, such as salves, roll-ons, and sprays. The company states that it uses locally-grown, full-spectrum, certified-organic hemp. 
Visit www.inesscentscbd.com today and get a 20% discount through the Assistance Program.
---
Anti-inflammatory properties of curcumin, a major constituent of Curcuma longa: a review of preclinical and clinical research
https://pubmed.ncbi.nlm.nih.gov/19594223/
Cannabis (Marijuana) and Cannabinoids: What You Need To Know
https://www.nccih.nih.gov/health/cannabis-marijuana-and-cannabinoids-what-you-need-to-know
What are the benefits of CBD — and is it safe to use?
https://www.mayoclinic.org/healthy-lifestyle/consumer-health/expert-answers/is-cbd-safe-and-effective/faq-20446700
Hemp
https://www.usda.gov/topics/hemp
States with Legal Cannabidiol (CBD)
https://medicalmarijuana.procon.org/states-with-legal-cannabidiol-cbd/
CBD Clinicals is reader-supported. When you buy through links on our site, we may earn an affiliate commission.
Learn more