Overall CBDC Brand Rating for
Hempzilla
: 7/10
Whether you are considering including the health and wellness benefits of hemp oil in your daily routine or simply looking for another brand to add variety to your existing CBD (cannabidiol) consumption, Hempzilla may have an appropriate product for you. This CBD brand has a wide range of products, proving its inclusivity to new and experienced CBD consumers. 
Laboratory results are available on the brand's website and linked on each product page so you can confirm a product's potency. However, most of the lab reports posted on the website are outdated by over a year. These reports also show that some labels are inconsistent with the test results.
Despite the lack of recent information, Hempzilla still manages to ship its products within the USA in as fast as three business days. 
Every new customer can also get a 20% discount upon registration for the website's newsletter. This promo is further proof of the brand's dedication to making CBD available to everyone.
Hempzilla
Company Summary
Hempzilla is a passion-driven brand founded by Raaid "Sharky" Thabata and Stavros Vrahnos.

Hempzilla

CBD products

come from organic sources.

The brand guarantees that its

CBD products

are all lab-tested for purity in modern GMP- (

g

ood manufacturing practices) and ISO-certified labs.
Hempzilla Pros and Cons
Pros
Cons

This company offers a wide range of

CBD products

.

CBD products

have inconsistent concentration

reports

.

Lab results for every batch of

CBD products

are available on the website.

Lab results are outdated and have limited information.

Brand processes orders and ships products fast.

Ships within the

USA

only.

Hempzilla offers discount codes upon registration.
Pros of Hempzilla
Hempzilla offers

CBD products

in different forms, including tinctures,

topicals

and

lotions

,

pre-rolls

, kush, flowers,

gummies

, honey sticks,

CBD shots

, pet products, and

vape pens

. Broad-spectrum CBG (cannabigerol) products are also available.
CBG is another cannabinoid found in hemp plants. Hempzilla says that this is the molecular precursor for other cannabinoids, which explains why some people refer to CBG as the "God molecule" or the "parent cannabinoid."
Hempzilla CBD products

have lab results posted on the website by batch and by product type. Every product page also links to the corresponding lab report for your convenience.

Hempzilla processes and ships orders of its

CBD products

within two to three business days.

Upon visiting the brand's online store, you can enter your email address to register and sign up for the

Hempzilla

newsletter for 20% off your first order. Another promo is the Labor Day Weekend Sale, where you can use the code LONGWEEKEND at

checkout

to get 20% off your entire order.

Note that y

ou cannot combine these promotions.
Cons of Hempzilla
Based on the available certificates of analysis (COA), the

reported

CBD concentration

s

of

Hempzilla CBD products

are

inconsistent

with

the label.

Many lab results posted on the brand's dedicated webpage are outdated and lack information on their products' contaminant profiles.

Hempzilla only domestically ships its

CBD products

within the United States.
Review of Hempzilla
Product
s
Hempzilla CBD Tinctures (150mg)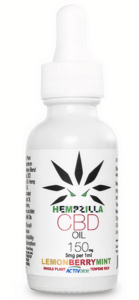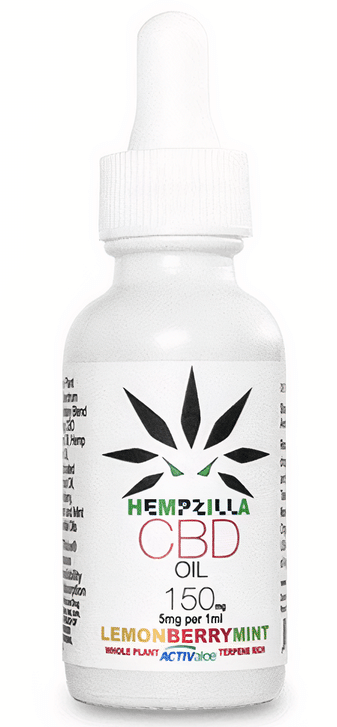 This CBD product is a traditional oil tincture with hempseed oil and essential oils manufactured locally in the USA, through the Colorado Department of Agriculture program. Quality assurance includes third-party lab–tested, organically grown, THC-free, and non-GMO hemp combined with natural colors and flavors.
Hempzilla CBD Tincture comes in an unflavored option and two different flavorings to mask the earthy taste of natural hemp oil. Besides containing terpenes, proprietary blend CBD hemp oil, and hempseed oil, this tincture also has Stevia extract, which provides a pleasant and sweet taste.
The product page includes quick facts about the supplement, which helps if you are new to the CBD industry and looking to try products yourself. One bottle contains approximately 30 servings, with a serving size of one dropper.
Hempzilla suggests a sublingual intake of the product for the best results. You can start with half a dropper of the tincture in the morning and another half before sleeping. Apply the tincture under your tongue and wait 30 to 90 seconds before swallowing.
According to the product label, a 30ml bottle of this product contains around 5mg of CBD per 1ml serving. However, the COA provided on the product page redirects to lab test results that reveal 47.20mg/ml of CBD. These results are also from May 2019 and have yet to be updated as of October 2020.
Regardless of the inconsistent and outdated test results, this Hempzilla product contains broad-spectrum CBD. This type of CBD may also produce the "entourage effect" of naturally occurring cannabinoids. 
However, the entourage effect is more associated with full-spectrum products. Studies show that the phenomenon has positive effects on major depression and mood disorders(1).
Hempzilla Zilla Pods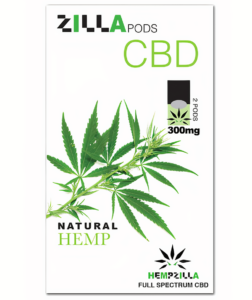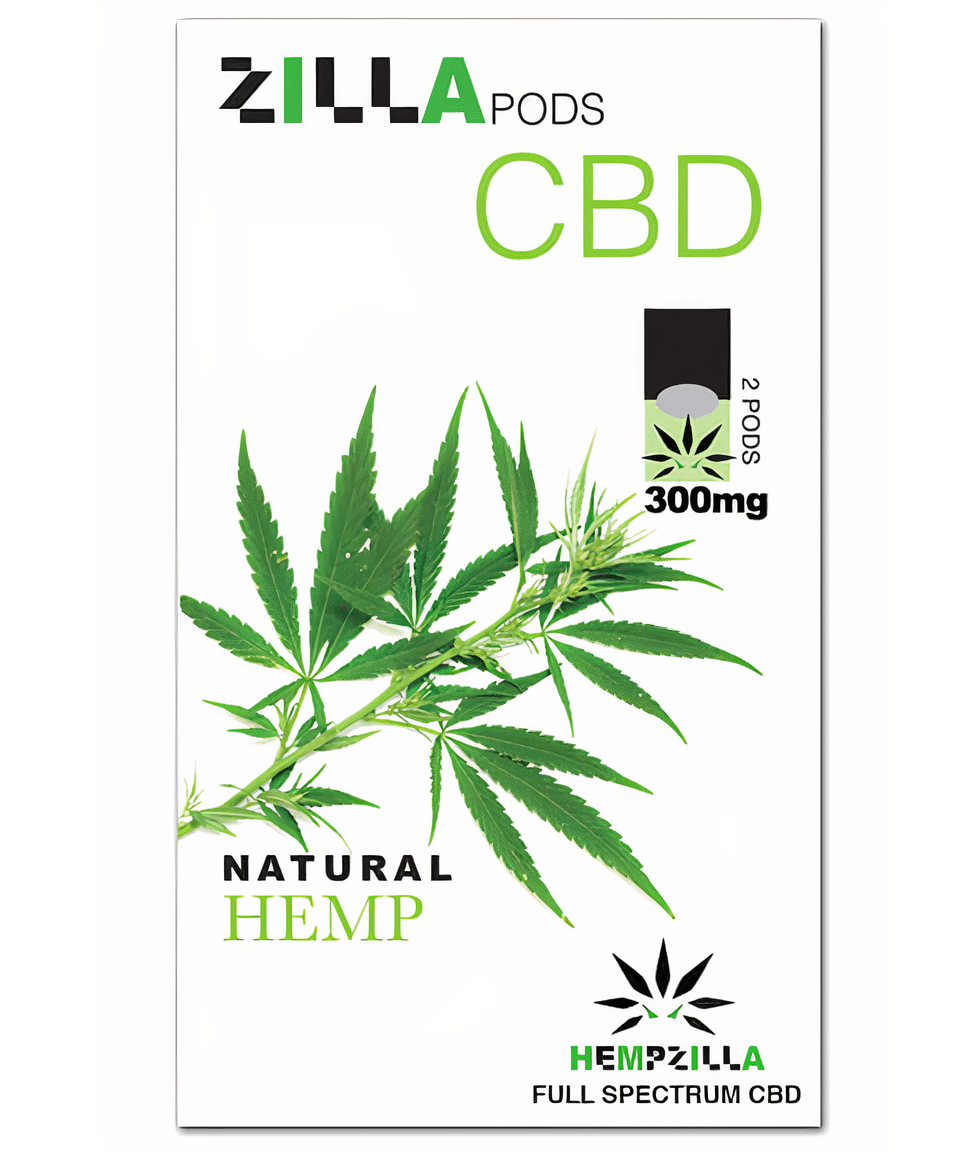 This product is compatible with Juul devices. These CBD Juul pods contain Hempzilla's proprietary blend, vegetable glycerin (VG) and propylene glycerin (PG), and come in six different natural flavors. Each pack includes two pods with at least 300mg of CBD.
Juul products are portable devices for easy CBD consumption. Smoking the product allows CBD to enter the bloodstream much faster, allowing users to benefit from CBD's effects in relieving anxiety(2), sleep disorders(3), and other nervous conditions.
Hempzilla guarantees that Hempzilla CBD Juul Compatible Pods are made from locally-grown hemp under the Colorado Department of Agriculture program. This product contains no nicotine and is non-psychoactive.
Hempzilla CBD Joint and Muscle Gel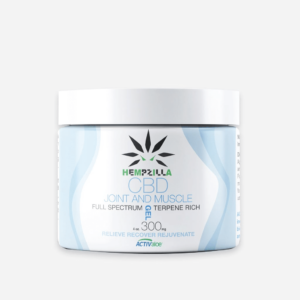 Hempzilla CBD Joint and Muscle Gel is a topical product with CBD extracts meant to deliver CBD transdermally. Its product page displays 113g tubs and 28g tubes with 300mg and 100mg of CBD, respectively.
According to the COA dated May 2019, a 300mg tub of this product contains 2.70mg/g of CBD. This amount of CBD potentially exceeds the one printed on the label, although the test results provided are outdated. The lab results tab on this product page also does not include a link to the latest COA.
This product combines full-spectrum CBD with other essential oils to provide cooling sensations and relieve sore joints and muscles that may have resulted from heavy physical activity. The ingredients derived from aloe increase the hydration and absorption of this gel-based product.
The product page contains quality assurance information. However, the details do not match the product description. For example, you can find a stamp for the product containing broad-spectrum CBD, while the list of ingredients states that it includes full-spectrum CBD in hemp oil.
Despite the inconsistency of details, the product format is promising. Research on topical CBD's effectiveness has shown that the products provide relief to patients with nerve pain(4). 
The study stated that patients with peripheral neuropathy (numbness and pain, usually in your feet and hands) who have applied CBD transdermally have experienced significant improvement in their pain and other disturbing sensations.
Product Summary
Recommended for

Optimizing

w

ellness

Source of Hemp

Colorado and Oregon

Popular Products

Zilla Pods

,

Hempzilla

CBD Joint and

Muscle Gel

,

Hempzilla CBD

Pet Tincture

,

Hempzilla CBD Gummies

(20 Pack),

CBD Vape Juice

,

Hempzilla CBD Tinctures

(600mg),

Hempzilla

Trial Size

CBD Tinctures

Types Sold

Full-spectrum CBD

, broad-spectrum CBD

Range of Products/Forms

CBD tinctures

, shots,

gummies

, vape juices, vape cartridges, Juul pods,

pre-rolls

,

topicals

, pet products

Prices Range

From $6.99 for

the 10mg Hempzilla

CBD Lip Balm to $299.99 for a 4,000mg

Hempzilla CBD Tincture

(Unflavored)

Extraction Method

CO

2

extraction

Lab Testing Transparency & Availability

Third-party lab results available on the brand's website and product pages

CBD Concentration per Serving Range

30ml bottles of

Hempzilla CBD Tinctures

may contain 150mg to 4,000mg of CBD

based on the product page

Potency

The 30ml bottle of Lemon-Berry-Mint

Hempzilla CBD Tinctures

(150mg) contains 47.20mg/

g

of CBD (May 2019)

THC Range of Products %

The 30ml bottle of Lemon-Berry-Mint

Hempzilla CBD Tinctures

(150mg) contains 0.00% of

THC

(May 2019)

Flavors

Various flavors for different products

Tincture Carrier Oil

MCT oil,

hempseed oil

Lab Results

Cannabinoid

profiles are available on product pages and a dedicated webpage.

Shipping/Delivery

Domestic orders take two to three working days to process and deliver.

Guarantee

Hempzilla offers a money-back guarantee.

Return Policy

Customers may request a full refund of a product's purchase price within 30 days of delivery.

Contaminants

No information available

Vegan and Gluten-Free

Gluten-free pet treats

Customer Service
Operation hours:

10:00 AM to 5:00 PM

Address:

86 Lackawanna Ave. Suite 208

Woodland Park, NJ 07424

Phone:

Office: (973) 435-8411

Fax: (973) 435-8401

Email:

sales@hempzillacbd.com

support@hempzillacbd.com

Contact Page:

Country Served

The

USA
Recommended for Optimizing Wellness 
Hempzilla CBD is dedicated to providing high-quality CBD products for customers to enjoy the benefits of hemp extracts for improved general wellness.
The company offers full-spectrum and broad-spectrum hemp oil products for you to take advantage of the full effects of various cannabinoids.
Source of Hemp
Hempzilla sources its organically farmed hemp plants from farms in Colorado and Oregon.
Popular Products
The company has 47 items in its catalog. Hempzilla's online shop includes filters for easy navigation. 
Based on popularity, some of the bestselling Hempzilla CBD products include Zilla Pods, Hempzilla CBD Joint and Muscle Gel, Hempzilla CBD Pet Tincture, Hempzilla CBD Gummies (20 Pack), Hempzilla CBD Vape Juice, Hempzilla CBD Tinctures (600mg), and Hempzilla Trial Size CBD Tinctures
Types Sold
Hempzilla CBD products may contain full-spectrum CBD oil or broad-spectrum CBD oil.
Range of Products and Forms
The Hempzilla CBD product line includes traditional CBD oil tinctures, CBD shots, CBD gummies, CBD vape juices, CBD vape cartridges, CBD Juul pods, CBD pre-rolls, CBD topicals, CBD cosmetics, and CBD pet products.
The Hempzilla pre-roll and flower product line is also available in CBG options. Scientists have found that CBG is an effective regulator of the body's endocannabinoid system(5).  This system works to keep our bodies in a state of balance.
Prices
The 10mg tube of Hempzilla CBD Lip Balm is the least expensive CBD product of Hempzilla at $6.99.
Meanwhile, the most expensive Hempzilla CBD product is the 30ml bottle of Unflavored Hempzilla CBD Tincture (4,000mg) at $299.99.
Extraction Method
The CO2 extraction method is Hempzilla's primary tool for extracting the phytonutrients from each hemp plant, aiming to effectively obtain the maximum benefits of the whole plant extract. 
The CO2 extraction process requires no heat or solvents and retains the entire spectrum of cannabinoids in the blend.
Lab Testing Transparency and Availability
At Hempzilla, a third-party lab tests every batch of oil to ensure that the label is consistent with the contents.
Hempzilla CBD makes their lab test results available online for 100% transparency. Every product page provides a link to the corresponding lab test results. Hempzilla also provides a dedicated webpage for lab test results arranged by product type.
You can find lab results and a general list of ingredients for every Hempzilla product at hempzillacbd.com/qr/. Most test results only include outdated cannabinoid profiles and lack terpene profiles and contaminant profiles.
CBD Concentration per Serving Range
30ml bottles of Hempzilla CBD Tinctures may contain 150mg to 4,000mg of CBD. According to the product page, the tincture strengths are available in 150mg, 300mg, 600mg, 1,200mg, and 4,000mg options. 
Lab reports dated May 2019 are available on each product page so you can confirm the actual CBD concentration. However, the lab test results linked to the 150mg option do not specify the advertised concentration. 
The lab reports for 300mg, 600mg, and 1,200mg options are appropriately labeled, while the report for the 4,000mg option is unavailable.
Potency – CBD per Bottle
According to its COA dated May 2019, a 30ml bottle of Lemon-Berry-Mint Hempzilla CBD Tincture (150mg) contains 47.20mg/ml of CBD.

This product contains trace amounts of secondary cannabinoids, like cannabidiolic acid (CBDA), cannabinolic Acid (CBNA), cannabinol (CBN), cannabigerolic acid (CBGA), cannabigerol (CBG), cannabidivarinic acid (CBDVA), cannabidivarin (CBDV), cannabichromenic acid (CBCA), and cannabichromene (CBC). 
THC Range of Products (less than 0.3% – non-psychoactive)
Based on the COA, a 30ml bottle of Hempzilla Calm Broad Spectrum CBD Oil Drops contains an undetected THC amount. 
Hempzilla claims that its products have virtually undetectable amounts of THC so you do not get high from using Hempzilla CBD products, as with other CBD products within the approved THC limit.
Suppose CBD products' THC levels are lower than the Food and Drug Administration (FDA)-mandated THC level of 0.3%. In that case, the possession, consumption, and distribution of their products are legal in all US states and territories.
Flavors
Several Hempzilla's CBD oil products come in several different natural flavorings. Here is a list of the flavor options available:
Hempzilla CBD Tinctures:
Lemon Berry Mint

Orange

Unflavored
Hempzilla CBD Zilla Pods:
Berry Wild

Loop Milk

Natural

Strawberry

Tango Mango

Watermelon Ice
Tincture Carrier Oil
Hempzilla makes its CBD tinctures with medium-chain triglyceride (MCT) oil. This oil type is also its CBD gummies' carrier oil. Meanwhile, the brand's CBD tinctures and vaping products contain hempseed oil.
Lab Results
The latest laboratory test results for Hempzilla CBD products are easily accessible on the company's website. Reports indicate that the CBD content of Hempzilla CBD products may go above their advertised CBD concentration. The products' THC levels are also below the 0.3% limit. 
Lab results for Hempzilla CBD products include only the cannabinoid profiles. These test results are outdated and lack other important data such as the pesticide results, microbial contaminant results, mycotoxin test results, heavy metal test results, and residual solvent test results.
Shipping or Delivery
Hempzilla offers free shipping for all orders amounting to $100 and over. It processes orders within 24 hours and ensures that deliveries take between two to five business days to arrive, depending on your location.
Due to US federal regulations, Hempzilla does not ship CBD products internationally. It also does not ship to Idaho, Iowa, Kansas, Mississippi, Montana, Nebraska, North Dakota, and South Dakota.
Guarantee
Hempzilla guarantees quality products made from hemp that is organically grown and harvested in the USA with the supervision of the Colorado Department of Agriculture. 
The harvested hemp undergoes manufacturing processes that meet the highest standards.
To ensure customer satisfaction with high-quality hemp products, Hempzilla offers a 30-day money-back guarantee.
Hempzilla also promises that all Hempzilla CBD Juul pods, CBD vape pods, and e-liquids come with a six-month no–separation guarantee.
Contaminants
Hempzilla does not provide information about the contaminant profile of its products. However, the brand ensures that its products are lab-tested.
Vegan and Gluten-free
Hempzilla does not mention if its CBD products are vegan. However, it claims that its products are made from organically grown and non-GMO hemp.
Based on the brand's CBD pet treats' lab reports, the product contains organic and gluten-free ingredients.
Return Policy
For a full refund, customers may return unused and unopened Hempzilla CBD CBD products within 30 days of delivery. Note that consumers are responsible for return shipping costs.
Customer Service
You can contact Hempzilla through its office phone line at (973) 435-8411 or fax number (973) 435-8401 for any inquiries.
You may also visit the brand's dedicated contact form webpage at https://hempzillacbd.com/contact-us/ or email the company directly at sales@hempzillacbd.com or support@hempzillacbd.com.
Hempzilla's operation hours run from 10:00 AM to 5:00 PM. You may address your returns to:
86 Lackawanna Ave. Suite 208
Woodland Park, NJ 07424
Countries Served
Hempzilla delivers CBD products within the USA only. Its products are easy to purchase directly from its online shop.
More About Hempzilla
Hempzilla founders Raaid "Sharky" Thabata and Stavros Vrahnos launched their company with the aim of building a passion-driven brand. With 25 years of business partnership, they commit to bringing CBD products of the highest quality to the mass market.
Hempzilla's CBD products come from organic sources. Collaborating with Colorado farmers, chemists, and technicians who work in modern GMP- (good manufacturing practices) and ISO-certified labs, the brand ensures its products' purity.
While the brand guarantees that its CBD products are all lab-tested for purity, which you can confirm on its website where lab tests are available, available lab reports are outdated.
Hempzilla CBD
Frequently Asked Questions (FAQ)
Does Hempzilla CBD Get You High?
Hempzilla CBD products should not get you high. Only select Hempzilla CBD oil products contain trace amounts of THC within the federally legal limit of 0.3%, making them non-psychoactive. However, this does not guarantee that you can pass a drug test.
Is Hempzilla Legal?
Hempzilla CBD products are federally legal because they come from hemp and contain trace amounts of THC only. Additionally, you can use Hempzilla vaping CBD products while driving since they are non-psychoactive and do not get you high.
Are Hempzilla CBD Tinctures Edible?
Hempzilla CBD Tinctures are edible. On its product page, Hempzilla suggests that users apply the oil sublingually (under the tongue) for best results. Sublingual application of CBD oil is a common method of taking CBD.
What Are Other Ways To Take CBD?
Besides releasing formats that allow consumers to take CBD sublingually, Hempzilla and other CBD industry brands infuse CBD in gummies, lotions, salves, and vape oil for various ways of CBD intake.
Conclusion
Although there is a need for more comprehensive studies on CBD's effectiveness as a supplemental dietary product, some studies have shown that CBD possesses many potential health benefits that may help with chronic pain, anxiety, sleeping problems, and arthritis(6).
However, due to FDA regulations, Hempzilla and other CBD brands cannot claim that CBD products have positive effects on serious medical conditions. Companies make these disclaimers and other qualifiers available in their terms and conditions.
Hempzilla offers a variety of CBD products that newbies and veteran customers can enjoy. However, the brand's COA reports are inaccessible. 
The cannabinoid profiles are the only reports available to the public. Without contaminant profiles, potential customers cannot verify the absence of impurities in these products.
If you are contemplating using CBD for the first time or wanting to include CBD in your regimen, be sure to seek a doctor's advice, especially from one who is experienced in cannabis use. 
If you already use prescription medications, it is best to consult with your primary care physician.
---
Ferber, S.G., Namdar, D., Hen-Shoval, D., Eger, G., Koltai, H., Shoval, G., Shbiro, L., Weller, A. (2020). The "Entourage Effect": Terpenes Coupled with Cannabinoids for the Treatment of Mood Disorders and Anxiety Disorders. PubMed Central (PMC).

https://www.ncbi.nlm.nih.gov/pmc/articles/PMC7324885/

R de Mello Schier, A., P de Oliveira Ribeiro, N., S Coutinho, D., Machado, S., Arias-Carrión, O., A Crippa, J., … & C Silva, A. (2014). Antidepressant-like and anxiolytic-like effects of cannabidiol: a chemical compound of Cannabis sativa. CNS & Neurological Disorders-Drug Targets (Formerly Current Drug Targets-CNS & Neurological Disorders), 13(6), 953-960.

Hughes, S., Lee, H., Lewis, N., Shannon, S. (2019). Cannabidiol in Anxiety and Sleep: A Large Case Series. PubMed Central (PMC).

Hu, D., Cullen, B., Tang, M., & Fang Y. (2020). The Effectiveness of Topical Cannabidiol Oil in Symptomatic Relief of Peripheral Neuropathy of the Lower Extremities. Current Pharmaceutical Biotechnology, 390-402.

https://pubmed.ncbi.nlm.nih.gov/31793418/

Navarro, G., Varani, K., Reyes-Resina, I., Sánchez de Medina, V., Rivas-Santisteban, R., Sánchez-Carnerero Callado, C., Vincenzi, F., Casano, S., Ferreiro-Vera, C., Canela, E. I., Borea, P. A., Nadal, X., & Franco, R. (2018). Cannabigerol Action at Cannabinoid CB1 and CB2 Receptors and at CB1-CB2 Heteroreceptor Complexes. Frontiers in pharmacology, 9, 632.

https://doi.org/10.3389/fphar.2018.00632

Russo EB. Cannabinoids in the management of difficult to treat pain. Ther Clin Risk Manag. 2008;4(1):245–259. doi:10.2147/tcrm.s1928; Crippa JA et al.Neural basis of anxiolytic effects of cannabidiol (CBD) in generalized social anxiety disorder: a preliminary report.J Psychopharmacol. 2011 Jan;25(1):121-30. doi: 10.1177/0269881110379283. Epub 2010 Sep 9. DOI: 10.1177/0269881110379283; Shannon S, Lewis N, Lee H, Hughes S. Cannabidiol in Anxiety and Sleep: A Large Case Series. Perm J. 2019;23:18–041. doi:10.7812/TPP/18-041; Booz GW. Cannabidiol as an emergent therapeutic strategy for lessening the impact of inflammation on oxidative stress. Free Radic Biol Med. 2011;51(5):1054–1061. doi:10.1016/j.freeradbiomed.2011.01.007.
CBD Clinicals is reader-supported. When you buy through links on our site, we may earn an affiliate commission.
Learn more