Overall CBDC Brand Rating for Green Garden Gold:
7/10
Green Garden Gold offers a wide range of full-spectrum CBD products like capsules, oils, edibles, face serums, salves, and MCT oil powders.
The brand claims its products are free from contaminants. However, COA results on its website have insufficient information, leading to transparency issues. Also, their USDA certificate is from 2017.
Still, GGG's hemp products are certified organic by the U.S. Department of Agriculture. The brand also received an A rating from the Better Business Bureau, reflecting a high level of customer satisfaction.
Best Products From
Green Garden Gold
Green Garden Gold
Company Analysis
Summary
Green Garden Gold sources USDA-certified high-quality organic hemp from Colorado.

The brand specializes in CBD oils and offers them in a variety of flavors and potencies.

GGG's bestsellers include the MED PAC™ line of CBD oils and HumanoFlow™ infused topicals.

In 2016, the FDA issued a warning letter to GGG regarding false therapeutic claims on some of the brand's products.
Green Garden Gold Pros and Cons
| | |
| --- | --- |
| Pros | Cons |
| Full-spectrum CBD | COA results contain incomplete data |
| Hemp is grown in the U.S. | |
| No pesticides | |
| Ships internationally | |
Pros of Green Garden Gold
GGG claims to use full-spectrum hemp extract.

The brand's hemp oil is sourced from Colorado.

Sourced cannabis plants are claimed to have been grown without herbicides or pesticides.

GGG's CBD products are available in the U.S. and ship internationally.
Cons of Green Garden Gold
COA results do not have enough information on contaminants and terpene amounts.
Review of
Products Offered
by Green Garden Gold
CBD Soft Gel Capsules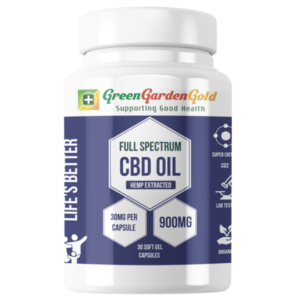 GGG's CBD Soft Gel Capsules may provide pain relief to joint pain and inflammation.
Some studies suggest that CBD may help with chronic pain and anti-inflammation(1).
The product comes in 900mg and 1,800mg bottles. 900mg bottles contain 30 capsules, and 1,800mg bottles contain 60. Each capsule contains 30mg of CBD.
MED PAC™ CBD Oil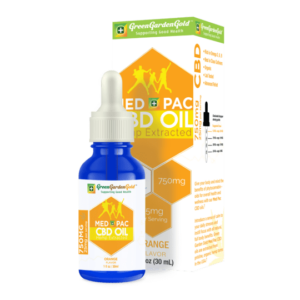 GGG's MED PAC™ CBD Oil products are formulated to help alleviate joint pain and support the endocannabinoid system.
A 2008 study showed that CBD has endocannabinoid modulating effects and may help in the management of neuropathic pain, rheumatoid arthritis, and cancer pain(2).
The product comes in 750mg, 1,500mg, 6,000mg, and 10,000mg concentrations. A full dropper may contain 83mg of active CBD.
Product Summary
Recommended for

Optimizing wellness

Source of Hemp

Colorado

Popular Products

CBD Soft Gel Capsules, 10,000mg MED PAC™ CBD Oil

Types Sold

Full-spectrum CBD

Range of Products

Tinctures, capsules, topicals, gummies

Price Range

From $7.60 for Pure CBD Crystalline Isolate to $199.99 for a Power Pack

Extraction Method

Supercritical CO

2

method

Lab Testing Transparency and Availability

Lab reports available on the website

CBD Concentration per Serving Range

CBD Soft Gel Capsules may contain

900 to 1,800mg

CBD per bottle, according to the product page

Potency

CBD Soft Gel Capsules contain 35.80mg/g of CBD

or  25.6mg/capsule

, according to the COA

THC Range of Products %

Less than 0.3%

Flavors

MED PAC™ CBD Oil has assorted flavors

Tincture Carrier Oil

Medium-chain triglyceride (MCT) oil

Shipping and Delivery

Free shipping on orders above $100

Guarantee

Guaranteed money-back or store credit for unsatisfactory products

Refund Policy

Refund within 30 days

Contaminants

No pesticides, herbicides, fungicides, or heavy metals

Vegan and Gluten-Free

MED PAC™ CBD Oil is vegan, gluten-free, and non-GMO

Customer Service

Call 1-800-803-0167

Countries Served

U.S. and international
GGG's product types include CBD oils, capsules, topicals, edibles, and soft chews for dogs. Popular products include CBD Soft Gel Capsules, 10,000mg MED PAC™ CBD Oil, and Delta-8 THC Gummies.
CBD Soft Gel Capsules are made using the supercritical CO2 method to extract CBD and other cannabinoids from the hemp plant. The product uses medium-chain triglyceride (MCT) from organic coconut oil as a tincture carrier.
Each CBD Soft Gel Capsule contains a CBD concentration of about 30mg. COA results dated July 2020 show that the product has 35.80mg/g of active CBD and less than 0.3% THC.
Other CBD products like the MED PAC™ CBD Oil contain orange, berry, chocolate mint, and original flavors. The brand also claims MED PAC™ CBD Oil is 100% vegan, gluten-free, and GMO-free.
As of August 2021, GGG's products are offered at discounted prices. The brand's lowest-priced product is the Pure CBD Crystalline Isolate 500mg at $7.60. The highest-priced product is the Power Pack value pack at $199.99.
Each product contains a suggested dosage. Still, a consultation with your doctor is recommended, especially when taking new diet supplements.
Safety and Third-Party Testing
GGG conducts third-party testing on its products. Certificates of Analysis (COA) are available on the brand's website.
The brand uses full-spectrum extraction on its CBD products. The hemp is sourced from USDA-certified organic Colorado farms.
Green Garden Gold's products do not contain pesticides, herbicides, or heavy metals, ensuring the CBD products have no contaminants.
Where and How to Buy
Visit www.greengardengold.com and sign up for an account to buy GGG products. Discounts are available through Reward Points redemption or military discount.
Shipping and Refund Policy
USPS or UPS usually delivers orders in the U.S. within 2-4 days. Green Garden Gold also ships internationally. Orders above $100 are eligible for free shipping.
A refund is guaranteed if, within 30 days, the product does not meet the pet owner's expectations.
About the Company 
Green Garden Gold believes in continuously innovating its products to foster health and support a lifestyle that benefits everyone.
GGG was founded in 2013, and its main office is located at 3330 Keller Springs Rd, Carrollton, Texas.
Conclusion
Green Garden Gold's goal is to encourage people to achieve their wellness goals and enhance their lives through the brand's line of organic CBD products.
Head to www.greengardengold.com and order now for an opportunity to be one step closer to achieving wellness goals.
For questions or other concerns, call 1-800-803-0167. Customer support is available Mondays to Fridays, 9 am-6 pm CST.
---
Does CBD help with arthritis pain?
https://www.health.harvard.edu/blog/does-cbd-help-with-arthritis-pain-2020041019418
Cannabinoids in the management of difficult to treat pain
https://dx.doi.org/10.2147%2Ftcrm.s1928
CBD Clinicals is reader-supported. When you buy through links on our site, we may earn an affiliate commission.
Learn more