Overall CBDC Brand Rating for CBD BioCare:
7.5/10
CBD BioCare aims to be the best cannabidiol (CBD) brand for people looking for a skincare-focused CBD company. The 2016-founded business specializes in several topical offerings such as CBD oils, pain-relief balms, and anti-aging creams.  
However, the company offers fewer options in other CBD product categories such as tinctures, edibles, and vapes. 
Still, CBD BioCare prides itself on its innovative and quality products, such as its Full-Spectrum CBD Oil. Additionally, each ingestible CBD BioCare product contains a scannable quick response (QR) code that provides information on the product's contents. 
CBD BioCare also allows CBD customers to become CBD sales representatives through its direct sales affiliate program. Such programs allow people to select products to sell without paying a membership fee. 
Meanwhile, the company often receives average marks for its customer service. Common explanations include no money-back guarantee or express shipping.
Groups and individuals have nevertheless recognized CBD BioCare for its corporate giving. The Florida-based company donates 10% of its profits to a South-American ministry that focuses on holistic youth development.
Best Products From CBD
BioCare
Company Analysis
Summary 
CBD BioCare is a registered and legitimate CBD company

headquartered in Largo, Florida. The mission of co-founders Matthew and Stacey Pitts is to provide helpful information about CBD's positive health effects. 

CBD BioCare has adopted innovative technology like the apple stem cell rejuvenation. The company includes high-value ingredients, like collagen, retinol, and emu oil, into some of its products.

This

CBD brand

supports a ministry in Nicaragua.

Known as the Youth of Christ, the ministry's

objective is to educate children and help youngsters develop leadership skills. 

The company does not offer other common CBD products such as tinctures or vapes. 
CBD BioCare
Pros and Cons
Pros
Cons

Products made with food-grade quality in

a facility compliant with the U.S. Food and Drug Administration (FDA)

Few flavors options and non-topical product varieties 

Direct sales affiliate programs 

High shipping rates for international orders

Innovative products with varying concentrations

Full refund only for unused products.

3rd-party testing and COA information available on website

Website difficult to navigate 

Product bundle and save options like two-packs offered for savings  
Pros of CBD BioCare
CBD BioCare's products are bottled in a food-grade FDA facility to provide good manufacturing practice (GMP).

GMP system ensures that companies manufacture their products using consistent and safe processes. 

The company's direct sales affiliate program offers income through sales commissions to people interested in CBD's health effects. 

CBD BioCare offers several innovative products, including CBD oils, gummies, and CBD oils for pets. Several products are also available in different concentrations, such as: 500mg, 750mg, 1,000mg, 1,500mg, and 3,500mg. 

Certificates of Analysis (COA)

are offered, revealing the products have undergone specific testing that produced particular results. Such testing provides effective product comparisons. 

CBD BioCare offers various "

bundle and save

" offerings, such as 2-packs,

which are

less expensive than buying the two items individually. 
Cons of CBD BioCare
The flavor options are relatively limited to options like peppermint. Meanwhile, the product lines mostly include skincare CDB products while offering no tinctures or vapes.  

International orders

cost

significantly higher than domestic orders,

making

it challenging for overseas customers to place orders.  

Customers can only receive a full refund for returning unopened products within 14 days of the date of purchase. They only receive a partial refund for unused portions of opened packages.  

The website can be challenging to navigate, making it difficult to find specific information. 
Popular CBD BioCare Products
1,500mg CBD BioCare Full-Spectrum CBD Oil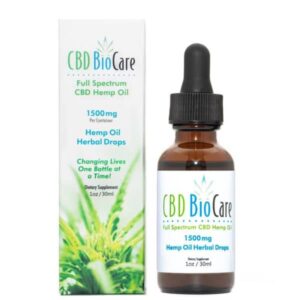 The company's signature full-spectrum CBD is infused with various natural chemical compounds, including cannabinoids extracted from hemp plants. 
This product contains hempseed oil as the carrier oil. While CBD oil is produced from the hemp plant, hempseed oil is manufactured from oil extracted from hemp seeds.  
The plant-based oil contains omega fatty acids, also known as "healthy fat." A 2015 study published in the Journal of Pharmacy Practice and Research noted that omega-3 fatty acids may significantly lower a person's blood pressure(1).
CBD BioCare Full-spectrum CBD oil is available in variants including 1,000mg, 1,500mg, and 3,500mg.
These products are formulated to help provide several of the same health benefits of medical marijuana. Nevertheless, they contain drastically lower levels of tetrahydrocannabinol (THC). 
Lower levels of THC mean people can avoid the side effects of the psychoactive chemical compound found in marijuana plants. 
The company recommends its full-spectrum CBD oil for treating chronic pain. A 2008 human study indicated that cannabinoids may effectively relieve difficult-to-treat pain(2). 
The full-spectrum CBD extract from hemp plants naturally contains high CBD amounts. 
15mg CBD BioCare CBD Gummies, 10 count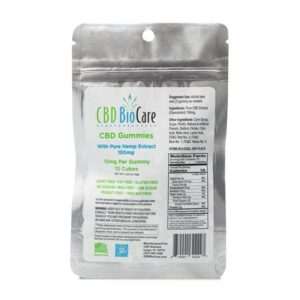 This product offers CBD oil in chewy gummies. The offering includes options like 10-count packages that provide more convenience for activities like hiking trails.   
The chemical compounds in cannabis plants, known as cannabinoids, may help with nausea. Animal studies indicate that cannabinoids may contain anti-nausea components(3). 
However, more research is needed to determine if chemical compounds like CBD produce the same effect in humans.
750mg CBD BioCare Full-Spectrum CBD Oil for Pets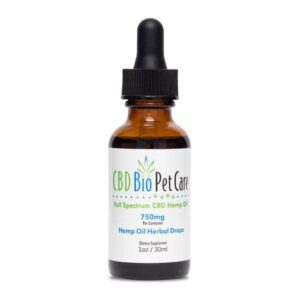 Animals, like humans, have endocannabinoid systems (ECS) that can interact with CBD. Thus, animals can also possibly benefit from CBD products. 
CBD BioCare offers CBD oil designed for animals that are experiencing health issues, such as seizures and tremors. 
The company offers two different potencies believed to be strong enough to benefit household pets like cats and dogs. 
A 2018 study on arthritic dogs suggested that CBD oil may provide short-term relief for canines with joint pain due to osteoarthritis(4). 
Still, more research is needed to determine if CBD can provide long-term results and similar effects on humans.  
500mg CBD BioCare CBD Pain Relief Balm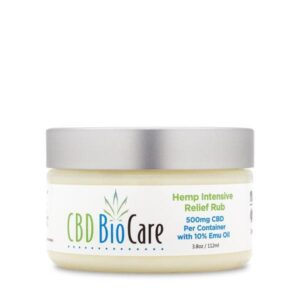 The company's CBD Pain Relief Balm is formulated to treat joint pain, muscle pain, and nerve pain. 
The 500mg CBD Pain Relief Balm is the strongest pain-relieving balm the company offers. It is formulated to reduce pain faster by applying directly to the skin. 
A 2015 study showed that applying CBD on the outside skin layer of arthritic rats may help reduce inflammation and pain-related behavior(5). 
Arthritis is a common condition that can cause pain and inflammation in joints among humans and animals. 
However, more research is needed to determine if CBD products such as pain balms and pain creams may provide the same benefits for humans.  
CBD BioCare CBD Pain Relief Balm contains emu oil harvested from the tissues of the big bird. The brand believes emu oil makes it easier for a person's skin to absorb the CBD balm. 
This balm also contains other pain-reducing herbs to help people cope with aches and pains, including neck, back, and shoulder pain. This pain-relieving product may be a natural alternative to prescription medications, such as potent opioids.  
Research shows that topical CBD oil may alleviate nerve-related pain in the lower body(6).
CBD BioCare Apple Stem Cell Rejuvenating Cream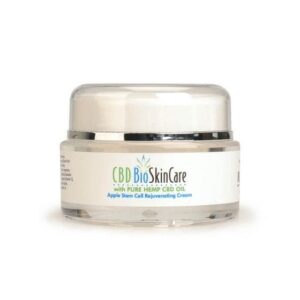 This topical cream is formulated with apple stem cells and CBD oil to help improve skin health. A 2016 study showed that serum with apple stem cells may help provide anti-aging benefits for facial skin(7). 
Meanwhile, a 2020 study indicated CBD oil may provide humans with therapeutic benefits due to its anti-inflammatory and antioxidant properties(8). 
Creating new skin cells and making skin cells live longer may help the skin look and feel younger by rejuvenating it. Stimulating skin cells may help prevent wrinkles for more youthful-looking skin. 
In addition, the product is free of harmful chemicals that may cause skin problems instead of making it look younger. 
Product Summary  
Recommended for

Promoting wellness

Source of Hemp

USA

Popular Products

1,500mg Full-Spectrum CBD Oil, 500mg CBD Pain Relief Balm, 15mg CBD Gummies, 750mg 750mg Full-Spectrum CBD Oil for Pets

Types Sold

Full-spectrum CBD

Range of Products

Oil tinctures, balms and creams, skincare products, liquid capsules, gummies, and pet products

Price Range

From $17.99 for a 10-count CBD Gummies (20mg) to $159 for a Full-Spectrum CBD Oil (3500mg)

Extraction Method

CO

2

extraction 

Lab Testing Transparency and Availability

Each product is third-party tested for safety and potency; COA results available on the company's website

CBD Concentration per Serving Range

According to the COA,

1,500mg Full-Spectrum CBD Oil contains a concentration of

1,343.89mg CBD

per container 

Potency

According to the COA,

1,500mg Full-Spectrum CBD Oil contains a CBD potency of

44.7mg/g

THC Range of Products %

ND (undetectable)

Flavors

CBD BioCare's full-spectrum CBD oil tincture is available

in

original and peppermint flavors

Tincture Carrier Oil

Hempseed oil

 

Shipping and Delivery

Delivery generally takes two to three weeks, and shipping options include the United Postal Service (UPS). 

Guarantee

Customer satisfaction guarantee to refund the part of unused product 

Refund Policy

14-day return policy

Contaminants

Non-traceable pesticides, microbials, and heavy metals

Vegan and Gluten-Free

CBD Pain Relief Balm is gluten-free

Customer Service

Call 727-205-1638

Countries Served

The United States, Mexico, Puerto Rico, and the United Kingdom
Company Analysis
Recommended for Optimizing Wellness
Lab tests reveal that CBD BioCare is free of harmful chemicals, including heavy metals and other contaminants.  
Source of Hemp
CBD BioCare only grows and processes hemp in the United States. The company claims it partners with U.S. farms state-licensed by the Department of Agriculture.
An extract from the Cannabis Sativa plant enhances CBD BioCare's hemp-based products. Farmers cultivate Cannabis sativa L. throughout the world for various industrial and medicinal purposes(9). 
Hemp plants contain natural chemical compounds in cannabis plants known as phytocannabinoids. 
Popular Products
The company's products include 1,500mg Full-Spectrum CBD Oil, 1,500mg Pain Relief CBD Balm, Anti-Aging Moisturizers, 15mg CBD Gummies, and 750mg Full-Spectrum CBD Oil for Pets. 
Types Sold
CBD BioCare products contain full-spectrum hemp oil. Full-spectrum CBD products contain various cannabinoids, including essential oils and terpenes.  
Terpenes are compounds that give plants their unique odor or aroma.
Full-spectrum CBD products also contain a maximum level of 0.3% tetrahydrocannabinol (THC). THC concentration is much higher in marijuana plants. 
Range of Products
The company's products include oils, creams, balms, skincare products, liquid capsules, gummies, and pet products.  
Extraction Method
CBD BioCare uses the CO2 extraction method. Its extraction process is known as carbon dioxide (CO2) supercritical extraction and helps preserve various molecules found in the plant matter.   
The company's whole-plant extraction differs from processes that only extract CBD hemp oil from the hemp's stalk.
Lab Testing Transparency and Availability
Laboratory test results for various products are found on the company's website. 
CBD BioCare's product page includes its products' COAs. This information provides details about particular chemical compounds found in a CBD  product.
Customers can scan products with QR codes to go directly to the company's page with lab-testing certificates.
Safety and Third-Party Lab Testing 
Third-party testing through facilities CBD BioCare does not own is one of the main ways a great company evaluates its products for quality and safety. 
CBD BioCare uses third-party testing to check its products' purity, consistency, and quality. This process can help provide high-quality CBD products.
CBD BioCare partners with a U.S.-based manufacturing company that is GMP-compliant. This process helps to ensure the highest quality and consistency. 
The company also conducts tests through third-party labs on the farm during the extraction process. 
The CBD is tested again in the manufacturing facility and again at CBD BioCare. 
Having an outside company test CBD products helps produce safe products and verify the accuracy of product labels. Such testing can also check products for heavy metals and other contaminants.  
CBD Concentration per Serving Range
1,500mg of Full-Spectrum CBD Oil has a concentration of 1,343.89mg CBD per container, based on a 2018 COA and third-party test results.  
Potency
A 1,500mg of Full-Spectrum CBD Oil has a CBD potency of 44.7mg/g based on a 2018 third-party testing.
THC Range of Products %
The company's products, such as CBD BioSkinCare creams, test below 0.3% THC, and some have THC levels that are so low that they are undetectable.  
Flavors
CBD BioCare's products offer few flavor options, but the ones available include peppermint.  
Tincture Carrier Oil
The company uses hemp seed oil that is high in omega-3 fatty acids. These are healthy fats also found in foods such as tuna, oysters, and flaxseeds.    
Shipping and Delivery
CBD BioCare products usually ship within two or three weeks. The brand offers both domestic and international shipping options for customers. 
Shipping to the continental U.S. states is free if customers order two or more products. The company, however, charges a standard shipping rate of $5.99 for all other domestic orders.
International shipping requires a minimum charge of $13.30. 
Refund Policy 
CBD BioCare offers customers a satisfaction guarantee that provides customers with a refund for any unused portions returned. 
Return Policy
Customers must return unused items within 14 days of their purchase date to receive a full refund.  
Customers who used a product and were not fully satisfied can return the unused portion to the company. CBD BioCare refunds the customer for the unused portion.
Contaminants
Lab tests show that CBD BioCare products do not contain any harmful levels of heavy metals, pesticides, and other contaminants.  
Gluten-Free
Gluten is a multi-protein substance found in various foods, such as wheat and rye. People with dietary restrictions, like wheat allergies and celiac disease, should avoid consuming gluten products. 
Customer Service
Customers can call the company's customer service number 727-205-1638 if they have any questions or problems.   
CBD BioCare has received generally good reviews for its customer service.  However, it also lacks features like a money-back guarantee and a favorable return policy. 
Pricing and Discounts
The pricing of CBD BioCare products tends to be slightly higher versus the competition's prices. For example, the weakest formulation of liquid capsules is in the under-$30 range.
The main exception is CBD BioCare's CBD oil for pets, which tends to be priced lower than other pet CBD oil products. 
Shoppers can save money through online coupon codes. 
CBD BioCare offers discounts for military and first responder customers. It provides a 10% discount as a way of thanking them for their service. Those interested must complete a form and provide documentation to participate in the program.
Both current and past military personnel can participate in the program. Upon acceptance into the program, the company adds people to the website's military group.  
Countries Served
People can purchase CBD BioCare products in the United States, Mexico, and Puerto Rico. They're also available in the United Kingdom. 
About the Company
CBD BioCare History 
Matthew and Stacey Pitts founded CDB BioCare years after Matthew discovered CBD through a high school friend. Matthew is the company's CEO. 
The couple made it one of their goals to produce all-natural CBD products with no toxic chemicals. 
CBD BioCare's mission includes offering high-quality CBD products to customers. The company also aims to use its website to educate people about CBD products, guiding them on CBD usage and benefits.  
Company Awards
No data is available for CBD BioCare receiving industry awards for its products. It has, nonetheless, been recognized for donating to the Youth for Christ ministry. 
Purchasing CBD BioCare products helps raise money for the Nicaraguan ministry known as Youth for Christ. CBD BioCare donates 10% of all purchases to the ministry that provides education and leadership skills to youth.  
Company Reviews
Several review sites compare CBD Bio Care's affiliate program to "pyramid schemes." However,  unlike multi-level marketing (MLM), its programs do not require cost to join, and people may pick which products they sell.
People can earn up to 40% commission by referring other people to CBD BioCare. They can make money for every sale after a referral, which is compounded monthly.  
FAQs 
1. What is CBD oil good for?
The FDA has approved CBD to treat some types of epilepsy(10).
Researchers have conducted a myriad of studies to determine the health benefits of CBD oil for treating symptoms of specific health conditions. Some studies have had promising results, but more research is needed. 
2. Is CBD oil better than CBD capsules?
The human body absorbs CBD oil faster than CBD capsules, and customers can adjust each dosage by increasing or decreasing the dosage using the bottle dropper. 
When considering CBD products like CBD oil, the product's bioavailability is an important factor(11). The bioavailability of a substance is the rate and extent at which it is absorbed by the body and causes an active effect.
Meanwhile, some people prefer CBD capsules as they dislike the earthy taste of CBD oil. 
Conclusion 
CBD BioCare is dedicated to providing CBD products and information to people looking for possible ways to alleviate symptoms of specific health conditions. CBD products offer natural and holistic (whole-body) remedies. 
Visit www.cbdbiocare.com today and learn about its limited-time buy one, get one offer.
---
CBD Clinicals is reader-supported. When you buy through links on our site, we may earn an affiliate commission.
Learn more