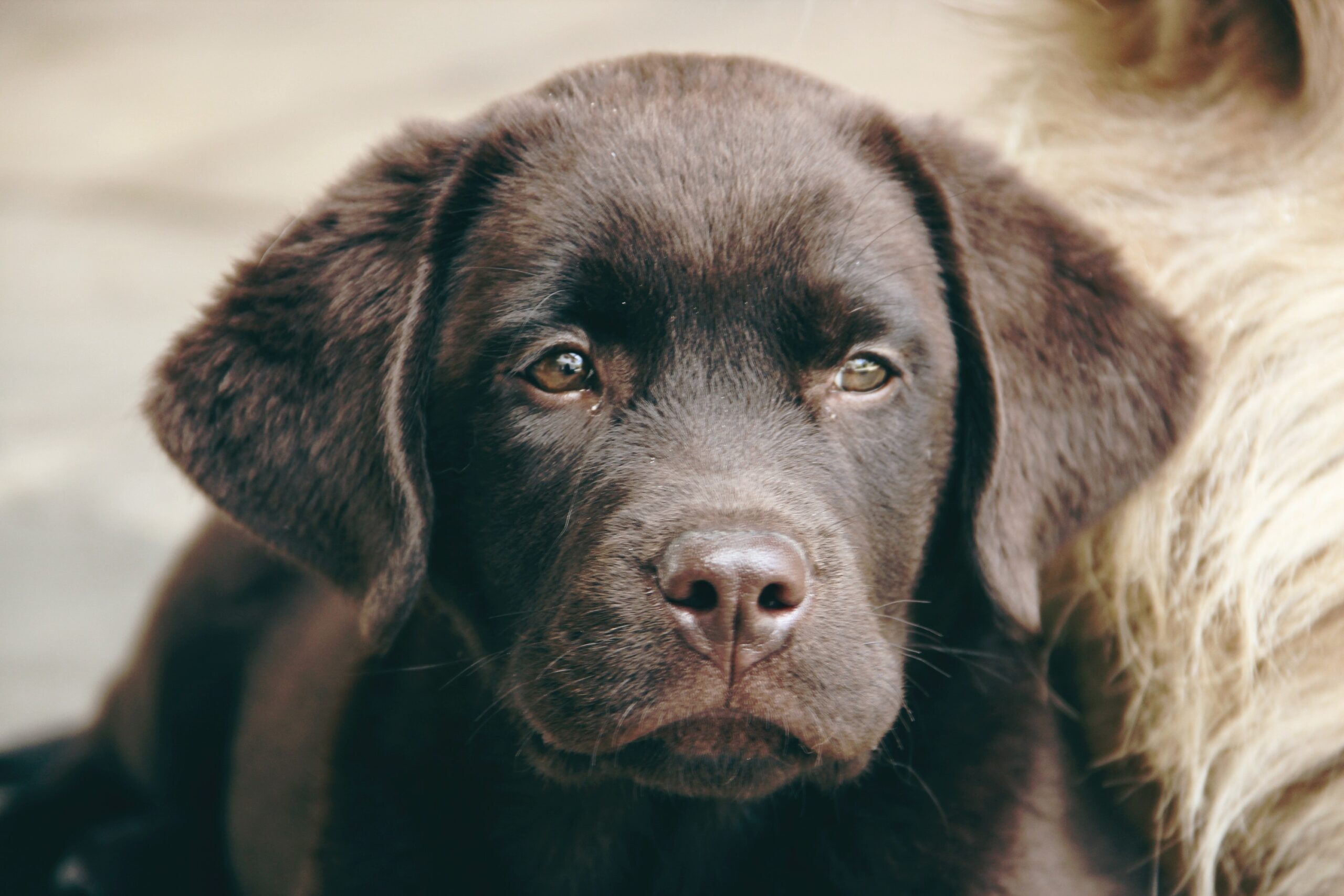 Studies show that

cannabidiol

(CBD) may induce antianxiety, stress-relieving, and aggression-reducing effects in dogs

(1-2)

. 

The

cannabinoid

receptors

(CBs) of the endocannabinoid system (

ECS

) participate in biological processes

to help with medical conditions

such as anxiety

(3)

. CBD may interact with a dog's CB

receptors

by releasing the hormone

serotonin

(4)

. 

CBD may induce

side effects

in canines such as dry mouth, drowsiness, and lower blood pressure

(5)

.

Dog owners should initiate a conversation with their veterinarians, who can advise on the proper usage and dosage before administering CBD to their pets. 
How Can
CBD Oil
Help
Dogs With
Separation Anxiety
? 
Several studies examined CBD oil as a potential natural alternative to help relieve symptoms of separation anxiety in dogs, and the results were promising.
What Is CBD Oil?
Cannabidiol is a natural compound (called phytocannabinoid) in cannabis plants, including hemp plants and marijuana plants. Compared to marijuana, hemp contains higher quantities of CBD. 
CBD is among at least 80 compounds (called cannabinoids) in cannabis plants(6). CBD is non-psychoactive, unlike the cannabinoid tetrahydrocannabinol (THC).  
How CBD May Work for Dogs' Separation Anxiety
There are no studies specific to dogs and separation anxiety. However, research shows that CBD may produce anti-inflammatory, antianxiety, and antipain effects in dogs(7-8). 
For example, CBD may provide anxiety relief for dogs with noise-induced canine anxiety(9).  
Cannabidiol interacts with a canine's endocannabinoid system (ECS)(10). Thus, CBD pet products may help relieve anxiety in dogs through such interaction. 
The three components of a mammal's ECS include cannabinoid receptors (CB1 and CB2), small molecules known as endogenous ligands, and enzymes. 
Plant-derived phytochemicals in cannabis plants may interact with a canine's ECS. 
The complex ECS system helps maintain homeostasis in a dog's organ systems, including the nervous and immune systems. Homeostasis is a tendency of relative stability.  
No research specific to dogs and separation anxiety has been conducted. However, studies show that CB1 and CB2 receptors participate in several biological processes to help with medical conditions such as anxiety(11). 
Researchers have connected reduced amounts of CBs to anxiety-like behaviors. For example, they noted that circulating levels of CBD receptors diminish significantly in chronic conditions such as Post-Traumatic Stress Disorder (PTSD)(12).
CBD may also interact with a dog's cannabinoid receptors through the release of serotonin(13). In the central nervous system (CNS), serotonin is a hormone connected to spikes in happiness and positive feelings. 
Studies and Research on CBD and Separation Anxiety  
There are no studies specific to dogs and separation anxiety. However, research suggests that CBD may have anxiety- and stress-reducing effects in canines(14). 
In addition, cannabidiol may alleviate aggressive behavior in dogs(15). 
A 2020 animal study investigated the effects of CBD treats in a noise-induced fear response test(16). The study utilized a fireworks model as a fear-triggering stimulus.   
The researchers hypothesized that CBD may have potential as an alternative for relieving canine anxiety. However, additional research is needed to determine CBD's efficacy. 
Meanwhile, a 2021 study investigated CBD's potential to help reduce aggressiveness in shelter dogs(17). Researchers investigated CBD's impact on stress-related behaviors.  
The study's authors reported that CBD did not decrease stress-related behavior(18). However, cannabidiol seemed to reduce aggressive behavior. 
The researchers hypothesized that more research is warranted to evaluate the effects of CBD administration and behavioral therapy(19). In addition, they noted that studies with larger sample sizes were required. 
A 2019 human study investigated CBD's potential to reduce anxiety and improve sleep quality(20). The review included a three-month study.
The researchers reported that anxiety scores decreased rapidly throughout the study(21). In addition, CBD was well tolerated and produced minimal side effects. 
Still, more research is necessary to determine whether CBD produces similar clinical results among canine subjects with separation anxiety.
How to Administer
CBD Oil
to Dogs With
Separation Anxiety
Due to its earthy flavor, CBD's taste and texture may be unappealing to dogs. To solve this problem, pet owners can use various methods to add cannabidiol to their "furry friend's" diet. 
The following options may make CBD products less disagreeable for dogs:
CBD-infused dog treats: CBD dog treats, including soft chews, eliminate the preparation time needed to combine CBD and dog treats.
Blend of CBD and dog treat: This delivery system combines cannabidiol with a canine's favorite snack. A dog treat with a strong, delicious flavor may effectively conceal CBD's distinctive taste.
CBD poured onto dog food: Dog owners can pour CBD oil on their "pet pooch's" daily meals.  The delivery system combines cannabidiol with a pet's regular food. 
CBD administered through the mouth: Dogs may not be picky about CBD's taste and texture. Pet owners can use a dropper to add CBD directly to the dog's mouth. 
It is essential to consult a veterinarian and initiate a conversation about CBD use before administering CBD oil to a dog. Veterinarians can guide individuals about the proper CBD dosage and usage. 
CBD Dosage for Dogs With Separation Anxiety
Dog owners can begin administering a low dose of CBD to their dogs to determine they can tolerate CBD. Subsequently, they can also gradually increase the CBD dose to achieve the desired effects.
It is essential to note that the United States Food and Drug Administration (FDA) has not approved CBD for animals(22). Additionally, the FDA has not issued a CBD dosage chart. 
The American Kennel Club (AKC) recommends aiming for an initial dosage of approximately 0.1 to 0.2 milligrams of cannabidiol (mg of CBD) oil per kilogram of body weight(23).  
The AKC also provides a CBD dosing calculator for dogs, cats, and horses. 
Risks and
Side Effects of CBD for Canines
CBD oil may cause drug interactions, such as inhibiting cytochrome P450 and affecting the metabolism of other drugs(24). Cytochrome P450 is a superfamily of enzymes responsible for the metabolism (digestion) of several medications.
CBD may also induce side effects in dogs, including dry mouth, drowsiness, and lower blood pressure(25).
Dog owners need to talk to their veterinarian when planning to administer CBD to their dogs. 
What Veterinarians Say About CBD Oil
CBD has been gaining popularity among veterinarians in recent years. However, they are not permitted to recommend it due to CBD's legal status. 
Most U.S. states have passed laws to decriminalize the use of medical marijuana(26). However, these laws remain inapplicable to animals. 
Dog owners are required to bring up CBD initially when discussing it with their veterinarians(27). When discussing their pet's health care, this step is particularly critical if one's pet has an existing regimen of medications and supplements. 
Causes and Symptoms of Canine Separation Anxiety 
Causes of Separation Anxiety in Dogs 
Various factors may induce separation anxiety among dogs. Possible causes include(28):
Early separation from mother 

Being shelter or rescue dogs 

Changing families 

Changing schedules or routines 

Sense of instability

Moving to a new home 

Loss or long-term absence of a

family member
Before treating a canine with separation anxiety, pet owners must determine the underlying cause of the condition. A pet owner can subsequently help the canine to enjoy or tolerate being left alone(29). 
How to Determine Whether a Dog Has Separation Anxiety
Recognizing the symptoms of separation anxiety is relatively straightforward. However, dog owners sometimes mistakenly classify behavioral problems as a different issue. 
Leaving a dog alone may produce these symptoms(30): 
Whining, barking, or howling

Chewing

Pacing 

Digging and destruction 

U

rinating

and defecating
Common Types of Anxiety in Dogs 
Canines may experience several forms of anxiety. 
Separation Anxiety
Dogs spend a substantial amount of time with their owners and rely on them for activities such as eating, going on walks, and playing. Thus, canines may feel anxious or fearful when their human companions leave, leading to disruptive or destructive behavior(31). 
Dogs may display separation anxiety in various manners. They may become anxious dogs as their owners prepare to leave, try to prevent them from leaving, or display anxious behavior after their owners have left home(32). 
Age-Related Anxiety 
As dogs get older, they may experience declining cognitive function, leading to mental conditions such as dementia(33). Such conditions may lead to problems related to learning, memory, and emotions(34). 
Senior dogs may also experience age-related physical changes, such as pain, becoming a source of stress and anxiety(35). 
Post-Traumatic Stress Disorder (PTSD) 
Dogs with a troublesome past may experience PTSD. Up to 17% of dogs may experience canine PTSD(36).  Factors include exposure to aggressive dogs and past abusive owners.
Fear-Related Anxiety 
Particular loud noises may trigger fear and emotion in dogs, including: 
Thunderstorms

Construction

Other dogs

Vehicles during c

ar rides

Crowds of people  
 An excessive fear known as noise phobia may cause canines to attempt to avoid or escape from such noises(37). They may exhibit behavior such as(38):
Jumping through windows

Chewing through walls 

Running away
Other Ways to Help Dogs with Separation Anxiety; CBD vs. Other Types of Separation Anxiety Therapy
Dog owners should talk with their veterinarians regarding possible drug interactions between CBD and canine medications(39). 
CBD oil may be used as joint massages for dogs with arthritis. However, it may also improve the efficacy of treatment plans, such as chemotherapy(40). 
CBD products may also be combined with other antianxiety treatments for treating separation anxiety, including(41):
Behavior modification: CBD and behavioral modification may help relieve separation anxiety effectively. Behavior modification helps the dog become accustomed to being left at home alone.
Crate training: This training method teaches dogs that a crate is a safe place when they are left alone. Still, dog owners should monitor for signs of distress, such as panting, excessive drooling, and escape attempts. 
Desensitization: This process allows dogs to become accustomed to being left alone gradually(42). 
Counterconditioning: This training process trains an animal to show behavior that varies from its current reaction to a particular stimulus(43). Dog owners monitor their pets for triggers of separation anxiety.  
Medications: In severe cases, veterinarians may recommend prescription medications. For example, the medication Prozac is an antidepressant for humans. 
Research suggests that lower doses of Prozac may help alleviate separation anxiety in dogs(44). Studies show that Prozac may enhance dogs' moods and consequently improve their behavior.  
A home video camera allows pet owners to monitor their canine's behavior. They can then play back footage recorded to determine how a dog's behaviors may indicate separation anxiety.
FAQs About CBD and Dog
Separation Anxiety
1. What are some benefits of CBD for dogs?
Limited research has been conducted on the benefits of CBD for dogs with separation anxiety. However, studies suggested that cannabidiol may help relieve or reduce symptoms of dogs with medical conditions, such as anxiety, aggressiveness, and epilepsy(45-47). 
2. How can CBD help relieve separation anxiety in dogs?
No research specific to dogs and separation anxiety has been conducted. However, a study published in Frontiers in Veterinary Science journal examined the effects of CBD on dogs subjected to a noise-induced fear response test(48). 
The researchers reported that, while CBD has been suggested to reduce anxious behaviors in human and rat models, more research is needed to determine CBD's effects on canine behavior.
3. Does CBD produce side effects in dogs?
The U.S. FDA has not approved CBD use for animals(49). Meanwhile, CBD products may induce side effects in canines such as dry mouth, drowsiness, and lower blood pressure(50).
4. What is an ideal CBD dosage for pet dogs?
There is no standard CBD dosage for dogs with separation anxiety. However, a study suggests initially administering small CBD dosages to dogs, such as 0.1 to 0.2mg of CBD per kg of body weight(51). 
Dog owners may try starting with two daily CBD doses for dogs with separation anxiety(52). 
More importantly, dog owners should initiate a conversation with their veterinarians for guidance on ideal CBD usage and dosage.
5. How can pet owners administer CBD oil to dogs?
Some of the various ways of giving CBD to dogs include using a dropper to put CBD oil or CBD tinctures directly to the dog's mouth, mixing cannabidiol with food or dog treats such as peanut butter, and adding drops of CBD hemp extract to water. 
6. What are some features of high-quality CBD oil?
Third-party lab tests: CBD brands may provide test results through a certificate of analysis (COA), available through a website or scannable quick response code (QR code).  
Organic hemp: Organic CBD is free of herbicides, pesticides, and solvents. High-quality CBD products are free of genetically modified organisms (non-GMO).   
Hemp oil: Hemp oil is produced from hemp extracts. Strictly speaking, hempseed oil is produced from hemp seeds. 
Type of CBD: Three options are available for the best CBD oil for dogs. 
Full-spectrum CBD oil contains several cannabis plant extracts, including cannabinoids, flavonoids, terpenes, and essential oil. 
Pet owners should avoid administering full-spectrum CBD to dogs as they contain THC. THC produces a more severe reaction in dogs than in humans(53).
Broad-spectrum CBD oil contains a wide range of compounds, although it is typically THC-free. Meanwhile, CBD isolate is pure CBD. CBD isolates usually contain no cannabinoids besides CBD. 
Transparency: Dog owners should read CBD product labels for ingredients, third-party test results, and disclaimers. 
---
CBD Clinicals is reader-supported. When you buy through links on our site, we may earn an affiliate commission.
Learn more