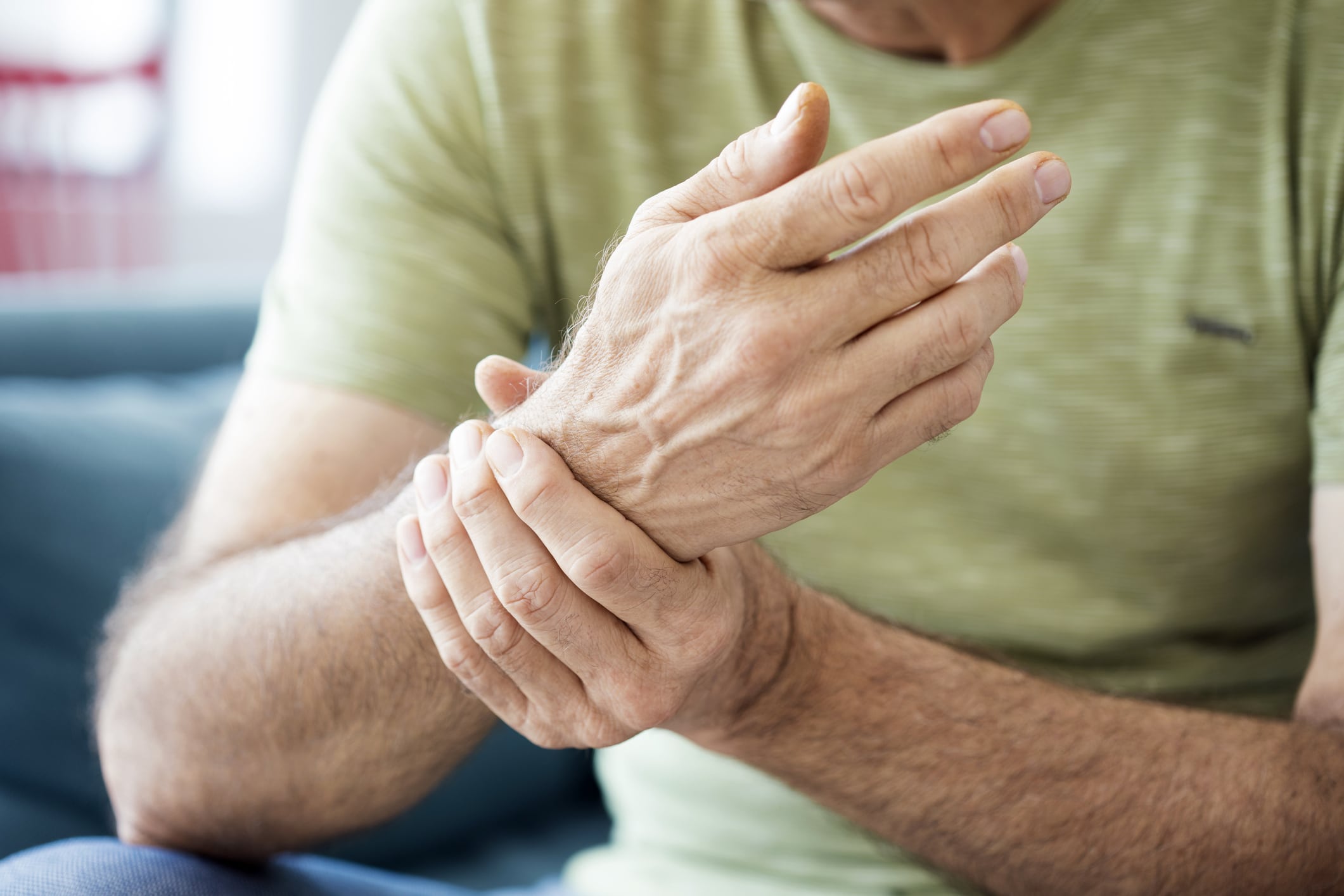 Does CBD Work for Gout? 
CBD may be an effective treatment for gout pain. This form of

arthritis

is incurable but manageable

(1)

.

Over-the-counter and prescription medications are effective in gout treatment. However, these drugs may cause adverse side effects in some individuals

(2)

.

A study in 2018 published in

Molecules

has shown that CBD

might be

a useful inflammation and

pain

treatment(3)

.

Another study conducted in mice with osteoarthritis reports that CBD

may help

attenuate inflammation and severe pain caused by the chronic condition

(4)

.

There has been significant research showing CBD's promise in treating

gout

symptoms. However, further studies need to be done on CBD's

effects

on gout. 
Why People Are Using CBD for Gout
According to the John Hopkins Arthritis Center, several drugs can be used to treat gout flare-ups(5). These include:
Nonsteroidal anti-inflammatory drugs

(NSAIDs), like ibuprofen and naproxen

Colchicine 

Corticosteroids
While the medications mentioned previously are effective, doctors often prescribe higher dosages to manage an acute attack of gout. These changes could cause side effects, which may be harmful to some people.
Mayo Clinic says side effects from using NSAIDs include high risks of developing stomach pain, bleeding, and ulcers(6). Meanwhile, colchicine use can result in vomiting, nausea, and diarrhea. 
The use of corticosteroids can lead to sudden mood changes, high blood pressure, and increased blood sugar levels(7). Corticosteroids are often prescribed to patients who cannot take NSAIDs and colchicine.
Gout is an incurable type of arthritis that affects joints, particularly the big toe joint. However, with medications and self-management, it can be treated(8). 
To avoid the side effects of gout medications, more patients are turning to cannabidiol (CBD). It has been shown to have analgesic (pain-relieving) and anti-inflammatory properties that may be beneficial to gout patients.
CBD comes from the Cannabis Sativa plant. Unlike tetrahydrocannabinol (THC), it is non-psychoactive. 
THC is the other primary ingredient of medical marijuana and also comes from the Cannabis Sativa plant. Like CBD, THC can be used medicinally. 
However, THC is often used recreationally and sometimes abused(9). Because of THC's addictive nature, it is likely that users may develop a dependence on it. 
How CBD Oil Works to Alleviate Symptoms of Gout
Findings from the Centers for Disease Control and Prevention (CDC) report that gout is caused by hyperuricemia, the excessive uric acid buildup in the body(10).
Individuals who have increased chances of developing hyperuricemia are usually obese males who have health problems, like hypertension, diabetes, and reduced kidney function(11).
Certain diets may increase the likelihood of people developing gout. These consumption behaviors include drinking large quantities of alcohol and fructose-rich beverages.
Also at risk are those who often eat food high in purines, which the body breaks down into uric acid. Such foods include organ meats, red meats, and seafood, like sardines, tuna, and anchovies.
Gout has been dubbed as the "disease of kings" because it is generally caused by overindulgence in food and drinks(12). 
In the affected joints, gout may be detected when the following symptoms are observed: intense pain, redness, swelling, and heat(13).
Gout may come in the form of acute gout or chronic gout. Acute gout only affects one joint, while chronic gout may occur repeatedly and affect more than one joint(14).
CBD for Inflammation
Further research needs to be done on CBD's therapeutic effects on gout symptoms. However, a significant number of studies conducted on CBD have suggested its anti-inflammatory properties. 
A study published in Future Medicinal Chemistry concludes that cannabinoids have anti-inflammatory effects that may help treat several types of arthritis and inflammation-related diseases(15). The primary cannabinoids are CBD and THC.
Cannabinoids are compounds that may come from the body, from plants, or laboratories. They interact with the endocannabinoid system (ECS) and activate cannabinoid receptors, known as CB1 and CB2 receptors. 
Cannabinoids help the ECS with several functions, like immune responses, mood, appetite, and memory.
Cannabinoids have been shown to help suppress cytokines at inflammatory sites in the body, reducing symptoms of inflammatory diseases(16).
Cytokines are a group of proteins that can be classified as pro-inflammatory or anti-inflammatory(17). Their modulation can balance the initiation and resolution of inflammation(18). 
CBD is a cannabinoid that is known to have anti-inflammatory properties(19).
Another study in 2019 has found that CBD has anti-inflammatory and antioxidant properties. These therapeutic benefits may help treat several conditions, like arthritis, diabetes, cardiovascular diseases, psychosis, among others(20).
A 2018 study states that cannabinoids, like CBD, may be useful in treating inflammation and pain(21).
Research conducted in rodents that have osteoarthritis showed that CBD reduced inflammation and blocked osteoarthritis pain signals(22). 
The study suggested that CBD might be a safe and effective therapy for osteoarthritis. The researchers believe that they have discovered CBD's neuroprotective properties.
Another study, this time on CBD as a topical pain reliever, has shown that the use of CBD gel on rat models markedly attenuated joint swelling and pain, without causing psychoactive side effects in the test subjects(23). 
In the study, the application of 6.2 mg and 62 mg of CBD gel per day, for four consecutive days after arthritis pain began, helped treat arthritis in rats.
The results of the animal study showed CBD as a promising treatment for pain relief in humans.
The Pros and Cons of CBD Oil for Gout
The Pros
Animal and human studies have reported the benefits of CBD in treating symptoms of gout.

CBD is safe for use because it has an excellent safety profile(24)

. 

CBD is non-addictive(25)

. Thus, gout patients may not have to worry about developing a dependence on it. 
The Cons
While there are studies on CBD's potential in alleviating gout symptoms, research on CBD's effectiveness in treating gout itself is lacking. 

The United States Food and Drug Administration (US FDA) has not approved CBD

use aside

from the treatment of epilepsy. 

There is no

standard dosage for CBD when used for the treatment of gout. 

CBD products are unregulated, resulting in a proliferation of mislabeled CBD products online(26)

.  
How CBD Oil Compares to Alternative Treatments for Gout
Although gout cannot be cured completely, patients' lifestyle changes help manage their symptoms. These modifications include weight loss, diet changes, hypertension control, and change in medication regimens(27). 
A study has found that cherry consumption helps lower the risk of gout attacks(28).
Studies have also been made on whether vitamin C intake helps in the attenuation of gout. However, the results of these studies are conflicting.
A study reports that vitamin C reduces uric acid levels and prevents gout recurrences(29). Another study, meanwhile, concludes that vitamin C reduces the risk of gout development but does not significantly reduce uric acid in gout patients(30).
Meanwhile, the use of CBD has minimal risk factors, as common side effects include tiredness, diarrhea, and changes in appetite or weight(31). CBD use may also help complement the alternative treatments mentioned previously.
However, it is not recommended to use CBD alongside traditional gout medications, such as corticosteroids(32). The liver enzyme cytochrome P450 metabolizes these medications. 
CBD may inhibit the P450 enzyme system and increase the risk of amplifying the side effects of gout medications(33).
How to Choose the Right CBD for Gout
There are three types of CBD oils: full-spectrum CBD oil, broad-spectrum CBD oil, and isolates.
Full-spectrum oils make use of all the ingredients of cannabis plants, including less than 0.30% THC, fatty acids, flavonoids, terpenes, and essential oils.
The main advantage of using a full-spectrum oil is that its active ingredients synergize to produce an entourage effect. This mechanism is believed to generate maximum therapeutic benefits from the ingredients of the cannabis plant.
Full-spectrum oils contain THC, which may be detected via drug tests. THC may also cause mild psychoactive effects in some individuals.
Gout patients who want to avoid these potential risks may choose to buy broad-spectrum CBD oil. This type of oil has all the ingredients of a full-spectrum oil sans the THC.
Those who are looking for a CBD oil made of pure cannabidiol may purchase CBD isolates. 
CBD Dosage for Gout
The rule when using CBD for gout is to begin with a low dosage. Patients can start with a few milligrams of CBD and increase the dosage in small increments if no adverse effects are observed.
The dosage amounts may be increased until significant improvements are noted. 
Body weight should be considered when choosing a CBD dosage. The heavier the patient, the larger their required dose.
Average adults can take a maximum of around 5 mg of CBD daily.
Before adding CBD to one's gout medication regimen, always consult with a doctor first.
How to Take CBD for Gout
There are various ways to take CBD in the treatment of gout. One way is through ingestion via CBD oil, CBD tinctures (droppers), CBD pills, CBD gummies, or CBD gel caps. 
When a CBD product goes through the digestive tract, it takes effect in one to two hours. When taken sublingually (under the tongue) through tinctures, CBD may take effect in 15 to 45 minutes. 
CBD can also be applied topically, on body parts affected by gout, as it is available in lotion, salve, or balm format. 
There are CBD oil massages available, which may be beneficial to gout patients. CBD oil may help alleviate pain associated with gout(34).
Another format is CBD vape or pen. When CBD is inhaled, effects may be observed instantaneously. 
However, taking CBD by vaping is not recommended. There have been incidents that suggest that vaping may cause lung problems(35).
Conclusion
Medical cannabis-related products, like CBD, may help in the treatment of gout symptoms. Further research, however, needs to be made on the therapeutic effects of CBD on gout itself. 
Compared to most gout medications, CBD has been shown to have a more favorable safety profile. It is a treatment worth exploring as an added therapy for gout relief.
Before using CBD, patients should inform their doctors first. 
---
Gout

. (28 Jan 2019). Retrieved from

https://www.cdc.gov/arthritis/basics/gout.html

Mayo Clinic Staff. (2019 March 1).

Gout Diagnosis and Treatment.

Retrieved from

https://www.mayoclinic.org/diseases-conditions/gout/diagnosis-treatment/drc-20372903

Bruni, N., Della Pepa, C., Oliaro-Bosso, S., Pessione, E., Gastaldi, D., & Dosio, F. (2018). Cannabinoid Delivery Systems for Pain and Inflammation Treatment.

Molecules (Basel, Switzerland)

,

23

(10), 2478.

https://doi.org/10.3390/molecules23102478

Philpott, H. T., O'Brien, M., & McDougall, J. J. (2017). Attenuation of early phase inflammation by cannabidiol prevents pain and nerve damage in rat osteoarthritis.

Pain

,

158

(12), 2442–2451.

https://doi.org/10.1097/j.pain.0000000000001052

Treatment of Gout.

(n.d). Retrieved from

https://www.hopkinsarthritis.org/arthritis-info/gout/gout-treatment/

Mayo Clinic Staff. op. cit. 

Ibid.

Gout. (28 Jan 2019). op. cit.  

Zehra, A., Burns, J., Liu, C. K., Manza, P., Wiers, C. E., Volkow, N. D., & Wang, G. J. (2018). Cannabis Addiction and the Brain: a Review.

Journal of neuroimmune pharmacology : the official journal of the Society on NeuroImmune Pharmacology

,

13

(4), 438–452.

https://doi.org/10.1007/s11481-018-9782-9

Gout. (28 Jan 2019). op. cit.  

Ibid. 

Hendricks, M. (n.d.). Defining What Causes the 'Disease of Kings'. Retrieved from

https://www.hopkinsmedicine.org/institute_basic_biomedical_sciences/news_events/articles_and_stories/cysticfibrosis/2010_03_Disease_of_Kings.html

Gout. (28 Jan 2019). op. cit.  

Gout.

Retrieved from

https://medlineplus.gov/ency/article/000422.htm

Nagarkatti, P., Pandey, R., Rieder, S. A., Hegde, V. L., & Nagarkatti, M. (2009). Cannabinoids as novel anti-inflammatory drugs.

Future medicinal chemistry

,

1

(7), 1333–1349.

https://doi.org/10.4155/fmc.09.93

Ibid.

Zhang, J. M., & An, J. (2007). Cytokines, inflammation, and pain.

International anesthesiology clinics

,

45

(2), 27–37. https://doi.org/10.1097/AIA.0b013e318034194e

 

Nagarkatti, P. op. cit. 

Russo E. B. (2008). Cannabinoids in the management of difficult to treat pain.

Therapeutics and clinical risk management

,

4

(1), 245–259.

https://doi.org/10.2147/tcrm.s1928

Atalay, S., Jarocka-Karpowicz, I., & Skrzydlewska, E. (2019, December 25). Antioxidative and Anti-Inflammatory Properties of Cannabidiol. Retrieved from

https://www.mdpi.com/2076-3921/9/1/21/htm

Bruni, N., Della Pepa, C., Oliaro-Bosso, S., Pessione, E., Gastaldi, D., & Dosio, F. (2018). Cannabinoid Delivery Systems for Pain and Inflammation Treatment.

Molecules (Basel, Switzerland)

,

23

(10), 2478.

https://doi.org/10.3390/molecules23102478

Philpott, H.T. op. Cit.

Hammell, D. C., Zhang, L. P., Ma, F., Abshire, S. M., McIlwrath, S. L., Stinchcomb, A. L., & Westlund, K. N. (2016). Transdermal cannabidiol reduces inflammation and pain-related behaviours in a rat model of arthritis.

European journal of pain (London, England)

,

20

(6), 936–948. https://doi.org/10.1002/ejp.818 

Iffland, Kerstin, and Franjo Grotenhermen. "An Update on Safety and Side Effects of Cannabidiol: A Review of Clinical Data and Relevant Animal Studies."

Cannabis and cannabinoid research

vol. 2,1 139-154. 1 Jun. 2017, doi:10.1089/can.2016.0034

 "CANNABIDIOL (CBD) Critical Review Report." World Health Organization, 2018.Parkinson's Foundation. op. cit. 

Freedman, Daniel A, and Anup D Patel. "Inadequate Regulation Contributes to Mislabeled Online Cannabidiol Products."

Pediatric neurology briefs

vol. 32 3. 18 Jun. 2018, doi:10.15844/pedneurbriefs-32-3

Saag, K. G., & Choi, H. (2006). Epidemiology, risk factors, and lifestyle modifications for gout.

Arthritis research & therapy

,

8 Suppl 1

(Suppl 1), S2.

https://doi.org/10.1186/ar1907

Zhang, Y., Neogi, T., Chen, C., Chaisson, C., Hunter, D. J., & Choi, H. K. (2012). Cherry consumption and decreased risk of recurrent gout attacks.

Arthritis and rheumatism

,

64

(12), 4004–4011.

https://doi.org/10.1002/art.34677

Juraschek, S. P., Miller, E. R., 3rd, & Gelber, A. C. (2011). Effect of oral vitamin C supplementation on serum uric acid: a meta-analysis of randomized controlled trials.

Arthritis care & research

,

63

(9), 1295–1306.

https://doi.org/10.1002/acr.20519

Stamp, L. K., O'Donnell, J. L., Frampton, C., Drake, J. M., Zhang, M., & Chapman, P. T. (2013, May 30). Clinically Insignificant Effect of Supplemental Vitamin C on Serum Urate in Patients With Gout: A Pilot Randomized Controlled Trial. Retrieved from

https://onlinelibrary.wiley.com/doi/full/10.1002/art.37925

Iffland, K. op. cit. 

Cabrera, M. A., Dip, R. M., Furlan, M. O., & Rodrigues, S. L. (2009). Use of drugs that act on the cytochrome P450 system in the elderly.

Clinics (Sao Paulo, Brazil)

,

64

(4), 273–278. https://doi.org/10.1590/s1807-59322009000400002

Yamaori, Satoshi, et al.

Potent Inhibition of Human Cytochrome P450 3A Isoforms by Cannabidiol: Role of Phenolic Hydroxyl Groups in the Resorcinol Moiety

. 10 Feb. 2011, www.medicinalgenomics.com/wp-content/uploads/2013/11/Potent-inhibition-of-CYP3A-with-CBD.pdf.

Gamble, L. J., Boesch, J. M., Frye, C. W., Schwark, W. S., Mann, S., Wolfe, L., Brown, H., Berthelsen, E. S., & Wakshlag, J. J. (2018). Pharmacokinetics, Safety, and Clinical Efficacy of Cannabidiol Treatment in Osteoarthritic Dogs.

Frontiers in veterinary science

,

5

, 165. https://doi.org/10.3389/fvets.2018.00165

"Outbreak of Lung Injury Associated with the Use of E-Cigarette, or Vaping Products."

Centers for Disease Control and Prevention

, Centers for Disease Control and Prevention, 25 Feb. 2020, www.cdc.gov/tobacco/basic_information/e-cigarettes/severe-lung-disease.html
CBD Clinicals is reader-supported. When you buy through links on our site, we may earn an affiliate commission.
Learn more