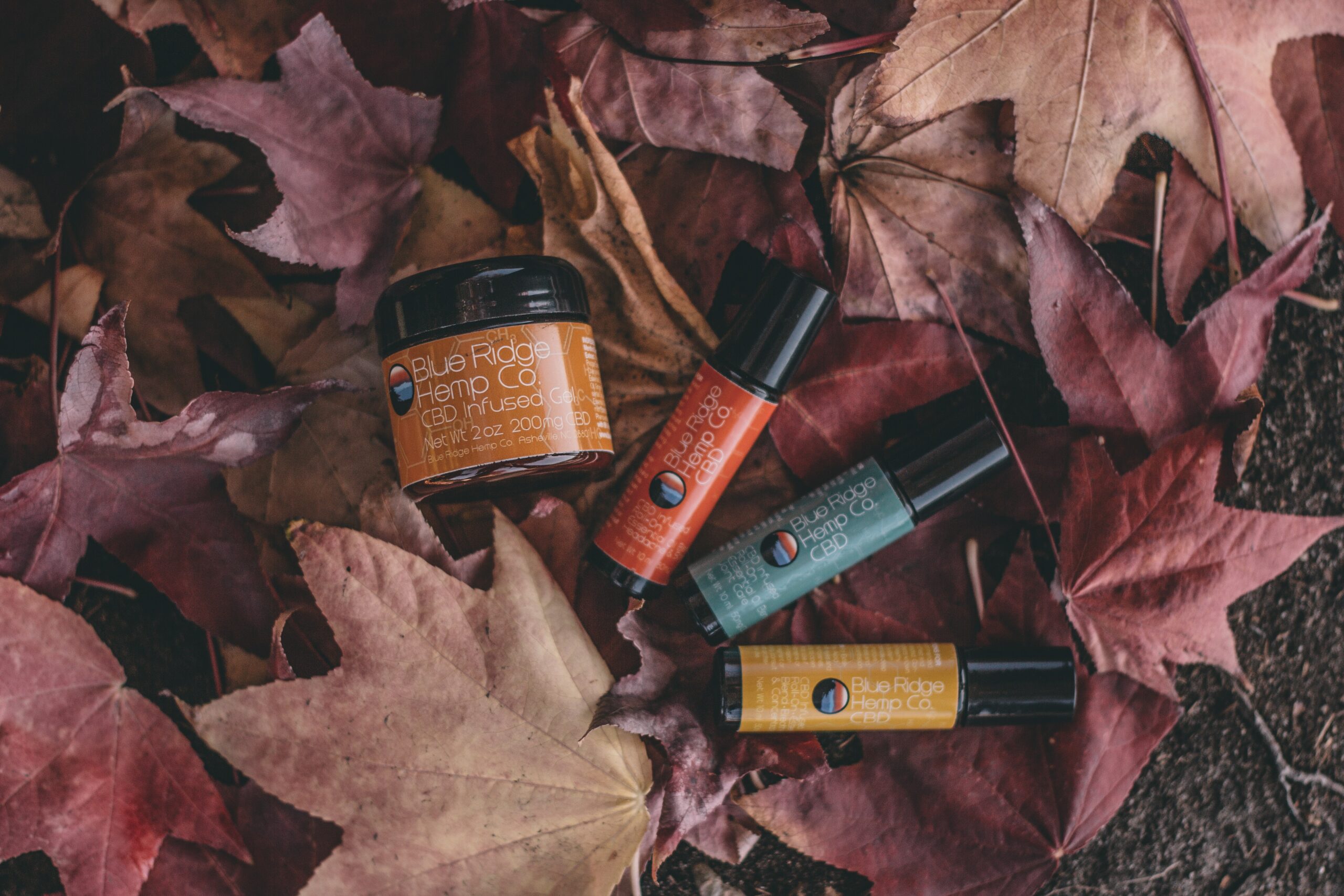 Are you searching for a CBD roll-on product for targeted pain relief? CBD Clinicals provides the essential information to help you choose the best CBD roll-on to soothe and relieve common body aches and pains.
How
CBD Roll-on
May Help With Pain
Pain management is one of the primary functions of the human body's endocannabinoid system (ECS). 
The ECS consists of receptors, which can relieve pain through endocannabinoids (cannabinoids produced by the body) or with the help of phytocannabinoids (plant-derived sources)(1). 
Unlike tetrahydrocannabinol (THC), which creates the "high" feeling among recreational cannabis users, cannabidiol (CBD) does not bind well with ECS receptors(2). 
However, CBD interacts with phytocannabinoids and endocannabinoids so that your body's cannabinoids can bind with ECS receptors(3).
As these receptors are present in the skin(4), CBD topicals have become widely studied for their therapeutic effects, although cannabis plants have been used medicinally for centuries(5). 
There have been experiments to determine CBD's anti-inflammatory effect on easing joint pain(6), sore muscles(7), and back pain or backache(8).
Cannabinoid products have become conveniently packaged through the years(9) that they now include roll-on versions.
The most popular form of hemp plant-derived CBD is oil(10). CBD roll-on products usually come in bottles with roller balls and contain CBD oil, ointment, or gel. 
Their ingredients can include essential oils like aloe vera, coconut, and lavender oils. Roll-ons can also contain terpenes such as camphor eucalyptus, lemon, menthol, and peppermint oils.
Benefits of Using
CBD Roll-ons
to Relieve Pain
According to studies, CBD may help alleviate pain related to epidermolysis bullosa(11), a condition that causes the skin to blister easily. CBD may also help improve retinol's anti-aging effects(12).
A study was conducted to evaluate CBD roll-ons' benefits in soothing musculoskeletal pains due to arthritis(13). The investigators examined the benefits of an over-the-counter (OTC) transdermal CBD product in patients who are candidates for knee surgery to restore joint function.
The researcher's initiative suggests CBD's potential therapeutic effects in workouts or athletic and other strenuous physical activities. 
Other uses for CBD roll-on include applying the CBD preparation on the skin for aromatic anti-stress therapy.  
CBD roll-ons offer the following advantages over regularly packaged creams, oils, and gels:
1. Easy to Use
You can use a CBD roll-on on the go as they usually come in light and sleek containers. Unlike CBD tinctures, roll-ons are a no-mess applicator when you do not need precise dosing. You can also easily carry it with you in your bag, drawer, or pocket. 
2. Quick-Drying Formula for a Smooth Texture
CBD formulations from roll-on sticks are less greasy and non-grainy than other topical solutions. Since most roll-ons dry quickly, they would not stain your clothes.
3. Promotes Faster Recovery From Muscle Strain
A 2021 study in Frontiers in Psychology(14) showed that many athletes have tried using CBD to accelerate sports recovery. Still, more research is needed to validate the results. CBD's role in sports performance is difficult to explain due to a lack of scientific evidence.
4. Non-addictive
You are unlikely to develop any dependency on CBD roll-ons as CBD is non-addictive compared to marijuana or other pain-relieving drugs(15).
How to Use
CBD Roll-on
for
Pain Relief
Brands recommend light circular movements when applying the roll-on to the skin. Roll on a thin film over the affected area and wait for the compound to take effect. 
There are times that the pain does not come from the exact place where you feel the discomfort. For instance, your forehead pain may have come from neck and shoulder tension. Thus, you may have to identify where the pain stems from and apply the roll-on to that area.
You can follow these tips to get the most out of a CBD roll-on:
Do a patch test. Try out the

roll-on

in a limited area to check for any allergic reaction. 

Apply sparingly. Formulations produce either a

cooling effect

or a warming sensation, so it is better to use a small amount at the start.

Ensure

the area where you apply the compound

is clean, and avoid applying on bruised skin (with cuts or wounds). Since you will be using the

roll-on

repeatedly, rid your skin of sweat or grime before application.
How Long Does it Take for
CBD Roll-ons
to Start Working 
The speed at which CBD roll-ons take effect varies according to the product and how your body will react. Users may experience relief 15 to 30 minutes after application(16).  
In general, the mode of consumption determines how fast your body can feel the effects of cannabinoid products. 
For example, the peak plasma concentration or absorption rate for cannabinoids taken through inhalation takes only three to ten minutes, according to a study(17).  
How Long Does Pain Relief from CBD Roll-ons Last
The soothing or cooling sensation from CBD roll-ons may last from two to four hours(18). You can reapply after these periods for continuous relief.
For higher levels of relief, pick a product with a higher CBD content (expressed in milligrams, ounces, or milliliters).
Choosing the Best CBD Roll-on for Pain
For your safety, it is best to check the following when shopping for a CBD roll-on:
1. Source of hemp extract 
Research the product to ensure that your CBD roll-on contains organically grown, GMO-free hemp, which means the manufacturer's source used no fertilizers, herbicides, or pesticides during cultivation.
2. Extraction process
CO2 extraction is currently considered the gold standard among today's types of extraction(19). This approach does not use high temperatures or harmful solvents that can settle or remain in the final product(20).
Some manufacturers also use isopropyl alcohol and vegetable glycerin for CBD extraction.
3. Additional ingredients 
Check the label to determine the type of CBD you are getting. The following are the three CBD types available on the market(21):
Full-spectrum

CBD

, also called whole-plant

CBD

, contains all types of

cannabinoids

and below

0.3% THC concentration

, which

will not

get you "high"

Broad-spectrum CBD

does not contain any

THC

CBD

isolate contains no other

cannabinoids

except 99% pure

CBD
At the same time, consumers should examine the product's ingredient list. CBD in roll-ons typically features essential and vitamin E-rich oils and other additives.
Examples of additives include:
Arnica

, an herb known for hastening wound-healing, particularly after surgery

(22)

Cayenne pepper extracts, which produce a warming sensation that may reduce soreness due to nerve pain or skin conditions

(23)

Ilex

leaf extracts, popularly grown in South America and used to soothe burns, fever, and swelling

(24)
Based on a study, new products may include carbomer, a gel-like polymer that improves adhesion(25).
4. Third-party lab reports
Choose brands that subject their products to third-party testing. Look for up-to-date certificates of analysis. These reports will help you determine the purity and potency of a product.
5. Storage method
To preserve your CBD roll-on's effectiveness, keep it in a cool and dark place away from heat sources. The quality of the hemp oil or other liquid can degrade with oxygen and heat exposure. 
Side Effects of Using
CBD Roll-on
for Pain
The effects of CBD roll-ons on the skin of individual users can vary depending on a product's ingredients and one's skin sensitivity. 
Note that topical cannabis may lead to contact dermatitis(26). Some topical products like CBD roll-ons contain cannabis components. However, according to the American Academy of Dermatology Association, such a reaction might be due to other ingredients in that product.
Legality of
CBD
The U.S. Food and Drug Authority has not yet approved the marketing of any cannabis product to treat or cure any condition or disease.
However, the agency has approved the use of four cannabis-derived products upon the prescription of a licensed healthcare provider(27). 
They are Epidiolex (cannabidiol), Marinol (dronabinol), Syndros (dronabinol), and Cesamet (nabilone)—the last three of which contain synthetic cannabis.
FAQs
1. How can CBD roll-on help with pain?
CBD roll-ons may ease body pain by strengthening endocannabinoids. CBD prevents the enzyme called fatty acid amide hydrolase from breaking down anandamide, the body's most crucial cannabinoid(28). 
At the same time, CBD boosts the strength of serotonin 5-HA1a receptors, which play a variety of body functions in the immune and nervous systems, including those related to managing pain, anxiety, and wellness.
2. What evidence or research exists to say that CBD roll-on helps with pain?
The Rothman Institute Orthopedics recently reported having conducted a study on using CBD roll-on to relieve post-operative pain among knee replacement patients. It has yet to report the results of the 2020 study(29).
3. Is there any evidence that CBD roll-on can make pain worse?
There have been no reports on incidents of pain that have worsened after using CBD roll-ons. However, CBD can cause adverse effects like drowsiness, fatigue, dry mouth, reduced appetite, and diarrhea(30).
4. Will CBD roll-on interact with any current medication I may be taking for pain?
CBD roll-ons may contain ingredients that will interact with the medications you are taking. It is still best to get your doctor's advice on the safety of CBD roll-ons if you are taking prescription medications(31).
5. Are there other treatments I should consider alongside CBD roll-on to help with pain?
Doctors recommend including non-medication solutions in your pain management plan, such as getting exercise and psychological support(32). Doing so can enhance the effect of the CBD oil or gel topically applied via roll-on.
6. Can I fail a drug test if I use CBD roll-on for pain?
No. CBD roll-ons are only topical solutions, so their CBD content will not penetrate your bloodstream.
7. What is the dosage of CBD roll-on for pain?
CBD roll-ons come in different amounts, depending on the brand.
8. Can CBD oil be used topically?
CBD oil with a carrier oil may be used topically by applying the compound directly to the skin. Topical CBD products are formulated for targeted relief.
---
Cannabinoids and Pain: New Insights From Old Molecules
https://www.ncbi.nlm.nih.gov/pmc/articles/PMC6277878/
Ibid.
Cannabidiol primer for healthcare professionals
https://www.ncbi.nlm.nih.gov/pmc/articles/PMC7340472/
TRP Channel Cannabinoid Receptors in Skin Sensation, Homeostasis, and Inflammation
https://www.ncbi.nlm.nih.gov/pmc/articles/PMC4240254/
The Effectiveness of Topical Cannabidiol Oil in Symptomatic Relief of Peripheral Neuropathy of the Lower Extremities
https://www.eurekaselect.com/article/102689
Cannabidiol (CBD): a killer for inflammatory rheumatoid arthritis synovial fibroblasts
https://www.ncbi.nlm.nih.gov/pmc/articles/PMC7463000/
Cannabidiol and Sports Performance: a Narrative Review of Relevant Evidence and Recommendations for Future Research
https://www.ncbi.nlm.nih.gov/pmc/articles/PMC7338332/
Prevalence of Cannabidiol Use in Patients With Spine Complaints: Results of an Anonymous Survey
https://www.ncbi.nlm.nih.gov/pmc/articles/PMC8375682/
Cannabinoid Delivery Systems for Pain and Inflammation Treatment
https://www.ncbi.nlm.nih.gov/pmc/articles/PMC6222489/
Systematic Review on Transdermal/Topical Cannabidiol Trials: A Reconsidered Way Forward
https://www.liebertpub.com/doi/full/10.1089/can.2021.0154
Cannabinoid use and effects in patients with epidermolysis bullosa: an international cross-sectional survey study
https://www.ncbi.nlm.nih.gov/pmc/articles/PMC8419930/
A Single-Center Study Evaluating the Effects of a Novel Retinol and Cannabidiol Combination Topical on Facial Skin
https://www.ncbi.nlm.nih.gov/pmc/articles/PMC8905336/
A Study to Evaluate the Outcomes of Cannabinoid (CBD) Roll-on Topical Stick in Primary Total Knee Arthroplasty
https://clinicaltrials.gov/ct2/show/NCT04585230
Potential Role of Cannabidiol on Sports Recovery: A Narrative Review
https://www.ncbi.nlm.nih.gov/pmc/articles/PMC8369499/
Cannabidiol as an Intervention for Addictive Behaviors: A Systematic Review of the Evidence
https://www.ncbi.nlm.nih.gov/pmc/articles/PMC4444130/
Healing with CBD, p. 193
https://drive.google.com/file/d/1AGlxnhS2SoFeOXEuysv75bd_C9pEnwsU/view
The pharmacokinetics and the pharmacodynamics of cannabinoids: See "Absorption"
https://www.ncbi.nlm.nih.gov/pmc/articles/PMC6177698/
Healing with CBD, p. 193
https://drive.google.com/file/d/1AGlxnhS2SoFeOXEuysv75bd_C9pEnwsU/view
Essential Oils Extracted From CO 2 Extraction Method
https://www.researchgate.net/publication/352154770_Essential_Oils_Extracted_From_CO_2_Extraction_Method
Processing and extraction methods of medicinal cannabis: a narrative review
https://jcannabisresearch.biomedcentral.com/articles/10.1186/s42238-021-00087-9
Cannabidiol primer for healthcare professionals
https://www.ncbi.nlm.nih.gov/pmc/articles/PMC7340472/
Clinical Trials, Potential Mechanisms, and Adverse Effects of Arnica as an Adjunct Medication for Pain Management
https://www.ncbi.nlm.nih.gov/pmc/articles/PMC8537440/
Cayenne
https://www.mountsinai.org/health-library/herb/cayenne
Phytochemical and Biological Screening of Leaf, Bark and Fruit Extracts from Ilex dipyrena Wall.
https://www.ncbi.nlm.nih.gov/pmc/articles/PMC8401985/
Mucoadhesion and Mucopenetration of Cannabidiol (CBD)-Loaded Mesoporous Carrier Systems for Buccal Drug Delivery
https://www.mdpi.com/2218-0532/89/3/35/pdf?version=1627900805
Public, researchers demonstrate growing interest in cannabis treatment
https://www.aad.org/news/topical-cannabis
FDA and Cannabis: Research and Drug Approval Process
https://www.fda.gov/news-events/public-health-focus/fda-and-cannabis-research-and-drug-approval-process
Cannabidiol primer for healthcare professionals
https://www.ncbi.nlm.nih.gov/pmc/articles/PMC7340472/
A Study to Evaluate the Outcomes of Cannabinoid (CBD) Roll-on Topical Stick in Primary Total Knee Arthroplasty
https://clinicaltrials.gov/ct2/show/NCT04585230
What are the benefits of CBD — and is it safe to use?
https://www.mayoclinic.org/healthy-lifestyle/consumer-health/expert-answers/is-cbd-safe-and-effective/faq-20446700
Should You Take CBD for Pain?
https://healthblog.uofmhealth.org/health-management/should-you-take-cbd-for-pain
Does CBD help with arthritis pain?
https://www.health.harvard.edu/blog/does-cbd-help-with-arthritis-pain-2020041019418
CBD Clinicals is reader-supported. When you buy through links on our site, we may earn an affiliate commission.
Learn more