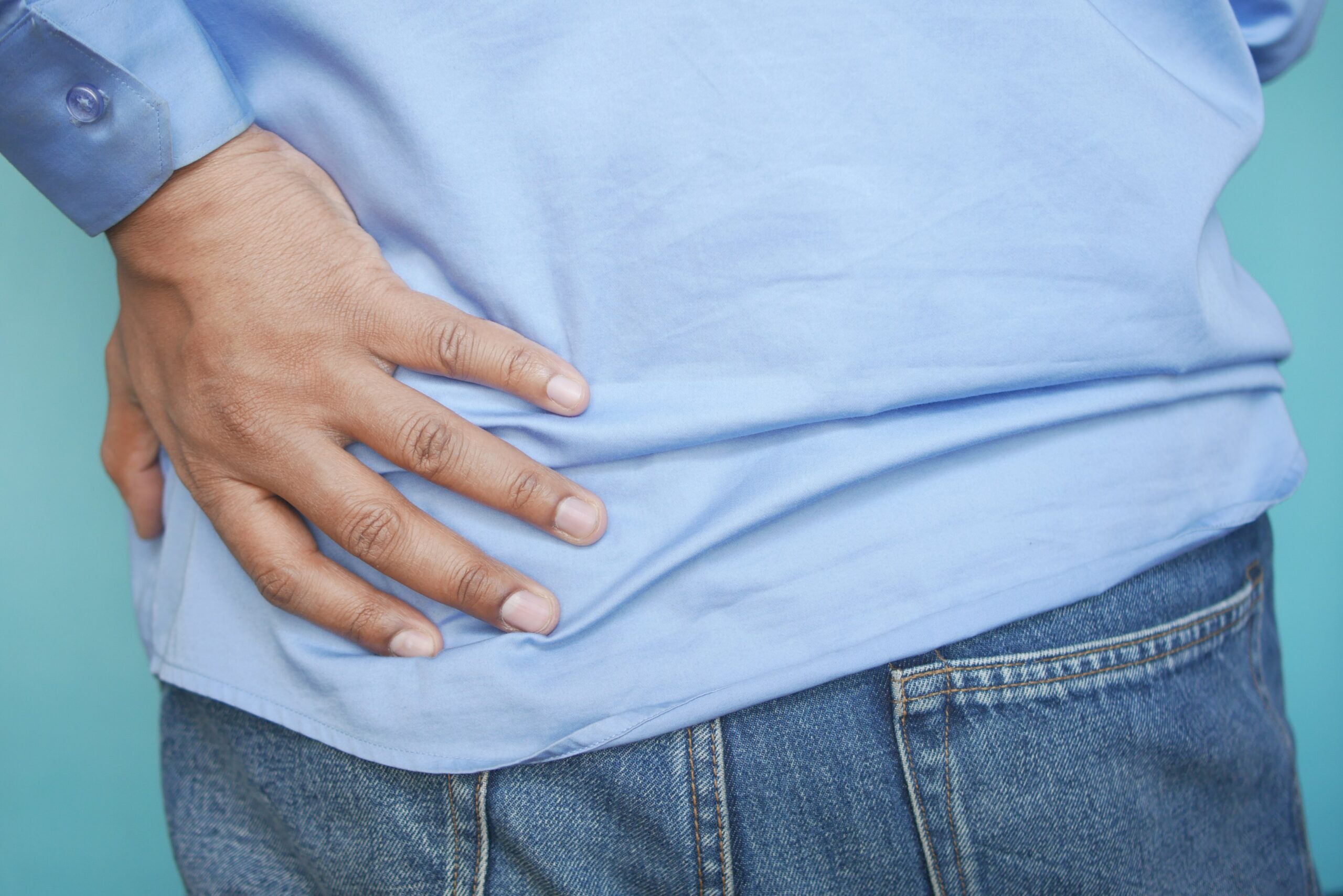 Cannabidiol, or CBD, has shown promise

due to

its analgesic and anti-inflammatory potential

(1)

. These purported health benefits may help with hip pain.

CBD salve is a topical product infused with cannabidiol. 

Individuals may rub CBD salve

s

on the affected area

, such as their hip,

for localized relief. 

Studies specifically

examining the effects of CBD salve

on

hip pain is imperative.  
How CBD Salves May Help Reduce Hip Pain
Individuals may benefit from CBD by rubbing topicals like CBD oils, lotions, balms, or salves on pain areas for localized relief. 
Salves, in particular, may be effective for conditions that are within one inch of the skin's surface. Since these products do not penetrate deeper areas, they are potentially helpful for various skin conditions(2). 
Although no specific research suggests that CBD salves can help reduce hip pain, CBD infused in these thick ointments has numerous purported health benefits.  
For instance, CBD may have putative anti-inflammatory and analgesic properties(3). These therapeutic potentials may help alleviate hip pain and swelling caused by certain medical conditions.
Hence, public and medical interest in this nonpsychoactive compound of cannabis plants has been rising(4). 
In addition, CBD's activity in the ECS (endocannabinoid system) appears to be promising. 
The ECS modulates various bodily functions, including emotional processing, learning and memory, sleep, appetite, temperature and pain control, and inflammatory and immune responses(5). 
Cannabinoid receptors (CB1 and CB2) are one of the components of the endocannabinoid system.
CB1 receptors have a role in nociceptive pain, a sensation caused by damage to body tissue. Meanwhile, CB2 receptors inhibit inflammatory hypersensitivity, resulting in anti-inflammation(6). 
A study from Frontiers in Pharmacology mentioned that although CBD may have a low affinity for cannabinoid receptors, it may behave as an antagonist in the presence of THC (tetrahydrocannabinol)(7).
An antagonist, like CBD, binds to receptors without activating them. Instead, it decreases the ability of an agonist to activate receptors. 
 THC may behave as a partial agonist at CB1 and CB2 receptors(8). This mind-altering compound appears to have a high binding affinity with CB1 receptors, which mediate its psychoactive properties(9).  
Notably, CBD may reduce THC's potency and efficacy and is likely to act as a noncompetitive negative allosteric modulator of CB1 receptors(10). 
A study indicates that allosteric modulators of CB1 receptors like CBD may potentially treat central nervous system diseases and peripheral disorders while helping avoid the adverse effect associated with the agonism of CB1 receptors(11). 
In addition, CBD may regulate pain perception and act synergistically with THC, contributing to the pain-relieving effects of medicinal-based cannabis extract(12). 
The putative usefulness of CBD for pain, particularly hip pain, is plausible considering the compound's pharmacology and activity in the ECS. 
Still, specific longitudinal research is imperative to elucidate how CBD salves may help reduce hip pain. 
Research Overview: Usage of CBD Oil
CBD oil is a versatile product. Individuals who like to try CBD for hip pain may use the oil sublingually (under the tongue), add it to their food or beverages, or rub it on the skin area where they feel pain. 
CBD Oil for Arthritis Pain 
According to the CDC or Centers for Disease Control and Prevention, about 58.5 million adults in the United States have arthritis(13). 
Arthritis causes tenderness and swelling of joints. Its symptoms include stiffness and joint pain that worsen as individuals age(14). 
An animal study from the journal Pain suggested that topical administration of CBD may be safe in alleviating osteoarthritis pain and blocking the acute inflammatory flares that influence joint neuropathy and disease progression(15). 
Osteoarthritis or OA is a common form of arthritis in which the cartilage within a joint starts to wear and tear. OA often develops in weight-bearing joints like the hip(16). 
Another animal study published in the European Journal of Pain hypothesized that topical CBD application may help relieve arthritis pain-related behaviors and inflammation without detrimental side effects(17). 
CBD Oil for Chronic Pain
Preclinical and clinical research has shown a potential benefit of CBD in chronic pain linked with multiple conditions(18). 
In humans, an experimental pain study of cannabidiol suggested the compound's pain-relieving properties(19). 
Meanwhile, a 2021 survey of patients' perspectives and attitudes to CBD as a potential therapeutic agent for chronic pain reported that of the 253 participants, 91.9% of the respondents expressed a desire to learn more about CBD(20). 
However, a 2020 study from Frontiers in Pharmacology suggested that although some clinical findings showed CBD may help with intractable chronic pain, the results depend on the disease. Thus, individuals should not use CBD indiscriminately(21). 
CBD Safeness
Cannabis and Cannabinoid Research study reported that CBD may have a favorable safety profile, and humans may tolerate it(22).  
However, the Attorneys General or AGs urged the FDA (Food and Drug Administration) to study the activity and interaction of cannabis compounds, like CBD and THC, with other substances and dietary supplements to keep consumers safe(23). 
It is worth noting that CBD is a biologically active substance. Therefore, the nonpsychoactive compound may still interact with other medications and certain medical conditions(24).
Meanwhile, topicals like CBD salves are not absorbed into the entire body. Therefore, topical CBD products may be safer to use than other CBD forms, considering the negligible studies regarding the long-term safety of cannabidiol(25). 
Risks and Side Effects
Generally, CBD may induce minor side effects, such as low blood pressure, dry mouth, and drowsiness(26). 
However, individuals who want to try CBD topicals like salves to help with hip pain must talk with a dermatologist, especially if they have sensitive skin. 
Most CBD topicals contain other ingredients that may trigger contact allergies and affect some consumers. 
For instance, some individuals use arnica topically to help with various conditions, such as joint pain and inflammation from insect bites(27). Still, arnica may cause skin irritations in some individuals(28). 
Legality
The Farm Bill indicates that Cannabis sativa L. and other derivatives of cannabis with less than 0.3% THC content on a dry weight basis are deemed legal under federal law(29). 
What Is CBD?
CBD or cannabidiol is a cannabinoid present in the cannabis plant. Although it is a crucial component of medical marijuana, CBD comes from hemp plants(30).
Differences Between CBD and THC
CBD (cannabidiol) and THC (tetrahydrocannabinol) have similar chemical structures. However, they do not have the same effects.
THC is psychoactive and therefore responsible for the euphoric high cannabis users experience. Meanwhile, CBD is nonpsychoactive and thus offers a safer alternative to THC(31).
---
Cannabidiol
https://pubchem.ncbi.nlm.nih.gov/compound/Cannabidiol
CBD: A Patient's Guide to Medicinal Cannabis, page 123.
https://drive.google.com/file/d/1MILU_6ZjYkII-XMUPHLFPiPQbrz__5Sh/view
Cannabidiol
https://pubchem.ncbi.nlm.nih.gov/compound/Cannabidiol
Reasons for Cannabidiol Use: A Cross-Sectional Study of CBD Users, Focusing on Self-Perceived Stress, Anxiety, and Sleep Problems
https://jcannabisresearch.biomedcentral.com/articles/10.1186/s42238-021-00061-5
The Endocannabinoid System: Essential and Mysterious
https://www.health.harvard.edu/blog/the-endocannabinoid-system-essential-and-mysterious-202108112569
Cannabinoid Receptors and Their Relationship With Chronic Pain: A Narrative Review
https://www.cureus.com/articles/39887-cannabinoid-receptors-and-their-relationship-with-chronic-pain-a-narrative-review
Cannabinoids and Pain: New Insights From Old Molecules
https://www.frontiersin.org/articles/10.3389/fphar.2018.01259/full
The Diverse CB1 and CB2 Receptor Pharmacology of Three Plant Cannabinoids: Δ9-Tetrahydrocannabinol, Cannabidiol and Δ9-Tetrahydrocannabivarin
https://www.ncbi.nlm.nih.gov/pmc/articles/PMC2219532/
Ibid.
Cannabinoids and Pain: New Insights From Old Molecules
https://www.frontiersin.org/articles/10.3389/fphar.2018.01259/full
Cannabidiol Is a Negative Allosteric Modulator of the Cannabinoid CB1 Receptor
https://www.ncbi.nlm.nih.gov/pmc/articles/PMC4621983/
Cannabinoids and Pain: New Insights From Old Molecules
https://www.frontiersin.org/articles/10.3389/fphar.2018.01259/full
Arthritis
https://www.cdc.gov/chronicdisease/resources/publications/factsheets/arthritis.htm
Arthritis
https://www.mayoclinic.org/diseases-conditions/arthritis/symptoms-causes/syc-20350772
Attenuation of Early Phase Inflammation by Cannabidiol Prevents Pain and Nerve Damage in Rat Osteoarthritis
https://www.ncbi.nlm.nih.gov/pmc/articles/PMC5690292/
Osteoarthritis of the Hip
https://orthoinfo.aaos.org/en/diseases–conditions/osteoarthritis-of-the-hip
Transdermal Cannabidiol Reduces Inflammation and Pain-Related Behaviours in a Rat Model of Arthritis
https://www.ncbi.nlm.nih.gov/pmc/articles/PMC4851925/
A Balanced Approach for Cannabidiol Use in Chronic Pain
https://www.ncbi.nlm.nih.gov/pmc/articles/PMC7204604/
Research Shows Pain-Relieving Effects of CBD
https://www.sciencedaily.com/releases/2021/04/210423130221.htm
Cannabidiol as a Treatment for Chronic Pain: A Survey of Patients' Perspectives and Attitudes
https://www.ncbi.nlm.nih.gov/pmc/articles/PMC8107012/
A Balanced Approach for Cannabidiol Use in Chronic Pain
https://www.ncbi.nlm.nih.gov/pmc/articles/PMC7204604/
An Update on Safety and Side Effects of Cannabidiol: A Review of Clinical Data and Relevant Animal Studies
https://www.ncbi.nlm.nih.gov/pmc/articles/PMC5569602/
AG Racine Leads 37 Attorneys General Urging FDA to Partner with States to Protect Consumers of Cannabis-Derived Products
https://oag.dc.gov/release/ag-racine-leads-37-attorneys-general-urging-fda
Potential Adverse Drug Events and Drug-Drug Interactions with Medical and Consumer Cannabidiol (CBD) Use
https://www.ncbi.nlm.nih.gov/pmc/articles/PMC6678684/
How to Safely Use CBD: Should You Inhale, Spray, Apply, or Eat It?
https://www.consumerreports.org/cbd/how-to-use-cbd-inhale-spray-apply-eat/
CBD: What You Need to Know Before You Try
https://www.cedars-sinai.org/blog/cbd-safe.html
Arnica
https://www.mountsinai.org/health-library/herb/arnica
Arnica Allergy
https://pubmed.ncbi.nlm.nih.gov/6993423/
FDA Regulation of Cannabis and Cannabis-Derived Products, Including Cannabidiol (CBD)
https://www.fda.gov/news-events/public-health-focus/fda-regulation-cannabis-and-cannabis-derived-products-including-cannabidiol-cbd
Cannabidiol (CBD)-What We Know and What We Don't
https://www.health.harvard.edu/blog/cannabidiol-cbd-what-we-know-and-what-we-dont-2018082414476
Cannabidiol and Other Non-Psychoactive Cannabinoids for Prevention and Treatment of Gastrointestinal Disorders: Useful Nutraceuticals?
https://www.ncbi.nlm.nih.gov/pmc/articles/PMC7246936/
CBD Clinicals is reader-supported. When you buy through links on our site, we may earn an affiliate commission.
Learn more