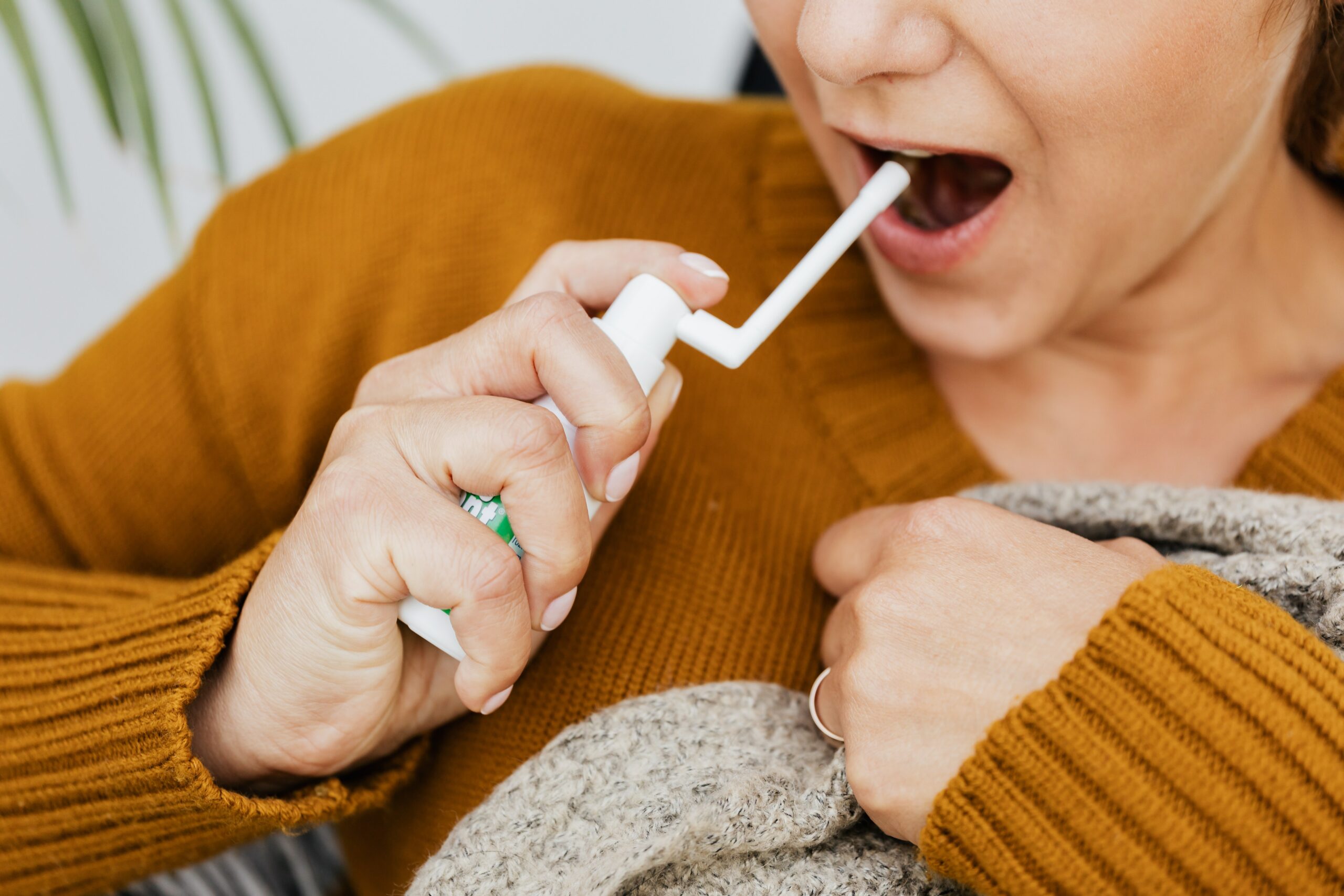 A

CBD oral spray

is a type of

CBD product

that combines the active component of

cannabidiol

with a natural substance.

CBD oral spray

can be applied to the mouth and absorbed into the bloodstream, providing the potential therapeutic benefits of

CBD

compounds. 

No research has linked

CBD oral spray

to pain. However, 2019 research suggests nabiximols (

Sativex

), an

oral spray

combining

THC

and

CBD

, for managing MS-related discomfort

(1)

. Thus,

CBD

may help manage medical disorders like

chronic pain

(2)

.
Due to the rising number of studies on cannabidiol's effects, oral spray producers began marketing their products with key advantages. Other CBD companies suggest CBD oral spray may help with pain and may help relax the brain and increase attention.
What Is a
CBD Oral Spray
?
CBD oral spray is a blend of natural substances that contains the active ingredients of cannabidiol. Because it is applied as a spray, the active compounds of CBD are absorbed directly into the body. CBD oral spray is oil-based and is sprayed directly into the mouth's mucous membranes.
Benefits of
CBD Oral Spray
for Pain
There are no direct studies linking CBD oral spray to pain. 
However, a 2019 study recommends the use of nabiximols (Sativex), an oral spray containing a combination of THC and CBD, for the management of multiple sclerosis-related pain(3). Thus, CBD may also provide potential relief from various medical conditions, such as chronic pain(4). 
Moreover, one randomized controlled experiment published in 2020 noted a relationship between topical cannabidiol oil and pain alleviation in patients with peripheral neuropathy(5). On the other hand, the research solely looked at the topical use of CBD and not the usage of oral sprays
Cannabidiol, or CBD, comes from the hemp extract plant(6). CBD is known for its antioxidative and anti-inflammatory properties(7). Inflammation is a common cause of pain, as it can trigger the release of pain signals to the brain(8).
Thus, CBD binds to various endocannabinoid system receptors (CB1 and CB2) and is well-known for its therapeutic properties in pain management(9). 
The ECS governs several bodily functions, including memory, learning, and hunger(10). 
Modulating the ECS has a good influence on the body's homeostasis (internal balance)(11).
Unlike THC(tetrahydrocannabinol), other compounds in cannabis plants, CBD is nonpsychoactive(12), which does not stimulate mind-altering effects.
Meanwhile, based on the available research on cannabidiol, CBD manufacturers of CBD oral spray advertised the primary benefits of the product. 
Some CBD companies may claim CBD may provide a calming and relaxing effect. 
Aside from pain relief and reduction in anxiety level, the calming properties of the CBD oral spray may also help individuals concentrate and improve well-being.
Also, according to some manufacturers of some CBD oral sprays, the application does not relate to CBD alone. However, CBD products are a combination of botanical components intended to promote relaxation, increased attention, and mental fitness. 
How Does
Oral Spray
Compare With Other Forms of
CBD
?
CBD comes in various forms of CBD oral sprays and edibles, oil, tinctures, or topical products.
Among other forms of CBD, the CBD oral spray is easy to use. The structure is portable and comes with convenient packaging.
The CBD oral spray for pain uses three sprays and lingers in the mouth for 20 seconds. Unlike droplets of CBD oil, CBD oral spray does not need to be administered beneath the tongue, avoiding the sensitive mouth region.
Also, the advantages of using CBD oral spray over capsules are its various CBD properties, such as its mild effect on the oral mucosa (mouth lining mucous membrane) and the absence of THC (psychoactive compound). 
In addition, the effects of CBD oral sprays may last longer, such as vaping or smoking CBD. The typical time it takes for an oral spray to absorb in the bloodstream is around 15 to 30 minutes(13).
Meanwhile, CBD oral spray, like CBD oils or tinctures taken orally, has a better bioavailability than CBD consumables such as gummies.  
CBD's effects depend on the compound's bioavailability. Bioavailability is how a particular substance becomes entirely available to its intended biological destinations.
CBD oral spray has a bioavailability of between 6-20%(14), while edibles like CBD gummies' bioavailability is only 6-15%(15). 
First time CBD users also note that there are different types of CBD. 
Full-spectrum CBD is manufactured from the complete hemp plant. The CBD products include cannabinoids, terpenes, and flavonoids found in hemp. 
Other CBD consumers favor full-spectrum CBD over isolates owing to the entourage effect, the compound synergy that gives CBD and other cannabis compounds full health benefits. 
CBD isolates are isolated CBD compounds generally accessible in crystal form and have no odor or taste.
Usage and Dosage
CBD oral spray is simple to use.  The CBD substance is pumped into the mouth and held for 20 seconds before being swallowed or spat out. If users are not comfortable with the taste of the CBD oil-based spray on the tongue, they may spray it on their cheeks or gums.
It is important to note that CBD spray is an oral product, not a spray intended for local administration, such as spraying on a painful body region. 
The number of CBD oral spray users is determined by the concentration of CBD in the spray. Typically, the suggested amount of spray consists of one or two spritzes.
Risks and
Side Effects
Although CBD is generally well-tolerated(16), taking CBD may still cause various side effects such as(17):
Loss of appetite

Drowsiness

Dry mouth

Diarrhea
Currently, the FDA has authorized just one CBD-containing medication. Epidiolex is a medication used to treat severe types of epilepsy known as Dravet and Lennox-Gastaut syndromes(18). 
Epidiolex is a standardized CBD product that meets the formulation and dosage regulations. 
Before taking CBD oral spray for pain or any other supplemental dietary products, consult a physician.
Safetiness of
CBD
CBD is not regulated by the FDA(Food and Drug Administration), similarly to medicines and supplements(19). 
It is essential to exercise extreme caution for consumer wellness to ensure that consumers are obtaining a high-quality product.
Consumers may check the authenticity of CBD oral spray to confirm that the product has passed testing for heavy metals, pesticides, and mold. 
Likewise, there are options in the market using non-GMO CBD organic grown hemp plants from local farmers, free of any chemical additives. 
Also, there should be a certificate of analysis (COA) and passed a third-party lab test that notes how much CBD and THC are included in the product.
---
Daily Practice Managing Resistant Multiple Sclerosis Spasticity With Delta-9-Tetrahydrocannabinol: Cannabidiol Oromucosal Spray: A Systematic Review of Observational Studies
https://www.ncbi.nlm.nih.gov/pmc/articles/PMC6413425/
A Balanced Approach for Cannabidiol Use in Chronic Pain
https://www.ncbi.nlm.nih.gov/pmc/articles/PMC7204604/
Daily Practice Managing Resistant Multiple Sclerosis Spasticity With Delta-9-Tetrahydrocannabinol: Cannabidiol Oromucosal Spray: A Systematic Review of Observational Studies
https://www.ncbi.nlm.nih.gov/pmc/articles/PMC6413425/
A Balanced Approach for Cannabidiol Use in Chronic Pain
https://www.ncbi.nlm.nih.gov/pmc/articles/PMC7204604/
​​The Effectiveness of Topical Cannabidiol Oil in Symptomatic Relief of Peripheral Neuropathy of the Lower Extremities
https://pubmed.ncbi.nlm.nih.gov/31793418/
Antioxidative and Anti-Inflammatory Properties of Cannabidiol
https://www.ncbi.nlm.nih.gov/labs/pmc/articles/PMC7023045/#:~:text=Therefore%2C%20it%20has%20been%20suggested,of%20immune%20cells%20%5B66%5D.
Ibid.
The Biochemical Origin of Pain: The origin of all Pain is Inflammation and the Inflammatory Response. PART 2 of 3 –Inflammatory Profile of Pain Syndromes
https://www.ncbi.nlm.nih.gov/pmc/articles/PMC2771434/
Cannabinoids, the endocannabinoid system, and pain: a review of preclinical studies
https://journals.lww.com/pain/fulltext/2021/07001/cannabinoids,_the_endocannabinoid_system,_and.3.aspx
The endocannabinoid system: Essential and mysterious
https://www.health.harvard.edu/blog/the-endocannabinoid-system-essential-and-mysterious-202108112569
The Endocannabinoid System, Our Universal Regulator
https://www.jyi.org/2018-june/2018/6/1/the-endocannabinoid-system-our-universal-regulator
Conversion of Cannabidiol (CBD) into Psychotropic Cannabinoids Including Tetrahydrocannabinol (THC): A Controversy in the Scientific Literature
https://pubmed.ncbi.nlm.nih.gov/32503116/
How to Safely Use CBD: Should You Inhale, Spray, Apply, or Eat It?
https://www.consumerreports.org/cbd/how-to-use-cbd-inhale-spray-apply-eat/
Healing with CBD, page 192
https://drive.google.com/file/d/1AGlxnhS2SoFeOXEuysv75bd_C9pEnwsU/view
Healing with CBD, page 191
https://drive.google.com/file/d/1AGlxnhS2SoFeOXEuysv75bd_C9pEnwsU/view
An Update on Safety and Side Effects of Cannabidiol: A Review of Clinical Data and Relevant Animal Studies
https://www.ncbi.nlm.nih.gov/pmc/articles/PMC5569602/
What are the benefits of CBD — and is it safe to use?
https://www.mayoclinic.org/healthy-lifestyle/consumer-health/expert-answers/is-cbd-safe-and-effective/faq-20446700
DA Approves First Drug Comprised of an Active Ingredient Derived from Marijuana to Treat Rare, Severe Forms of Epilepsy
https://www.fda.gov/news-events/press-announcements/fda-approves-first-drug-comprised-active-ingredient-derived-marijuana-treat-rare-severe-forms
FDA Regulation of Cannabis and Cannabis-Derived Products, Including Cannabidiol (CBD)
https://www.fda.gov/news-events/public-health-focus/fda-regulation-cannabis-and-cannabis-derived-products-including-cannabidiol-cbd
CBD Clinicals is reader-supported. When you buy through links on our site, we may earn an affiliate commission.
Learn more