With so many CBD products available on the market, it can be difficult for users to choose the right one. While CBD offers a wide variety of benefits for one's health, including relief from pain and inflammation, choosing from all the hemp oil, tinctures, topicals, and edibles that are available can be a challenge.
Nowadays, there are even CBD beverages available, which are made from water soluble CBD. It is believed that by the year 2022, the market for CBD beverages will be valued at around $260 million. This is primarily because the beverages are becoming more popular.
To understand what CBD-infused water is and how it is made, it is important first to understand how to make traditional CBD oil and some of the drawbacks of CBD water.
How Traditional CBD Oil Is Made
After the hemp plant is harvested and dried, farmers will strip off the flowers. This is where the CBD comes from. The rest of the plant is discarded.
The flowers are then steeped in methanol before being placed in very cold temperatures to remove any fats, which can change the way oil works. Finally, the substance is distilled before being added to a carrier oil, which is most often hemp seed oil.
Most of the hemp oil that users can buy comes with a dropper so that users can measure the ideal dose. A tincture is created when the oil is added to alcohol. The tincture can be placed under the tongue and then swallowed.
However, traditional CBD oil comes with its own set of problems because many experts believe that only a small part of the CBD is absorbed into the body.
Bioavailability of CBD
Many people may not know what bioavailability means when it comes to CBD-related products. Simply put, it relates to how quickly the body can absorb the CBD in these products. It also covers how much CBD from a certain product can enter the bloodstream.
Bioavailability also explains why vitamins and similar supplements work best when they are taken with a meal. When vitamins and other similar supplements are taken with meals, the bloodstream can absorb them better than if they were taken by themselves. When it comes to CBD, a customer is getting more value from their CBD product when more of the CBD can enter the bloodstream.
Bioavailability in Swallowed CBD Products
After the user swallows CBD, the cannabinoid will need to be broken down by the digestive system before the human body can use it. This means that the liver will have to break down much of the CBD before it can enter the bloodstream. Because the CBD will take some time to enter the bloodstream this way, products such as CBD gummies and capsules will take longer to enter the bloodstream. The bioavailability of swallowed CBD is about 13 percent to 19 percent of the original amount.
Bioavailability of CBD Topicals
When CBD is applied to the skin, it does not get absorbed into the bloodstream quickly. However, because most people who only apply CBD on the skin use it for pain in that specific area, it does not matter as much that the cannabidiol does not get into the bloodstream fast.
Bioavailability Under the Tongue
When users take CBD via the mouth and under the tongue, it tends to be taken in by the body quicker. This is because the CBD gets absorbed by the sublingual gland under the tongue. Holding CBD under the tongue allows the bloodstream to absorb it more quickly than if it had to go through the liver.
Placing any CBD liquids under the tongue for 20 seconds to a minute before swallowing it allows the body to absorb the CBD faster. The rest of the CBD will still be absorbed by the body later on.
What Is Water Soluble CBD?
Oil and water do not mix, and neither do CBD oil and the water in the body. Because the body is made up of about 60 percent water, the bioavailability of many CBD infused products is affected. This means the body will have difficulty absorbing these products. Water soluble CBD is absorbed into the body at a rate of 90 percent to 100 percent, providing the CBD user with much more value for their dollar.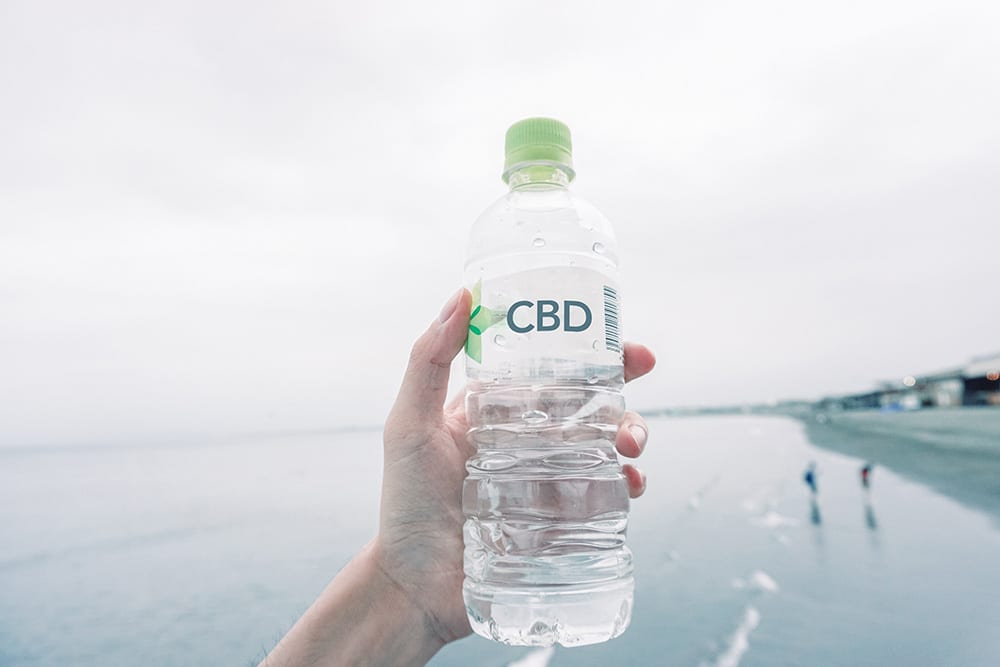 How Water Soluble CBD Is Made
CBD manufacturers rely on nanotechnology to create CBD that can be absorbed in water. This advanced technology breaks down the CBD with sound waves into tiny particles. These particles are smaller than 100 nanometers. One nanometer is one-millionth of a millimeter, which means these CBD particles are small enough to blend with the particles in water.
Research on the effectiveness of nanotechnology and CBD is limited. However, one study found that CBD nanoparticles that are lipid-based do get absorbed into the body more easily. This is because the tiny nanoparticles can pass through cell membranes into the bloodstream much more easily than larger CBD particles.
Benefits of Water Soluble CBD for Users
Compared to other methods of using CBD, CBD that is broken down in the water is the most efficient.
Affordability: A user does not have to take too much of the product at a time because a much higher percentage of this type of CBD enters the body's system than other types of CBD
Many possibilities: Once CBD has been absorbed into the water, it can be used to create many delicious beverages and food products.
Consistent dosing: When the CBD is broken down in the water, the user will be able to measure the right amount of CBD each time easily. This is because unlike with traditional CBD, the user will know exactly how much of the CBD infused water will be absorbed into his or her body.
Taste: Because the CBD molecules have been broken down and added to water, the user may not experience an after taste as with other products.
Health Benefits of CBD Infused Water
While the Food and Drug Administration or FDA has not officially approved the use of CBD water, it can help treat a variety of health conditions by working with the body's endocannabinoid system. This system helps equalize a variety of parts and functions in the body, including pain, moods, and the sleep cycle.
Epilepsy
Some studies have shown that CBD infused water can reduce seizures by up to 45 percent, without the strong side effects of many traditional seizure medications. Other studies have shown that in tuberous sclerosis, which affects the nervous system the same way as epilepsy, CBD infused water was effective in reducing seizures by up to 69 percent of the time.
Multiple Sclerosis
Another condition of the nervous system is multiple sclerosis which interrupts the information flowing between the brain and the body. Studies have shown that CBD infused water could help reduce or even eliminate the symptoms of mood swings, pain, and fatigue caused by the condition.
Fibromyalgia
This condition causes pain in the joints, as well as fatigue and mood disorders, such as anxiety and depression. Some studies have shown that when patients use water with CBD in it, they reported feeling less pain and stiffness in their joints. CBD infused water has also made them feel less drowsy during the day because it helped them sleep better at night.
Problems With CBD Water
While CBD water offers many health benefits, there are a few drawbacks that consumers should be aware of. Because this is still a relatively new product, companies are still working to figure out the best products for consumers.
Not all CBD water contains a significant amount of CBD. Many brands of CBD water only offer about 2 mg to 5 mg in each serving size. People using CBD to treat illnesses and conditions may need larger amounts of CBD to see any results.
Even CBD water that contains more CBD may not be effective. One study found that CBD is very unstable, and that light can cause this cannabinoid to degrade and become ineffective quickly. The problem is that many companies sell their CBD infused water in a clear container, where it sits for weeks at a time.
CBD infused water can be expensive. Even though CBD water may be absorbed by the body more quickly than other products, it can also be more expensive than other products. Each 16 ounce serving of CBD water can cost up to several dollars.
Users who are interested in using CBD that has been dissolved in water should look for options in darker colored containers. They should also look at the CBD content in each container and the overall price.
How to Maximize CBD Bioavailability
Because CBD infused water can have its problems, some CBD users may be looking for other ways to get the most out of their CBD products. The good news is that eating certain foods can facilitate faster absorption of CBD by the body. Many foods high in the "good fats" – triglycerides and foods with fatty acids – will help the body absorb the CBD more quickly. Some of these foods are:
Coconut oil
Soybean oil
Fatty fish
Avocados
Nuts
It is also best to choose the best-quality CBD out there because it will more likely contain the right amounts of CBD. Choosing to purchase from a company that sends its products to a third-party lab for testing will also ensure that the buyer receives products that contain the amount of CBD the seller claims to offer.
It is also a good idea to choose a CBD product that is extracted from an organic hemp plant. This will ensure the user is not getting any undesirable "extra content," such as pesticides or herbicides, in the CBD product.
Choose Full Spectrum CBD
Research has shown that a full spectrum CBD is the most effective option. This type of CBD has many cannabinoids from the cannabis plant. Unlike a CBD isolate, which is THC-free and contains only CBD, full spectrum CBD incorporated many parts of the cannabis plant. It is believed that the CBD and other cannabinoids in this oil work together to create an "entourage effect." This means that everything in this type of oil comes together to be more effective than if each one was used on its own. One study from 2005 showed that the participants who received this type of oil experienced more relief than participants who had only received CBD isolate.
One thing that CBD users should be aware of is that this type of hemp oil may contain up to 0.3 percent of tetrahydrocannabinol. For users who have to take routine drug tests, this trace amount of THC may result in a false positive for marijuana.
Terpenes
Another way that CBD users can increase the bioavailability of CBD is through the use of terpenes. By taking CBD with terpenes, the CBD will be absorbed into the bloodstream much quicker.
Alpha-pinene: This type of terpene is found in certain spices, including black pepper, rosemary, sage, and eucalyptus.
Limonene: This chemical is found in citrus fruits, such as grapefruit and lemons.
Myrcene: Mangos and lemongrass both contain these chemicals.
Menthol: This is most often found in peppermint. However, it can be found in spearmint, as well. Many CBD oils will include this chemical to increase its bioavailability.
Beta-caryophyllene: Lavender and black pepper both have this type of chemical in them. These terpenes also work well for people who are using CBD to reduce inflammation in the body.
While chamomile flowers do not contain terpenes, they can prevent cannabinoids that are naturally produced in the body from breaking down. As a result, this extends the effects of the CBD.
Final Thoughts
While the use of water infused with CBD is still a relatively new development, it could be the future of cannabis products. Because of its convenience, various health benefits, and many possibilities, CBD infused water could be the next step for the cannabis industry.
CBD Clinicals is reader-supported. When you buy through links on our site, we may earn an affiliate commission.
Learn more