CBD Clinicals is reader-supported. When you buy through links on our site, we may earn an affiliate commission.
Learn more
Just as CBD oil provides numerous benefits for humans, it can also help dogs experience relief from a range of conditions. Pet owners may consider using CBD for dogs if their furry friend is suffering or in pain. Knowing how to select the best and safest CBD treats for pets, including CBD oil for dogs is essential for acquiring the most beneficial results. This article will serve as a guide in choosing the right CBD oil and will mention the well-received ones.
The Best CBD Products for Dogs
Once pet owners have all of the above information in mind, it is time to start looking for the best CBD oil for dogs. The following are the well-received ones, in alphabetical order.
Perfectly formulated CBD for Dogs, Cats, and other four-legged animals
Nuleaf Naturals Pet CBD Oil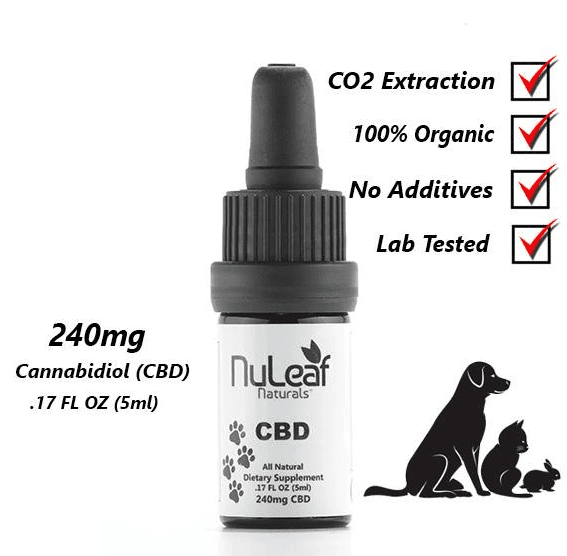 CBD for dogs, cats and other four-legged friends! Our product is concentrated to approximately 50mg cannabinoids per milliliter of oil. While this product is designed for pets, it's great for humans, too.

Check Latest Price Read our review




Fur favorite
Spruce Dog CBD Oil 750mg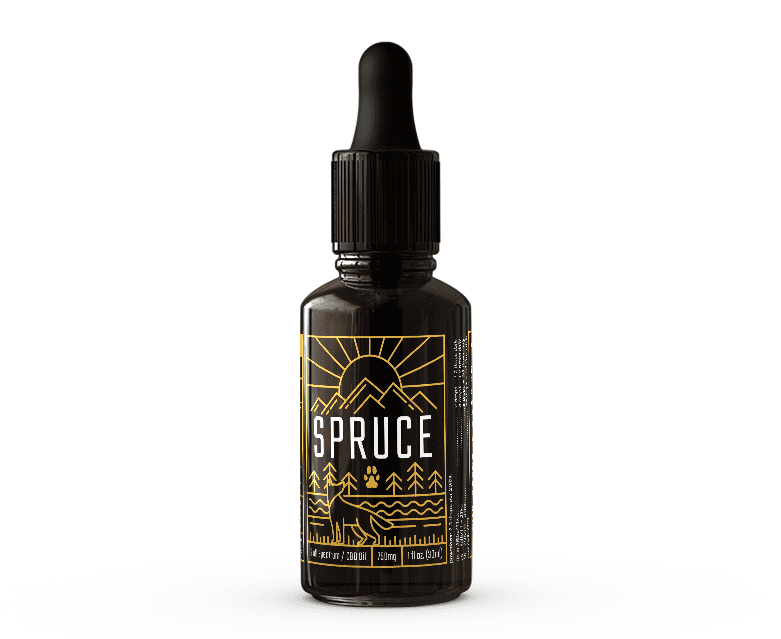 Spruce's dog-friendly CBD has been specially formulated for dogs. Instead of hemp seed oil for the carrier oil, the product contains coconut oil, which is generally easier on the digestion for dogs. The taste is also milder with no flavorings, making it more likely that dogs will eat it with their food.

Using Spruce CBD for dogs is simple. All owners have to do is sprinkle the desired dose on the dog's food at mealtime once or twice a day. Each dose should consist of about two to three drops per 20 pounds of dog weight.

Check Latest Price Read our review



cbdMD CBD Products For Pets
cbdMD also offers a product line designed specifically for our furry companions. cbdMD's pet products are offered as tinctures, topicals, and chewables. The products are crafted using the same high-quality CBD as products intended for human consumption. Each product is designed to be easily consumed by pets of different sizes and species.

Check Latest Price Read our review



Understanding CBD Oil
People must understand what CBD oil is and why it helps before giving it to their dogs. CBD stands for cannabinoid, and CBD oil comes from the cannabis plant. There are multiple extraction methods, and some CBD products indicate which extraction method they use. The trichomes in the marijuana flower are glands with essential oils. Producers of CBD oil separate the trichome glands from the rest of the plant, then formulate them to get the perfect ratio of cannabinoids.
Cannabinoids
There are more than 80 different cannabinoids in the cannabis plant. CBD or cannabidiol is the cannabinoid that is found in the best CBD oil options for dogs. This is also the cannabinoid associated with the full range of benefits for both pets and humans.
THC
THC or tetrahydrocannabinol is another cannabinoid, and it is present in some CBD oils. THC is the cannabinoid responsible for marijuana's psychoactive or mind-altering effects.
Inclusion of Cannabinoids in CBD Oil
At first glance, it would make sense to choose a CBD oil that does not include THC to avoid psychoactive effects while still taking advantage of the other benefits. However, there is a complication that pet owners should be aware of: the entourage effect. This means that it is more effective to use cannabinoids together. Therefore, the best CBD oils for dogs will have small quantities of THC.
For example, hemp products alone have THC concentrations of less than 0.3 percent, which is enough to get the benefits of the entourage effect. As long as the CBD oil is dosed accurately, the dog will not experience any psychoactive effects. For this to be the case, choose a product with very minimal or no THC.
How CBD Oil Helps Dogs
As mentioned, CBD oil has numerous benefits for dogs. It can be part of a treatment for anxiety, stress, seizures, nausea, arthritis, gastrointestinal issues, back pain, and cancer symptoms. It can also help with chronic inflammation, sleep problems, any moderate to severe pain, and more.
The cannabinoids in the CBD oil interact with the dog's endocannabinoid system, just as it would in humans. That system is a system of receptors throughout the body. By interacting with these endocannabinoid receptors, CBD oil's cannabinoids can regulate nausea, pain, and anxiety.
No Side Effects with Proper Dosing
One of the most exciting things about CBD oil for dogs is that there are no life-threatening side effects, assuming they received the proper dosage. This is in sharp contrast with the pain medications that are traditionally prescribed for dogs that could potentially damage things like the GI tract, liver, or kidneys.
Instead, dogs will not feel sedated or high when taking the best CBD oil for dogs. They will not experience any long-term damage to organs either. If proper dosing is administered, it is rare for a dog to experience any life-threatening risk.
The key here is to ensure the proper dose. Remember that dogs are smaller than humans and require less CBD oil than people. Pet owners should also ensure that they choose cannabis oil from a reputable source. Otherwise, it may contain ingredients that could be harmful to their pets.
How Pet Owners Should Choose CBD Oil for Dogs
As a pet owner, the priority is determining which CBD oils are safe to use. Always ensure to select an oil from a well-known, reputable company to avoid the ones with unnecessary or potentially harmful ingredients. Avoid CBD oils that make claims that seem too good to be true; if they lie about those claims, they may lie about the ingredients or something else.
Pet owners should also consider the same factors that they would as if they were going to consume the CBD oil themselves. This means considering the:
Flavoring or lack of flavoring
Cannabinoids present in addition to CBD
THC levels
Presence of third-party laboratory analysis
Dosage
Cost per mg of CBD
If the dog is currently on any other medication, make sure to consult with a vet before giving them CBD oil.
Choosing a Dose
Unfortunately, experts are still working to figure out the ideal dose of CBD oil for dogs. This means that most pet owners will need to do a bit of trial and error. Start with a smaller dose and increase it slowly if your dog does not experience relief. This will dramatically minimize the risk of overdosing and potential problems.
Pet owners can also consult their vet about CBD oil for dogs to see if they have experience with dosing. Some brands of CBD oil that market to pet owners may also have general guidelines to follow.
When in doubt, start with an incredibly low dose of around 0.25 mg each day, then increase it. Make sure to monitor how the dog responds and consider factors like the canine's activity level, size, and weight.
How to Administer CBD to Dogs: Dog Treats, Oil, and More
There are several methods of giving your dog CBD, from treats infused with it to CBD oil. Using one of the best CBD oil options for dogs tend to be the easiest choice as they are highly versatile. Even so, there are other options available.
Topical Treatments
There are some topical treatments infused with CBD that you can apply to dogs. Pet owners apply these to the area to be treated. These are great for pet owners who want to manage their dog's allergies, rashes, or specific muscle aches because they allow for targeting.
Dog Treats
The most straightforward method of giving a dog CBD would be to buy dog treats infused with CBD. This method does not require any effort from the pet owner, as they do not need to measure anything. The problem is that the treats rely on a one-size-fits-all dose, without any ability for dose adjustment. There is also no way to confirm that the CBD treats contain the advertised dose. This makes it hard to ensure the dog gets enough CBD to help their problems without giving them too much.
Capsules
You can also find capsules with CBD oil. These will be pre-dosed like the dog treats, so there is less flexibility in terms of dosing. However, they are easy to give to dogs when hidden in food or a treat.
CBD Oil
For the most versatility and value, pet owners should avoid CBD dog treats or topical treatments and opt for one of the best CBD oils for dogs to be in complete control of the dose and to know exactly how much to give the canine.
If the dog is cooperative, place the CBD oil right in their mouth. If they are less cooperative, it is easy to mix the oil into some wet food or another treat, so they do not even know they are consuming it.
Conclusion
Choosing one of the best CBD oils for dogs will give them a simple way to ingest cannabinoids that can help with a range of conditions, from arthritis to seizures. Any of the above products are excellent choices that should inspire confidence and make it easy in giving the canine the proper dose.