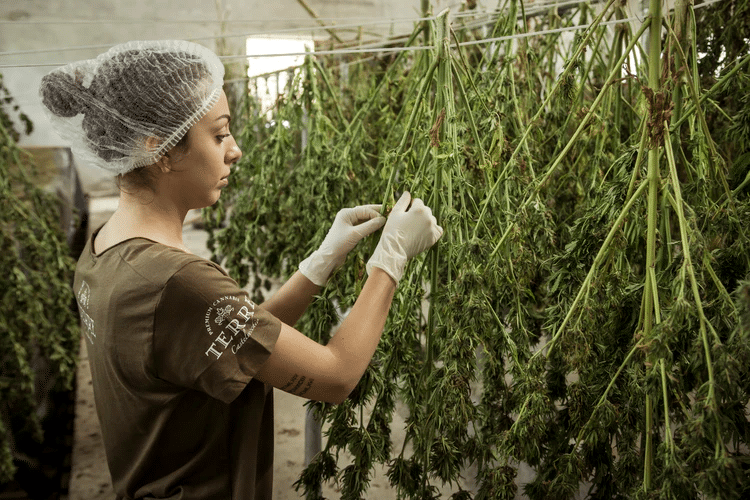 Medical researchers have conducted

animal

studies and clinical trials to understand the potential health benefits of cannabidiol (CBD). According to existing research, CBD may have analgesic, neuroprotective, anxiolytic, and anti-seizure

properties among others(1-2).

According to the World Health Organization, the

medical use of CBD

is most advanced in treating

epilepsy

. The US

Food and Drug Administration

has approved

Epidiolex, a CBD-based drug,

to treat seizures associated with

Lennox-Gastaut syndrome

and

Dravet syndrome(3)

.

Researchers have noted various side effects of using CBD, including fatigue, diarrhea, appetite changes, and weight

changes (4). The long term effects of cannabinoids, particularly for special populations, are still not yet fully known.

There are ongoing

clinical studies

about CBD's

therapeutic effects

for various

medical conditions

, including autism, prostate cancer, osteoarthritis, anxiety, and Alzheimer's disease(5)

.
What Does Research Say About
CBD
?
Over the years, medical professionals have conducted small-scale cannabidiol (CBD) animal studies and CBD clinical trials to discover the compound's potential health benefits.
For instance, CBD is gaining popularity as a potential remedy for various mood disorders. A 2018 study about CBD users noted that depression is one of the top three medical conditions that subject patients were treating with CBD(6).
However, no long-term study proves the beneficial effects or long term effects of CBD on brain structure or quality of life.
Policy Lab is an organization founded to bridge the gap between patients and drugs aimed at treating diseases. According to Policy Lab, the healthcare industry needs more time to complete a study with a large enough patient community for a multi-decade CBD clinical study(7). 
Chemical Properties and Structure of CBD
According to a report from the World Health Organization (WHO), CBD has a molecular formula of C21H30O2 and a molecular weight of 314.469 g/mol. CBD also has a melting point of 62 to 63 degrees Celsius and solubility of 23.6 mg/ml in dimethyl sulfoxide (DMSO) and ethanol(8). 
CBD Dosage
CBD may be administered orally as either a capsule or dissolved in an oil solution. Users may also take CBD sublingually (under the tongue) or through intranasal (through the nose) routes(9).
Some CBD brands also offer CBD edibles, which may be swallowed directly, and CBD topicals, which may be applied directly on the skin.
According to the WHO report, a wide range of oral doses has been reported, with most from 100mg/day to 800mg/day(10).
Most CBD brands advise first-time users to consult their physicians about dosage before taking CBD to ensure safety and effectiveness. This also helps prevent potential complications from delaying proper medical care first.
The National Organization for the Reform of Marijuana Laws (NORML) said there are only a few commercially available products with enough CBD to yield the same therapeutic effects discovered during clinical trials(11). 
NORML is an organization that seeks to legalize the responsible use of marijuana. The organization also advocates for providing access to safe, affordable, and high-quality marijuana.
A study published in the Brazillian Journal of Psychiatry showed that 300mg of CBD may help reduce anxiety, while 150mg of CBD may provide little benefit(12). 
However, the study only had a small number of test subjects, so more research is needed to determine the correct CBD dosage for people with anxiety or other conditions.
How CBD Works: The Endocannabinoid System Explained 
The endocannabinoid system (ECS) is a human biological system made up of endocannabinoids. Endocannabinoids are lipid-based retrograde neurotransmitters that attach to cannabinoid receptors and cannabinoid receptor proteins. 
The ECS has two primary endocannabinoid receptors: CB1 receptors and CB2 receptors. The former is mostly found in the central nervous system, while the latter is located in the peripheral nervous system, especially in the immune system.
According to a 2010 study published in the British Journal of Pharmacology, the introduction of external cannabinoids, such as CBD and other synthetic cannabinoids, to the ECS may affect the health of patients suffering from the following conditions(13):

Pain

Epilepsy

Multiple sclerosis

(MS)

Amyotrophic lateral sclerosis (ALS)

Parkinson's

Inflammation

Dyskinesia

Psoriasis

Broken bones

Mad cow disease

Depression

Bacterial infections

Diabetes

Rheumatoid arthritis

Nausea

Anxiety

Attention deficit hyperactivity disorder (ADHD)

Schizophrenia

Substance abuse/Withdrawal

Heart disease

Irritable bowel syndrome
Uses and Applications of CBD on Epilepsy
The medical use of CBD is most advanced in treating epilepsy and some of its rare forms. The data from the studies cited below are from the WHO Cannabidiol Critical Review Report published in 2018(14).
The use of CBD to treat epilepsy began in the 1970s when CBD was tested in animals. The studies first demonstrated the anti-seizure properties of CBD in animal models(15).
After discovering the anti-seizure properties of CBD, researchers tested CBD in human patients with epilepsy. 
In a small-scale placebo-controlled trial, patients received a daily dose of 200mg CBD or placebo over three months, in addition to their usual anti-seizure medication(16). 
Out of the four patients who received CBD, two had no seizures for three months, one patient partially improved, and the fourth experienced no improvement. The patients who received a placebo experienced no improvements.
However, the study had some limitations, including the small sample size and unclear definition of partial improvement.
In another double-blind study, a pool of subjects made up of 15 patients with "secondarily generalized epilepsy with temporal focus" was randomly divided into two: a CBD group of eight people and a placebo group of seven participants(17).
Patients with the CBD group received 200mg to 300mg daily of CBD for up to four and a half months. CBD was combined with the patients' existing prescribed antiepileptic medications, which were no longer effective in managing their symptoms.
Out of the eight patients with seizure disorders in the CBD treatment group, four had no seizure episodes throughout the trial, three showed partial improvement, and one patient experienced no improvement. All patients showed no signs of toxicity or serious adverse side effects from CBD.
Meanwhile, seven placebo patients experienced no changes in their symptoms, while one patient showed improvement.
Researchers also recorded adverse reports regarding the effectiveness of CBD. In a trial held in 1986, results showed that a daily dose of 200mg to 300mg of CBD for a month may not cause significant improvements between the treatment and placebo groups(18). 
Another study that administered 100mg of CBD daily to patients for six months did not show reduced seizure frequency or improvement in cognition or behavior(19). 
Researchers also conducted clinical trials about the effects of CBD in patients with severe, intractable, childhood-onset, treatment-resistant epilepsy.
One study involved a group of 214 patients with an age range of 1 to 30 years old. All patients involved in the 12-week treatment period received stable doses of antiepileptic drugs before the clinical trial(20).
Under the study, patients received oral CBD, initially at 2mg to 5mg of CBD per day. The dosage was later increased to a maximum dose of 25mg or 50mg of CBD per day, depending on the study site. 
The study's measure of improvement was the percentage change in the frequency of seizures. In the CBD group, the median monthly frequency of motor seizures dropped from 30.0 at baseline to 15.8 over 12 weeks(21).
The study reported adverse side effects in over 10% of patients. The side effects recorded were diarrhea, somnolence (drowsiness), decreased appetite, fatigue, and convulsion.
Meanwhile, five patients, or 3% of the participants, discontinued treatment because of adverse side effects. Serious adverse events were reported in 30% of the patients, 12% of which experienced severe adverse events possibly caused by CBD use.
The most common side effect recorded was status epilepticus, which indicates a single seizure that may last for more than five minutes(22). 
Status epilepticus may also be characterized by two or more seizures within five minutes, without the person returning to normal between the seizures.
The same research group also studied the use of CBD to treat Dravet syndrome, a rare form of epilepsy associated with drug-resistant seizures and a high mortality rate. 
For the study, the researchers observed a group of 120 children and young adults with the condition(23). The group was randomly divided into two: one group received a CBD solution of 20mg of CBD per day, while the other received a placebo in addition to the antiepileptic medications they were taking.
The study noted that CBD may reduce the median frequency of convulsive seizures per month from 12.4 to 5.9. Meanwhile, patients from the placebo group experienced a decreased median frequency of convulsive seizures per month from 14.9 to 14.1.
Five percent of patients in the CBD group became seizure-free, while no patient from the placebo group stopped having seizures. 
The CBD group also experienced more side effects compared to the placebo group. Side effects included diarrhea, loss of appetite, and drowsiness.
However, side effects resulted in the withdrawal of eight patients from the CBD group. Adverse side effects recorded were vomiting, fatigue, increased body temperature, and abnormal liver function test results.
Aside from testing CBD's effect on patients with Dravet Syndrome, researchers also studied CBD's effects on Lennox-Gastaut syndrome patients(24).
Lennox-Gastaut syndrome is a severe form of epileptic encephalopathy that may cause treatment-resistant seizures.
The study had 24 clinical sites in the US, the Netherlands, and Poland. It involved a group of 171 test subjects aged 2 to 55 years old(25).
The patients were randomly divided into two groups: one who received a dose of CBD daily and another group who received a placebo in addition to the antiepileptic meds they were taking.
The CBD group initially took 2.5mg of CBD, which increased to 200mg of CBD. However, the researchers implemented a 10-day dose tapering (gradual discontinuation or reduction) at the end of the 12-week treatment period.
The researchers noted that CBD treatment may reduce the frequency of drop seizures by a median of 43.9%. Meanwhile, the patients in the placebo group experienced a reduced drop in seizure frequency by 21.8%.
A small number of patients in the CBD group also stopped having seizures during the 12 weeks of treatment, while the placebo group had no seizure-free patients.
Patients in the CBD group experienced more treatment-related adverse effects compared to the placebo group. Side effects included diarrhea, drowsiness, decreased appetite, vomiting, and increased body temperature.
Twenty patients from the CBD group had increased liver function tests, compared to one patient in the placebo group.
Medical researchers suggested that some of CBD's adverse effects during the clinical studies may relate to interactions with other antiepileptic medications(26).
In a study involving 13 patients with refractory epilepsy taking clobazam and CBD, nine had a less than 50% decrease in seizures. Ten patients experienced side effects which were alleviated after taking a decreased dose of clobazam(27).
In 2017, the British pharmaceutical company GW Pharmaceuticals submitted Epidiolex to the US Food and Drug Administration (FDA) for regulatory approval. Epidiolex is a new CBD medication for epilepsy(28). 
In June 2018, the FDA approved the drug's use to treat seizures associated with Lennox-Gastaut syndrome and Dravet syndrome. With the FDA approval, doctors may now prescribe Epidiolex to Lennox-Gastaut syndrome and Dravet syndrome patients two years old and above(29).
List of
CBD
-Related Research and
Clinical Trials
Below is a list of current clinical trials and research about the medicinal benefits of CBD. The data below is from the Policy Lab(30). 
Title
Drug
Status (as of October 2020)
Condition/s
Sponsors

A Study Investigating the Bioavailability of

CBD

and

THC

in an Emulsion Product in a Healthy Population

Cannabis

Recruiting

Healthy

New Age Ventures

Trial of

Cannabidiol

to Treat Severe Behavior Problems in Children With Autism

Epidiolex

Recruiting

Autism

University of California, San Diego; Wholistic Research and Education

Novel Cognitive Treatment Targets for

Epidiolex

in Sturge- Weber Syndrome

CBD

Recruiting

Sturge-Weber Syndrome

Anne Comi, MD;

GW Pharmaceuticals

Ltd.; Faneca 66 Foundation

Study to Evaluate the Safety, Tolerability, and Efficacy of

Cannabidiol

(

CBD

) as a Steroid-sparing Therapy in Chronic Spontaneous Urticaria (CSU) Patients

CBD

Recruiting

Chronic Spontaneous Urticaria

Stero Biotechs Ltd.

Epidiolex

(

CBD

) in Patients With Biochemically Recurrent Prostate Cancer

Epidiolex

Oral Product

Recruiting

Prostate Cancer

Zin W Myint, MD

Effects of Cannabidiol

in Patients: Evaluation

CBD

Recruiting

Substance-Related Disorders

Nantes University Hospital

Cannabidiol

and Oral Contraceptive Pills: Exploring a Drug-

Drug Interaction

CBD

,

Placebo

, Combined oral contraceptive pill

Recruiting

Contraception

Oregon Health and Science University, Society of Family PlanningRecruiting

Effects of Cannabis

on Cognition and Endocannabinoid Levels in Bipolar Disorder Patients and Healthy Volunteers

Test article

Recruiting

  Osteoarthritis

Pure Green

Cannabidiol

Use to Reduce Cravings in Individuals With

Opioid

Use Disorder on Buprenorphine

CBD

Recruiting

Opioid

-use

Brigham and Women's Hospital

Cannabidiol

Solution for the Treatment of Behavioral Symptoms in Older Adults With Alzheimer's Dementia

High

CBD

/low

THC

sublingual solutions

Recruiting

Anxiety, Alzheimer's Disease, Psychomotor agitation

Mclean Hospital;   Spier Family Foundation
Why Are Further
CBD
Clinical Trials
Important?
Although CBD is a substance humans have been using for centuries, medical researchers still lack information about its potential applications in medicine. Further clinical research about CBD remains crucial.
Another reason to continue more clinical trials about CBD is that existing information about it is for older patients, who have suffered chronic conditions for many years.
The medical industry requires new and updated information about CBD and how it may help modern medicine.
Recent medical discoveries about CBD also suggest the possibility that it may be useful for a wide range of medical conditions. With more research, medical professionals may come to understand how CBD affects the body's perception of pain.
Additional research may also help doctors in the effective and safe dosing of CBD medications, as well as long-term effects particularly for special populations.
Research-Based Benefits of CBD 
Several studies noted that CBD may possess neuroprotective (protects nerve cell functions), hypoxia-ischemia (proper blood flow to organs), anxiolytic (anti-anxiety), antipsychotic, analgesic (pain-relieving), anti-inflammatory, anti-asthmatic, and antitumor properties(31).
However, there are cases where CBD failed to reduce symptoms of ulcerative colitis, chronic pain in kidney transplant patients, and experimentally-induced anxiety(32).
Some medical researchers investigated the use of CBD to cure drug addiction. According to a recent systematic review, a limited number of preclinical studies suggest that CBD may help individuals suffering from opioid, cocaine, and psychostimulant addiction(33).
Preliminary data show that CBD may be beneficial in cannabis and tobacco addiction in humans(34). However, more research is needed to evaluate CBD as a potential treatment for drug or tobacco addiction.
CBD as an Analgesic 
In a 2019 study, researchers noted that 88.3% of the subjects with chronic migraines reported fewer headaches and improved sleep, anxiety, and mood, after taking medicinal cannabis(35).
Researchers also observed that patients taking the 20:1 tetrahydrocannabinol (THC) to CBD ratio reported less headaches than those taking the 1:1 THC to CBD ratio(36).
The results were backed by a comprehensive literature review conducted in 2018. The review suggested cannabis' therapeutic benefits, especially in alleviating migraines(37).
Meanwhile, a 2018 survey showed that 67% of oncology doctors who answered the survey found medical marijuana helpful in providing pain relief(38). 
According to the survey, 8 in 10 oncologists doctors reported having discussed marijuana with patients. In those cases, patients brought up the subject. 
Forty-six percent of the cancer doctors also recommended marijuana for pain management and other cancer-related symptoms.
WHO's report published in November 2017 discussed CBD's analgesic effect in patients with treatment-resistant neuropathic pain(39).
Another study published in 2014 discovered that cannabinoids may help block peripheral, spinal, and gastrointestinal mechanisms that may cause headache, muscle spasm, fibromyalgia, and irritable bowel syndrome(40).
The study involved the evaluation of a decade of subsequent research. The review suggested that endocannabinoid deficiencies played a role in migraine, fibromyalgia, and irritable bowel syndrome.
CBD as a Neuroprotectant
In a 2017 animal study, researchers noted that CBD may effectively treat traumatic brain injury (TBI) in rats(41).
The study was backed by earlier research published in 2012, which noted that administering CBD may cause long-lasting neuroprotection in newborn rats with hypoxia-ischemia (HI) brain injury(42).
The 2012 study found that CBD may reduce the volume of brain damage, the extent of brain damage, and inflammation in the brain. The authors also observed that CBD may help alleviate neurological behavior impairment. 
According to WHO's November 2017 pre-review, human studies show that CBD may have neuroprotective properties useful in patients with Alzheimer's and inflammatory diseases(43).
CBD as an Anxiolytic 
According to WHO's report, CBD may help reduce muscular tension, restlessness, fatigue, concentration issues, and social anxiety in rodents. CBD may also reduce social anxiety in patients(44).
Meanwhile, a 2017 study showed that medical cannabis may have therapeutic potential for treating insomnia(45). 
Another 2017 research noted that CBD may also help patients with rapid eye movement (REM) sleep behavior disorders(46). 
Colorado-based research found that CBD oil may reduce anxiety and insomnia secondary to post-traumatic stress disorder (PTSD). The five-month study showed that CBD administration may steadily decrease scores on the sleep scale and the anxiety scale(47).
A study about Sativex, a pharmacological medicine with 15mg of CBD and THC, showed that the medicine may improve sleep in patients with various pain conditions, including rheumatoid arthritis, multiple sclerosis, peripheral neuropathic pain, and intractable cancer pain(48).
Other CBD Benefits
A recent study suggested that CBD may help prevent various movement disorders, including Parkinson's disease. According to the study, CBD has the potential to alleviate primary and secondary dystonic movements effectively(49).
Researchers also noted that CBD possessed antidepressant properties. According to a 2019 study, CBD may play a role in developing new therapeutic strategies in mental illnesses, including schizophrenia and anxiety(50).
Potential Side Effects of CBD
While deemed generally safe by many, CBD, like other medications, also has side effects. According to a 2017 study, CBD's side effects include tiredness, diarrhea, changes in appetite, and weight changes(51). 
According to Mayo Clinic, CBD may cause dry mouth, reduced appetite, drowsiness, and fatigue. CBD may also interact with other medications inside the human body, such as blood thinners(52).
Understanding CBD 
Cannabidiol (CBD) is typically found in cannabis trichomes of cannabis plants. It is non-psychoactive and is usually sourced from the hemp variety of cannabis. 
While CBD is usually derived from the cannabis plant's indica strain, small traces of the active ingredient may also be found in the Cannabis sativa strain.
CBD oil is made with tincture carrier oils infused with CBD. Some brands use hempseed oil, while others use medium-chain triglyceride (MCT) oil.
Aside from CBD oils, CBD may also be taken in the forms of gummies, topicals, teas, vape juice, or capsules. 
The following are three variants of CBD for sale on the market:
Full-Spectrum CBD
Full-spectrum CBD contains the full chemical profile of the raw plant material. Cannabis products with full-spectrum CBD contain various cannabinoids, including CBD and THC, the main psychoactive component of cannabis.
However, there are only small amounts of THC in full-spectrum CBD products. Other compounds retained in full-spectrum CBD products are terpenes, flavonoids, fatty acids, and other plant material.
Most CBD users buy whole-plant or full-spectrum CBD products for the "entourage effect," a mechanism by which cannabis compounds work synergistically with each other for better results.
Broad-Spectrum CBD
Broad-spectrum CBD consists of a wide array of compounds from hemp plants. It is different from full-spectrum CBD because THC is removed from a broad-spectrum CBD oil entirely.
CBD Isolate
CBD isolate or pure CBD contains only CBD and contains no other phytocannabinoids. All other compounds from the plant are not included in the final product.
CBD products are recommended for health-conscious buyers because of its low THC levels. According to a 2009 study, THC may increase the risk of psychosis in humans(53).
Hemp or Marijuana?
Hemp is a type of cannabis plant that grows up to 13 feet. A hemp plant is usually grown and harvested for its seeds, stalks, and flowers.
Food and cosmetics industries use hemp seeds, while hemp stalks may be used for building materials and clothing. Meanwhile, farmers harvest hemp flowers because they possess high concentrations of CBD.
Marijuana is a cannabis plant typically harvested for its relaxing and psychoactive properties. Marijuana may contain up to 30% of delta-9-tetrahydrocannabinol (THC) per dry weight.
Although THC is present throughout all of the aerial parts of a marijuana plant, THC is most abundant in the flowers of female marijuana plants. 
Marijuana is the term for the resinous flower clusters of strains of cannabis that are specially harvested because of its intoxicating and psychoactive effects.
Unlike hemp, marijuana seeds and stalks are not usually harvested. The plant is harvested only for its highly resinous flowers, which possess various cannabinoids.
The use of marijuana remains illegal at the federal level under the 1970 Controlled Substances Act(54). However, some states have passed legislation that legalized the medical and recreational use of marijuana.
Most people are still confused when it comes to hemp and marijuana mainly because there is not much hereditary difference between the two. Both are cannabis species and most cannabinoids from marijuana and hemp plants come from cannabis flowers. 
However, the two plants are genetically different. Hemp and marijuana flowers and leaves contain different amounts of CBD and THC, the main psychoactive component of cannabis.
Hemp flowers, leaves, and stems contain high levels of CBD, while marijuana flowers are rich in THC.
While CBD is also a component of marijuana, the cannabinoid does not cause users to get high. According to a WHO report, in humans, CBD has no properties indicative of any abuse or dependence potential(55).
To avoid confusion between CBD and marijuana, remember that CBD is a non-psychoactive compound of cannabis, typically derived from hemp plants. Marijuana is a cannabis plant grown and harvested for its psychoactive effects.
FAQs
Is CBD Legal? 
Under the 2018 Farm Bill, all hemp-derived products are legal in the US at the federal level. CBD products must have less than 0.3% of THC to be considered legal.
Under the legislation, even the transportation of CBD products across state borders is also legal.
Although CBD is readily available in most parts of the United States, CBD's exact legal status varies in every state. In the US, all 50 states have laws legalizing the cannabinoid with varying degrees of restriction. 
As of January 2020, CBD products are still illegal in South Dakota and Hawaii regardless of the levels of THC they contain(56). The use of CBD is also still unregulated by the FDA.
Although marijuana products are not protected under the 2018 Farm Bill, state lawmakers are allowed to pass their own laws about the legalization of marijuana and marijuana-derived products.
Below are the states where the medical and recreational use of marijuana is legal. The list is from the CBD Awareness Project, a research organization that shares educational information about CBD(57).
Alaska

California

Colorado

Illinois

Maine

Massachusetts

Michigan

Nevada

Oregon

Washington

Washington, D.C.
Does CBD Affect Libido?
Research suggests that CBD may play a role in boosting libido. A 2009 study published in the journal Annals of the New York Academy of Sciences discovered cannabinoid receptors in the sexual reproductive organs, including the testicles(58).
However, a National Institutes of Health (NIH) study discovered that acute cannabis use resulted in an increased sexual drive, while the chronic use of cannabis decreased libido in males. The study was backed by another research that discovered that low intake of cannabis may improve sexual functions, while higher doses of cannabis may decrease sex drive(59).
Conclusion
According to research conducted about CBD over the years, CBD showed analgesic, neuroprotective, and anxiolytic properties(60).
With further research and clinical studies, medical researchers hope to understand more how to reduce the side effects of CBD so it may be safely used in alleviating a wide range of medical conditions, including childhood epilepsy, chronic pain, and other treatment-resistant mood disorders(61). 
---
Concussion Alliance. CBD and Cannabis Research. Retrieved from

https://www.concussionalliance.org/cbd-research

World Health Organization. Cannabidiol (CBD) Critical Review Report, (2018). Retrieved from

https://www.who.int/medicines/access/controlled-substances/CannabidiolCriticalReview.pdf

US Food and Drug Administration. FDA Approves First Drug Comprised of an Active Ingredient Derived from Marijuana to Treat Rare, Severe Forms of Epilepsy. (2018). Retrieved from

https://www.fda.gov/news-events/press-announcements/fda-approves-first-drug-comprised-active-ingredient-derived-marijuana-treat-rare-severe-forms

Iffland, K. & Grotenhermen, F. (2017). An Update on Safety and Side Effects of Cannabidiol: A Review of Clinical Data and Relevant Animal Studies. Cannabis and Cannabinoid Research, 139-154.

https://www.ncbi.nlm.nih.gov/pmc/articles/PMC5569602/

Policy Lab. CBD. Retrieved from

https://policylab.us/clinical-trials/cbd/

Corroon, J. & Phillips, J. (2018). A Cross-Sectional Study of Cannabidiol Users. Cannabis and Cannabinoid Research.

https://www.ncbi.nlm.nih.gov/pmc/articles/PMC6043845/

Policy Lab. Op cit.

WHO. Critical Review Report. Op cit.

Millar, Sophie A., Ryan F. Maguire, Andrew S. Yates, and Saoirse E. O'Sullivan 2020. Towards Better Delivery of Cannabidiol (CBD). Pharmaceuticals 13, no. 9: 219.

https://doi.org/10.3390/ph13090219

WHO. Critical Review Report. Op cit.

National Organization for the Reform of Marijuana Laws. FAQs About Cannabidiol (CBD). Retrieved from

https://norml.org/marijuana/fact-sheets/faqs-about-cannabidiol-cbd

Linares, I., Zuardi, A., Pereira, L., Queiroz, R., Mechoulam, R., Guimarães, F., & Crippa, J. (2018). Cannabidiol presents an inverted U-shaped dose-response curve in a simulated public speaking test. Brazillian Journal of Psychiatry.

https://www.scielo.br/scielo.php?script=sci_arttext&pid=S1516-44462019000100009&tlng=en

Scotter, E., Abood, M., & Glass, M. (2010). The endocannabinoid system as a target for the treatment of neurodegenerative disease. British Journal of Pharmacology, 480-498.

https://www.ncbi.nlm.nih.gov/pmc/articles/PMC2931550/

WHO. Critical Review Report. Op cit.

Ibid

Ibid

Ibid

Ibid

Ibid

Ibid

Ibid

Ibid

Ibid

Ibid

Ibid

Ibid

Ibid

Ibid

FDA. Op cit.

Policy Lab. Op cit.

WHO. Critical Review Report. Op cit.

Ibid

Ibid

Ibid

Concussion Alliance. Op cit.

Ibid

Ibid

Ibid

WHO. Cannabidiol (CBD) Pre-Review Report, (2017). Retrieved from https://www.who.int/medicines/access/controlled-substances/5.2_CBD.pdf

Concussion Alliance. Op cit.

Ibid

Ibid

WHO. Cannabidiol Pre-Review Report. Op cit.

Ibid

Concussion Alliance. Op cit.

Ibid

Ibid

Ibid

Peres, F., Lima, A., Hallak, J., Crippa, J., Silva, R., & Abilio, V. (2018)  Cannabidiol as a Promising Strategy to Treat and Prevent Movement Disorders? Frontiers in Pharmacology, 9:482.

https://www.ncbi.nlm.nih.gov/pmc/articles/PMC5958190/

Calapai, G., Mannucci, C., Chinou, I., Cardia, L., Calapai, F., Sorbara, E., Firenzuoli, B., Ricca, V., Gensini, G., & Firenzuoli, F. (2019). Preclinical and Clinical Evidence Supporting Use of Cannabidiol in Psychiatry. Evidence-Based Complementary and Alternative Medicine, 2509129.

https://www.ncbi.nlm.nih.gov/pmc/articles/PMC6735178/

Iffland, K. et al. Op cit. 

Mayo Clinic. What are the benefits of CBD — and is it safe to use? Retrieved from

https://www.mayoclinic.org/healthy-lifestyle/consumer-health/expert-answers/is-cbd-safe-and-effective/faq-20446700#

Forti, M., Morgan, C., Dazzan, P., Pariante, C., Mondelli, V., Marques, T., Handley, R., Luzi, S., Russo, M., & Paparelli, A. (2009). High-potency cannabis and the risk of psychosis. The British Journal of Psychiatry, 488-491.

https://www.ncbi.nlm.nih.gov/pmc/articles/PMC2801827/

US Drug Enforcement Administration. The Controlled Substances Act. Retrieved from

https://www.dea.gov/controlled-substances-act

Grinspoon, P. (2018) Cannabidiol (CBD) — what we know and what we don't. Harvard Health Publishing. Retrieved from https://www.health.harvard.edu/blog/cannabidiol-cbd-what-we-know-and-what-we-dont-2018082414476

Hemppedia. Is CBD legal in all 50 states? – The complete 2020 Guide. Retrieved from https://hemppedia.org/cbd-oil-legal-us/

Ibid

Fasano, S., Meccariello, R., Cobellis, G., Chianese, R., Cacciola, G., Chioccarelli, T., & Pierantoni, R. (2009). The Endocannabinoid System: An Ancient Signaling Involved in the Control of Male Fertility

Plessis, S., Agarwal, A., & Syriac, A. (2015). Marijuana, phytocannabinoids, the endocannabinoid system, and male fertility. Journal of Assisted Reproduction and Genetics, 1575-1588.

https://www.ncbi.nlm.nih.gov/pmc/articles/PMC4651943/

Concussion Alliance. Op cit.

Policy Lab. Op cit.
CBD Clinicals is reader-supported. When you buy through links on our site, we may earn an affiliate commission.
Learn more