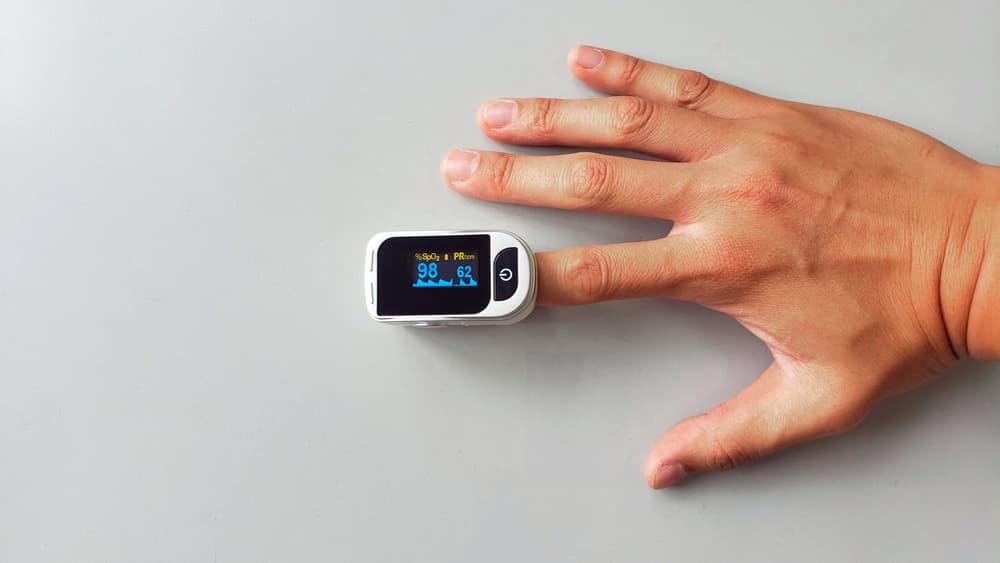 Studies showed that cannabidiol (CBD)'s purported

antioxidant, anti-inflammatory, and

pain-relieving

effects

(1)

may help

alleviate

symptoms of conditions linked to the cardiovascular system

(2)

.

Research suggests

CBD may help protect the body from the

negative

effects of free radical-induced oxidative stress

(3)

. 

Taking CBD  with prescription heart medications may cause unwanted drug interactions and increase the risk of unfavorable symptoms or toxicity. 

While CBD is generally well tolerated, it can cause side effects

(4)

. Consumers considering CBD for heart rate should deliberate with a doctor before using CBD products.

Before starting any CBD product, it is highly recommended that one

consult

 a doctor, particularly if one is taking heart medications.
Is CBD Good for Heart Rate? 
Studies show that CBD may help improve heart health by regulating heart rate. Heart rate is managed by suppressing heart arrhythmia caused by insufficient blood supply to the heart(5). 
Heart arrhythmia (heart rhythm problems) involves irregular heartbeats resulting from malfunctioning electrical signals(6). In this case, the heart may be beating irregularly, too fast, or too slow.  
Studies demonstrated how CBD may help improve heart health through its antioxidative and anti-inflammatory properties(7).
However, it is unclear whether CBD consistently increases or decreases heart rates in particular situations. Further research is needed for the results to be conclusive.
Cardiovascular disease (CVD) is a term generally used for conditions affecting the heart or the blood vessels. Heart diseases include heart infection, coronary artery disease (CAD), irregular function, congenital heart defects, and arrhythmias(8).
Arrhythmias can cause tachycardia, in which the heart rate goes over 100 beats per minute(9).  The standard range for an adult's resting heart rate is 60 to 100 beats per minute(10).
The following can lead to a fast heart rate:
High or low blood pressure

Excessive amounts of alcohol or caffeinated beverages

High cholesterol levels

Stimulant drugs (cocaine or methamphetamine)

Smoking

Imbalance of electrolytes

Medication side effects
Preclinical studies show that CBD may help suppress ischemia-induced cardiac arrhythmias(11). 
Ischemia occurs when the blood flow is restricted in the body(12). Cardiac ischemia is the decreased blood flow and oxygen to the heart muscle.
CBD's anti-apoptotic (preventing cell death), anti-inflammatory, and antioxidant properties may help with myocardial ischemia and reperfusion(13).
Myocardial ischemia-reperfusion injury caused by tissue damage is the leading cause of death in patients with cardiovascular disease(14).
The British Journal of Pharmacology published a study suggesting CBD may help suppress irregular heartbeat caused by ischemia-induced heart arrhythmias(15). 
Another study on rats found that CBD may help stabilize irregular heartbeats(16). This result among animal studies was due to the effects of CBD in the bloodstream.
Results of studies conducted on animals may be useful in further human studies on CBD use for heart rate.
How CBD Works to Help With Heart Disease Symptoms 
After entering the body, CBD interacts with its endocannabinoid system (ECS). The ECS helps maintain balance in the body's functions, including ones in the immune, cardiovascular, and central nervous systems(17). 
Endocannabinoids bind with cannabinoid receptors throughout the human body and send signals for particular actions to occur.  
CBD is a phytocannabinoid (plant-based cannabinoid) that binds with receptors after the body receives the chemical compound. 
Studies suggest CBD has antioxidant, inflammatory, and analgesic properties(18) that may help reduce the symptoms of heart conditions(19). 
The Effects of CBD on Heart Rate
A 2017 study led by Hermant Goval noted the presence of endocannabinoids in heart tissues(20). The ECS may also be connected to heart rate regulation(21).  
CBD may thus help normalize the heart rate through its interaction with the ECS.  
CBD vs. Stressful and Non-Stressful Conditions
A 2009 study showed that CBD may help lower the blood pressure of rats under stress(21). 
The study's animal subjects underwent stressful conditions, including increases in heart rate and blood pressure. Both factors decreased after the animals received a single dose of CBD(22). 
Another study included a clinical trial published in the Journal of Clinical Investigation that showed CBD may help reduce blood pressure in healthy men(23). However, the subjects' heart rates increased compared to the placebo group.  
A 2011 study provided participants a large dose of CBD or a placebo before a public-speaking event(24). The researchers reported that the CBD group experienced lower heart rate, blood pressure, and anxiety levels.
The mixed results from CBD used in stressful and non-stressful situations may be related to the autonomic arousal or "fight or flight" response. Research shows that CBD may function as an anxiety reliever(25). 
However, researchers disagree on whether the beneficial effects of cannabidiol include lower heart rates during non-stressful conditions. More research is necessitated to determine whether CBD use in humans can lead to similar results.  
CBD and THC: Different Cannabinoids with Different Effects
CBD and THC are both derivatives of cannabis plants. However, the two cannabinoids may produce opposite effects in terms of acute cardiovascular function. 
CBD is a non-psychoactive component abundant in hemp and thus does not produce mind-altering effects like tetrahydrocannabinol (THC)(26).
Studies indicate CBD can lower heart rate(27). Meanwhile, studies like a randomized crossover study show that THC may increase heart rate and blood pressure(28).   
The differing effects of THC and CBD on the central nervous system (CNS) are connected to their differing properties.
High-THC cannabis use may be connected to psychosis, according to a 2014 study on the effects of cannabis published in the Indian Journal of Psychiatry(29).  
While the psychosis symptoms of marijuana use include anxiety, researchers have examined CBD's possible method of reducing the symptoms of anxiety disorders(30).
CBD may also provide therapeutic benefits when combined with THC. A 2019 study in the Journal of Neuroscience noted that CBD seemed to block THC's psychiatric side effects(31).
The CBD Heart Rate Experiment
When experimenting on CBD's effects on subjects' heart rates, various types of heart rates are measured. The following informal experiments examine the effects of CBD products in different conditions.    
Heart rates increase or decrease in particular situations, such as after exercise, and decrease in other situations, such as resting(32). 
Due to heart rate fluctuations, it is advisable to conduct the tests over multiple days and calculate the average. 
Test 1: Resting Heart Rate
This test is the simplest one conducted. It involves measuring a subject's resting heart rate. After the subject takes a dose of CBD oil, their heart rate is compared with the original measurements.
Test 2: Heart Rate While Exercising
This type of heart rate measurement requires a subject to measure heart rates after physical exercises, such as walking on a treadmill. 
The heart rate is measured after a workout session. It is measured again after taking CBD and repeating the exercise session.
Test 3: Heart Rate After Sauna
Sauna baths may cause high blood pressure and increase heart rate(33). This test examines whether CBD causes the heart rate to return to normal more expediently following a sauna session.   
Does CBD Interact with Heart Medications? 
CBD is generally safe. However, the compound may cause side effects, such as nausea, drowsiness, diarrhea, and dry mouth(34). 
Combining CBD with medications having similar side effects may increase the risk of unwanted symptoms or toxicity. 
Potential drug interactions with CBD include warfarin, a blood thinner, and amiodarone, a heart rhythm medication(35).
Meanwhile, taking CBD with certain heartburn drugs (such as Prilosec) may increase the risk of diarrhea. 
Individuals taking prescription medication for a heart condition should consult their doctor before taking CBD.
Heart disease risks include heart attacks, heart failure, stroke, cardiac arrest, and aneurysm(36).  Treatments include prescription medicines and surgery.
Pharmaceuticals available for treating heart disease include angiotensin-converting enzyme (ACE) inhibitors, beta-blockers, diuretics (water pills), and channel blockers(37).  
A 2013 study examined the use of prescription medicines for the long-term treatment of CAD(38). 
The pharmaceuticals demonstrated positive effects, lowering the risk of complications and relieving cardiomyopathy symptoms(39). Cardiomyopathy results when the heart cannot efficiently pump blood to the body.
The same study also showed that various CAD medications may have risk factors and produce side effects, including easy bruising, dizziness, and exhaustion(40).   
Individuals should consult with their physicians before using CBD products for heart conditions.
How to Use CBD Oil for Heart Rate 
CBD forms include oils, tinctures, capsules, creams, and gummies. Taking CBD under the tongue sublingually makes it easy to ingest it(41). 
Vaping offers faster bioavailability than other CBD forms such as topicals and edibles(42). Bioavailability involves the rate and extent to which an active drug ingredient is absorbed and becomes available(43). 
A single dose of cannabidiol through vaping may pose risks comparable to smoking(44). 
Categories of the best CBD products include:
CBD Isolates: A form of pure CBD
Full-Spectrum CBD: Multiple cannabis plant extracts and up to 0.3% of THC. 
Broad-Spectrum CBD: A wide range of natural chemical compounds from the cannabis plant but no THC.
Features to consider when selecting CBD products consider locally-grown hemp, non-genetically modified organisms (GMO), and third-party lab testing. 
The USA's Food and Drug Administration (FDA) does not regulate over-the-counter (OTC) CBD.
Generally, for heart rate issues, oral CBD products are generally practical to use. Topical products including creams, and balms, and salves focus more on skin conditions. 
Meanwhile, CBD consumers are advised to use CBD vapes with caution. Vaping may pose risks to cardiovascular health(45).
FAQs
1. Does CBD increase heart rate?
A 2013 study review showed mixed results regarding CBD's impact on humans' and animals' heart rates(46).  
2. Which CBD products has the FDA approved?
The FDA has officially approved the drug Epidiolex, which contains a purified form of CBD for treating seizures among people with tuberous sclerosis complex(47). Seizures can result from health conditions such as epilepsy. 
Conclusion 
The heart is among the vital organs of the cardiovascular system. Impaired cardiovascular health may affect the entire body.
Other medical conditions associated with heart diseases include:
Hypertension

(48)

 

Isolated systolic blood pressure

(49)

Drastically lower blood pressure

(50)

 

Heart palpitations

(51)

Blocked blood vessels

(52)
Heart disease is the United State's leading cause of death(53) and may lead to heart attacks or strokes. 
The health benefits of CBD are noted in several studies. Links to the studies are identified using a digital object identifier (DOI), making them accessible to readers on the internet.
Still, it is ideal to consult with a cardiologist before using any CBD product.
---
CBD Clinicals is reader-supported. When you buy through links on our site, we may earn an affiliate commission.
Learn more