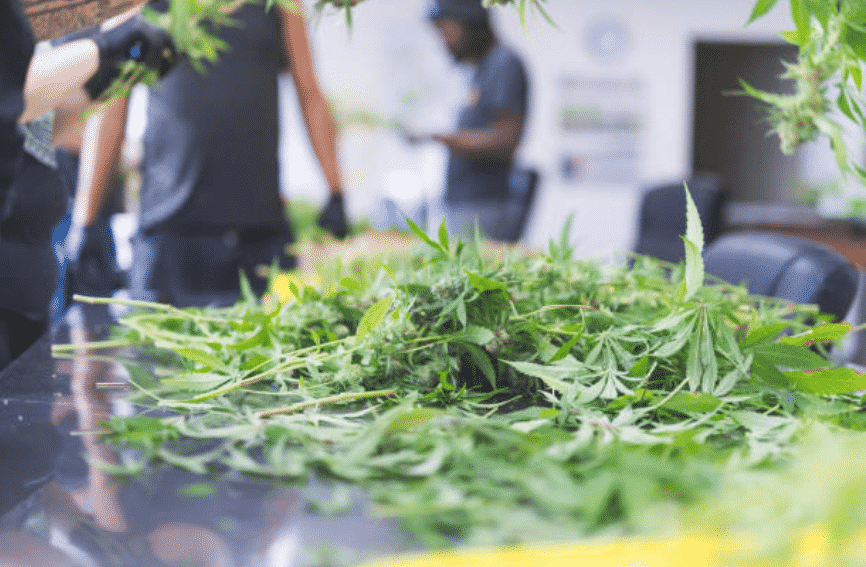 Through House Bill 32

,

Wyoming

consumers

over 18

years old

can legally

buy CBD oil

(

cannabidiol

) or hemp extract

(1)

.

HB 32 allows the supervised medical use of hemp extracts with

less than 0.3% of tetrahydrocannabinol (

THC

) content on a dry weight basis

.

In 2019,

Wyoming

Gov. Mark Gordon signed House Bill 171 to match the

Farm Bill

's definition of hemp and its products, including hemp-derived CBD

(2)

.

HB 171

was also enacted to

expand

the

hemp industry

within the state,

allowing

hemp farming and production in

Wyoming

.

Is CBD Oil Legal
in
Wyoming
?
CBD products derived from hemp plants that contain less than 0.3% THC are legal to use in Wyoming, per HB 32 regulations(3).
Historically, all cannabis varieties were categorized under Schedule I drugs of the 1970 Federal Controlled Substances Act(4).
According to US law, Schedule I narcotics are drugs or potentially addictive and abusive substances without any accepted health benefits.
Congress legalized hemp plant cultivation through the Hemp Farming Act of 2018(5). This federal law redefined hemp plants as cannabis with less than 0.3% THC concentration by dry weight, removing industrial hemp from Schedule I drugs.
Additionally, the 2018 Farm Bill's passage granted the US Food and Drug Administration (FDA) the right to regulate CBD's distribution in the market(6).
Although the FDA continuously reevaluates its stance on CBD products, companies cannot market CBD products as dietary supplements(7).
Wyoming CBD Laws
Before the 2018 Farm Bill's passage, House Bill 32 allowed the doctor-supervised medical use of hemp extract and granted users legal protection from prosecution(8).
This law allowed the Wyoming Department of Health to issue hemp extract registration cards to qualified individuals.
The department issued hemp extract registration cards only to patients who met the following qualifications:
At least 18 years old

Resident of

Wyoming

Provided a statement from a

neurologist

who specified that the applicant had

intractable epilepsy

or seizure disorders and

might

potentially benefit from hemp extract treatment

Paid a fee to the department

Submitted an application form containing the individual's name, address, photo identification, and other information deemed necessary by the department
The succeeding state law updated the legality details of hemp and hemp extracts in the state of Wyoming:
House Bill 171
On March 6, 2019, the Wyoming lawmakers passed HB 171, which amends substances that the controlled substances act regulates. Additionally, this law authorizes the use and possession of hemp and hemp products(9).
The bill further states that hemp or hemp products include all parts, seeds, derivatives, and varieties of Cannabis sativa L. plants with a THC concentration of not more than 0.3% on a dry weight basis.
Such plants need to undergo post-decarboxylation or similar reliable testing methods to confirm whether the THC contents are within the acceptable limits.
Through this definition, the Wyoming Controlled Substances Act no longer included hemp and hemp-derived products(10).
Penalties
HB 171 discusses the penalties for licensees who violate the provisions of the article.
The Department of Agriculture performs inspections and provides chemical analyses of a licensee's random sample to determine whether the licensee's hemp complies with the article.
Licensees who violate any provision of HB 171 shall be subject to a corrective action plan, which may include any of the following:
Reporting requirements

Additional inspections

License suspension

Steps necessary to restore a license

Requirements related to the disposal of unqualified hemp
Individuals who intentionally violate the article provisions are guilty of misdemeanors and are punishable by imprisonment for up to six months, a fine of $750, or both.
Furthermore, a person who violates the article's provisions more than thrice within five years may lose their license and be ineligible for reinstatement for five years.
Licensing Requirements
Through the Wyoming Department of Agriculture's hemp program, individuals may apply for licenses to legally produce and process hemp(11).
Industrial hemp license application forms are available for download at the Wyoming Department of Agriculture website.
Applicants must submit a complete, accurate, legible, and signed copy of their application to the department's email address [email protected] or mailing address:
Wyoming Department of Agriculture
2219 Carey Ave.
Cheyenne, WY 82001
United States
In addition to the department's application form, applicants must submit the following required documents:
Government-issued photo identification
a. Business entities may seek a Wyoming Secretary of State certificate of good standing.

Aerial photographs or maps of all licensed areas where the applicant intends to grow and process hemp

Official criminal history report

for all of the applicant's key participants dated within 60 days before submitting the application

Description of all hemp products the applicant intends to process

Statement of the intended end-use for all hemp material received for processing
Testing Requirements
The Wyoming Department of Agriculture Analytical Services Laboratory in Laramie, WY, oversees hemp's official testing within the state(12).
The Wyoming Hemp Regulatory Plan discusses the following testing guidelines for identifying THC concentrations in hemp(13):
Testing procedures apply to the US Department of Agriculture (USDA) Hemp Program's sampling procedures for measuring THC concentration levels.
a. Hemp testing laboratories need not be ISO (Independent Standard Organization)-accredited.
Results are intended to measure THC contents of composite hemp samples from a hemp producer's designated lot of hemp crop acreage.
a. Measurements determine whether the THC contents of tested materials are within the acceptable limits.
USDA hemp production program regulations state that testing laboratories must meet the following standards:
a. Laboratory quality assurance must ensure that the test results are valid and reliable.
b. The laboratory must successfully perform the testing procedures, including analytical method selection, validation, and verification.
c. The demonstration of testing validity must guarantee consistent and accurate analytical performance.
d. Method performance must ensure that the analytical tests are appropriately sensitive for detectability requirements purposes.
e. Analytical testing of samples for THC content levels must use reliable methods, such as post-decarboxylation. Testing methodologies that meet such requirements may include:
i. Gas chromatography
ii. High-performance liquid chromatography
f. The total THC concentration level must be reported on a dry weight basis.
g. If test results are at least 95% certain that samples contain THC content beyond the acceptable limits, this counts as evidence that the representative sample is noncompliant.

Approved laboratories must be registered with the Drug Enforcement Administration (DEA) to handle controlled substances.

Alternative testing protocols may be considered if they are comparable and similarly reliable to the USDA methods.
Buying CBD Legally
How to Choose CBD Products to Purchase
Customers must check if a CBD brand provides its products' comprehensive third-party lab results on its website.
The third-party lab results or a product's certificate of analysis (COA) confirms CBD products' potency.
The COA is a document that third-party laboratories issue to a CBD company to prove that its items meet quality standards.
The COA results usually include terpene and cannabinoid profiles for consumers to confirm the actual amount of CBD present and then compare these findings with what is printed on the label.
Most lab results may include contaminant profiles that detail whether a brand's CBD product has no harmful contaminants, including heavy metals, pesticides, or residual solvents.
Consumers may also confirm whether the Better Business Bureau (BBB) has accredited a CBD retailer.
The BBB gathers consumer reviews and reports on various businesses of a particular state(14). An organization with BBB accreditation incorporates lawful business practices, ethical advertising, and positive seller and customer experiences(15).
How to Read CBD Product Labels
Consumers must carefully read a CBD product's packaging to confirm if the company provides the following information:
Amount of CBD per serving

Batch number or code

List of ingredients

Manufacturer's name

Net weight

Suggested usage

Type of CBD
Customers should look for these industry-standard details in CBD product labels. CBD brands that comply with these labeling requirements show that they are credible.
Some CBD brands include QR codes on their product's packaging for the customers' convenience. These scannable tags allow customers to compare a product's lab results with the CBD contents on product labels.
For example, a CBD oil product that claims to have 500mg of CBD in a 30ml bottle should offer at least 16mg of CBD per 1ml serving. The lab test results must be consistent with the label.


Where to Buy CBD Products Legally
Only three CBD oil retailers in Wyoming have BBB accreditation(16):
Natural Wellness CBD


Cheyenne

, WY




Phone: +1 307-426-4199

CBD WYO


Cheyenne

, WY




Phone: +1 307-996-7811

Terra of Wyoming


Cheyenne

, WY




Phone: +1 307-426-4930
Meanwhile, other CBD oil shops within the state with high-rating Google user reviews include:
OHM Man Vape Shop


Casper

, WY




Phone: +1 307-333-1162

Up N Smoke II


Laramie

, WY




Phone: +1 307-742-9699

Junction Tobacco Shop


Laramie

, WY




Phone: +1 307-742-2292
Consumers may buy high-quality CBD products from the distributor's online shop.
CBD Possession Limits
The legalization of hemp CBD products through HB171 allows Wyoming customers to possess CBD oil products with less than 0.3% THC(17).
Meanwhile, since the state has no comprehensive medical marijuana program, individuals in possession of any amount of medical marijuana face appropriate fines for misdemeanors or felonies.
Is
Buying CBD Oil
Legal in the Other States?
Citizens of the United States can legally purchase hemp-derived CBD oil products that contain less than 0.3% THC with few local exceptions.
Meanwhile, CBD derived from marijuana is federally illegal in the 50 states.
Through the Farm Bill of 2018, the federal government legalized hemp cultivation in all 50 states by redefining hemp as cannabis with less than 0.3% THC content.
Individual state legislatures may interpret this bill through local laws. The legalization of CBD within the state is aligned with FDA standards.
Still, per FDA regulation, retailers cannot sell CBD as medication or dietary supplements.
Depending on state laws, production and possession of CBD may have varying degrees of restriction.
Understanding CBD
What Is CBD?
CBD is a non-psychoactive cannabinoid of cannabis plants. It is the second most abundant cannabis component besides THC.
Most CBD products sold in licensed dispensaries come from industrial hemp plants instead of marijuana plants because hemp plants have less than 0.3% THC, while marijuana exceeds this amount.
Companies in the CBD industry manufacture CBD hemp oil in different product forms. CBD products are available as tincture oils, lotions, gummies, pills, and vape juices.
How Are Hemp and Marijuana Different?
The cannabinoid contents of marijuana plants and hemp plants are different, although they are both varieties of Cannabis sativa plants.
Hemp contains less than 0.3% THC, which is psychoactive. Products richer than this in the THC compound cause users to "get high."
Marijuana contains more than 0.3% THC, which explains why marijuana-based products are federally illegal to possess and process.
What Are the Different Types of CBD?
Full-spectrum CBD contains all of the hemp plant's naturally occurring cannabinoids, including trace amounts of THC, flavonoids, terpenes, and fatty acids.
Broad-spectrum CBD contains almost the same components as full-spectrum CBD, except THC.
CBD isolate only contains CBD after the hemp plant undergoes extraction methods to strip the plant of most of its components and other naturally occurring cannabinoids.
What Is the Difference Between Medical Marijuana and CBD Oil?
CBD oil is hemp-derived and has a THC content of less than 0.3%, while medical marijuana may exceed that limit.
Medical marijuana possession and recreational usage of marijuana in Wyoming are felonies due to the state's stringent marijuana laws.
What Are the Benefits of CBD Oil?
Several studies have researched the purported benefits of CBD oil in treating medical conditions.
Researchers have observed that CBD has potential therapeutic benefits, including anti-anxiety(18), anti-inflammatory(19), and analgesic properties(20).
Epidiolex remains the only US FDA-approved CBD treatment for epilepsy and tuberous sclerosis complex (TSC) with significant scientific evidence(21).
Does CBD Oil Have Potential Side Effects?
CBD has a good safety profile based on the World Health Organization(22). Still, CBD has potential adverse effects, including the following(23):
Changes in alertness

Diarrhea

Drowsiness

Dry mouth

Fatigue

Gastrointestinal problems

Liver damage

Loss of appetite

Mood changes

Nausea

Potential drug interactions
Conclusion
Similar to the other US states, Wyoming consumers can legally purchase CBD products that meet the conditions described in the 2018 Farm Bill.
The standard condition for a CBD product's legal status is that it should have less than 0.3% THC content on a dry weight basis only.
*The information in this article was based on findings retrieved on November 18, 2020. The legality of CBD may change without notice.
---
Wyoming House Bill 32. LegiScan. Retrieved from

https://legiscan.com/WY/bill/HB0032/2015

Wyoming House Bill 171. LegiScan. Retrieved from

https://legiscan.com/WY/bill/HB0171/2019

Wyoming House Bill 32. Op cit

Comprehensive Drug Abuse Prevention and Control Act of 1970. FindLaw. 2019 February 4. Retrieved from

https://criminal.findlaw.com/criminal-charges/comprehensive-drug-abuse-prevention-and-control-act-of-1970.html

H.R.5485 – Hemp Farming Act of 2018. Congress.gov. Retrieved from

https://www.congress.gov/bill/115th-congress/house-bill/5485

Farm Bill. U.S. Department of Agriculture. Retrieved from

https://www.usda.gov/farmbill

 

FDA Regulation of Cannabis and Cannabis-Derived Products, Including Cannabidiol (CBD). U.S. Food & Drug Association. 2020 Oct 1. Retrieved from

https://www.fda.gov/news-events/public-health-focus/fda-regulation-cannabis-and-cannabis-derived-products-including-cannabidiol-cbd

Wyoming House Bill 32. Op cit

Wyoming House Bill 171. Op cit

Scheduling of Controlled Substances. Wyoming Division of Criminal Investigation. Retrieved from

https://wyomingdci.wyo.gov/home/controlled-substances

Wyoming Hemp Program. Wyoming Department of Agriculture. Retrieved from

https://wyagric.state.wy.us/divisions/ts/wyindustrialhemp

Analytical Services Lab. Wyoming Department of Agriculture. Retrieved from

https://wyagric.state.wy.us/divisions/asl

Testing Guidelines for Hemp. Wyoming Department of Agriculture. Retrieved from

https://agriculture.wy.gov/images/stories/pdf/techserv/hemptest.pdf

Mission and Vision. Better Business Bureau. Retrieved from

https://www.bbb.org/mission-and-vision

BBB Accreditation Standards. Better Business Bureau. Retrieved from

https://www.bbb.org/bbb-accreditation-standards

 

Category: CBD Oil near WY, USA. Better Business Bureau. Retrieved from

https://www.bbb.org/search?filter_state=WY&find_country=USA&find_entity=81000-800&find_id=81000-800&find_text=CBD%20Oil&find_type=Category&page=1&sort=Distance&touched=1

Wyoming House Bill 171. Op cit

R de Mello Schier, A., P de Oliveira Ribeiro, N., S Coutinho, D., Machado, S., Arias-Carrión, O., A Crippa, J., … & C Silva, A. (2014). Antidepressant-like and anxiolytic-like effects of cannabidiol: a chemical compound of Cannabis sativa. CNS & Neurological Disorders-Drug Targets (Formerly Current Drug Targets-CNS & Neurological Disorders), 13(6), 953-960.

Leizer, C., Ribnicky, D., Poulev, A., Dushenkov, S., & Raskin, I. (2000). The composition of hemp seed oil and its potential as an important source of nutrition. Journal of Nutraceuticals, functional & medical foods, 2(4), 35-53.

Maayah, Z. H., Takahara, S., Ferdaoussi, M., & Dyck, J. R. (2020). The anti-inflammatory and analgesic effects of formulated full-spectrum cannabis extract in the treatment of neuropathic pain associated with multiple sclerosis. Inflammation Research, 1-10.

National Academies of Sciences, Engineering, and Medicine. (2017). The health effects of cannabis and cannabinoids: the current state of evidence and recommendations for research. National Academies Press.

World Health Organization (WHO). (2018). Cannabidiol (CBD) Critical Review Report.

https://www.who.int/medicines/access/controlled-substances/CannabidiolCriticalReview.pdf

 

Machado Bergamaschi, M., Helena Costa Queiroz, R., Waldo Zuardi, A., & Crippa, A. S. (2011). Safety and side effects of cannabidiol, a Cannabis sativa constituent. Current drug safety, 6(4), 237-249.
CBD Clinicals is reader-supported. When you buy through links on our site, we may earn an affiliate commission.
Learn more