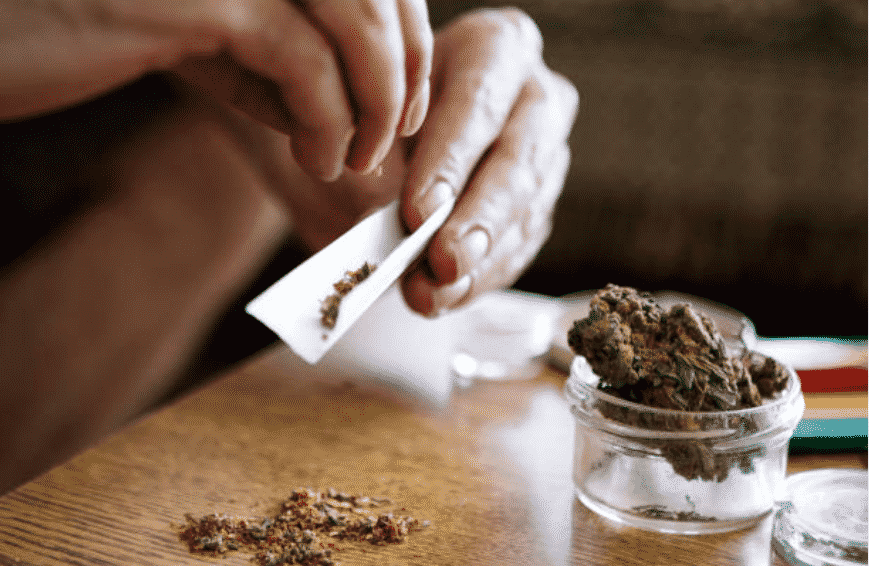 Cannabidiol (CBD), u

nlike tetrahydrocannabinol (THC), does not produce euphoria, intoxication, or addiction(1)

.

A 2016 study noted that CBD was placebo-like, as it did not produce signals for abuse liability among frequent marijuana users

(2)

. CBD may come from either hemp or marijuana plants, both of which are varieties of cannabis plants.

CBD has a good safety profile, according to the World Health Organization (WHO). The WHO reported in 2017 that CBD has no potential for substance abuse or drug addiction, based on well-controlled human experimental studies

(3)

.

A 2019 study in the National Institutes of Health (NIH) website noted CBD's potential for alleviating drug use or substance use disorders (SUDs), including that of nicotine, alcohol, psychostimulants, opioids, and cannabis(4)

.

What Research Says
CBD has no psychoactive contents, making them non-addictive substances. Thus, some people consider it a natural alternative to opioid-based medication for managing inflammation, chronic pain, diabetes, and epilepsy(5).
Several professionals have studied the effects of CBD on physical and mental health. A growing number of studies have focused on the effects of CBD on addiction.
Is CBD Habit-Forming?
According to Nora Volkow, M.D., director of the National Institute on Drug Abuse, CBD does not produce addictive and euphoric effects(6). 
In her statement to the National Institutes of Health on January 15, 2020, she clarified that addiction or intoxication from cannabis plants is attributable to its THC content.
Volkow added that CBD acts on the immune system and other brain signaling systems to help its users benefit from CBD's purported therapeutic effects.
Volkow explained that CBD attaches to the body's CB2 receptors found mainly in immune cells. In contrast, THC attaches to CB1 receptors located on neurons and glial cells in the brain and other body organs.
Volkow further stated that CBD has a very low affinity for CB1 receptors, explaining why CBD users do not develop a dependency on the substance.
Still, further longitudinal research is necessary to arrive at definite conclusions.
Can CBD Help Counter Addiction?
CBD is not addictive, based on well-controlled human research(7). The World Health Organization's critical review report on CBD recorded that CBD does not differ from placebo, based on the Addiction Research Centre Inventory.
The same report clarifies that there is limited research on CBD. Still, the existing studies have not observed CBD's abuse potential. 
Some studies suggest that CBD may help counter addiction. A 2015 review, which included both human and animal studies, found that CBD impacted the intoxication and relapse phase of opioid addiction(8).
Research has shown that CBD has been associated with brain functions involved in acquiring addiction and drug-seeking behaviors. Thus, researchers believe that CBD has potential benefits in substance-use disorders(9). 
Analysis of Studies
Animal studies have shown the potential benefits of CBD on opioid and psychostimulant addiction. Meanwhile, preliminary evidence from human studies presented CBD's beneficial impact on tobacco and cannabis dependence(10). 
CBD has several purported therapeutic properties on its own, including protective effects on stress vulnerability and neurotoxicity. These properties may indirectly serve in the treatment of addiction disorders. 
Overall, emerging data remain very limited and inconclusive. Further randomized and well-designed trials under controlled situations are necessary to determine whether CBD's properties have significance in humans.
Effects of CBD on Opioid-Related Addictive Behaviors
A study noted that CBD has a positive impact on the intoxication and relapse phase of opioid addiction(11). The study involved a drug self-administration (SA) model for heroin among rats. 
The results indicated that CBD may inhibit cue-induced drug-seeking behaviors of animal subjects.
Effects of CBD on Psychostimulant-Addictive Behaviors
Several studies assessed the effects of CBD on the intoxication and relapse phases of psychostimulant addiction. 
In particular, one study assessed the impact of THC and CBD on cocaine- and amphetamine-induced conditioned place preference (CPP) in rats(12).
Results showed that CBD may not impact stimulants' rewarding effects. However, one study suggests that it may influence addictive behaviors during the relapse phase.
Effects of CBD on Cannabis-Related Addictive Behaviors
Initial data suggest CBD's possible beneficial impact on the reinforcing effect of cannabis. Meanwhile, a case study reported positive outcomes for one patient treated with CBD during their withdrawal and relapse phases of cannabis dependence(13).
Effects of CBD on Tobacco-Related Addictive Behaviors
A study examined CBD's impact on nicotine addiction through a randomized, placebo-controlled study on smokers who wanted to quit the habit(14).
Two groups received either a placebo inhaler or a CBD inhaler with instructions to use them should they feel the urge to smoke.
The results noted a significant reduction in the number of cigarettes smoked from the group using CBD inhalers during the week of treatment. Additionally, both groups showed a reduction in cravings within a week.
Effects of CBD on Alcohol-Addictive Behaviors
A study assessed the impact of CBD on the intoxication phase of alcohol addiction(15). The study was randomized, which involved ten healthy volunteers in groups that administered alcohol and CBD alone or in combination. 
The research noted no differences in drunkenness or feelings of being "drugged" in both alcohol-alone and alcohol-with-CBD groups.
Is CBD Oil Safe?
Although several studies on CBD's health benefits exist, there is insufficient evidence to support its overall safety.
Different individuals may have unique reactions to CBD oil. Other factors, such as existing medications, also have the potential to interact with CBD. This possibility is a concern that potential customers should consider.
Meanwhile, CBD oil for children has become a popular treatment option among parents of children with anxiety. With evidence from Epidiolex studies, some parents of children with an autism spectrum disorder (ASD) turn to CBD.
Health Benefits of CBD Oil
Researchers are conducting clinical trials to investigate the therapeutic benefits of CBD in treating medical conditions such as Alzheimer's disease(16), Parkinson's disease(17), post-traumatic stress disorder (PTSD)(18), and high blood pressure(19).
Although several studies look into CBD oil's potential health benefits, individuals must remember that CBD products are still subject to the US Food and Drug Administration (FDA) laws and requirements(20).
Furthermore, people should seek professional healthcare advice before introducing CBD oil in their diet, especially when individuals are already taking prescription medications.
Despite the subject to regulation, the following are a few summaries about the results of cannabis research in treating various medical conditions:
CBD vs. Cancer 
The University of Korea conducted a study in 2019, which demonstrated that the CBD anti-cancer protein shows potential in killing tumor cells.
The researchers tested CBD's synergistic effect with a cancer-destroying protein called TRAIL (TNF-related apoptosis-inducing ligand).
The study concluded that CBD and TRAIL created apoptosis, or cell removal, separately in colorectal cancer cells. The researchers also found that both reduced cancer cells significantly(21).
CBD vs. Alzheimer's Disease 
In a 2019 study, researchers in South Korea reviewed studies of medical marijuana for treating Alzheimer's disease. The researchers chose and analyzed nine studies for review(22).
The studies' results implied that CBD components of cannabis may help alleviate symptoms of Alzheimer's disease.
The CBD components of the cannabis plants suppressed the main factors that lead to Alzheimer's disease.
The study also implied that CBD was more effective when it worked together with THC than using individual cannabinoids alone.
CBD vs. PTSD 
A 2019 study examined CBD's potential effects in treating PTSD symptoms among 11 adult patients(23). 
For eight weeks, researchers assessed PTSD symptom severity every four weeks.
The researchers found that PTSD symptoms among the participants have reduced upon the oral administration of CBD. They concluded that additional clinical trials could further substantiate their study results.
CBD vs. High Blood Pressure 
In a 2017 study, researchers examined CBD's cardiovascular benefits background and investigated if CBD reduces blood pressure in humans(24).
Among nine healthy male volunteers, the subjects who took CBD had lower blood pressure, decreased stroke volume, increased heart rate, and a blunted forearm skin blood flow.
The study concluded that CBD's acute administration may help reduce an individual's resting blood pressure and blood pressure associated with stress. 
Still, further research is necessary to establish CBD's role in treating cardiovascular disorders.
Side Effects of CBD
Despite the many scientific studies looking into CBD oil's potential benefits, individuals must consider its possible side effects.
Common side effects that CBD oil users over the years have reported included mild cognitive impairment, such as bradyphrenia or slowed thinking and bradykinesia or slowed movement.
People without blood pressure problems may also experience mild low blood pressure, as CBD has shown promise in reducing high blood pressure, causing lightheadedness.
Other users also report dry mouth and sedation among the side effects they experienced upon using CBD oil.
High-dose CBD oil could potentially cause blood clotting, which may complicate hemophilia and related diseases.
Further, low-quality CBD oil may cause some people to experience the psychoactive effects of cannabis use.
Adverse effects should be virtually non-existent unless the CBD oil in question is low-quality, which may contain harmful contaminants.
Heavy metals, molds, pesticides, mycotoxins, and synthetic cannabinoids (SCs) are among the possible harmful contaminants in CBD.
Precautions When Choosing CBD Oil
CBD oil consumers would be wise to consider the following factors before purchasing a product:
CBD consumers must ask for proper and accurate labeling and dosing instructions.

Potential CBD consumers must examine each

CBD product

and reflect on what each type may or may not contain.

Consumers must examine manufacturing processes.

Before trying CBD for the first time,

one must research the potential therapeutic effects that the product claims.

Consumers must consider the risks with the product by understanding the exact composition.

Look out for potentially deadly and harmful contaminants.

A list of contaminants present in the product is shown in the certificate of analysis (COA).

Consumers must watch out for misleading labels.

Conduct a background check on the third-party labs associated with a

CBD product

.

Consumers should ensure that

CBD products

are used responsibly by both pet parents and people.
Although evidence agrees that there are minimal or no side effects from a high-quality CBD product, consumers need to consult with their physicians before purchasing CBD products. 
A doctor's advice helps ensure that consumers purchase the highest quality CBD products for their specific health requirements.
The Significance of Lab Reports 
A reliable CBD company is transparent with the third-party laboratory results of its CBD products.
Customers can verify a product's concentration and potency through its lab results or certificate of analysis (COA).
Furthermore, the laboratories that conduct purity tests must comply with good manufacturing practices (GMP).
GMP certification requires a quality approach to manufacturing ingredients, allowing companies to eliminate or minimize instances of contamination, mixups, and errors(25).
Companies that readily provide third-party lab results promote reliability and ensure their customers' public health and wellness.
Cannabinoid Analysis Issues
There are several methods for analyzing cannabinoids. However, no standard analytic method is used to test suitability and accuracy. 
The following are some current problems with cannabinoid analyses.
There is a lack of generally accepted guidelines or certifications to see how reliable these CBD labs are.

Cannabinoid

analysis can vary between different labs, and this is true for extract samples that undergo several tests.

There may be business-to-business issues with the quality or the value of the intermediary

CBD product

.

There may be trust issues with consumers misunderstanding what the

CBD product

labels indicate.

Product labels may show inaccurate CBD levels, with some having higher CBD levels than stated.

Understanding CBD
What is CBD?
Cannabis products might include both CBD and THC on their labels, which may heighten people's concerns over their potential addictive properties. 
CBD-infused products are widely available in different forms(26), making it imperative to understand CBD.
The WHO explains that CBD is a naturally occurring cannabinoid found in cannabis plants, which includes hemp and marijuana varieties. CBD is mostly derived from hemp plants, although it can also come from the marijuana plant.
The main difference between hemp-derived CBD and marijuana-derived CBD is the THC content. Marijuana plants contain more THC than hemp plants.
The body's endocannabinoid system (ECS) consists of cannabinoid receptors that interact with the chemical compounds of cannabis plants.
The CB2 receptors are the proteins mainly found in the immune system that primarily interact with CBD.
How Is CBD Oil Made?
Creating a high-quality CBD Oil product involves several steps.
First, a company selects high-quality hemp that is grown with reliable farming practices. Good hemp plants contain high levels of CBD and virtually undetectable amounts of THC.
Next, the hemp plants undergo extraction processes to isolate CBD from the plant. Several extraction methods exist, although the common ones are ethanol extraction and CO2 extraction.
Upon successful CBD extraction from the hemp plant, manufacturers combine the extract with carrier oils to create tinctures or infuse them in other forms.
Some manufacturers of CBD products also add natural flavors to make more palatable products since natural CBD oil can taste bitter or earthy.
CBD and the Endocannabinoid System 
CBD can trigger the body's ECS(27) through the cannabinoid receptors that exist in all animals(28).
The Journal of Young Investigators published a 2018 study, which explained that the ECS is vital in maintaining the human body's homeostasis or state of balance(29).
The FDA has conducted several animal studies to test CBD and CBD-infused products' safety. Some brands also have pet lines among their CBD products.
Still, the FDA has not approved using medical cannabis for pets and recommends owners consult with their veterinarians.
Epidiolex remains the only instance of FDA-approved prescription CBD with significant scientific evidence for treating rare forms of epilepsy(30).
The FDA approved Epidiolex in June 2018, making it the first FDA-approved drug that contained a purified, marijuana-derived drug substance.
How to Take CBD
Consumers have various options for methods to take CBD. Most CBD veterans agree that sublingual use of CBD is the most effective way. This method requires users to apply a dropper's amount of CBD tincture under the tongue to absorb through mucous membranes.
CBD oil is mostly edible, so CBD companies manufacture CBD tinctures that consumers can mix into their food and beverage to ingest CBD. 
Some brands also produce CBD gummies and capsules for controlled dosing of CBD. Vaping products for convenience and easier CBD intake are also available.
Companies may also utilize CBD's anti-inflammatory and analgesic properties by infusing the oil into topicals such as balms and lotions. Transdermal application of CBD has proven effective in relieving nerve pain(31).
Types of CBD
Varieties of CBD include full-spectrum, broad-spectrum, or CBD isolates.
Full-spectrum CBD contains the entire range of cannabinoids within the hemp plant, including an amount of THC that complies with federal law.
Since this type of CBD only contains trace amounts of THC, it may still appear on drug tests.
On the other hand, broad-spectrum CBD contains only most of the naturally occurring cannabinoids, except THC.
Meanwhile, CBD isolates contain only pure CBD and usually come in powder form.
FAQs
What Is THC?
Tetrahydrocannabinol or THC is another cannabinoid present in cannabis plants. This compound forms addictive behaviors among its users.
Marijuana is another variety of cannabis that contains high levels of THC content. Products derived from marijuana produce the psychoactive effects of THC.
The body's cannabinoid receptors found in the central nervous system, called CB1 receptors, interact with THC and release neurotransmitters that get users "high."
What Is Hemp?
Like marijuana plants, hemp plants are a variety of Cannabis sativa plants. Hemp plants are rich in cannabinoids, including CBD and THC.
Industrial hemp contains high CBD levels, which explains why most CBD products are hemp-derived.
Is Hemp Oil the Same As CBD Oil?
The way hemp oil is different from CBD oil lies in its sources. The former comes from the plant's seeds, while the latter comes from flowers, leaves, and stalks.
Is Hemp Oil Different From Cannabis Oil?
Hemp oil is simply one type of cannabis oil because the hemp plant is a variety of Cannabis sativa plants.
Is CBD Oil Legal?
Hemp-based CBD products are only federally legal in most of the United States. Historically, hemp, marijuana, and all other cannabis varieties fell under Section I drugs of the 1970 Federal Controlled Substances Act(32).
The law defined Schedule I narcotics as drugs or chemicals that have a high potential for substance abuse, have no accepted medical use in treatment in the US, and lack any accepted safety for their usage under medical supervision.
The federal law mainly targeted marijuana, although cannabis as a whole was affected. Later on, Congress found ways to remove cannabis from Schedule I.
Congress legalized hemp cultivation through the 2018 Farm Bill(33). This law separated hemp from marijuana, defining the former as cannabis with less than 0.3 percent of THC concentration by weight, while the latter has more than the defined amount.
As such, CBD derived from hemp plants was no longer categorized under Schedule I. Still, marijuana-derived CBD remained federally illegal due to the high concentration of psychoactive properties.
Currently, hemp cultivators are allowed to produce and sell the agricultural commodity under specified federal conditions, which Congress has yet to finalize.
Note that state laws are constantly changing and vary between states.
Conclusion
With its relation to cannabis, some people may be curious: Is CBD oil addictive? 
Existing research has shown that CBD may not be habit-forming, and users may not experience withdrawal symptoms.
Although the research surrounding CBD oil shows much potential in treating various medical conditions, further research is still necessary to substantiate any positive results.
Consumers must also consider the documented adverse side effects of CBD oil usage.
For further precaution, individuals considering using CBD oil must consult with a licensed medical practitioner experienced in cannabis use.
---
Volkow, Nora. Statement of Nora Volkow, M.D. Director. National Institute on Drug Abuse. Retrieved from

https://docs.house.gov/meetings/IF/IF14/20200115/110381/HHRG-116-IF14-Wstate-VolkowN-20200115.pdf

 

Babalonis, S., Haney, M., Malcolm, R. J., Lofwall, M. R., Votaw, V. R., Sparenborg, S., & Walsh, S. L. (2017). Oral cannabidiol does not produce a signal for abuse liability in frequent marijuana smokers. Drug and alcohol dependence, 172, 9–13.

https://doi.org/10.1016/j.drugalcdep.2016.11.030

Cannabidiol (CBD) Pre-Review Report. World Health Organization. 2017 November. Retrieved from

https://www.who.int/medicines/access/controlled-substances/5.2_CBD.pdf

Chye, Y., Christensen, E., Solowij, N., & Yücel, M. (2019). The Endocannabinoid System and Cannabidiol's Promise for the Treatment of Substance Use Disorder. Frontiers in psychiatry, 10, 63.

https://doi.org/10.3389/fpsyt.2019.00063

Volkow, Nora. The Biology and Potential Therapeutic Effects of Cannabidiol. National Institute on Drug Abuse. 2015 June 24. Retrieved from

https://archives.drugabuse.gov/testimonies/2015/biology-potential-therapeutic-effects-cannabidiol

 

Volkow, Nora. Statement of Nora Volkow, M.D. Director. National Institute on Drug Abuse. Op cit

Cannabidiol (CBD) Critical Review Report. World Health Organization. 2018 June. Retrieved from

https://www.who.int/medicines/access/controlled-substances/CannabidiolCriticalReview.pdf

Prud'homme, M., Cata, R., & Jutras-Aswad, D. (2015). Cannabidiol as an Intervention for Addictive Behaviors: A Systematic Review of the Evidence. Substance abuse : research and treatment, 9, 33–38.

https://doi.org/10.4137/SART.S25081

Ibid

Ibid

RenY., WhittardJ., Higuera-MatasA., MorrisC.V., HurdY.L. Cannabidiol, a nonpsychotropic component of cannabis, inhibits cue-induced heroin seeking and normalizes discrete mesolimbic neuronal disturbances. J Neurosci. 2009; 29(47): 14764–9.

ParkerL.A., BurtonP., SorgeR.E., YakiwchukC., MechoulamR. Effect of low doses of delta9-tetrahydrocannabinol and cannabidiol on the extinction of cocaine-induced and amphetamine-induced conditioned place preference learning in rats. Psychopharmacology (Berl). 2004; 175(3): 360–6.

CrippaJ.A., HallakJ.E., Machado-de-SousaJ.P. Cannabidiol for the treatment of cannabis withdrawal syndrome: a case report. J Clin Pharm Ther. 2013; 38(2): 162–4.

Morgan, C.J. , Das, R.K. , Joye, A. , Curran, H.V. , Kamboj, S.K. Cannabidiol reduces cigarette consumption in tobacco smokers: preliminary findings. Addict Behav. 2013; 38(9): 2433–6.

Consroe, P. , Carlini, E.A. , Zwicker, A.P. , Lacerda, L.A. Interaction of cannabidiol and alcohol in humans. Psychopharmacology. 1979; 66(1): 45–50.

Kim, S. H., Yang, J. W., Kim, K. H., Kim, J. U., & Yook, T. H. (2019). A Review on Studies of Marijuana for Alzheimer's Disease – Focusing on CBD, THC. Journal of pharmacopuncture, 22(4), 225–230.

https://doi.org/10.3831/KPI.2019.22.030

Rieder C. R. (2020). Cannabidiol in Parkinson's disease. Revista brasileira de psiquiatria (Sao Paulo, Brazil : 1999), 42(2), 126–127.

https://doi.org/10.1590/1516-4446-2019-0810

Elms, L., Shannon, S., Hughes, S., & Lewis, N. (2019). Cannabidiol in the Treatment of Post-Traumatic Stress Disorder: A Case Series. Journal of alternative and complementary medicine (New York, N.Y.), 25(4), 392–397.

https://doi.org/10.1089/acm.2018.0437

Jadoon, K. A., Tan, G. D., & O'Sullivan, S. E. (2017). A single dose of cannabidiol reduces blood pressure in healthy volunteers in a randomized crossover study. JCI insight, 2(12), e93760.

https://doi.org/10.1172/jci.insight.93760

Hemp Production and the 2018 Farm Bill. U.S. Food & Drug Administration. 2019 July 25. Retrieved from

https://www.fda.gov/news-events/congressional-testimony/hemp-production-and-2018-farm-bill-07252019

Meehan, Maureen. CBD, Anticancer Protein Show Potential to Kill Tumor Cells, Study Finds. Weedmaps. 2019 June 11. Retrieved from

https://weedmaps.com/news/2019/06/cbd-anticancer-protein-show-potential-to-kill-tumor-cells-study-finds/

Kim, S. H., Yang, J. W., Kim, K. H., Kim, J. U., & Yook, T. H. (2019). Op cit

Elms, L., Shannon, S., Hughes, S., & Lewis, N. (2019). Op cit

Jadoon, K. A., Tan, G. D., & O'Sullivan, S. E. (2017). Op cit

ISPE. What is GMP? Retrieved from

https://ispe.org/initiatives/regulatory-resources/gmp/what-is-gmp

.

Volkow, Nora. Statement of Nora Volkow, M.D. Director. National Institute on Drug Abuse. Op cit

Leweke FM, Piomelli D, Pahlisch F, et al. Cannabidiol enhances anandamide signaling and alleviates psychotic symptoms of schizophrenia. Transl Psychiatry. 2012;2(3):e94. Published 2012 Mar 20. doi:10.1038/tp.2012.15.

Silver R. J. (2019). The Endocannabinoid System of Animals. Animals : an open access journal from MDPI, 9(9), 686.

https://doi.org/10.3390/ani9090686

Sallaberry, C. and Astern, L. The Endocannabinoid System, Our Universal Regulator. Retrieved from

https://www.jyi.org/2018-june/2018/6/1/the-endocannabinoid-system-our-universal-regulator

.

FDA Approves First Drug Comprised of an Active Ingredient Derived from Marijuana to Treat Rare, Severe Forms of Epilepsy. U.S. Food & Drug Administration. 2018 June 25. Retrieved from

https://www.fda.gov/news-events/press-announcements/fda-approves-first-drug-comprised-active-ingredient-derived-marijuana-treat-rare-severe-forms

Hu, D., Cullen, B., Tang, M., & Fang Y. (2020). The Effectiveness of Topical Cannabidiol Oil in Symptomatic Relief of Peripheral Neuropathy of the Lower Extremities. Current Pharmaceutical Biotechnology, 390-402.

https://pubmed.ncbi.nlm.nih.gov/31793418/

Comprehensive Drug Abuse Prevention and Control Act of 1970. FindLaw. 2019 February 4. Retrieved from

https://criminal.findlaw.com/criminal-charges/comprehensive-drug-abuse-prevention-and-control-act-of-1970.html

Hudak, John. The Farm Bill, hemp legalization and the status of CBD: An explainer. The Brookings Institution. 2018 December 14. Retrieved from

https://www.brookings.edu/blog/fixgov/2018/12/14/the-farm-bill-hemp-and-cbd-explainer/
CBD Clinicals is reader-supported. When you buy through links on our site, we may earn an affiliate commission.
Learn more