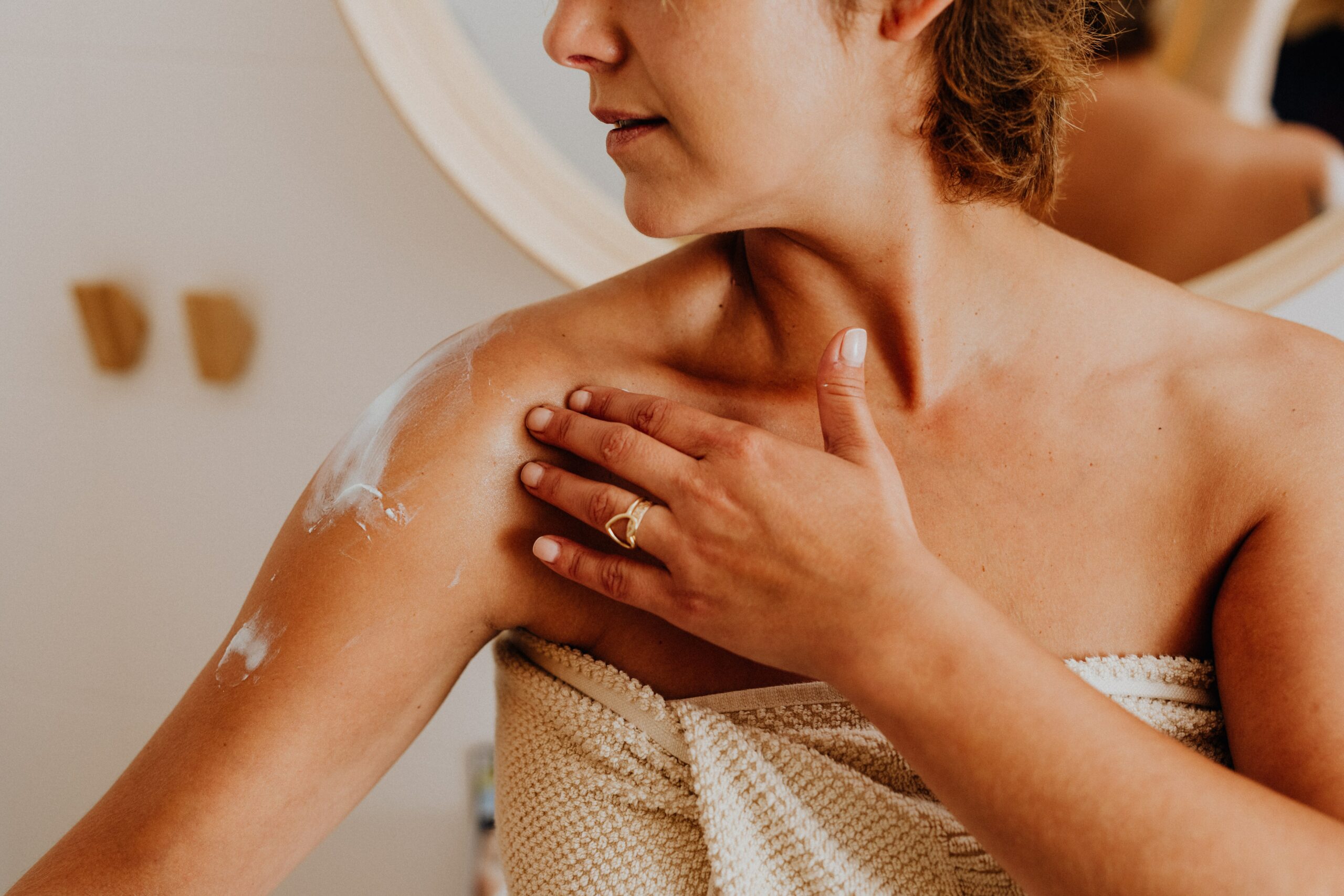 CBD lotion is

a

topical product applied to the skin for localized pain relief

(1)

.

Topically administered CBD has been hypothesized to help manage pain and reduce muscle tightness and inflammation

(2)

.

More research is warranted to establish CBD's efficacy and therapeutic potential in relieving pain inflammation which is linked to various diseases.

Individuals are highly encouraged to consult a physician about their medical issues before taking CBD.
Why Use CBD Lotions?
Cannabidiol, also called CBD, is a natural compound found in the cannabis plant. CBD interacts with the body's endocannabinoid system (ECS). 
This system regulates bodily functions in the immune system, endocrine, and central nervous systems(3). 
The ECS comprises cannabinoid receptors 1 and 2 (CB1 and CB2). CB1 receptors play an essential role in pain sensations, whereas CB2 receptors activate anti-inflammatory responses(4). 
These two receptors may produce therapeutic benefits for pain and inflammation when they interact with CBD(5).
Furthermore, the body naturally produces endocannabinoids that interact with cannabinoid receptors(6).
However, when the body lacks endocannabinoids, plant-based cannabinoids like CBD and tetrahydrocannabinol (THC) may deliver similar pain-relieving results. 
Currently, there is no specific research regarding the effectiveness of CBD lotions for pain. However, CBD's interaction with the ECS and its receptors may help with pain management. 
Benefits of CBD Lotion for Pain
Topical CBD, like lotions and creams, has been hypothesized to deliver pain relief and reduce inflammation, muscle tightness, itching, and sunburn(7).
An animal study examined the effects of CBD transdermal gel on rat models with arthritis(8).
Researchers noted that doses of 6.2 to 62 mg (milligrams) of CBD every day may provide potential therapeutic benefits in reducing arthritis-related pain and produce anti-inflammatory effects without causing any significant side effects. 
Despite these research findings being from an animal study, CBD's purported therapeutic effects may benefit future research regarding CBD's effects on humans. 
Furthermore, individuals diagnosed with epidermolysis bullosa reported decreased pain, blistering and rapid wound healing after administering topical CBD products like creams, oils, and sprays(9).
Epidermolysis bullosa is a rare skin disorder that induces fragile skin and blisters. 
Lastly, a recent randomized controlled trial was conducted to determine the efficacy of topical CBD in managing peripheral neuropathy in humans(10).
The study noted that transdermally applied CBD oil may help decrease pain and other disturbing sensations linked to peripheral neuropathy.
Peripheral neuropathy occurs when the peripheral nerves or the nerves outside the spinal cord and brain gets injured. This damage induces numbness, weakness, and pain in the hands and feet(11).
How to Use CBD Lotions for Pain
CBD lotion and other topicals such as CBD cream and balms are directly applied to a painful area of the body for localized pain relief(12).
Cannabinoids, like CBD, do not enter the bloodstream when applied to the skin. Instead, the compound is picked up and absorbed by the CB2 receptors in the skin and helps decrease pain and inflammation(13).
CBD lotions, ointments, massage oils, and sports creams are some topical CBD products.
Lotions are applied to the skin for medical and cosmetic purposes. Meanwhile, sports creams are ointments used to help relieve pain and aches(14).
Massage oils help decrease friction on the skin during massage sessions.
CBD lotions may be marketed as pain relief for sore and painful joints and muscles. 
However, the efficacy of CBD's pain-relieving properties is still under examination. 
It is best to consult and seek advice from a medical expert before using or purchasing CBD products for pain or any medical conditions.
What Is CBD?
Cannabidiol (CBD) is a natural extract found in hemp plants, a close relative of marijuana(15). 
This compound has received increased attention for its purported therapeutic effects, like analgesic and anti-inflammatory properties, without psychoactive effects(16).
Further clinical research on humans is required to know more about how CBD works. However, initial evidence hypothesized that CBD may help manage the following health issues(17):
Chronic pain

Inflammation

Insomnia

Anxiety

Type 1 diabetes

Cancer-related symptoms

Post-traumatic stress disorder (PTSD)

Parkinson's disease
Risks and Side Effects of CBD
Using CBD may generally induce minor side effects such as loss of appetite, diarrhea, dry mouth, drowsiness, and fatigue(18).
A 2018 study discussed that kidney transplant patients suffering chronic pain may feel side effects like nausea, dizziness, dry mouth, and intermittent heat episodes after using CBD(19).
Meanwhile, researchers examining the effects of CBD in adults taking CBD oil stated that participants experience adverse side effects such as vivid dreams and sedation(20).
Lastly, a recent systematic review suggested that the most commonly indicated side effects of CBD include changes in body weight and appetite, tiredness, and diarrhea(21).
However, present clinical data remains inconclusive. Further studies are required to ascertain whether CBD lotion for pain causes detrimental side effects on humans. 
CBD products may also have a grapefruit warning. This warning indicates that CBD may potentially interfere with the effects of drugs for specific medical issues. 
This interference may hinder the absorption of the medications in the body(22).
Drugs that contain a grapefruit warning include:
pain medications

antibiotics

antiepileptic drugs (AEDs)

blood pressure medications

blood thinners

cholesterol medications

immunosuppressants

mood medications
The interaction between medications and grapefruit may vary depending on the amount of grapefruit ingested, the composition of the drug, and the user's health condition(23).
If individuals are prescribed any of the medications mentioned above, they should seek advice from their doctor before using or purchasing CBD products.
Legality of CBD
The Food and Drug Administration (FDA) has authorized Epidiolex as the only CBD-derived medication to treat a medical condition(24). 
Epidiolex is a prescription drug for the treatment of seizures linked to tubular sclerosis and two rare forms of childhood epilepsy, Dravet syndrome (DS) and Lennox-Gastaut syndrome (LGS)(25).
The Farm Bill in 2018 has legalized hemp and derivatives of cannabis that contain less than 0.3% THC(26).
Therefore, purchasing and using CBD products and supplements that contain more than 0.3% THC is illegal(27).
All 50 states in the United States of America (USA) have different CBD use and production laws. These states may also have varying restrictions(28).
Individuals planning to use CBD products should check their state laws to determine whether CBD is legal in their area before purchasing and taking any CBD product.
---
Healing With CBD, page 210.
https://drive.google.com/file/d/1AGlxnhS2SoFeOXEuysv75bd_C9pEnwsU/view

Ibid.

The Endocannabinoid System, Our Universal Regulator
https://www.jyi.org/2018-june/2018/6/1/the-endocannabinoid-system-our-universal-regulator
Cannabinoids and Pain: New Insights From Old Molecules
https://www.frontiersin.org/articles/10.3389/fphar.2018.01259/full
CBD Oil: What Is It and How Does It Work?
https://www.eehealth.org/blog/2019/09/cbd-oil/
Cannabinoid Receptors and the Endocannabinoid System: Signaling and Function in the Central Nervous System
https://www.ncbi.nlm.nih.gov/pmc/articles/PMC5877694/
Healing With CBD, page 210.
https://drive.google.com/file/d/1AGlxnhS2SoFeOXEuysv75bd_C9pEnwsU/view
Transdermal Cannabidiol Reduces Inflammation and Pain-Related Behaviours in a Rat Model of Arthritis
https://www.ncbi.nlm.nih.gov/pmc/articles/PMC4851925/
Cannabinoid Delivery Systems for Pain and Inflammation Treatment
https://www.ncbi.nlm.nih.gov/pmc/articles/PMC6222489/
The Effectiveness of Topical Cannabidiol Oil in Symptomatic Relief of Peripheral Neuropathy of the Lower Extremities
https://pubmed.ncbi.nlm.nih.gov/31793418/
Peripheral Neuropathy: Symptoms & Causes
https://www.mayoclinic.org/diseases-conditions/peripheral-neuropathy/symptoms-causes/syc-20352061
Healing With CBD, page 210.
https://drive.google.com/file/d/1AGlxnhS2SoFeOXEuysv75bd_C9pEnwsU/view

Ibid.

Sports Cream Overdose
https://medlineplus.gov/ency/article/002583.htm
Cannabidiol (CBD)-What We Know and What We Don't
https://www.health.harvard.edu/blog/cannabidiol-cbd-what-we-know-and-what-we-dont-2018082414476
CBD Oil: What Is It and How Does It Work?
https://www.eehealth.org/blog/2019/09/cbd-oil/

Ibid.

What Are the Benefits of CBD — And Is It Safe to Use?
https://www.mayoclinic.org/healthy-lifestyle/consumer-health/expert-answers/is-cbd-safe-and-effective/faq-20446700
Chronic Pain Treatment With Cannabidiol in Kidney Transplant Patients in Uruguay
https://pubmed.ncbi.nlm.nih.gov/29579828/
Cannabidiol Prescription in Clinical Practice: An Audit on the First 400 Patients in New Zealand
https://www.ncbi.nlm.nih.gov/pmc/articles/PMC7330185/
Dosage, Efficacy and Safety of Cannabidiol Administration in Adults: A Systematic Review of Human Trials
https://www.ncbi.nlm.nih.gov/pmc/articles/PMC7092763/
Potential Adverse Drug Events and Drug–Drug Interactions with Medical and Consumer Cannabidiol (CBD) Use
https://www.ncbi.nlm.nih.gov/pmc/articles/PMC6678684/
Grapefruit Juice and Some Drugs Don't Mix
https://www.fda.gov/consumers/consumer-updates/grapefruit-juice-and-some-drugs-dont-mix
FDA Approves New Indication for Drug Containing an Active Ingredient Derived from Cannabis to Treat Seizures in Rare Genetic Disease
https://www.fda.gov/news-events/press-announcements/fda-approves-new-indication-drug-containing-active-ingredient-derived-cannabis-treat-seizures-rare

Ibid.

Industrial Hemp
https://www.agmrc.org/commodities-products/fiber/industrial-hemp
CBD & THC: Myths and Misconceptions
https://www.projectcbd.org/cbd-101/cbd-misconceptions
Cannabidiol (CBD)-What We Know and What We Don't
https://www.health.harvard.edu/blog/cannabidiol-cbd-what-we-know-and-what-we-dont-2018082414476

CBD Clinicals is reader-supported. When you buy through links on our site, we may earn an affiliate commission.
Learn more